Our Choice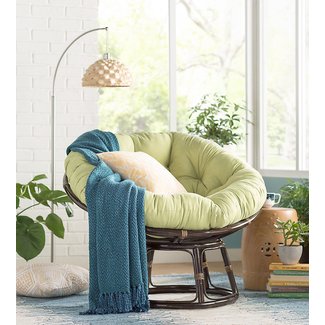 Decker Papasan Chair
This rustic walnut rattan chair will be a great accent in a living room or bedroom. The sturdy frame holds up to 250lbs and doesn't take a lot of floor space while providing a spacious seating. It comes with a thick comfortable microfiber/microsuede cushion in many colors. The fabric is fade resistant and allows easy spot cleaning. Weighing only 29 lb., you can easily move it around the house in case you need a sunny spot to enjoy your morning coffee.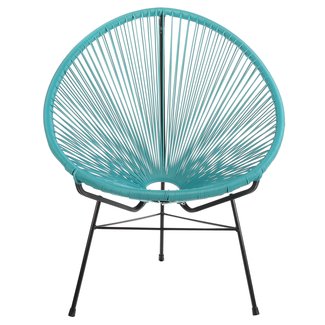 Lesperance 28.5" Papasan Chair
The minimalistic design of this chair allows it to fit perfectly into less spacious rooms. The wire hammock-like basket made out of polypropylene is hand-woven onto the powder-coated aluminum base. These materials are extremely durable, resistant to heat, rain and cold weather, therefore this chair is an ideal fit for a patio. The vivid basket colors will compliment your garden setting or create a pop of excitement on your balcony during the muted autumn season.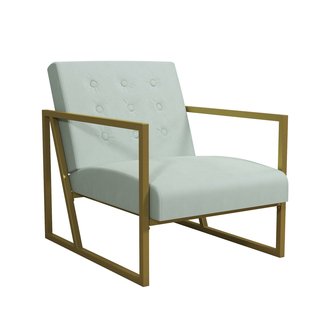 Lexington Armchair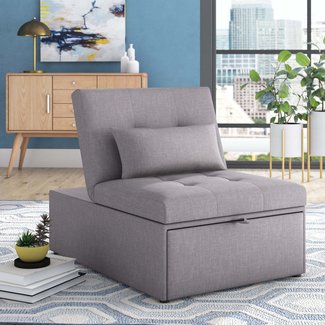 Aaronsburg Convertible Chair
Perfect for reclining lovers, this chair comes with an easy one-click option to alternate between a chair, a small bed, and an ottoman, which can then be used as temporary seating or an impromptu coffee table. Whether you are looking for accommodating your limited space bedsit flat or you want to have a comfortable guest bed available, this 3-in-1 piece of furniture is your best bet.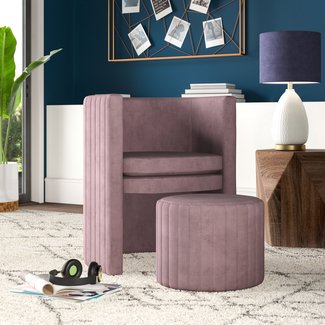 Malek 20.5" Barrel Chair and Ottoman
This nesting duo is ideal for tight spaces as it provides clever ottoman storage right underneath the chair. This compact design solution will maximize your living space while allowing you to rest your feet whenever needed. The solid wood frame makes it hefty and strong, preventing it from tipping over backwards. The soft hues of the velvet fabric will easily blend in any setting, whether muted or vigorous.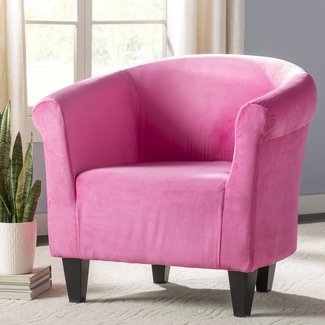 Liam Barrel Chair
This traditional-looking chair with a modern twist provides high seating comfort due to its round back silhouette combined with a thick foam sitting cushion. The flaring armrests are classic decorative element but they also fit perfectly with human ergonomics. The semi-tall conical feet carry a hidden bonus–it's convenient to clean around and under the chair without repositioning it.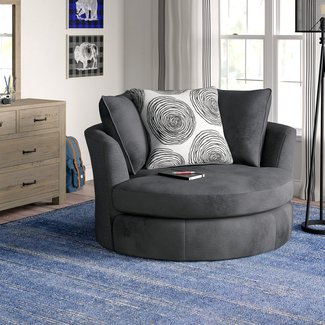 Acosta Swivel Barrel Chair
Whether you are looking for unique in shape spacious sofa for yourself or your teenage kids, this round oversized chair will provide a snuggly lounge experience in any room. Better yet, it can easily fit two people, becoming a love nest for those late-night movie marathons. Its most interesting feature is its 360-degree swiveling ability which makes it a perfect playground that is also easy to clean up, as the seating cushion is removable.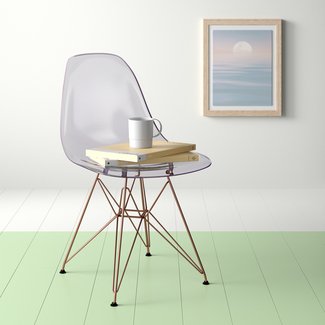 Madison Side Chair
Ideal for the contemporary eye, this chair strikes with its minimalistic design, delicate features, and transparent material. Its clear molded seating allows it to take up less space visually, and its ability to reflect light adds more visual dimension to your room. The angular gold base creates an intriguing contrast against the curved seat, and it also allows leveling the chair at any surface with adjustable floor glides.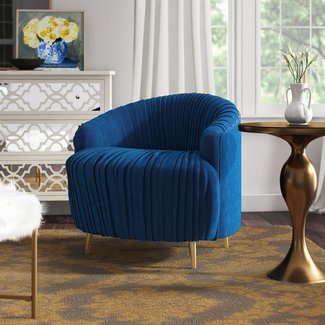 Nouvelles Barrel Chair
This statement barrel chair will be a strong accent in your living room or a bedroom. Its massive seating area is enclosed in a rucking velvety material, which creates an unexpected ratio against the thin golden legs. The combination of a shiny gold base with the burgundy, navy, gray or emerald fabrics will bring a vibe of luxury and sophistication to your home.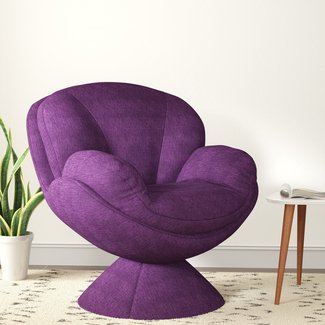 Boykin Swivel Lounge Chair
This unique swiveling chair stands out with its creative looks but its best qualities are its sturdiness and comfort. Its large metal frame creates a solid seating arrangement. It features thick cushions filled with foam for extraordinary comfort. The fabric is a polyester blend, which is durable, stain-resistant, and easy to clean. The chair weighs 47 lbs. so you can be sure it will stay in place even during your wildest spins.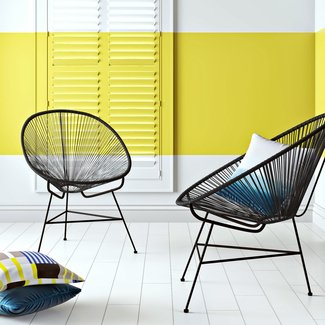 Travers 25" Acapulco Papasan Chair (Set of 2)
Constructed out of resin wicker over powder-coated metal frame, this chair is versatile and safely fits into indoor and outdoor settings. It's constructed out of a durable, water- and mildew-resistant materials that easily withstand outdoor conditions as you enjoy the surrounding nature while reclining in its egg-shaped string basket. The tripod legs feature protective floor glides for extra stability, and a triangle element connecting them for added support.