Our Choice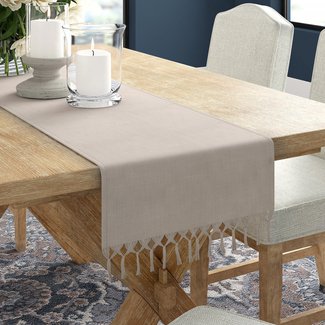 Penkridge Knotted Tassel Table Runner
Simplicity and refinement are the defining features of this table runner which comes in a cool ivory tone.
Woven from 100% cotton, this household fabric is hypoallergenic, durable and easy to wash.
Make the most of its neutral hue to adorn and protect your table of choice in dark or light colored woods.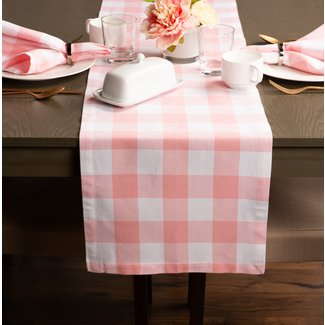 Troy Table Runner
Featuring a checkered design in white and pink, this table runner can be used to create a setting reminiscent of a summer picnic.
Created from 100% cotton, it is also machine washable and is suitable for ironing, ensuring you will be able to keep it pristine with ease.
Take advantage of its durable design to maintain the appeal of your dining table by protecting it from possible stains or spills.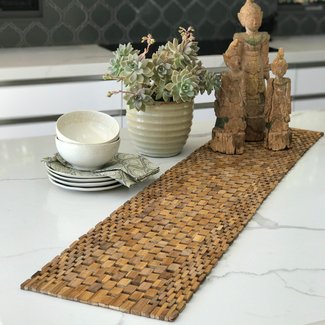 Gupton Recycled Teak Table Runner
Natural woven fibers provide this table runner with a special rustic touch.
The table linen which has been hand-woven from teak embodies its durability and resistance to moisture and mildew. It is also suitable for use with household items forged from iron and is especially stain resistant.
Make use of its unique allure to imbue your dining room with a hint of natural magic.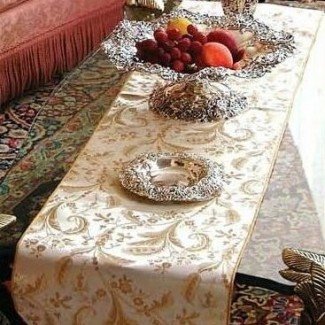 Rockport Damask Design Table Runner
The exquisite golden floral design against this table runner's ivory background is brought to life by the richness of the fabric from which it has been woven.
Owing to the fact that it has been manufactured from 100% polyester, it is especially stain resistant and lightweight as well.

In addition to being machine washable, this household fabric also comes with excellent moisture wicking properties and is capable of withstanding minor spills.

Adorn with a white floral arrangement set in a pedestal vase in bronze or gold, accessorized with crystal, to create an especially luxurious ambience in your dining room.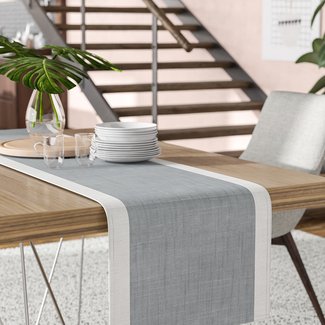 Manassas Table Runner
Light grey with edging in brilliant white, this table runner will add a hint of formality to a contemporary or modern setting.
The household fabric has been woven from polyester and as a result, is not only easy to clean but is also fast drying as well.
Place on a dark brown matte or polished surface and add white porcelain accessories to create a charming contrast.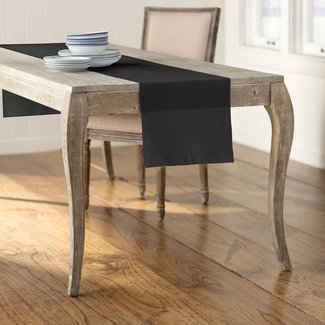 Wayfair Basics Poplin Table Runner
Reversible, iron safe and handmade, this table runner also features a serged edge providing it with an elegant finish.
The monochrome table linen which has been crafted from polyester is also especially durable and is machine washable in addition to possessing a resistance to wrinkles, stains and fading.
Place on your patio or dining table to add a hint of stabilizing color which will set the tone for its decor.
Table Runner
A solid, neutral hue and an alluring tapered, tasseled design mean this table runner will instantly bestow a touch of classical refinement on any setting it is placed in.
Created from a cotton blend, it is machine washable and easy to maintain as a result.
Drape across a traditional table with a gleaming, pale natural finish to highlight the timeless elegance of its sleek form.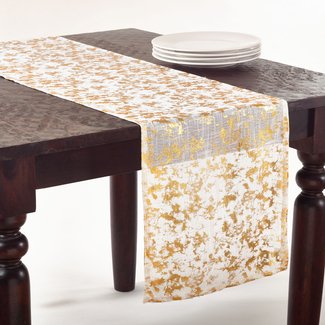 Polson Table Runner
Created from polyester, this table runner is especially easy to maintain due to its resistance to stains, wrinkling and shrinking.
Its full length abstract pattern in gold foil against a transparent backdrop makes it ideal for a casual setting indoors or outdoors.
Place on a table in the patio or in your garden and accessorize with candles to create an inviting atmosphere.
Creeve Table Runner
Especially designed to last, this table runner comes with a textured appeal which makes it the ideal accessory for distressed wooden surfaces.
The table runner which has been created from 100% cotton is loom woven and machine stitched.
It is also especially durable and resistant to fraying due to its continuous weave which has resulted in rounded edges.
Place on an unvarnished wooden surface in medium to pale tones and adorn with a vase of wildflowers to create a rustic, springtime ambience.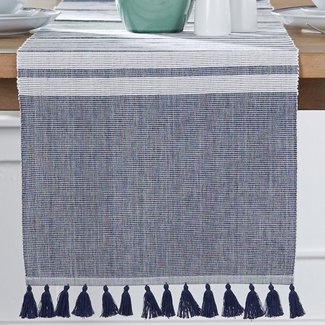 Penkridge Tasseled Table Runner
Alternating pale grey stripes with those of a more solid hue and exquisitely knotted tassels in darker tones ensure that this table runner will add a hint of understated glamour to its surroundings.
Particularly suitable for larger tables, it has been manufactured from 100% cotton.
Imbue your garden or sun room with a touch of its elegance and add a traditional outdoor lantern and a vase of ferns to suffuse the ambience with a delightful tropical allure.