Our Choice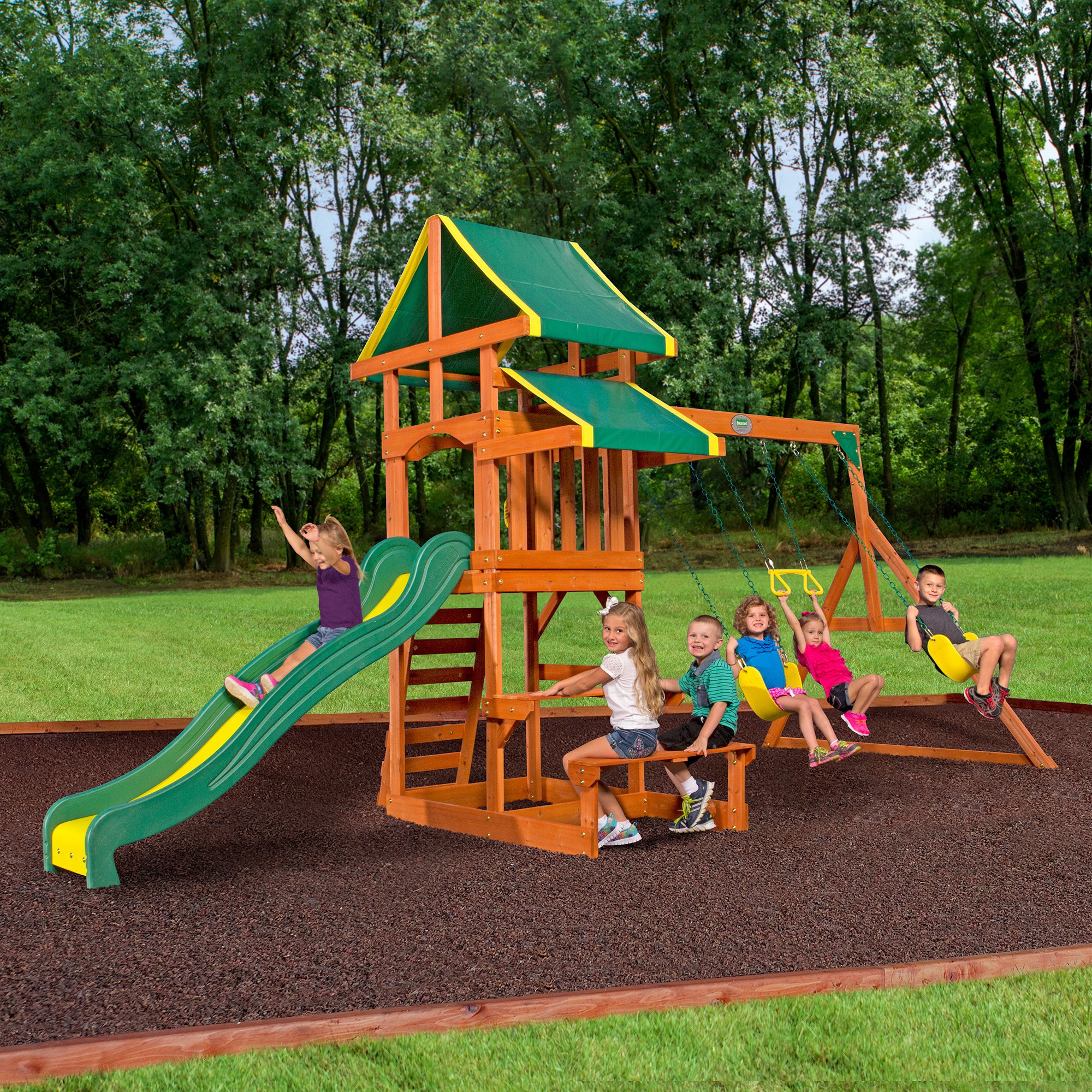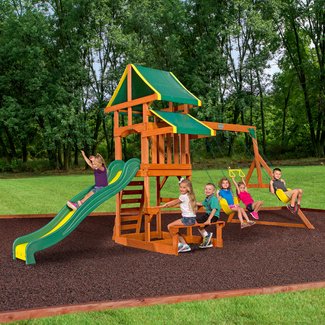 Tucson All Cedar Swing Set
This outdoor wooden playset will keep the kids entertained for hours on end. The place set contains an upper wooden deck that extends to cover the lower area. You'll find two belt swings and an Acrobat bar, which allows three kids to happily swing at a time while another can happily scamper up to the deck on the combo ladder before zipping down on the speedy slide. A covered snack stand allows kids to have a snack and recharge before going at it again.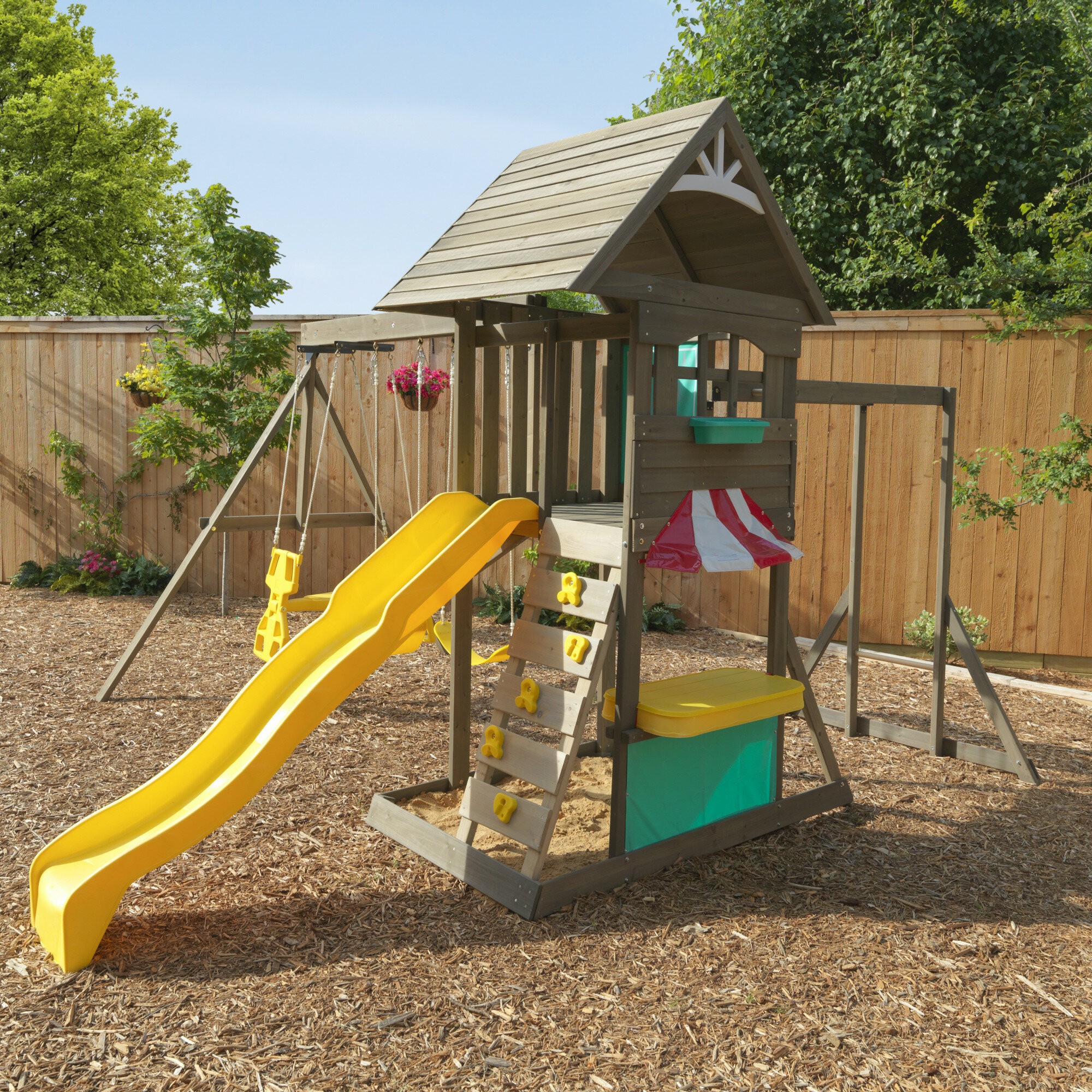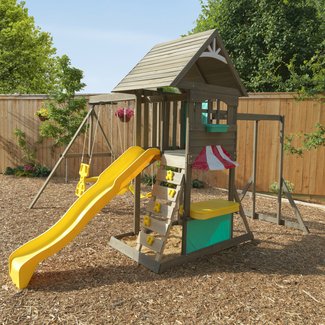 Hampton Wooden Swing Set
Looking for a feature-packed playset to deliver hours of fun and entertainment for your little ones? Well, you are in luck. This playset provides a kaleidoscope of activity and can accommodate up to eight kids at a time. The multi-dimensional set has a deep high-rail slide, a rock wall, monkey bars with an access ladder for climbing, and an upper-level clubhouse with a chalk wall inside. The ground-level contains a sandbox for digging as well as a sand and water table for splashing. This durable playset is crafted from 100% premium cedar and pre-treated with a water-based and child-friendly stain.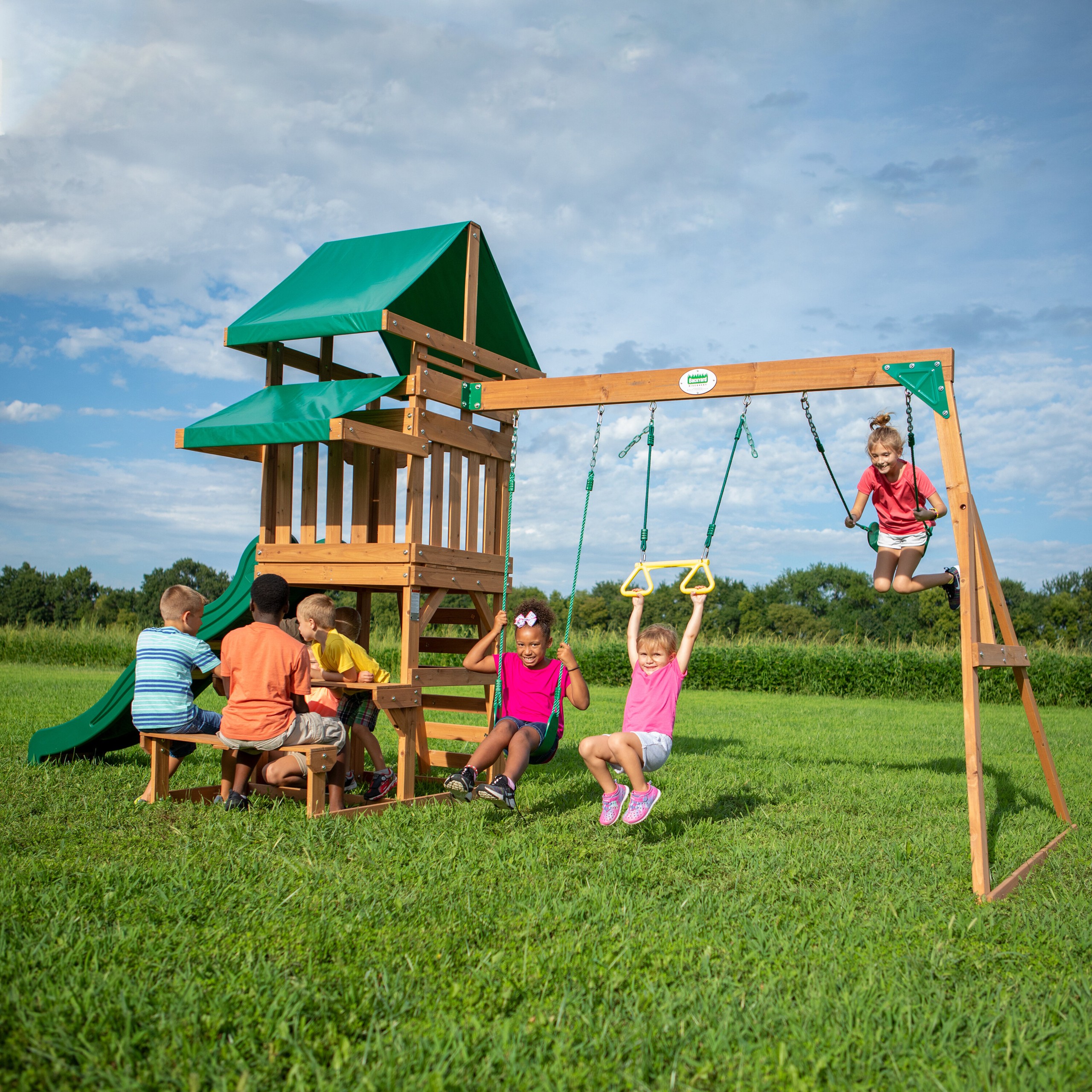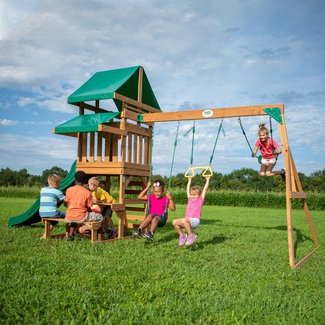 Belmont All Cedar Swing Set
This feature-packed outdoor playset is ideal for a small or large backyard. Featuring belt swings, a dual ring trapeze bar, and a roomy play deck, it will keep your kids entertained for hours. The canopy roof offers maximum shade for when your kids need to take a break while the built-in snack station offers two bench seating covered by yet another solid tone canopy. Climbing into the fort is made easy thanks to the rock wall ladder. Transform a boring backyard into a playtime retreat with this consolidation of fun-filled activities.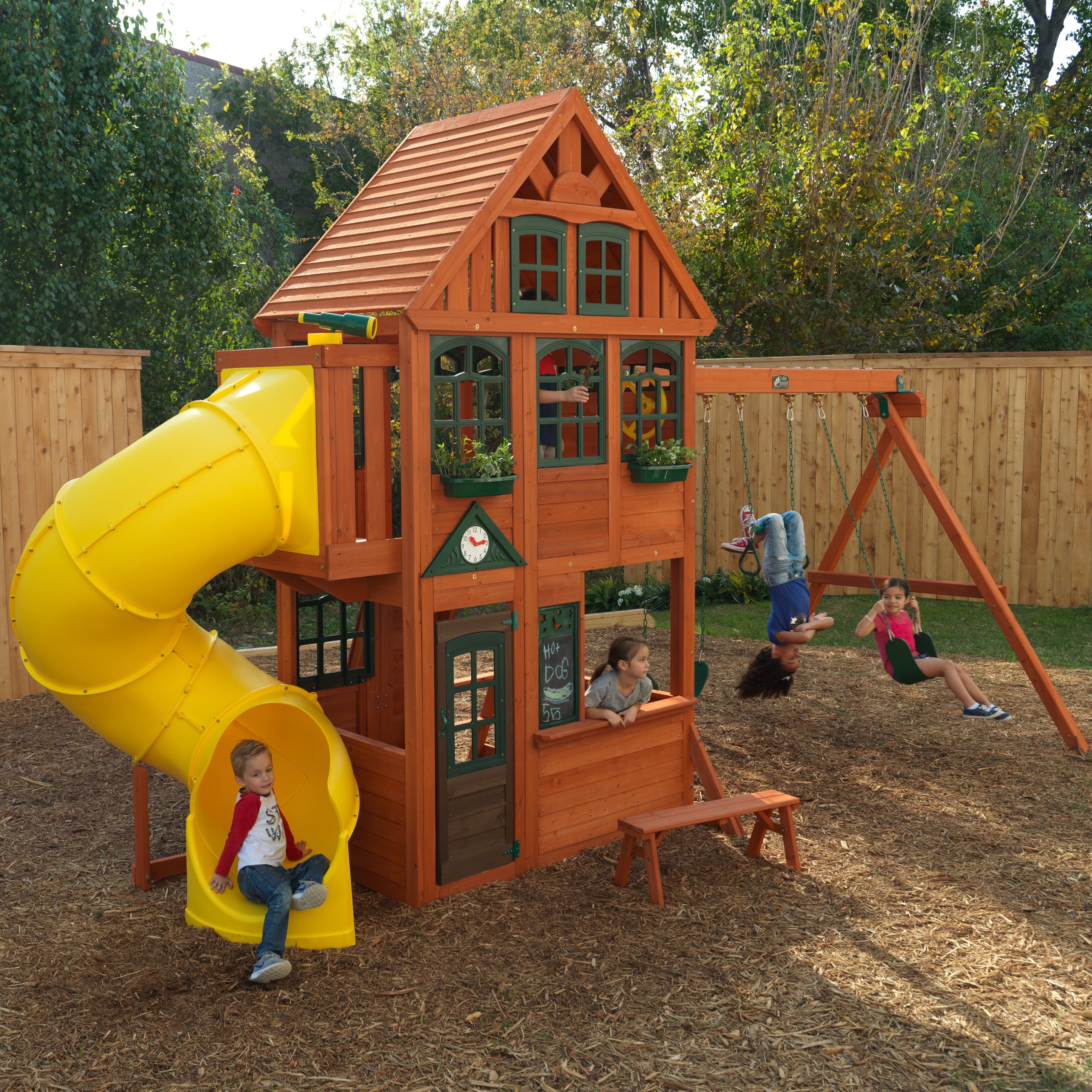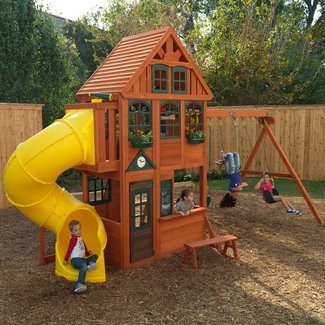 Preston Wooden Swing Set
Are you tired of your kids playing video games all the time? Then you need this fun and exciting feature-packed playset. Your little ones will have so much fun with the giant two-level clubhouse that you'll forget they are around. Consisting of a twist and slide tube, challenging rock wall and Ladder as well as two swings and an acro-bar, there's plenty of fun-filled activities for your little one and all of his friends. Suitable for kids up to 10 years of age, this playset can accommodate a maximum weight of 110 pounds per child.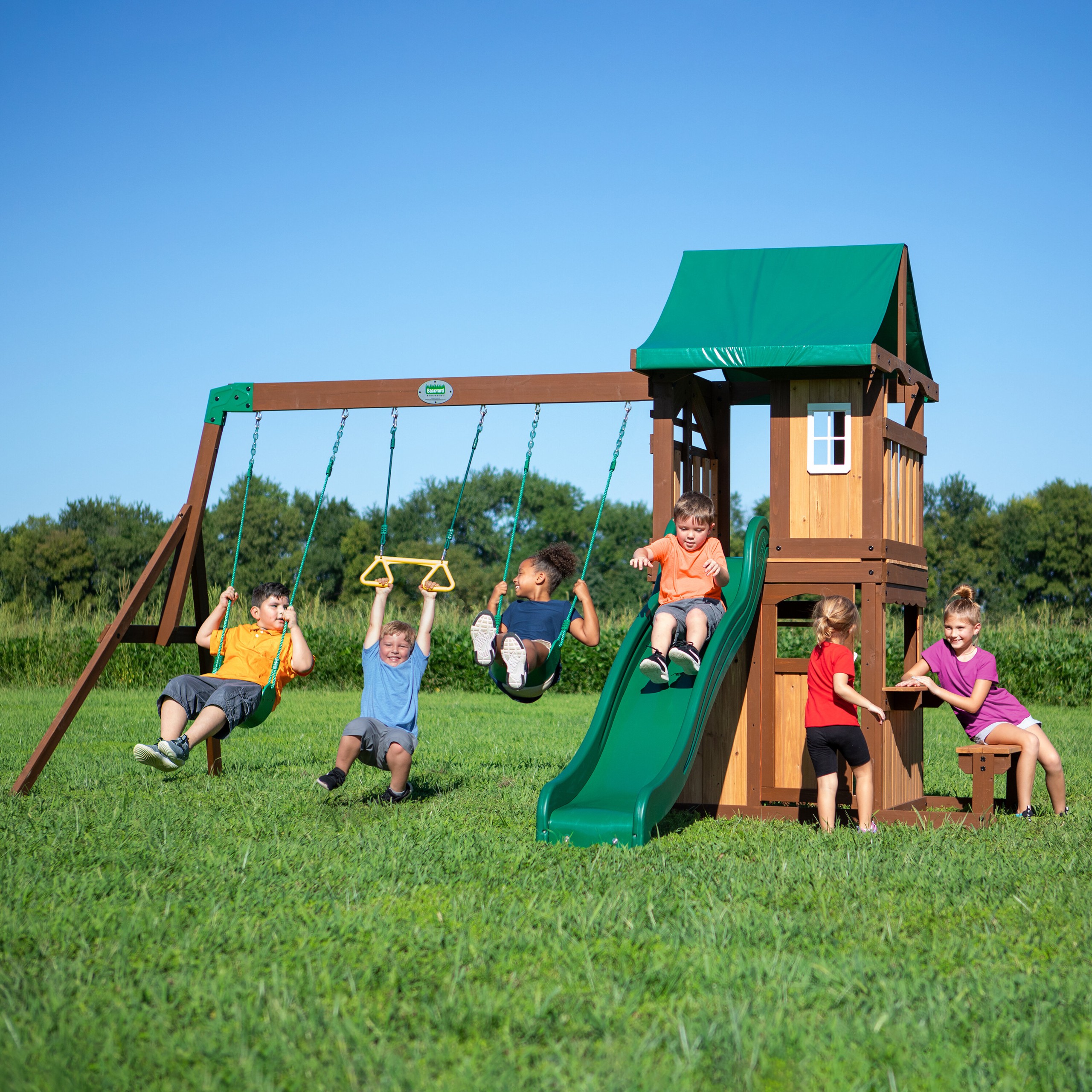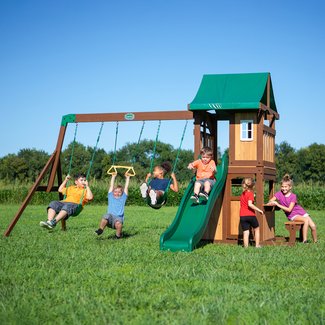 Lakewood All Cedar Swing Set
This beautifully designed wooden swing set brings a fresh perspective and appearance to the traditional wooden playset. Consisting of white windows, a dark-framed trim, and a vibrant wooden base, it delivers fun and entertainment your little one in a contemporary style. Much-needed shade is provided by a high-quality solid tone canvas while the lower fort contains a full-sized working door, built-in bench for resting, and a snack bar for hungry little adventurers. The flat step ladder with safety handles provides valuable surface space for smaller feet.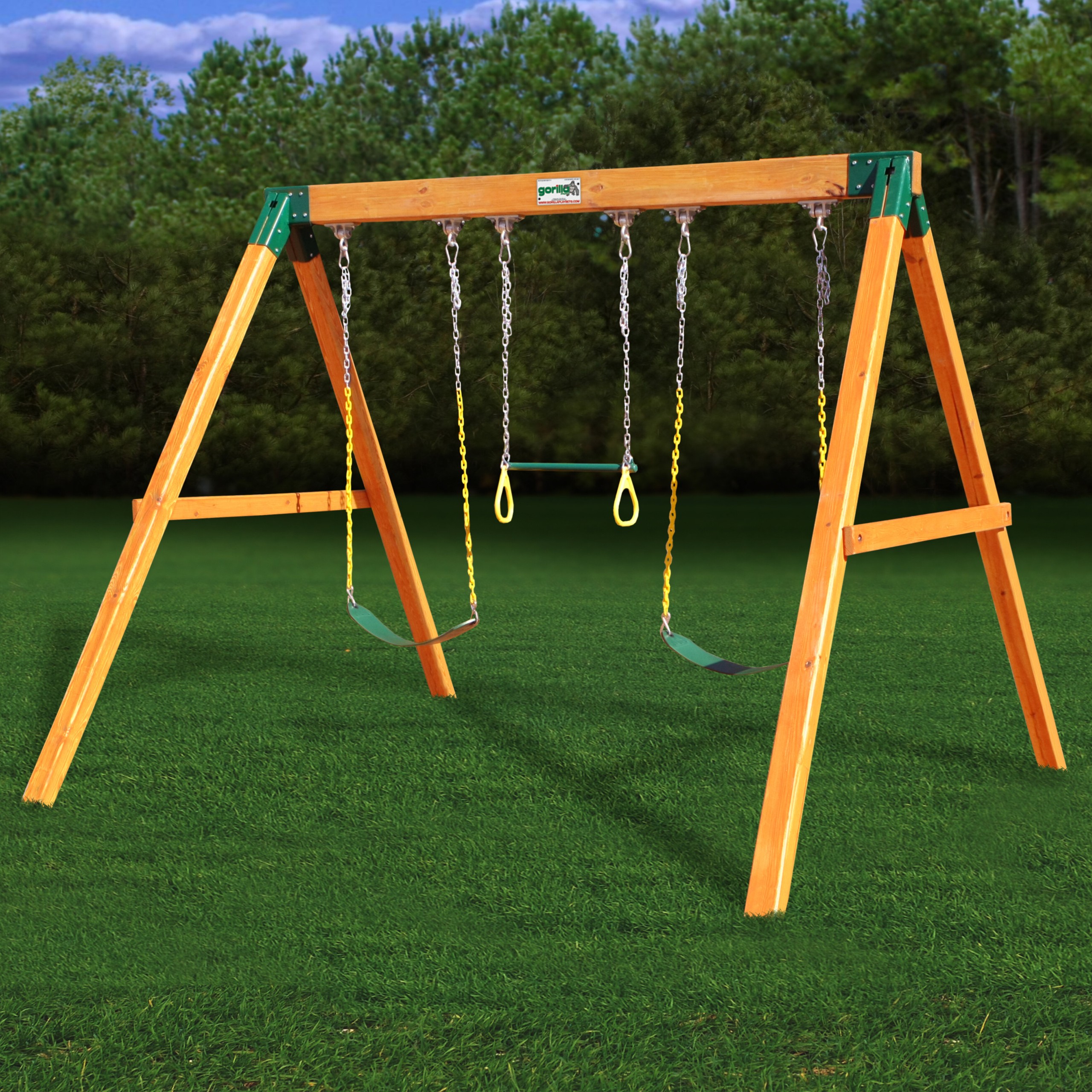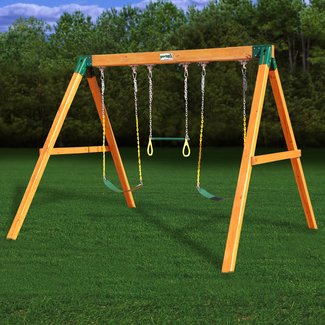 Free Standing Swing Set
This freestanding swing set is every child's dream. It's an excellent combination of fun and learning and offers multiple activities to keep your child entertained and active at the same time. The swing set is constructed from plastic and wood, ensuring reliability and contains two swings and a trapeze that no child can resist. Thanks to the iron ductile hangers on the swings, a firmer grip is provided so your child can play with peace of mind. The plastisol coated bar between provides multiple exercise activities, and the shape of the frame offers stability, which is suitable for kids between 3 to 12 years of age. Thanks to the weather, water, and UV resistant material, the swing set lasts for years to come.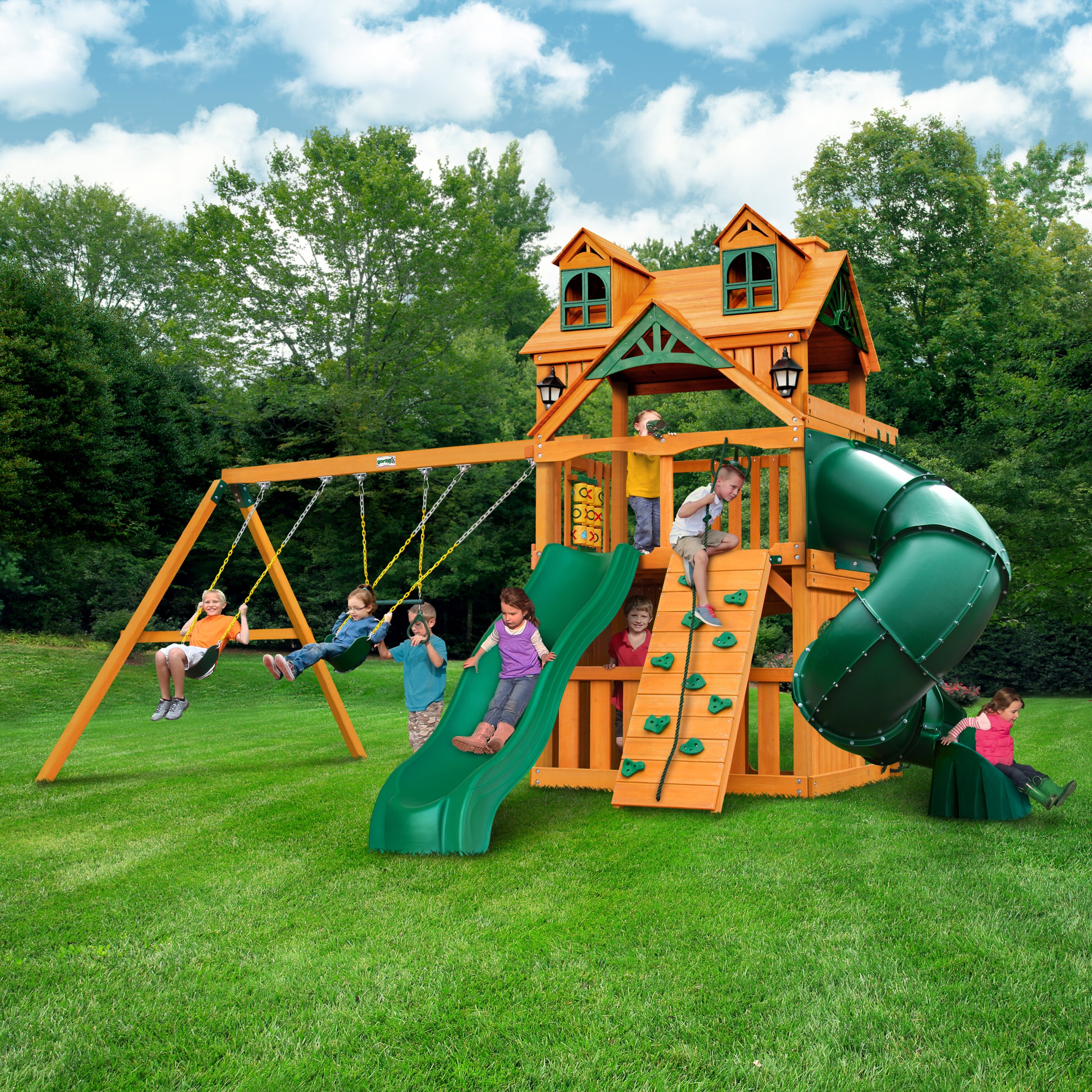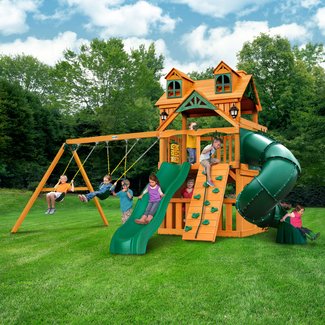 Mountaineer Clubhouse Swing Set with Wood Roof
Every budding adventurer needs a retreat, and this clubhouse treehouse provides just that. The upper level of the treehouse has working shutters while the lower-level clubhouse has half walls, which allow little ones to catch their breath after a day of avid exploring. The cedarwood treehouse is pre-cut, pre-sanded, and pre-stained in your backyard, and thanks to its natural qualities, the treehouse will not decay, rot, or be damaged by insects. The deck is also protected with a tongue and groove wood roof.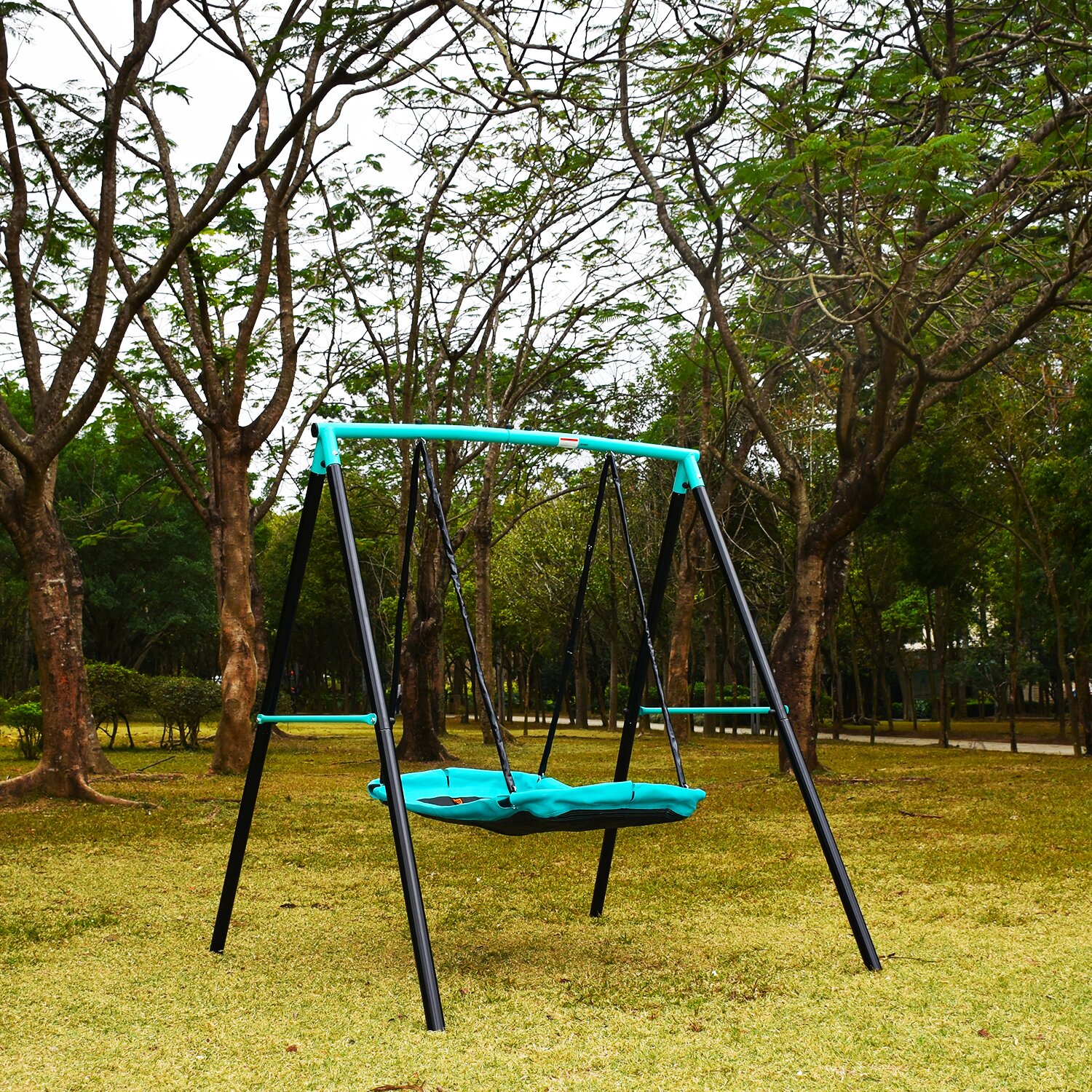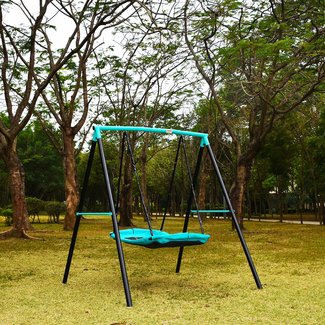 Magic Carpet Swing Set
Your kids will want to swing on this magical swingset forever. This magical swingset can only be described as a hammock for kids that swings. It's suitable for kids from 3 to 8 years of age. For added durability and strength, it is made from chain and not rope as well as an extra vinyl coating. The set is compact enough to fit in most backyards while the black and bluish green hue adds a burst of color to the outdoor area.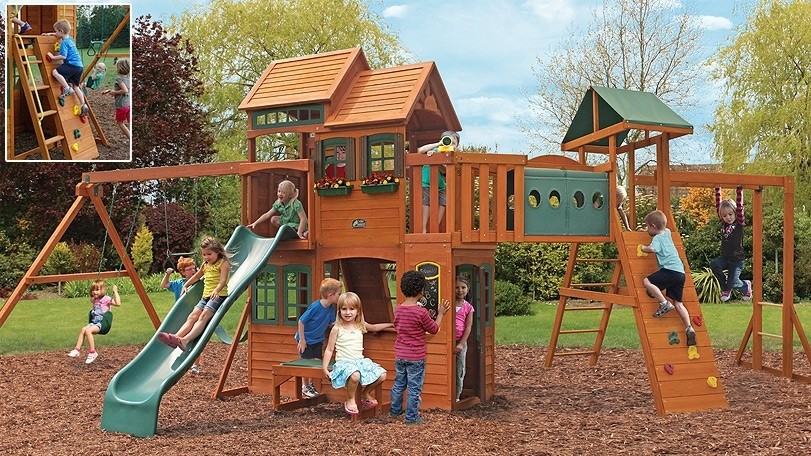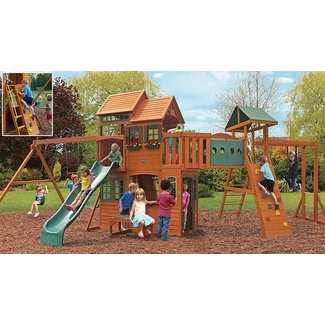 Huntington Resort Wooden Swing Set
Fun-filled activities are the order of this wooden swing set and playhouse. With enough room for your kids and all their friends, it features an exciting adventure tunnel to crawl through, a high-rail slide as well as a two-level clubhouse for exciting play options. The chalkboard walls will bring out the artist in your little one while the play telescope will inspire the explorer inside. The rotating steering wheel will definitely appeal to aspiring racecar drivers while the working front door on the lower-level allows your kids to step out and water the flowers in the planter box or put on a puppet show through the large window.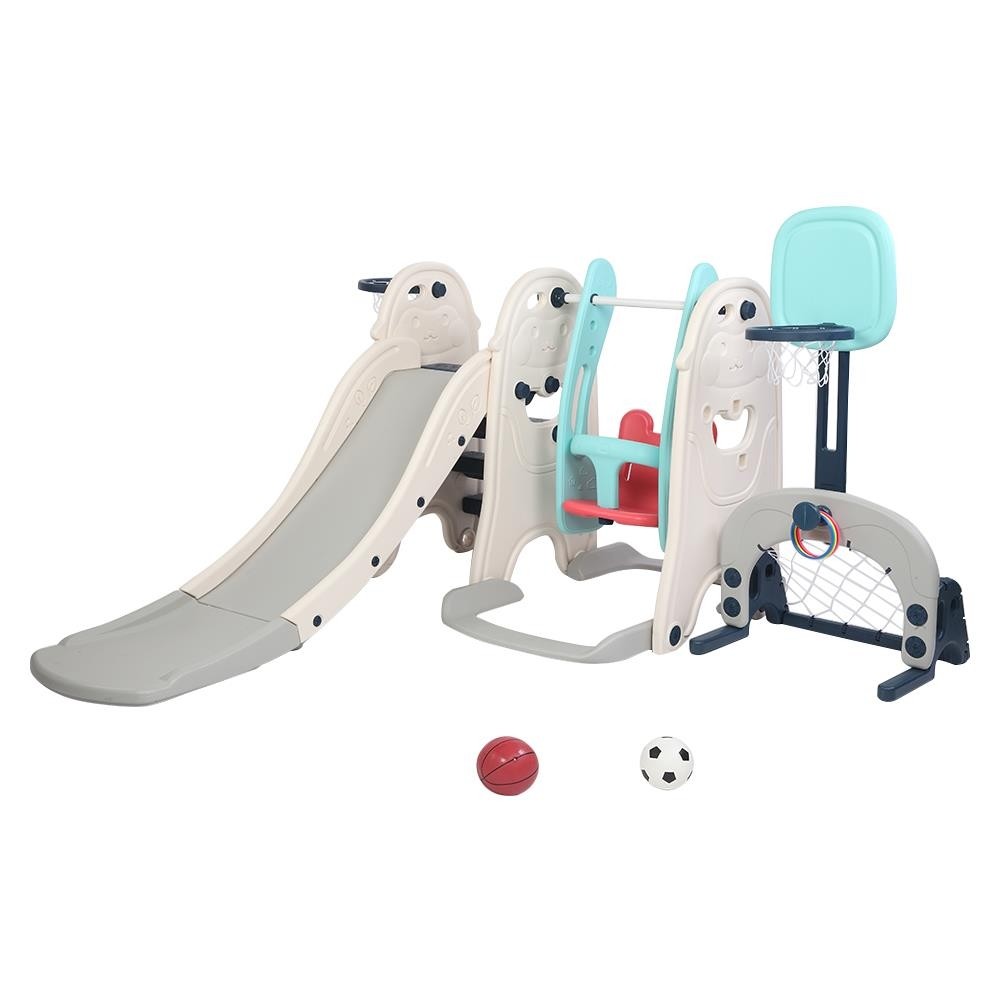 Swing Set
This slide and swingset is the epitome of fun and excitement for little toddlers. Thanks to the slide with acceleration zone, deceleration zone, and buffer zone, little kids can fall smoothly and land safely. The sets allows your toddler to exercise coordination and slide towards hours of fun. The wide seats and T-shaped forward-leaning safety protection exercises your toddler's sense of balance as they play, learn, and grow. Suitable for babies as young as six months to toddlers as old as six years.