Our Choice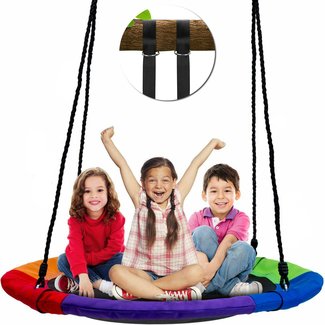 Plastic Web/Saucer Swing
Featuring a unique oval form, this swing also comes with flags and a seat edged in bright colors.
In addition to being portable and easy to transfer, it is also suitable for indoor and outdoor use.
The swing which has a maximum weight limit of 330lbs, also comes with durable ropes and robust suspension points.
Take advantage of its impressive versatility which will provide you with the option of suspending it on a swing set, tree or post.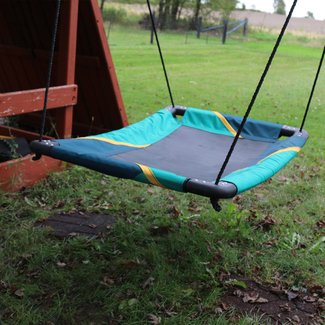 Nylon Web/Saucer Swing with Chains and Hooks
Consisting of two swing chains and mounting hangers, this saucer swing has been specially designed to provide exhilarating fun for one child or even more.
Manufactured from nylon and edged with a delightful color combination of blue, turquoise and yellow, this product is also UV resistant.
Specifically designed for children aged between the ages of five and eight years, and suitable for a maximum of three children, this saucer swing comes with a maximum weight capacity of 400lbs.
Suspend it from your favorite sturdy branch to create a fun, natural play area for young children and their friends.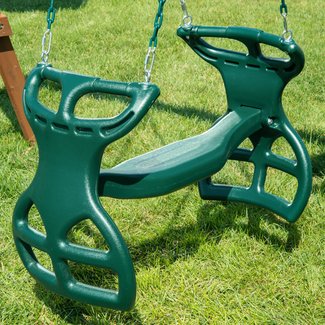 Dual Ride Glider with Chains
The first thing which is immediately noticeable about this swing in an enchanting forest green, is its unique design which makes it ideal for two children at a time.
The product which has been crafted from plastic comes with four swing chains. It also possesses a maximum weight capacity of 150lbs in addition to being especially durable due to being fade, rust and UV resistant.
Accessorize with seesaws, a sandpit and your children's favorite toys to create a fully functional play area for them and their guests.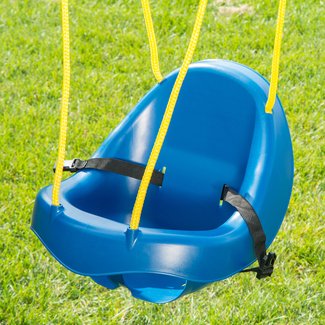 Child Swing Seat with Chains
Capable of providing recreation while keeping your child safe at the same time , this swing has been designed to be especially durable.
Manufactured from HDPE plastic for added stability, the product which also features a seat belt and two swing chains, is also water and rust resistant.
The bucket swing seat which comes with a lower age limit of three years, also has a maximum weight capacity of 55lbs.
Set in a shaded spot on your porch or close to your home where you will be able to observe your child at play while you work or complete house chores.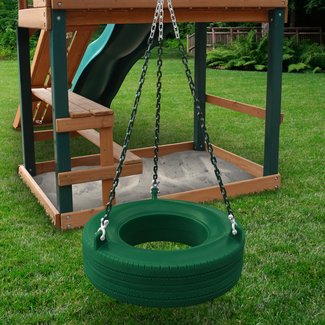 360° Rotate Tire Swing
Suspended from three chains and exuding a simplicity which is both alluring and enchanting, this swing set in a bold, vivid blue, hints of white and navy, will provide a carefree ambience to your child's play area.
The product which has been manufactured from roto-molded plastic, comes with a maximum weight capacity of 150lbs.
It is also especially weather resistant in addition to featuring chains with additional plastic for extra comfort when in use.
Accessorize with other boldly colored recreational items such as teeter totters, seesaws and even other swings as well to create a brightly hued haven for your children and their guests.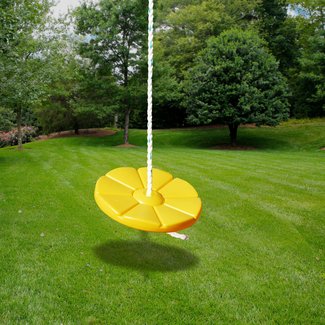 Plastic Disc Swing with Chains
An alluring floral design in a bright buttercup yellow means this swing will suffuse your garden with a hint of summer magic.
Possessing a maximum weight capacity of 100lbs, the swing set which includes a robust nylon rope, is also UV resistant.
Take advantage of its unique appeal to create a floral-themed play area filled with the allure of spring and summer.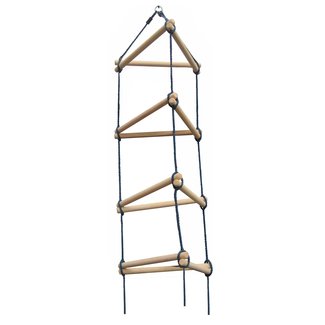 7.5' Steeple Climber
Ideal for outdoor use and designed to meet ASTM standards, this rope ladder will enhance your children's recreational experience at home.
Featuring sturdy wooden dowels for improved safety, this steeple climber is also easy to install.
It also possesses a maximum weight capacity of 115lbs and is rust and moisture resistant.
Make use of its unique design to encourage physical activity in children and enhance their agility and coordination as a result.
Steel Kids Platform Swing with Chains and Hooks
Especially designed for home use, this platform swing is capable of enabling your children and their friends to create special memories together.
Its alluring blue and turquoise swing with orange chains lend it an inviting appeal while an impressive weight capacity of 700lbs makes it perfectly suitable for more than one child at a time.
The swing set which possesses a resistance to rust, water and UV rays is also especially durable.
Its robust design makes it the perfect option for imbuing play times with exhilarating magic.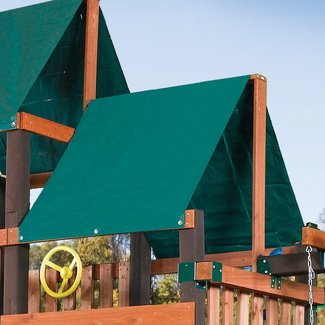 Vinyl Swing Set Canopy
Brought to you in a deep forest green, this swing set canopy will not only fit right in with your garden's color scheme but will also provide protection during rainy or hot weather.
Manufactured from vinyl, and especially durable, this product is also fade, mildew and UV resistant, rendering it suitable for long term use.
Install in your children's preferred spot in the garden to ensure they enjoy an active lifestyle while benefiting from the protection they deserve.