Our Choice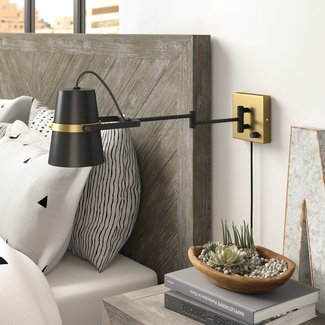 Austrinus 1-Light Swing Arm
Light up your home in style with this matte black, ultra-functional swing arm. With its innovative 2-in-1 design, you can install your wall light as a plug-in or use the hardwire option to create a sleek cordless look.
The shade is made of metal with brass accents to give it a modern industrial design. The 7.88'' H x 6'' W x 23.13'' D unit is fire-resistant and comes with a durable aluminum backplate.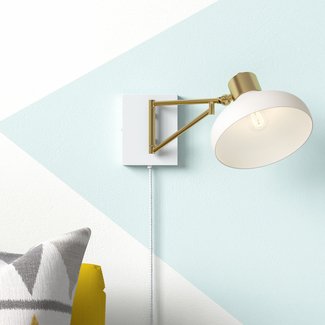 Arseni 1-Light Brushed Brass Swing Arm Lamp
With a matte white color with brass trim, this mid-century, modern-inspired wall light will enhance any room in your home. It is equipped with either hardwiring capability or you can use the 6-ft. cord to plug it in anywhere.
Using a swingarm and a pivoting head, this fixture is perfect for reading nooks, task lighting, and much more. It ships with all the mounting hardware you need for easy and hassle-free installation.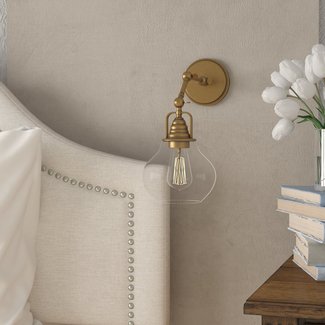 Ratcliff 1-Light Dimmable Swing Arm
Add a mixture of modern style and traditional comfort that is suitable for any space with this dimmable swing arm. Available in harbor bronze, polished nickel, and weathered brass, it is hardwired and dimmable for better light control.
The swing arm is metal with a stainless steel backplate and a clear bell-shaped glass shade. The light shade can be changed and the swingarm can be adjusted from all three points for optimal versatility.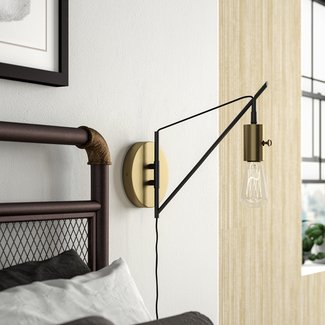 Chalfant 1 - Light Satin Swing Arm
Crafted with a metal frame and an aluminum backplate, this fixture goes with any color palette in your home. It is coated in a dark bronze satin finish with brass accents to create a vintage industrial look.
The exposed 60-watt bulb brings a boost of brightness to your space, and its 2-in-1 plug-in or hardwire capability makes it easy for you to install this swing arm wherever you desire.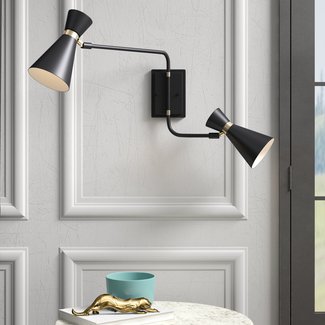 Austrinus 2-Light Dimmable Matte Swing Arm Lamp
Ideal for reading before bed or work projects in the office, this lamp has two swing arms that can adjust to any angle that suits your needs. With a matte black finish and antique brass accents and conical shades, it offers a modern and minimalist feel.
It is fully dimmable to help you create the perfect atmosphere within your home. For quick and easy installation, it comes with all of the mounting hardware you need. Both the fixture and shade are made from metal so you can rest assured of its quality and reliability.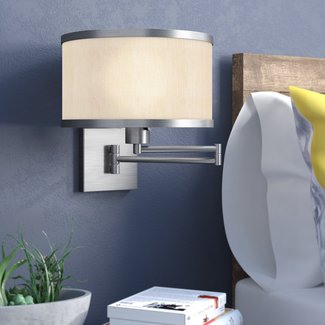 Cavan Swing Arm Lamp
Create a soothing atmosphere in your master bedroom with this dimmable wall sconce. You can extend its arm length up to 22" or close it fully to create a streamlined look. Beneath the champagne drum shade sits one incandescent bulb.
The steel frame supports a champagne-colored fabric drum-style shade which accommodates a 100-watt incandescent bulb. The brushed nickel finish offers a simple, modern-inspired style. This wall-mounted swing arm is perfect for any bedside, office, or den.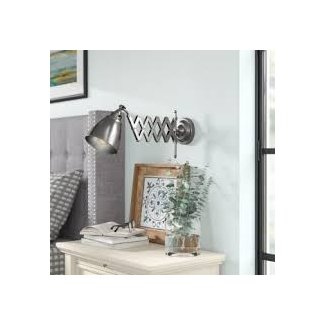 Styers 1 - Light Swing Arm
Characterized by its accordion-style swing arm, this unique wall lamp is guaranteed to spark curiosity as it brightens up your home. Available in antique nickel or copper bronze, it features an extendable arm and elliptical steel shade.
Its neutral metallic finish is sure to fit your style and provide strong, directional lighting.
The dimensions of this fixture are 10" H, 6" W, 13-23" extension, and a 6" diameter shade which covers a housing that can hold a maximum 60-watt bulb.
Burrell 1-Light Swing Arm Lamp
Add a striking accent to your bedroom wall with this dimmable and adjustable fixture that allows you soft ambient light while your rest or bright task light for reading. The versatile swing arm allows you to move it forward and backward.
An open cage shade encases a single bulb that is hardwired for a streamlined appearance. The fixture is made of stainless steel in an English rubbed bronze finish with brass accents for an industrial look that is both classic and contemporary.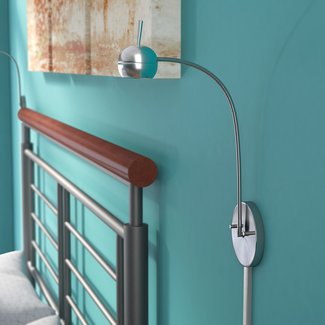 Deepraj 1-Light LED Swing Arm Lamp
Brighten up your bedroom or reading space with this integrated LED swing arm lamp. Its plug-in installation makes it ideal for a versatile range of spaces.
The 4-way touch switch lets your illuminate any size space with 360 lumens and an adjustable light direction gives you precise task lighting. The spherical shade and flexible arm are both finished in brushed steel, and the LED light bulbs can withstand up to 50,000 hours of use for better energy efficiency.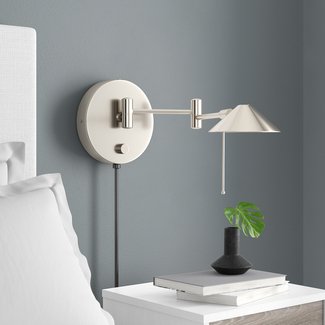 Tatum Swing Arm Lamp
Illuminate your bedside in a sleek and simplified style with this wall lamp. Its double-hinged swing arm allows you to adjust its position with ease and the cone shade produces ambient light using a 35-watt halogen bulb that is directed downward and out.
The fashionable polished steel and antique brass finish adds contemporary style to any room in a simple and functional form. Without compromising on features, it is available at a value-focused price.