Our Choice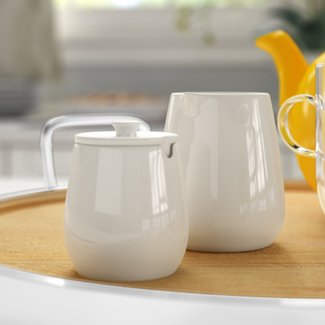 Laleia Sugar & Creamer Set
Upgrade your coffee and tea service with this contemporary sugar holder and creamer pitcher set. The white bone china is durable enough for microwaving and cleaning in the dishwasher but delicate enough to impress your guests.
The sugar holder is round and holds up to 12 fl. oz. of your favorite sweetener while the curved creamer jug holds up to 14 fl. oz. of milk. Both items can be covered with their lids for storage.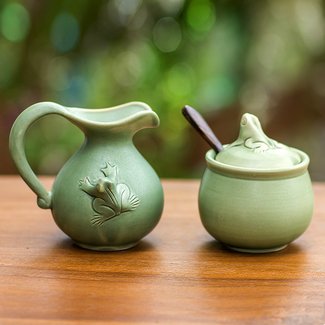 Elby Sugar & Creamer Set
Enjoy your morning coffee with this adorable 4 oz. cream pitcher and its matching sugar bowl. Both items are glazed in a refreshing green finish with tiny frog motifs sculpted into the ceramic material. These hand-painted pieces are hand wash only.
With their small profiles, you can stash them away in a cupboard until company comes over or leave them on a small kitchenette table as a quirky accent.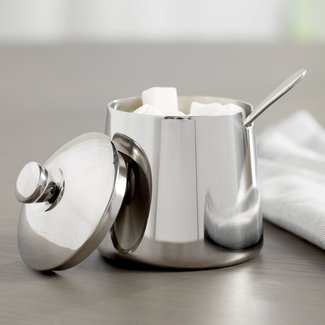 Cloverdale 9.6 oz. Sugar Bowl with Spoon
This dainty but elegant sugar holder is made of stainless steel adding a touch of chic polish to your daily tea service. Small enough to leave on your granite countertops for easy access or store in a cabinet until needed, this scratch-resistant bowl is durable enough to last and look great for years.
The insulated bowl is joined by a stainless steel spoon and matching lid. It is freezer safe, dishwasher safe, PFOA free, and PTFE free, ideal for use by busy families.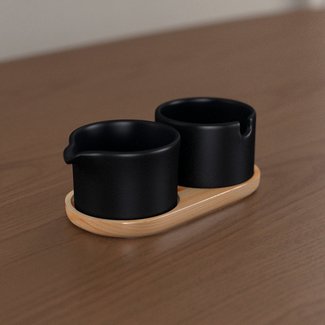 Lauren Sugar & Creamer Set
This black stoneware service set will ensure your favorite beverage will be served in a modern style.
The wooden tray has a natural brown finish and nestles this darling 4 oz. couple tastefully at your coffee station. The jug features a curved pouring spout to minimize spills, and the sugar bowl has a cutout spoon rest. They are microwave and dishwasher safe so your service cleans up easily.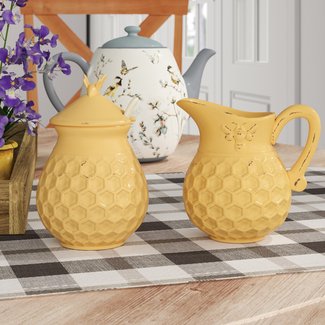 Gouet Sugar and Creamer Set
The sweet honeycomb design of this adorable ceramic, bee-themed service set has a mustard-colored finish with purposeful distressing for a retro-style piece to complement your farmhouse décor.
Filling up to 8 fl. oz. in both the pitcher and bowl, this set is ideal for an afternoon garden tea. The spoon is finished in white to set it apart from the rest of the piece.
Perfect for your country cottage kitchen, the vintage pitcher can hold honey when not filled with your favorite milk or flavored creamer.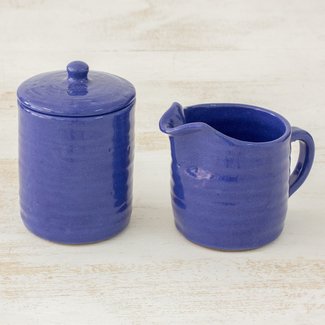 Oban Sugar & Creamer Set
The vibrant cobalt blue color of this ceramic pitcher and bowl set is eye-catching and gorgeous. The rustic style looks handmade but the glazed finish is dishwasher and microwave safe. Keep the matching lid on the sugar canister to keep your sweeteners fresh and protected.
At only 3.7" high, this sweet set can accompany you outside to enjoy your coffee and breakfast on the porch or be stored in a cabinet until ready to serve.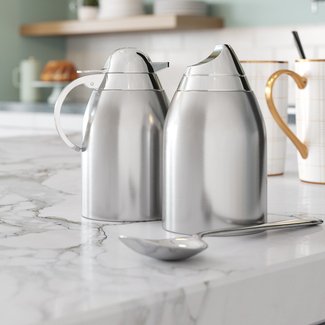 Harriman 2 Piece Stainless Steel Sugar and Creamer Set
Take your mid-century modern kitchen to the next level with this vintage diner-inspired cream pitcher and its complementing sugar caddy.
Both items are crafted from chrome-finished stainless steel to add understated elegance to your kitchen and they are also microwave and dishwasher safe to keep them looking bright and free from smudges.
Lightweight and easy to pour from, at under 5" tall, they are easy to store and highly portable.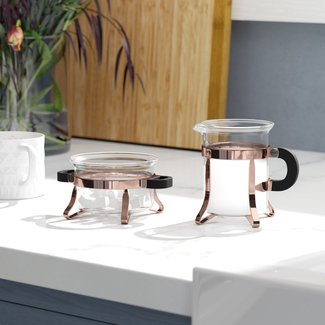 Chambord Sugar and Creamer Set
This adorable cream and sugar service set is the perfect match for your French press. The copper-colored stainless steel frame houses tempered borosilicate glass containers to serve coffee or tea in a modern industrial style.
The compact profile of each item ensures they fit easily on your counter or serving tray, while handles in a contrasting finish provide a comfortable grip and allow for easy portability. Each of the glass containers is removable and dishwasher safe for simple cleaning.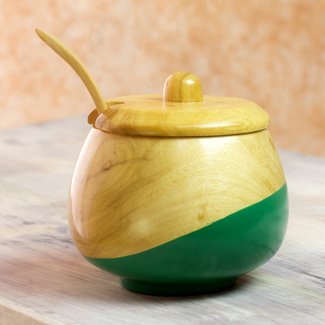 Bridlewood 11 oz. Sugar Bowl with Lid
Indulge your love of nature while enjoying your coffee or tea. This charming palo blanco wooden sugar coffer, lid, and matching 6.5" long spoon are artfully crafted to give your modern kitchen a colorful flare in a dipped geometric style. Available in red or green, all items are hand wash only to protect the glossy finish.
This dynamic piece is free from lead and toxins, and is durable and vibrant to cement its place as a permanent kitchen staple.
Sara Miller Chelsea Covered Sugar Bowl with Lid
Add elegance to your kitchen accessories with this stunning porcelain sugar caddy. Given as a gift, the jar is impressive and extravagant with its beautifully painted motif that the bird watcher in your life will love. The lid is finished in dark gray with gold accents giving it an opulent feel.
Holding up to 10 oz. of your favorite sweetener, this 4.5'' H x 5'' W x 5'' D item is a stunning decorative addition to your kitchen table.