Our Choice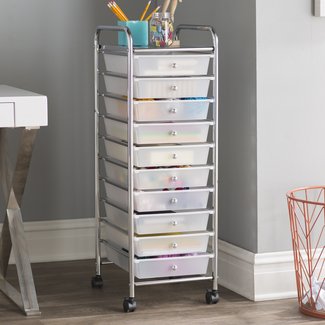 10-Drawer Storage Chest
Get the messiest room in your home organized with this 10-drawer storage chest. Arts and crafts, tools, and various accessories can be found in a jiffy thanks to the 10-sliding draws sculpted from polypropylene. The sturdy chrome-plated steel construction and four casted feet on wheels ensure that the storage unit is easy to access and move around from one space to the next. Ideal for your office space, kitchen, or workshop to get things organized and in reach.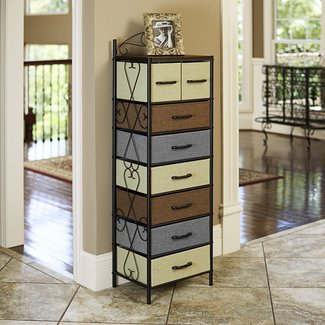 Brundrett 8 Drawer Storage Drawer
An elegant and versatile piece of furniture, this 8-drawer storage unit will help you organize your most frequently used tools. With a smooth top and mahogany finish, it easily gives any space inside your home a facelift. The black metal frame scrolls along the top and side add a subtle hint of style and pizzazz while storage drawers in brown, green, and blue add a lovely combination of earth tones to your room. There are two medium drawers and six larger ones that you can rearrange in the stand to create a range of looks.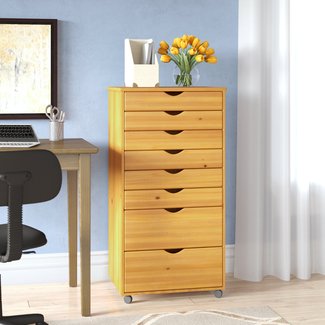 Castaneda 8 Drawer Rolling Storage Chest
Store sewing items, tools, and even kitchen utensils in this solid wood mobile chest. Remove and transport drawers to your work area, saving you time on any project. Be it storage in a simple bathroom or a complete home overhaul, this 8-drawer storage unit is the ultimate answer to your coordination needs. Thanks to the high-quality construction, and caster wheels for mobility, it adds a touch of aesthetics as well as convenience to your workspace.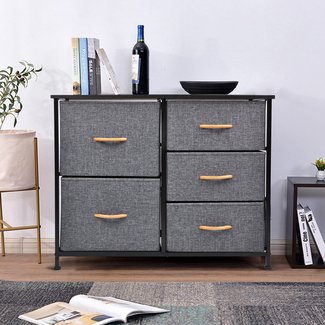 Shiffer 5 Drawer Storage Chest
If you're looking for a combination of style and functionality in a storage unit, then this one will do the trick. Ideal for entryways, bedrooms, playrooms and nurseries, it's the ultimate storage space for apartments and dorm rooms to make a little space go a long way. The material fabric drawers are complemented by high-quality metal frame structures that give the unit a sturdy and contemporary look. With two large drawers and three smaller ones, you'll have enough space to organize both small and large used items.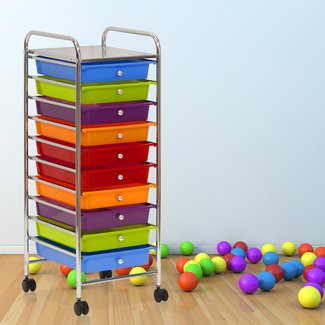 10 Drawer Trolley Storage Chest
Get your office or kitchen space organized with this 10-drawer storage trolley. The 40 mm wheels on each leg allow for easy mobility while the two brakes included allow you to firmly station the trolley while working. An additional working platform is made available by the steel board on top and the chrome-plated steel tubes give this plastic storage unit a touch of polished panache. The storage trolley is the ultimate coordination unit inside your home or office.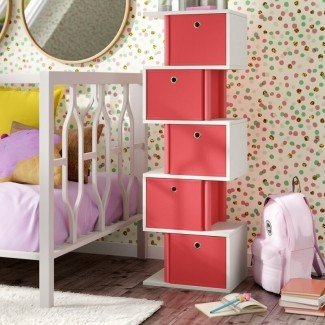 Alisa 5 Drawer Storage Chest (Set of 5)
Looking for a state-of-the-art and outlandish storage unit for your bedroom? Then you are in luck. The fashion-forward storage chest is practical and features a zigzag design. With five fabric drawers, you'll have enough space to store movies, books, and your most frequently used items. Not only will it keep clutter from taking over your home, but it makes for an eye-catching centerpiece in your bedroom.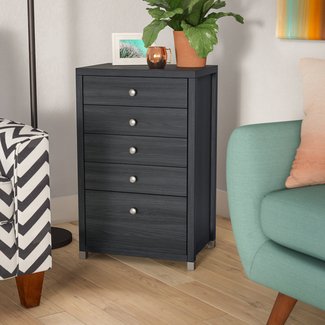 Cornwall 5 Drawer Organizer Storage Chest
Are you tired of plastic storage units that do nothing for the aesthetics of your room? Then this solid wood veneer storage chest is just for you. The versatile gray finished piece seamlessly blends in with your bedroom decor, be it contemporary or traditional. Place it against a blank wall to add an instant boost while storing your favorite pairs of socks, bras, belts, and ties in one of the five drawers. Add a photo frame, vase, or your favorite pot plant on top of the unit to instantly transform it into a centerpiece.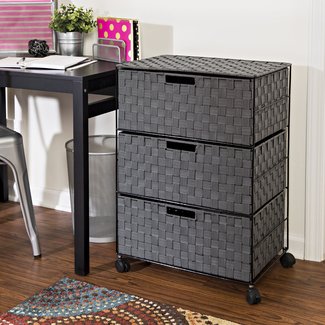 3 Drawer Storage Chest
This 3-drawer wicker storage chest delivers some casual and cottage chic to your bedroom. Thanks to the flexibility, versatility, and durability of wicker, you can use it to store your favorite items, be it garage tools, sewing accessories, clothing, and even kitchen utensils. The unit is housed on four wheels, making it easy to move around while the metal frame keeps the unit strong and sturdy. While the top of the unit is not as steady as some other more solidly constructed materials, it still makes a great surface to house your favorite vase of flowers or photo frame.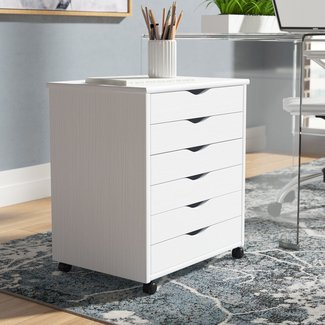 Pitts 6 Drawer Rolling Storage Chest
Are you tired of clutter getting the best of you? Then you need this clean-lined and understated multiple drawer storage unit. With six equally sized drawers, you have ample space to store your documents, trinkets, and small items, keeping them out of sight but within reach when you need them. Crafted from a solid wood finish, this neutral storage unit won't clash with your existing color palette. Draws can be easily removed and carried to a workspace, saving you time and effort.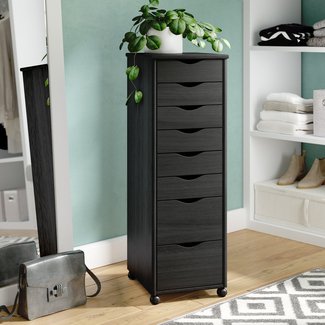 Pringle 8 Drawer Rolling Storage Chest
Are you looking for a functional storage unit to get things organized? Then this 8-drawer storage chest is the answer. Featuring six smaller drawers for trinkets and documents as well as a large one for bigger items such as work tools, this rolling storage unit is the epitome of versatility and convenience. The understated piece made from wood is finished in a neutral light gray hue allowing it to seamlessly blend in with your current decor.