Our Choice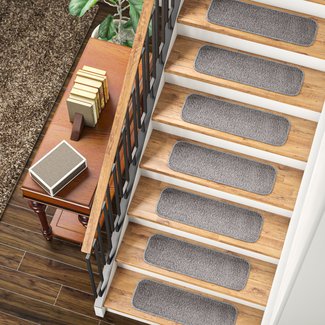 Thedford Stair Tread (Set of 13)
Rounded edges and a neutral gray hue lend this stair tread set an understated elegance with which it will infuse its surroundings.
Woven from synthetic fiber, this ensemble comes with non-slip backing and is also weather and stain resistant in addition to being suitable for vacuuming and machine washing.
Place on marble or wooden floors in light or neutral colors to protect them while also bestowing them with a stately appeal.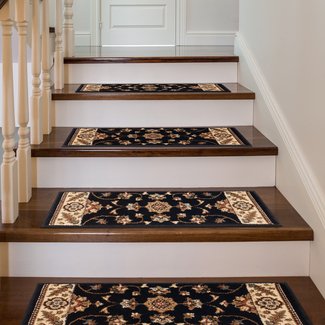 Athol Stair Tread (Set of 12)
A low pile height and impressive durability make this stair tread set an excellent option for protecting your stairs from stains and blemishes.
But it is its intricate oriental-inspired detail which makes this stain resistant floor covering a truly special offering.
Use its alluring opulence to elevate the gloss of natural finished wooden stairs in a dark finish.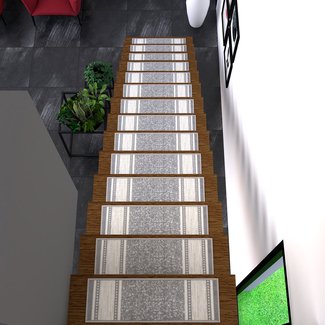 Skelmersdale Bordered Design Stair Tread (Set of 7)
Consisting of a central panel speckled with white, accentuated by cream side panels and gray threading, and edged in gray, this stair tread set exudes an appeal which is both understated yet refined.
Specifically designed to handle heavy traffic, the ensemble is stain, shedding and fade-resistant in addition to possessing non-slip rubber backing.
Place on staircases which typically see a great deal of use by children and pets to provide a subtle elegance accentuated with warm colors.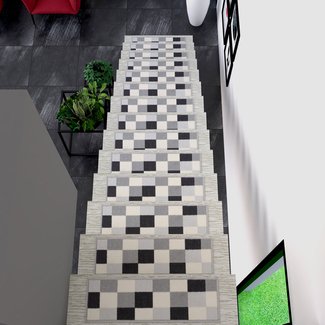 Brantice Checkered Design Gray Stair Tread (Set of 7)
Checkered detail in white, black and varying shades of grey grant this set an eclectic modern charm while also making it ideal for any color palette.
Designed for safety with its low pile and strong bound edges, this stair tread ensemble is both stain-resistant and shed-free.
Make use of its complementary matching colors to elevate an urban or modern space decorated with a matching color palette.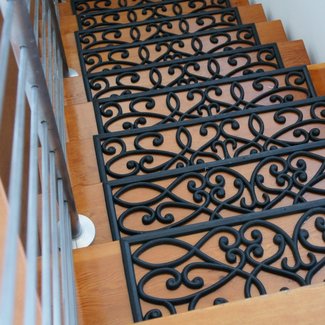 New Amsterdam Black Stair Treads (Set of 6)
Featuring intricate black scrollwork, this stair tread set will work marvelously in a traditional setting and will instantly stand out against polished marble or gleaming wooden surfaces.
Manufactured from recycled rubber, this highly decorative ensemble is not only sustainable, but is also durable and easy to clean.
In addition to possessing anti-slip properties, it is also mildew and mould-resistant while its unique design will also enable it to eliminate any debris as well.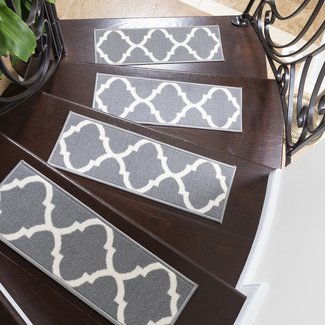 Arette Stair Tread (Set of 7)
Impressive power-loomed manufacture provides this stair tread ensemble with the durability required to ensure effective, long term use.
Brought to you in red and featuring repeating white patterns, this set has been woven from nylon and features non-slip backing. It is also fade, odor and stain-resistant.
Place in high traffic areas against stairs in a medium to pale wooden finish to provide protection and decorative allure simultaneously.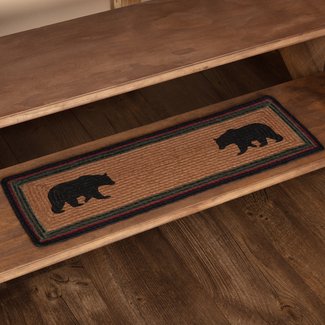 Dubay Stenciled Bear Brown/Black Stair Tread
Crafted from braided jute, this stair tread set possesses an inherent organic charm which will lend your home a delightful rustic appeal.
Its natural allure is further enhanced by its matching bear stencils and borders colored with black, red and green in concentric patterns.
It is also easy to clean ensuring you will be able to keep it spotless with minimal effort.
Place on wooden steps with a distressed effect to enhance the organic appeal it provides.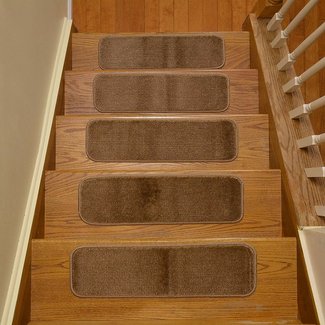 Comerfo Comfy Slip Skid Stair Tread
Satin smooth, in navy, these stair treads will not only protect your stairs, but will also imbue your stairwell with an understated charm.
Woven from synthetic fibers, this set is suitable for both marble and wooden floors owing to its slip resistant backing. It is also stain-resistant and easy to clean and wash.
Make use of its subdued refinement to enhance the elegance of a traditional setting.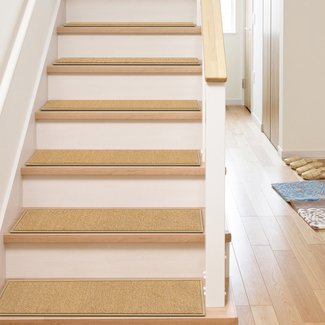 Kings Court Brooklyn Trellis Lattice Non-Skid Stair Tread (Set of 7)
A frieze pattern in white against a yellow background edged in a matching, darker hue provides this stair tread set with the perfect balance of elegance and domesticity.
Manufactured from nylon and featuring non-slip backing, it is not only machine washable but is also suitable for all floors.
Place on staircases which feature lighter colors to create a perfect harmony of rich and mild tones.
Allerton Red/Brown Stair Tread
A speckled swirl of gold against brown provides this ensemble with both warmth and understated elegance.
Made from natural fibers, this machine woven stair tread set comes with latex spray on its reverse side to prevent slipping.
Place on distressed surfaces to enhance the organic charm of a natural or shabby chic space.