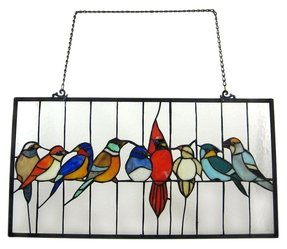 Stained glass decorated with bird theme. Frame is made of metal and mounted on the chain. Suitable for residential and commercial premises. Stylish accent for each room.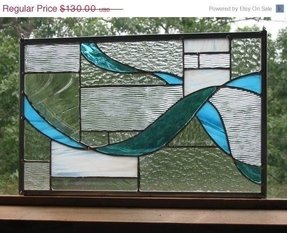 Sale Stained Glass Panel Ribbons
Stained glass window panel in simple, but attractive colors. Black metal frame of this construction is durable and also looks nice in many different stylizations. Simple geometric shapes are also very stylish.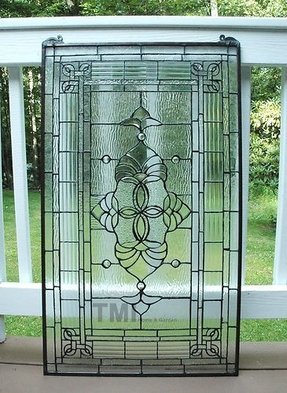 ... Large Tiffany Style Stained Glass Beveled Clear Window Panel For Sale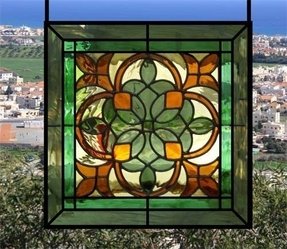 Green Geometric Stained Glass Panel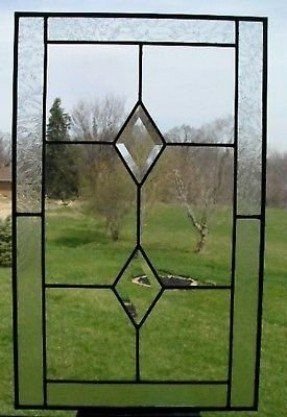 Stained glass panel window for sale; rectangular window panel with beveled diamonds detailing. Small window suncatcher. Diffuses the sunlight beautifully for a colorful rainbow effect. Decorative window panel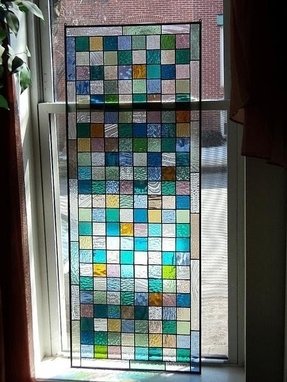 Stimulating stained glass window panel that will effortlessly enhance the atmosphere in your house. Who needs ordinary windows when you can have such a stylish decoration instead? The interesting pattern will keep your brain occupied and always motivated.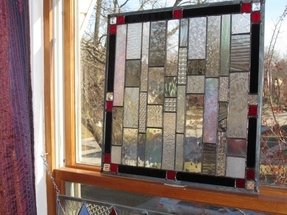 Stained Glass Handmade Window Panel
The stunning composition of colors and geometric patterns in this phenomenal stained-glass window panel makes the interior unique. Beautiful combination of intense red and black with translucent enchanting.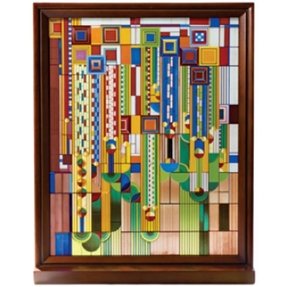 The Met Store - Frank Lloyd Wright: Saguaro Glass Panel. is this one a little bigger, or is the frame just bigger? again, could be mounted and reframed with a mat 14.75x12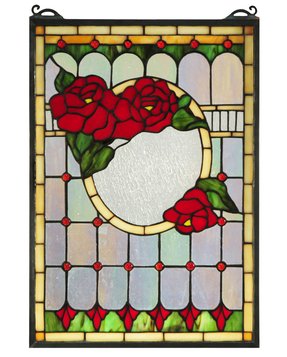 Tiffany Stained Glass Door & Window Panels For Sale | All Things ...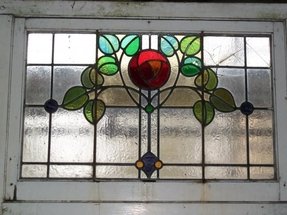 If you want a burst of color and charm for your interior then this stained glass window with the floral theme will make for the best option, allowing you to get that boost of elegance that your household needs.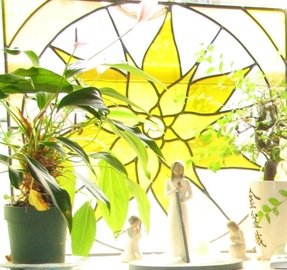 A gigantic stained glass flower will enliven and warm up any space, providing a refined antique appeal. It will also illuminate the room with a unique greeny glow.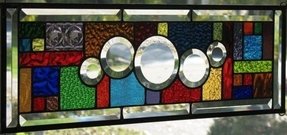 ***For sale is a beautiful contemporary stained glass window panel that features a stunning array of fantastic colors. I have included a stunning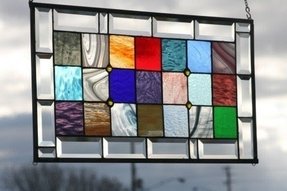 A beautiful, stained glass window panel that consists of 21 different colors and four jewels. It not only features the beautiful assortment of colors, it also offers the stunning beveled border and was constructed using the Tiffany foil method.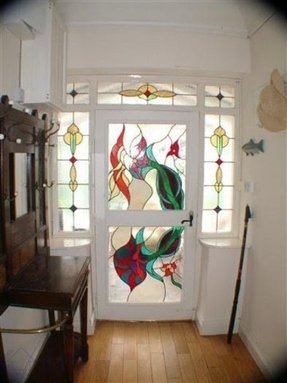 Original and decorative glass window panels combined with entrance doors. Their rich colors perfectly match white frames of doors and surrounding windows. These panels are also very durable and resistant to ageing.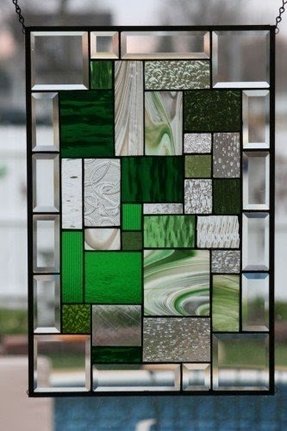 This original stained glass panel can be used as a windshielf or independent unique wall decoration. It is composed of glass' pieces in a different size (squares and rectangles) and structure. They are transparent and bicolor (green and white).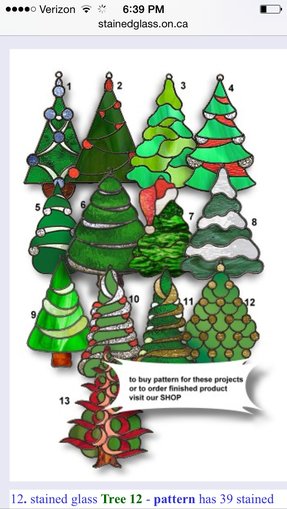 Stained glass with Christmas tree theme. Frame is made of metal and covered with colorful glass. Stylish decoration for living room, dining room, kitchen and others interiors according to taste.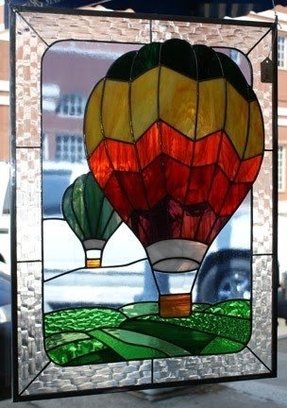 The Glass Angel | For Sale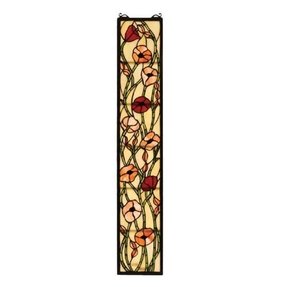 Victorian Tiffany Poppy Stained Glass Window

Daffodils by David Kennedy - Daffodils Glass Art - Daffodils Fine Art Prints and Posters for Sale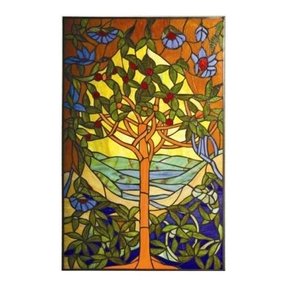 Tiffany Tree of Life Window Panel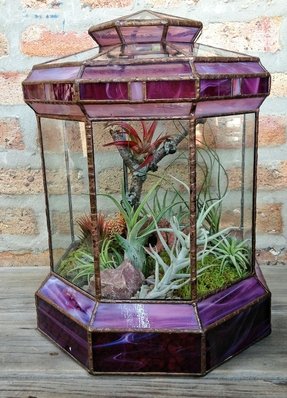 Made from beautiful purple stained glass, this construction constitutes a masterpiece among the terrariums. Its octagon construction features natural glass and plants inside.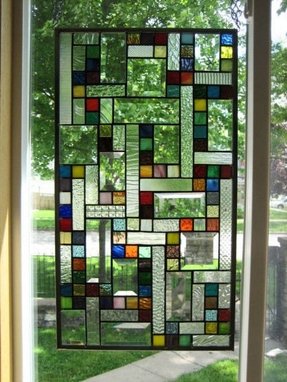 The vibrant stain glass panel placed in the front door. The abstract geometric pattern will be decorating not only the door but also the hall's floor when the light will catch the proper angle of incidence.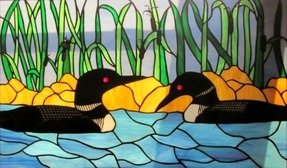 stained glass loon panel | ... Oaks Stained Glass Studio, Minnesota, handmade stained glass for sale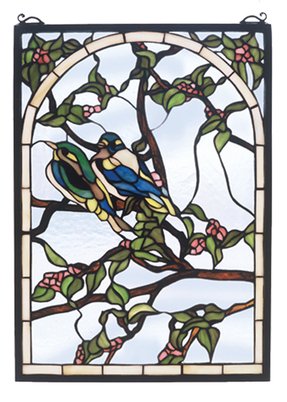 For Sale - Meyda Tiffany Style 14"W X 20"H Lovebirds Stained Glass Window 47966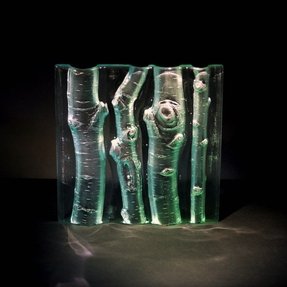 A beautiful embellishment of any refined space in your home. This modern stained glass panel can be used to distinguish your kitchen, dining or living space. It depicts a sunflower's top, enlivening the whole room.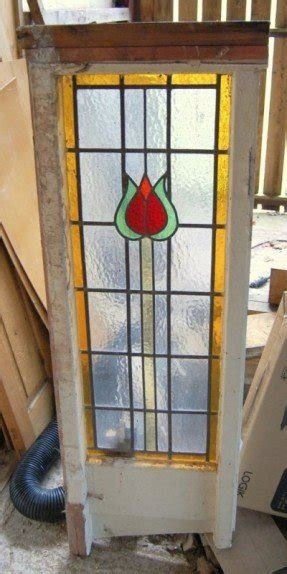 A decorative accessory for contemporary windows, that will allow you to bathe your room in colorful beams of warm sunlight. The panel is characterized by a powder-coated metal frame that holds multiple pieces of stained glass, with a blooming tulip in the center.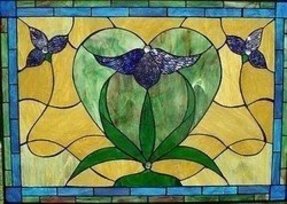 processing for stained glass panel for china church window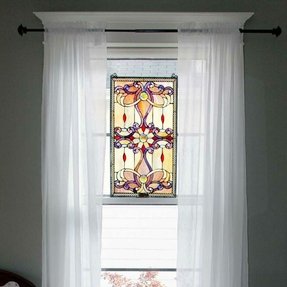 Brandi Stained Glass Window/Wall Panel in Amber
Bring more extravagance and sophistication to your home with this exquisite Stained Glass Window. The piece consists of 206 hand-cut glass pieces and 35 cabochons. A good protection against the natural light.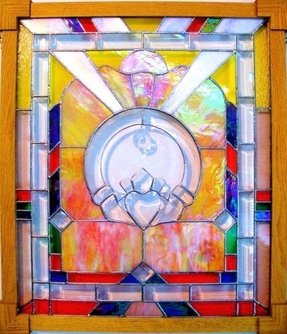 stained glass window panels for sale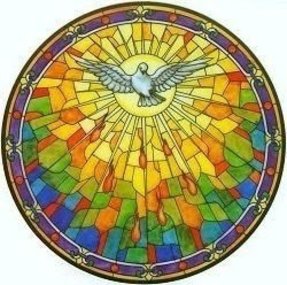 Attractive stained glass in round color for windows and other decorative applications. Its multi-color pattern with a white bird theme perfectly matches sacral applications. This round element is durable and resistant to damage.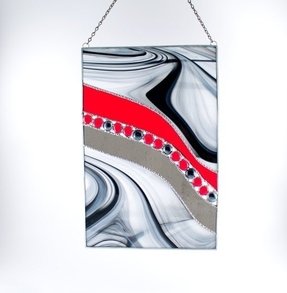 Stained Glass Modern Art Abstract Wall Art by Nostalgianmore, $140.00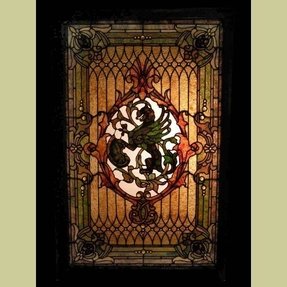 Sold Items - Back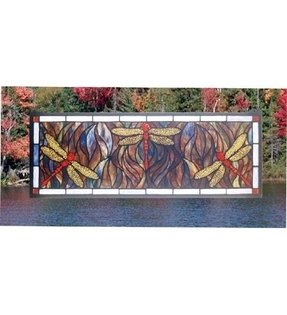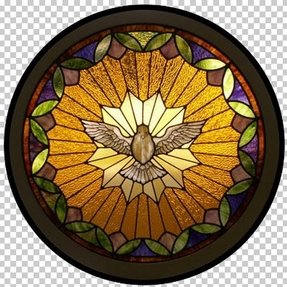 Stained Glass Windows For Sale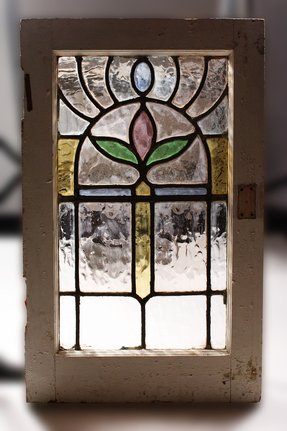 Designed to embellish even the most sophisticated decors, this gorgeous stained glass window will illuminate the room with a beautiful palette of tones. A great example of the American Art Nouveau.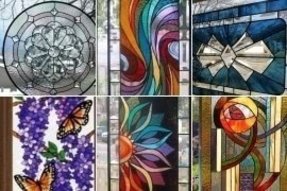 Welcome to the Wonderland. For all lovers of Alice and Cheshire Cat this stained glass window is designed with a scene from Wonderland. Many colors and textures were used to achieve this effect. One can wipe out one of the windows with stained glass like this.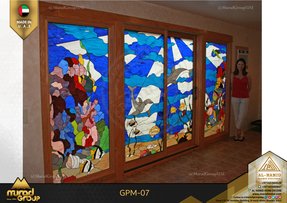 An incredible set of 4 stained glass window panels. Each panel is impact resistant and is sealed between two pieces of clear tempered safety glass. We have a set of these on sale for $4,900 (regularly $9,000.00)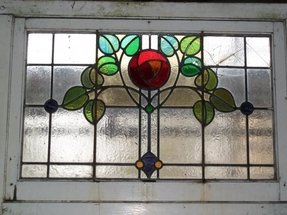 African wildlife inspired pattern - lion sisters... The pictured stained glass pattern is intended for use with copper foil technique and is recommended to be printed in a larger (not smaller!) scale.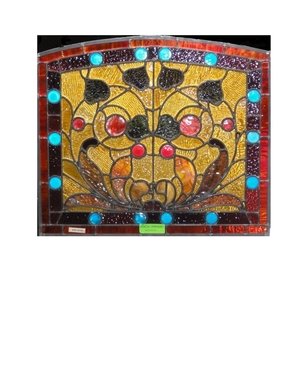 Early 1900's stained glass panel that containes exquisite jewels that are no longer manufactured. It has a slight point in the top. It measures 24" across by 19.5 high at the sides, and a height of 20.5 in the middle. For sale $750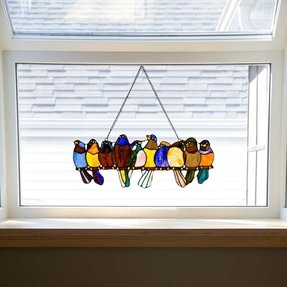 River Of Goods Birds On A Wire Stained Glass Window Panel
Beautiful stained glass panel featuring gorgeous avian inspired motif depicting various birds sporting vividly colored feathers while sitting on a bar. This decorative item comes with iron chain to enable easier set-up.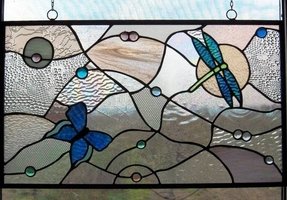 Gorgeous set of stained glass, hanging panels with a stunning, butterfly and dragonfly elements on it. The vibrant, colorful design of this one makes it the perfect addition to a vintage, old-fashioned kitchen or dining room.

Tiffany Cat and Tulips Stained Glass Window