Sports Cases
Sports cases can display your sports memorabilia, keeping it in good condition for many years. Share memories or create bragging rights by displaying your fine collectables and protecting them at the same time. Keep that autographed ball, glove or jersey protected from dust, sunlight or whatever might cause it to degenerate and fade. Keep the memories green by having your fine collectibles where you can see them and share them. You can't slow down the march of time, but you can keep the memories. Select the best case for your collectibles and protect them from ordinary wear.
Our choice Best Sports Cases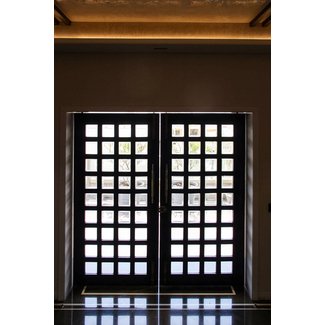 Acrylic Mountable Golf Balls Display Case Cabinet Wall Rack Holder, Acrylic Clear Display Rack Case, Clear Organizer Storage For 20 Golf Balls
Keep those special collectible golf balls in a clear display case where they are easy to see. Or simply keep your favorite golf balls where they are handy and easy to find. This clear acrylic case will hold up to 20 balls in a way that they are clearly visible. It is perfect for memorabilia or for sorting out the golf balls that you particularly want to use or test. Mounting supplies not included.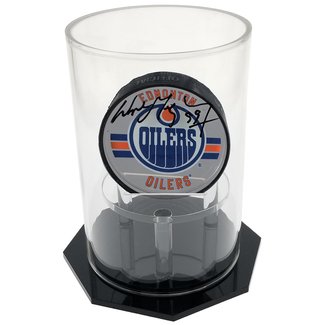 Circle on Display Deluxe UV-Protected Hockey Display Puck Case
If you've been lucky enough to get a special hockey puck, especially one signed by a favorite player, this is the perfect case in which to display it. The clear, plastic cup has a neat slot where the puck can be stood on edge to display the team logo, and perhaps even the signature from your favorite player. The base is a dark acrylic topped with a clear plastic holder and equipped with a cover to protect your fine collectible.
4 Sides Visible UV Protection Display Case
An elegant way to display that memorabilia football. Whether it was a winning football from a game you played or one that got loose in the stands at an event you attended, this clear case will make your special football visible to anyone who cares to look. At the same time, it will be protected from casual handling while still available for bragging rights. The elegant case is proudly made in the USA.
Octagon Soccer Ball Display Case
Protect that collectible soccer ball from the memorable game you attended with this octagonal case. It has a real wood base and uses acid-free adhesives, so there is nothing to deteriorate that important signature you collected. There is a clear acrylic ring designed to support the ball so that it stays secure. In addition, it is UV protected to prevent deterioration of the contents so that your memorable event souvenir remains pristine.
Mini Football Helmet Display Case
Protect your mini-football helmet, especially one with signatures, from the ravages of time. The case has mirrors on the bottom and back to enable better viewing of the contents. The case is made of acrylic and put together using acid-free cement so that it will not destroy the contents of the case. You'll find no better place to keep that helmet, with all its bragging rights. The clear case is a great way to protect your memorabilia.
Wall Mounted Football Display Case
Keep that special football, the one that is autographed or one from a team that was special to you, in excellent condition by placing it in a display case. This framed, wall-mounted case is ideal for memorabilia rooms, or even for a youth's room. Set in a frame similar to those used for pictures, the case is UV protected, plus there is a mirror in the back to enable viewing of both sides.
Circle OnDisplay Deluxe UV-Protected Baseball/Tennis/Softball Display Case
Protect the baseball, tennis ball, or softball from a special game by placing it in this UV protected acrylic case. Any ball up to 4" can be displayed in this stylish case with its dark base. It is handcrafted with ultra-clear acrylic that will not yellow. The removable lid makes it easy to access the case. The base is made of gloss black acrylic. The pieces of the display case fit securely without the need for adhesives.
Baseball Display Case
There is nothing quite like catching that foul ball or fly at the big game and then getting it autographed by your favorite team. This inexpensive display case will keep your trophy safe from dust, dirt and curious fingers. Made of lucite, this case is intended for indoor display only. Inexpensively priced, it is a great way to help a youngster (or yourself) preserve the memories of a special day.
Wall Mounted Double Mini Helmet Display Case
Mini-helmets are a great way to collect and display autographs. The framed, wall-mounted, mini-helmet case is the perfect way to show off a pair of mini-helmets and to preserve them in good condition. The wood molding surrounds a mirror backing that allows the other side of the helmet to be viewed. The UV protected glass case is hinged for easy access. To prevent signature fading, the entire case is acid-free to prevent fading.
Solid Wood 21 Baseball Display Case
Display your autographed baseball collection in this shield-shaped, glass-fronted, wall mounted display case. Shaped like one of the bases, this elegant wood and glass case will keep your signed baseballs safe from dust, dirt, and curious fingers. It can hold 21 baseballs. The clear front allows you to turn each ball to display player signatures. It is easy to open and close with a lockable door to keep curious fingers out.