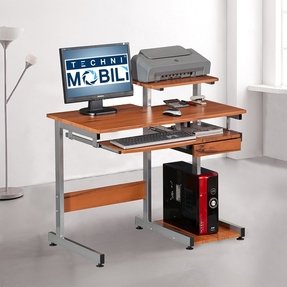 Streamline Compact Computer Desk
Compact computer desk featuring clean and modern design, pull-out keyboard shelf, open large work area and elevated monitor and printer shelf. Top is made of heavy duty 18mm fiberboard which provides durability and sturdiness.
This sensational table against the computer or other device is the perfect solution for you. Handy adjustable height and tilt lets you adjust the countertop to individual needs, and wheels for easy portability.
Fusion Saturn Computer Desk
Very contemporary designed and so practical computer desk made mostly from tempered glass which is mounted on four metal legs. it contains three shelves for some additional devices. Slide keyboard tray contains safety stop.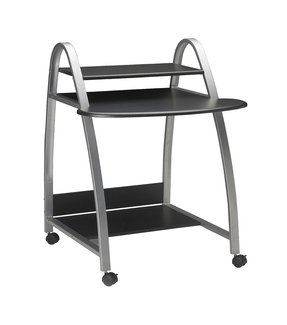 Mobile Arch 31.5" W x 28.5" D Computer Desk
Heavy duty table for PC or laptop. It is equipped with four wheels and three shelves in various sizes to organize the components of your working set. All surfaces are laminated with tear-and-wear resistant termofoil.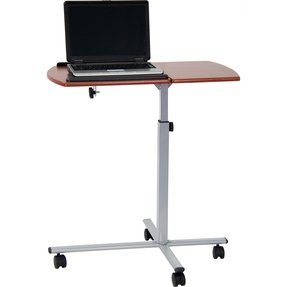 Great multi-adjustable mobile laptop table with tilted, mahogany finished top. With this table you may work at sitting or standing position, whichever you find more convenient at the moment. Easy to move around due to four roller casters.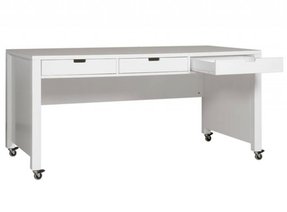 ... desk wheels desk on wheels desk on wheels white small white desk on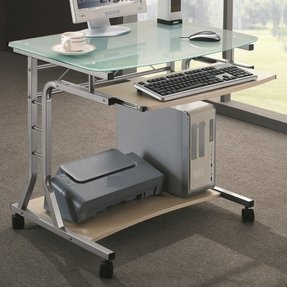 Computer Desk
This is a classic, computer desk in a contemporary style and it will fit perfectly to a small interior. It has a metal frame in a matte silver, four durable wheels and a glass desk top, and a one, full wide shelf at the bottom.
Small computer desk on wheels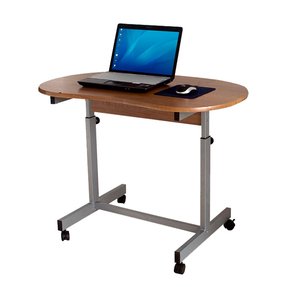 Wood Laptop Table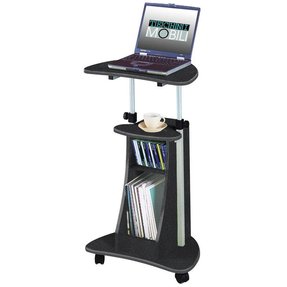 Suitable for modern offices, this Mobile Laptop Stand in Graphite Finish is going to simplify your today's routine, and be a handy and useful helper. The stand provides various shelves for storage, and smoothly rolling wheels for good mobility.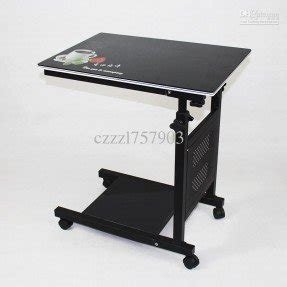 tea&offee table/computer desk/small desk
Wooden Computer Table with Wheels
Laptop sliding desk on wheels, so you can easily move entire desk anwhere you need. It is also adjustable for the perfect working height and angle. Mounted shelves and drawers allow you to store the handheld items.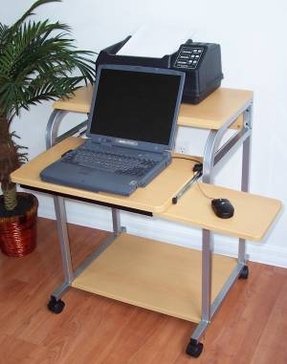 23.5" Small Compact Computer Desk
Anthrocart 60" W x 30" D Computer Table
Sporting the bright and vibrant yellow finish this side table surely doesn't look like it's constructed wood, but it really is! It comes with the glossy painted MDF and the base is made from glossy coated fiberglass.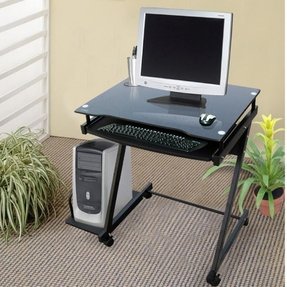 AMT Computer Desk
This computer desk has been created of metal and will require some assembly. The casters allow you to easily move it around your home. There is a special tray for your PC. A one year warranty has been included.
Traditional end table with round top. It is completely made of wood. Includes drawer for storing needed stuff. Application in all kinds of interiors according to taste and need.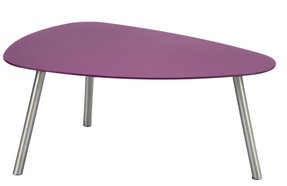 This kind of element is a large side table that stands on very solid legs made of stainless steel. Its top is made of durable engineered wood. The overall table size is 35W x 24.4D x 15.8H inches. This table is resistant to damage and wear.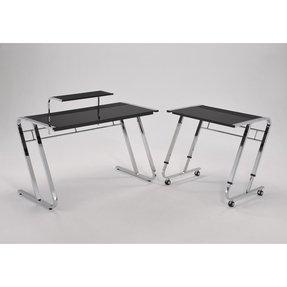 Computer Desk
Spice up your modern interior with this functional computer desk in black & silver finish. The desk offers 2 pieces, each with natural brown composite wood construction, along with a glass tabletop, and resistance to heat.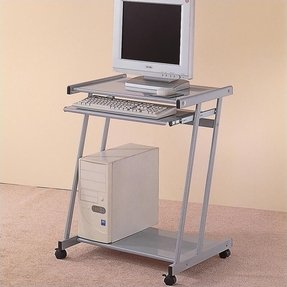 A contemporary computer workstation made of metal with silver finish, equipped in four small rolling casters, bottom shelf to store CPU, pull-out keyboard drawer and rectangular top which will handle even big monitors.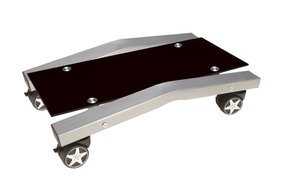 Tower Processing Unit Stand Computer Table
Boost the functionality of your working space with this useful computer stand; it will make your CPU highly accessible and easy to slide from under computer desk thanks to four soft rolling casters with locking mechanism. Attractive modern design.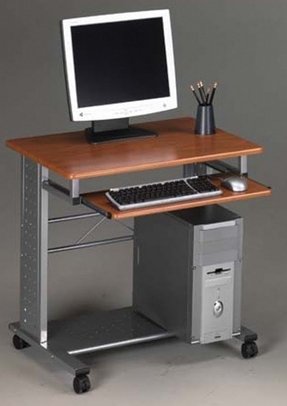 If space is of the essence for you, this computer cart on wheels will be a perfect solution. You can now replace the normal desk, that takes up plenty of space and get this amazing piece with sturdy steel construction and a roll-out keyboard drawer for maximum convenience.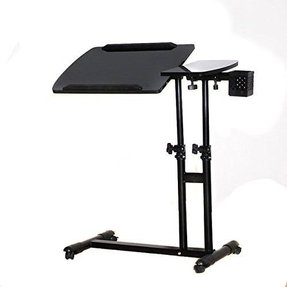 This multifunctional 4 wheels portable laptop desk offers a variety of configurations, adjusted to your needs. It has regulable height and 360-degree rotatable desktop. It is an especially attractive solution for those, who enjoy smart working.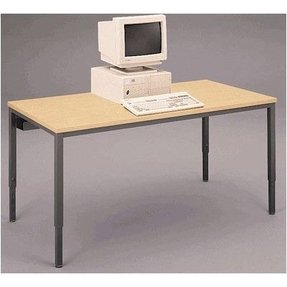 Adjustable Height Computer Table with J-Trough Wire Management and Square Corners
Simple computer table with rectangular top (square corners) and useful wire management system. The top is made of thick particle board with melamine surface and PVC lining; it is supported by welded steel frame and four legs base with adjustable height.
Sign in to see details and track multiple orders.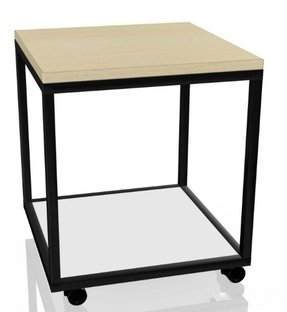 Mesa Series Half-Round Utility Table
Half-round utility table. The table has a unique half-round shape, which will fulfill your very special needs and fit rooms with limited space. The table features durable steel legs, casters, leveling guides and a banded edge.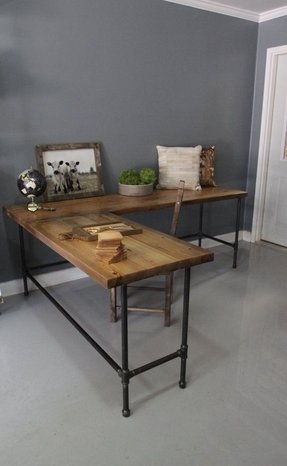 Industrial L Shaped Desk Wood Desk Pipe
Industrial L shaped cool wooden desk with built in pipe system as its stable base. This could be perfect idea for your new computer console / laptop table. It doesn't require much space, but the effect is wow.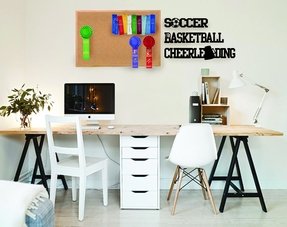 Home office table with a large working space for a computer and other kinds of office devices. The central part of this wide desk includes six spacious storage drawers for files, documents and office accessories.
See the small card with the code on it? The seller printed that out ...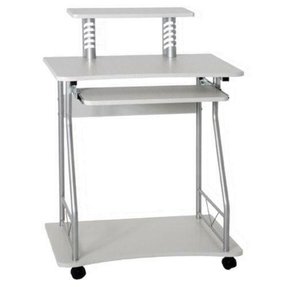 Computer Desks, Office Furniture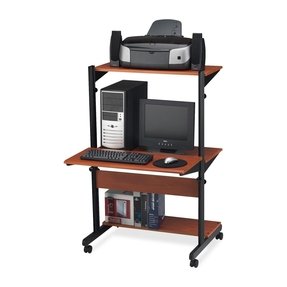 Adjustable Computer Desk Workstation
An ideal workstation - this computer desk comes with the adjustable feature to make the use feel even more personalized, while the design is clever and well-thought, making it perfect to fit even the smallest spaces.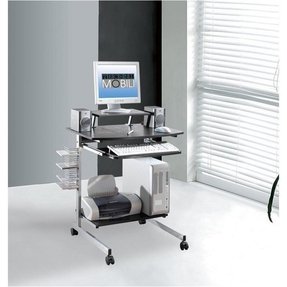 This desk is a perfect solution for small rooms or offices. It allows you to easily reallocate space on the PC and accessories, eg. printer. Mounted shelves also allow you to store a small amount of CD's.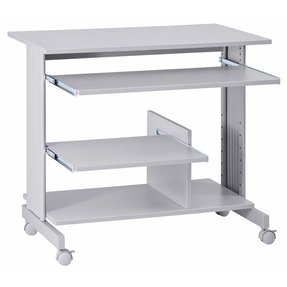 Euroflex Mini Tower 35.5" W x 21.63" D Computer Table
Cool latterday castered computer table with an open frame of steel and a rectangular top of wood. The entirety is finished in grey. It's equipped with pull out both a keyboard tray and a lower shelf. Two other shelves are fixed.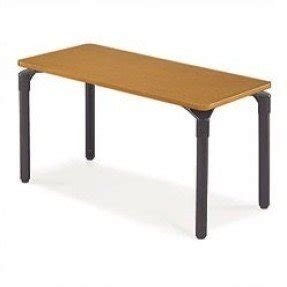 Plateau Series 72" W x 24" D Utility Table
A working table with reclangular top, on four black PVC legs equipped with threaded wrenches to be easily fixed and disassembled. Durable laminated top makes the table applicable for versatile purposes.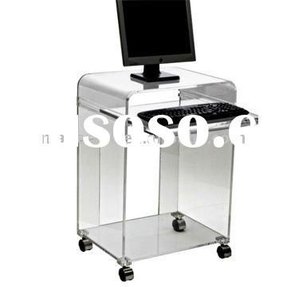 fashionable_acrylic_computer_table_with_wheels_computer.jpg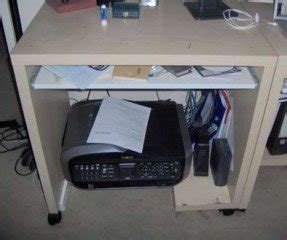 ikea computer desk we ve got two of these little desks on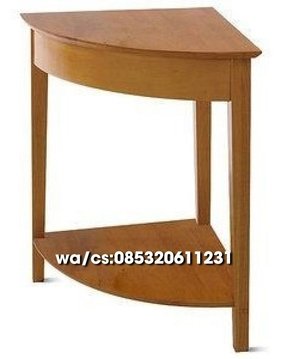 This wonderful corner table makes a great proposition for all those, who want to enhance their bedrooms or living rooms. Its simple, plain design, along with a solid wooden construction make it a valuable addition to all traditional interiors.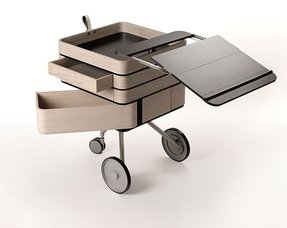 ci desk: the small cart is mounted on three wheels that allow it to ...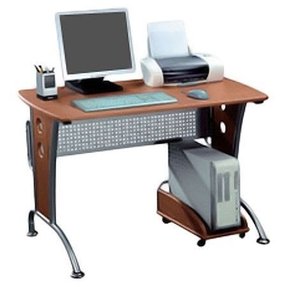 Space Saver Computer Desk
It is extremely ergonomic and economical desk for computer work. It has been designed so that saves a lot of space, providing them for each element of a set of computer. Very practical and usefull. Perfect for the office.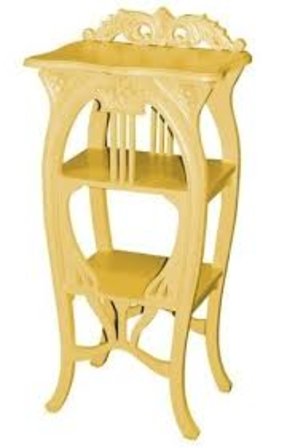 Quaint end table, painted light yellow, with elaborate carving and harp inspired detailing. This essential element of equipment offers 3 shelves to showcase your cherished souvenirs, or just to store some everyday stuff.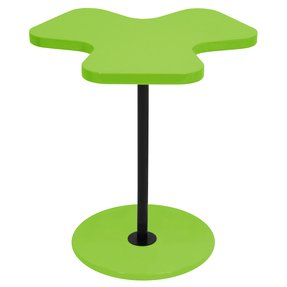 Amazing piece for your children, or for kitchens with livelier and more vivid décor. This Clover Side Table in Green & Black Finish is made of MDF and sturdy steel. Table top includes a shape of a green clover leaf, along with matching round base.