Shuffleboard
Shuffleboard is often seen as a game painted on a floor. The tabletop versions provide entertainment for all ages in situations where a floor game would not be an option. The tables come in a range of quality that goes from a simple box that can be placed on a dining room table to a Buckhead sport version that comes with built-in climate control adjusters so you don't have to worry about the effect seasonal changes might have on your table and your game. Each table comes with all the accessories needed for play.
Our choice Best Shuffleboard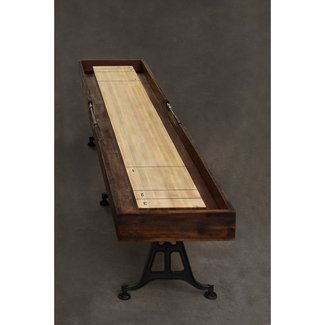 District Eight 12' Shuffleboard Table
This is a great option for anyone looking for a top-quality shuffleboard table that delivers value for money. It is a bit pricey but gives you what you pay for, and more. It is made of solid oak wood with either a dark brown or dark wood finish. It also features cast iron legs, steel rods, and gutters. It is a durably designed table but only meant for indoor use. The table comes in four easy-to-assemble pieces.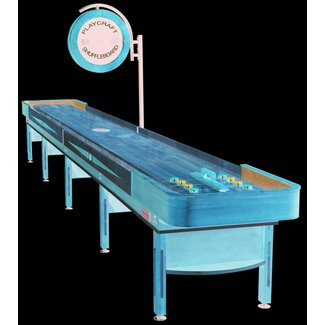 Telluride Shuffleboard Table
This is a great looking scoreboard type shuffleboard table that comes with an innovative digital scoreboard. It is made of solid wood with a dark brown finish. The shuffleboard comes with cushions, digital scoreboard, leg levelers, a shuffleboard brush, gray carpeted gutters, horseshoe ends for strength and stability, and sidewalls that help in noise reduction. It uses the traditional 1-2-3 scoring system. The indoor shuffleboard also comes with pucks included.
Montecito 12-ft Shuffleboard Table
This is a large 12-foot shuffleboard table featuring superior craftsmanship and a classic timeless design. The table is made from solid birch hardwood and veneer finish. It features interlocking side beams and sculpted dual pedestal legs. For fast and accurate play, the shuffleboard table has a 1.75" thick butcher block styled playing surface. It also comes with cushions, pucks, manual scoreboard, wax, gutters, and brush included. It is a great table with a smooth and steady playing surface.
Allendale 9' Shuffleboard Table
This solidly built shuffleboard table is a perfect addition to any game room or home bar. It features a sleek metal leg design, clean lines, and a tan and brown palette. It is a high-end table designed to give you loads of shuffleboard competitions fun. The table has a scratch-resistant playing surface made of wood veneer finish capable of withstanding tough play without damage. It also comes with pucks, manual scoreboard, leg levelers, and gutters.
Barnstable 11' Shuffleboard Table
This shuffleboard table is a gorgeous piece of furniture designed to give you tons of playing fun at home. It is a total statement piece to have in your home. The shuffleboard table comes with pucks, gutters, shuffleboard brush, wax, manual scoreboard, and polymer coat included. It also features carpet-lined sidewalls and a smooth playing surface. It doesn't have any electrical components and is designed for indoor use only. It is also quite easy to assemble.
Imperial Reno Rustic Shuffleboard Table
Looking for a way to create an authentic pub-style décor at home? You can easily do it and have lots of fun with this shuffleboard table. It is constructed from solid Aspen wood with a gorgeous elm veneer finish. The shuffleboard also comes with solid wood legs complete with crossbeams for stability and strength. It is a heavy and stable shuffleboard table that includes pucks, gutters, brush, polymer coat, and a manual scoreboard.
Bedford Shuffleboard Table
If you are in the market for a shuffleboard table designed to give you and your family years of playing fun, then this table is your best option. The sturdy shuffleboard table is constructed from thick solid fir with a sleek silver mist finish. Its playfield is made of smooth solid Aspen covered in a polymer seal. It even comes with four large climatic adjusters to give you maximum play. It includes pucks and a digital scoreboard.
Snap - Tavern 7' Shuffleboard Table
This is another elegantly designed and functional shuffleboard to have in your home. It comes with all the necessary accessories including pucks, gutters, leg levelers, and a digital scoreboard. The table is available in a 7-foot size and a sleek brown finish. It has a height of 33 inches without the backboard. This is a great option if you are looking for an indoor-only shuffleboard with a digital scoreboard.
Penelope Shuffleboard Table
Here is another shuffleboard table made with durability and fun in mind. It will provide your family with years of fun and enjoyment because it is made of solid Aspen with a smooth and glossy espresso finish. The playing surface is also made of Aspen with a polymer coating. It is a great looking shuffleboard for your game room keeping in mind that it even comes with pucks, gutters, climate adjusters, and a digital scoreboard included.
York 12' Shuffleboard
This is a sleek, modern-styled shuffleboard designed to give you fun playing time and a touch of class in your game room. It is made in the US and features a contemporary design that will match your game room décor. The shuffleboard table is made of solid wood with a heritage mahogany finish. It has a 2.25-inch solid maple and polymer playing surface. It also comes with a digital scoreboard and all the other playing accessories included.