Our Choice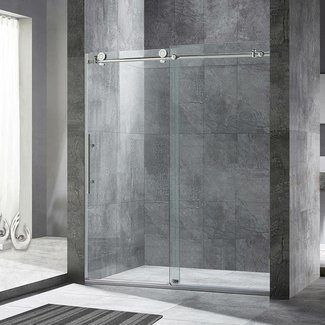 WoodBridge 60" x 76" Single Sliding Frameless Shower Door
Thanks to the stainless steel construction on this single sliding shower door, it will not rust, chip or scratch off. The specially designed rollers on the shower door create a smooth and effortless motion when opening and closing the door while the top rail support anchors and reinforces the stability. The left to right configuration is reversible and professional installation is required. The nickel finishes further accentuate this modern and minimalistic shower door.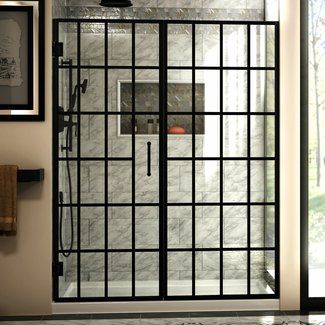 Unidoor Toulon 58" W x 72" H Hinged Framed Shower Door with Clearmax™ Technology
This hinged and framed shower door features clearmax Technology designed to blend in with modern market trends. The stylish windowpane finish in satin black gives it a bold and striking appearance. The shower door is also water-repellent and stain-resistant, thanks to the glass coating that gives it superior protection against the elements. Transport your bathroom into a modern, upscale and timeless era with these stylish windowpane shower doors.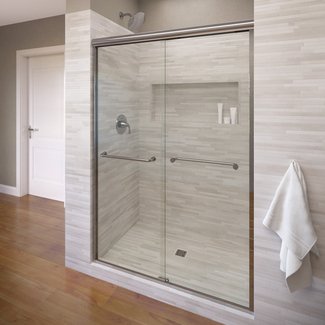 Infinity 47" x 70" Framed Bypass Framed Shower Door
When it comes to less is more, this glass shower door is the answer. The frameless glass panels give the door an instant pick me up, while the sliding motion on the shower doors allows you to easily get in and out of the shower in a hurry. Thanks to the tempered glass, the shower door is robust and long-lasting while the chrome accents on the handles deliver the final touches of glamor.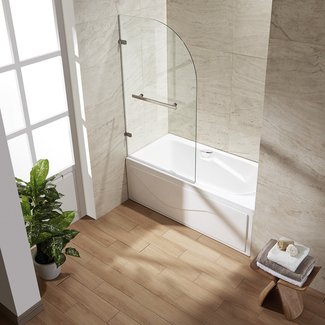 Orion 34" W x 58" H Hinged Frameless Tub Door
The frameless hinged bathtub door will create an ultramodern appeal inside your bathroom. The thick tempered glass construction makes it extra durable and resistant to breakage and unsightly streaks. Thanks to pre-drilled doors, installation is easy, and it comes complete with a full-length seal strip to redirect water inside. This ultramodern, yet functional bathtub door is plated in seven layers of premium finish to deter rust, tarnish and corrosion.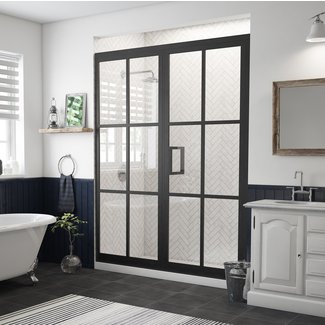 Gridscape 58" W x 76" H Hinged Framed Shower Door
Give your bathroom an instant facelift with this industrial style shower door. The individual black metal mullions on the grids are integrated to the frame which makes the shower door solid and sturdy. The shower door also will not trust over time, thanks to the anodized aluminum framework. A popular choice for bathroom renovations and upgrades, this industrial windowpane style shower door is a great on-trend and fashionable shower door to suit a variety of different types of bathrooms.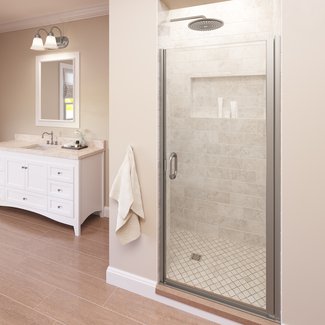 Infinity 34" x 65.56" Pivot Semi-Frameless Shower Door
This semi-frameless and finely polished shower door contains finely polished glass, which gives it a sturdy weight while the magnetic latch holds the door securely in place. The anodized aluminum hardware keeps rust and corrosion at bay while the installation is easy. This modern and minimalistic bathroom. Choose between different handle finishes to create a cohesive look in your bathroom.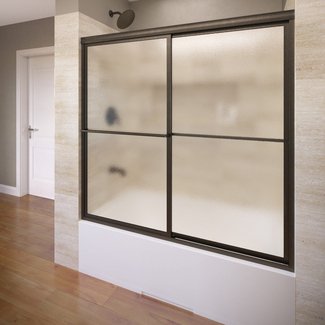 Deluxe 59" x 58.5" Bypass Framed Shower Tub Door
Are you looking for a bathtub door with a difference? Then you may have just found one. This unit includes two towel bars that attach to the panel framing while the anodizing aluminum hardware prevents corrosion and rust. The header also comes with a safety T-lock that ensures the stability of the unit. It is recommended that you place the interior panel closest to the showerhead to reduce water. It provides the finishing touches to an enclosed bathtub.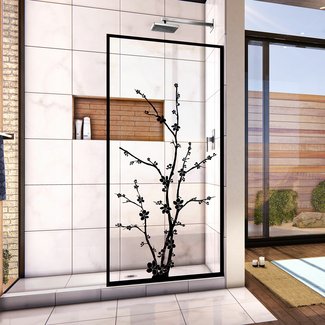 Linea Blossom 22" W x 72" H Screen Frameless Fixed Glass Panel with ClearMax Technology
Complement your shower space with this single panel, walk-in shower design that has a modern industrial touch. The floral motif gives it a serene spa design and fills you with feelings of quality. It is stain and water-resistant thanks to the superior glass coating, which also makes it practically maintenance-free. If you're looking for a bright and open design, this shower door is for you.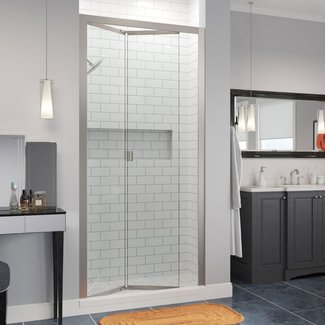 Infinity Bifold 33" x 72" Folding Semi-Frameless Shower Door
If you're looking for a shower door with smooth operation, this is the one. The semi-frameless shower door brings airy and open ambiance into your bathroom. Thanks to the unusual and unique design, the door panels fold into the shower while the anodized aluminum hardware compliments bathroom finishes and prevents rust and corrosion over time. For those who want to show off their shower, the clear and polish glass will allow you to do just that.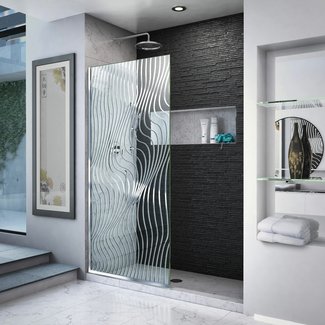 Platinum Linea 34" W x 72" H Screen Frameless Shower Door with ClearMax™ Technology
Nothing says style and sophistication like this single-panel walk-in shower screen. The state-of-the-art tidal design is bold, reflective, and the pattern will transform your shower into a high-end spa. The clearmax coating also gives the door exclusive protection from stains, making it almost maintenance-free. For the ultimate luxurious look, choose this single panel walk-in shower screen.