The family entertainment center has been a central fixture in the American household for more than a few decades. Since the days of radio, families across the nation have come together to listen to their favorite shows or news programs and to reconnect with loved ones.
In the modern era, these entertainment centers and TV stands are available in a diverse choice of colors, styles, and sizes to complement every type of décor scheme imaginable. From sleek modern stylings to relaxed ocean themes, there's a TV stand for every living room, bedroom, den, or office.
Reimagine your favorite rooms in the styles of your choice from large 65 inch TV stands to small TV stands with mounts, you'll find unlimited inspiration to redecorate your home with confidence and excitement.
Amazing TV Stands
No matter what you need to store in your TV stand, you'll have a wide variety of styles to choose from. When you're shopping for a new entertainment center, you'll want to keep a few things in mind. Factors such as design, cable management, size, and color are all critical to choosing the model that's right for your home. Here are seven of our favorite TV stands to inspire you.
1.

Adalberto TV Stand for TVs up to 65"

This beautiful piece of furniture is a great storage solution for all your multimedia items. Store video game consoles on the lower shelf while keeping your cable box, Blu-ray, and DVD player on the upper shelf.

The barn-style side doors of this 58'' x 33'' x 16'' unit are the perfect spot for keeping board games and video games, or extra cables. It's available in four different neutral colors with exposed rustic hardware making it the perfect centerpiece for any area.

It's large enough to hold a 65" TV but also looks great with the TV mounted above it, freeing up more storage space on the top of the unit for displaying keepsakes and décor pieces.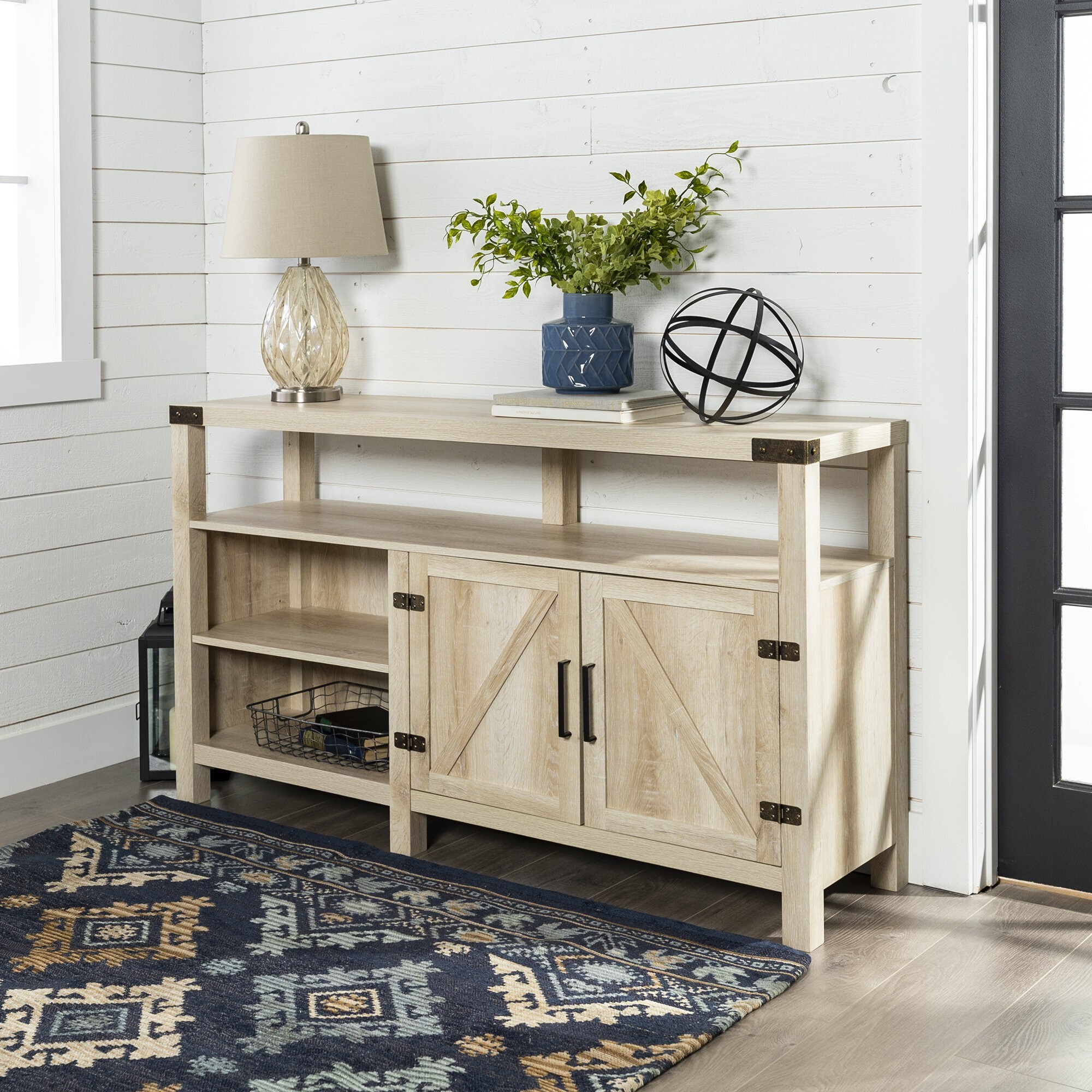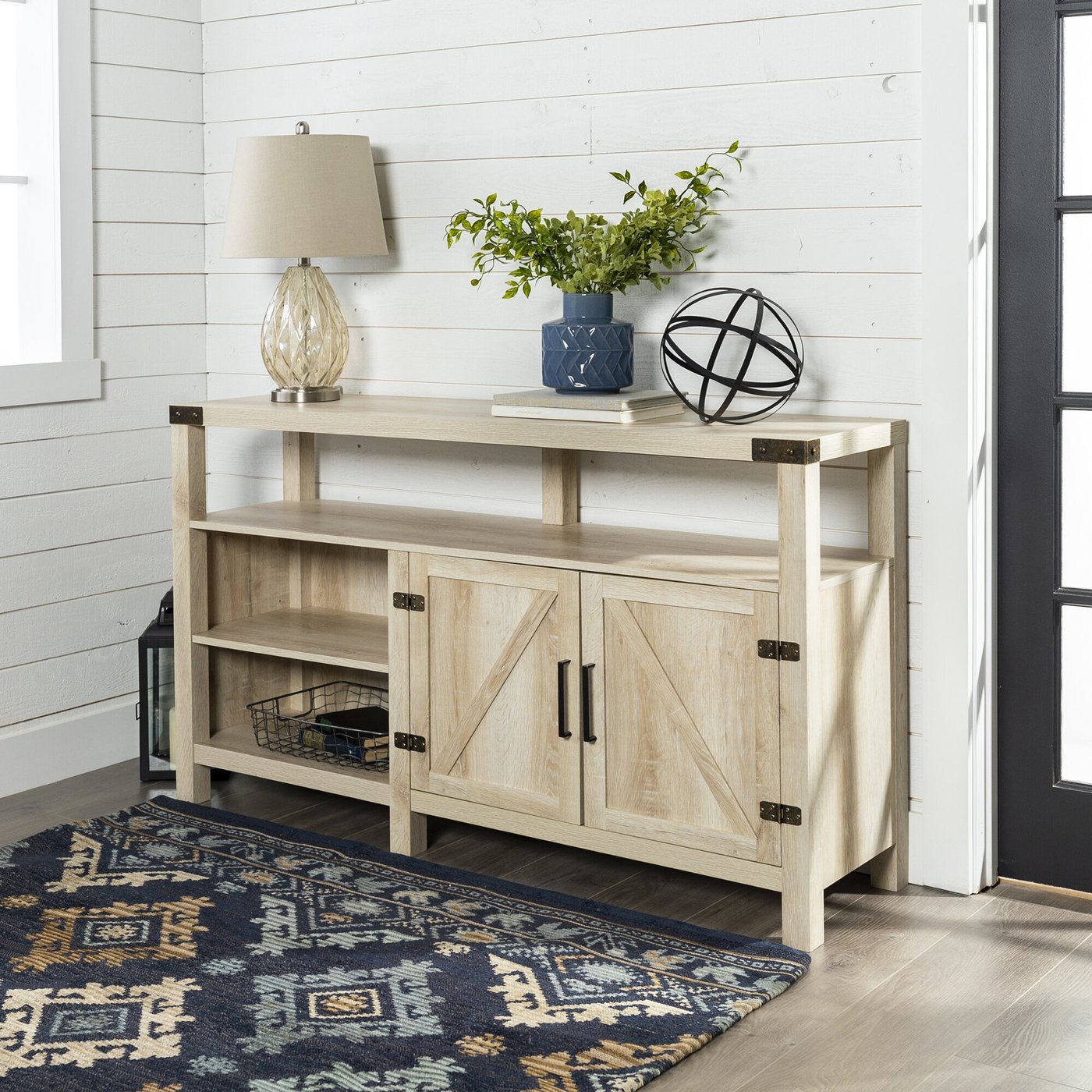 2.

Kasandra TV Stand for TVs up to 65"

For your farmhouse, shabby-chic or coastal style living room, this TV stand offers a modern yet rustic design to create the perfect focal piece for your space.

The soft-closing center drawers work well for storing small toys, remote controls, or even house keys. Use the shelves to keep your entertainment options within easy access and display your favorite collectibles or keepsakes in full view.

The design of this unique 59.05'' x 35.75'' x 18.38'' model is reminiscent of saw horses, creating the ideal barn effect for your farmhouse home. Made from durable manufactured wood, it's available in two colors, rustic cedar or classic oak, to coordinate with the rest of your furniture.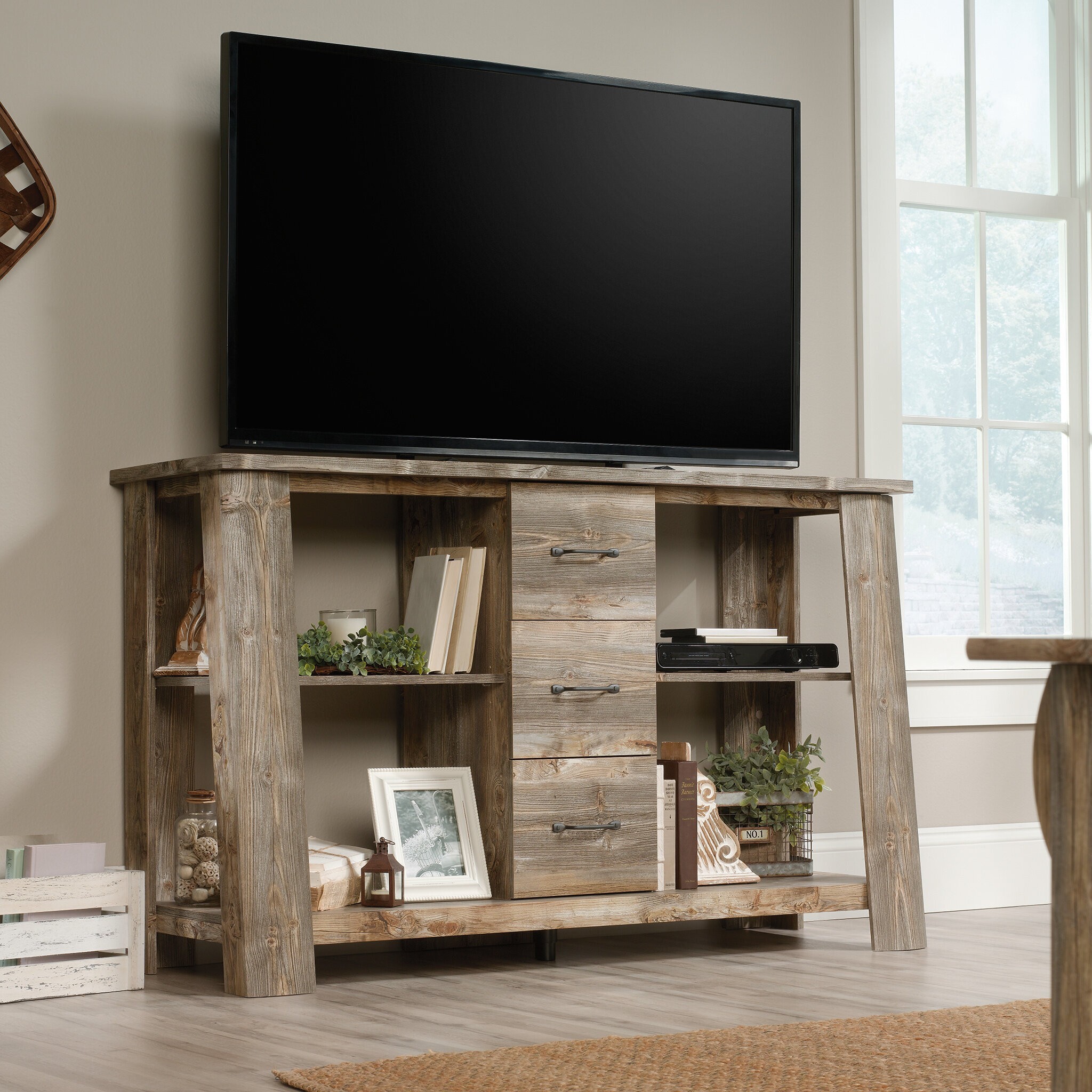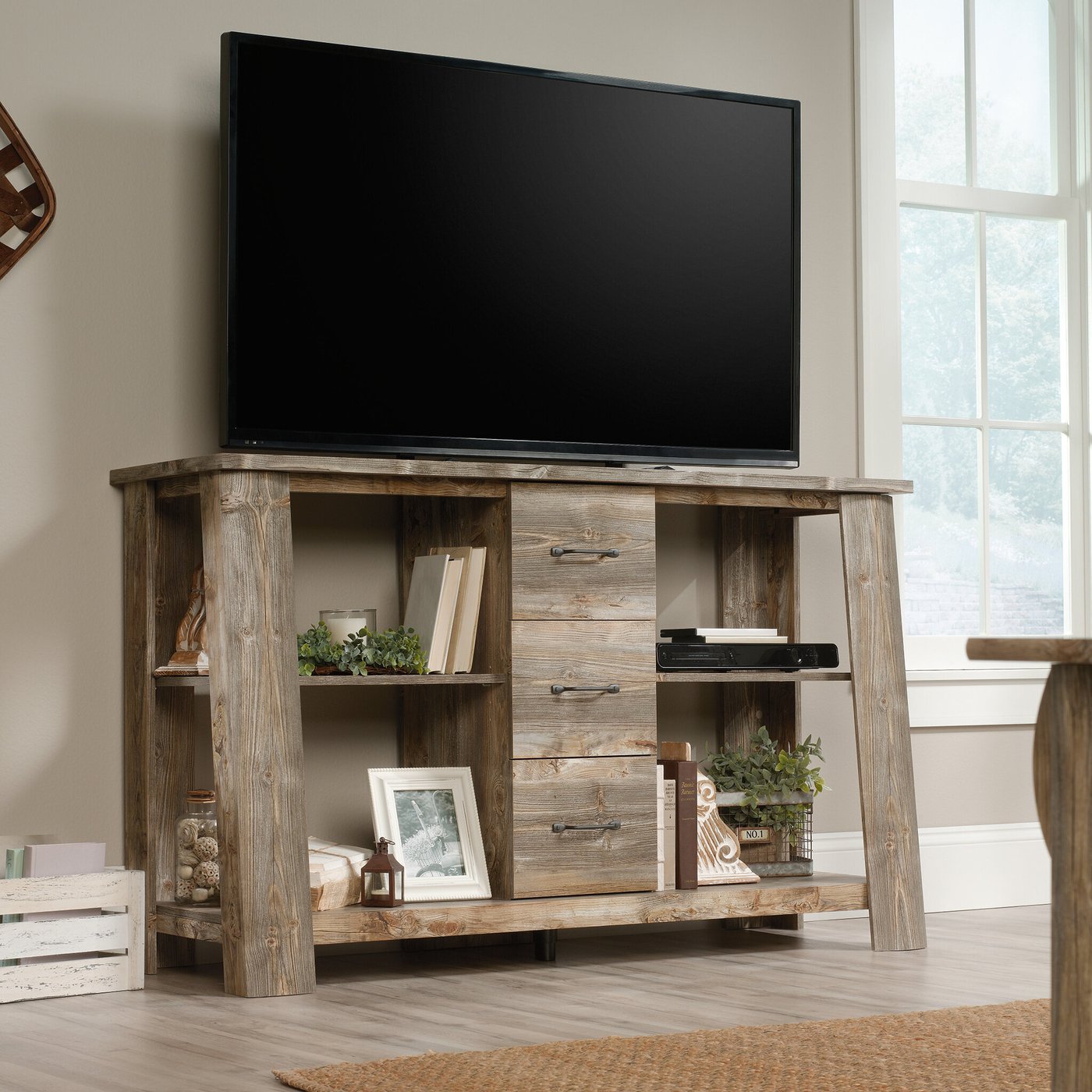 3.

Sunray TV Stand for TVs up to 65"

The clean lined silhouette combined with traditional details including crown molded and paneled glass cabinet doors make this the perfect choice for your transitional living room.

The shelving of this unit measures 6.37'' H x 27.5'' W x 13.87'' D which offers plenty of space to store your DVD player and favorite gaming console system, as well as DVDs, games, and books. It's available in three colors: walnut, slate gray, and white oak, and the two cubbies have cut outs for easy cable management.

This stylish piece is as versatile as it is functional. Mount your TV to the wall behind it so the unit can serve as a sideboard instead of a TV stand.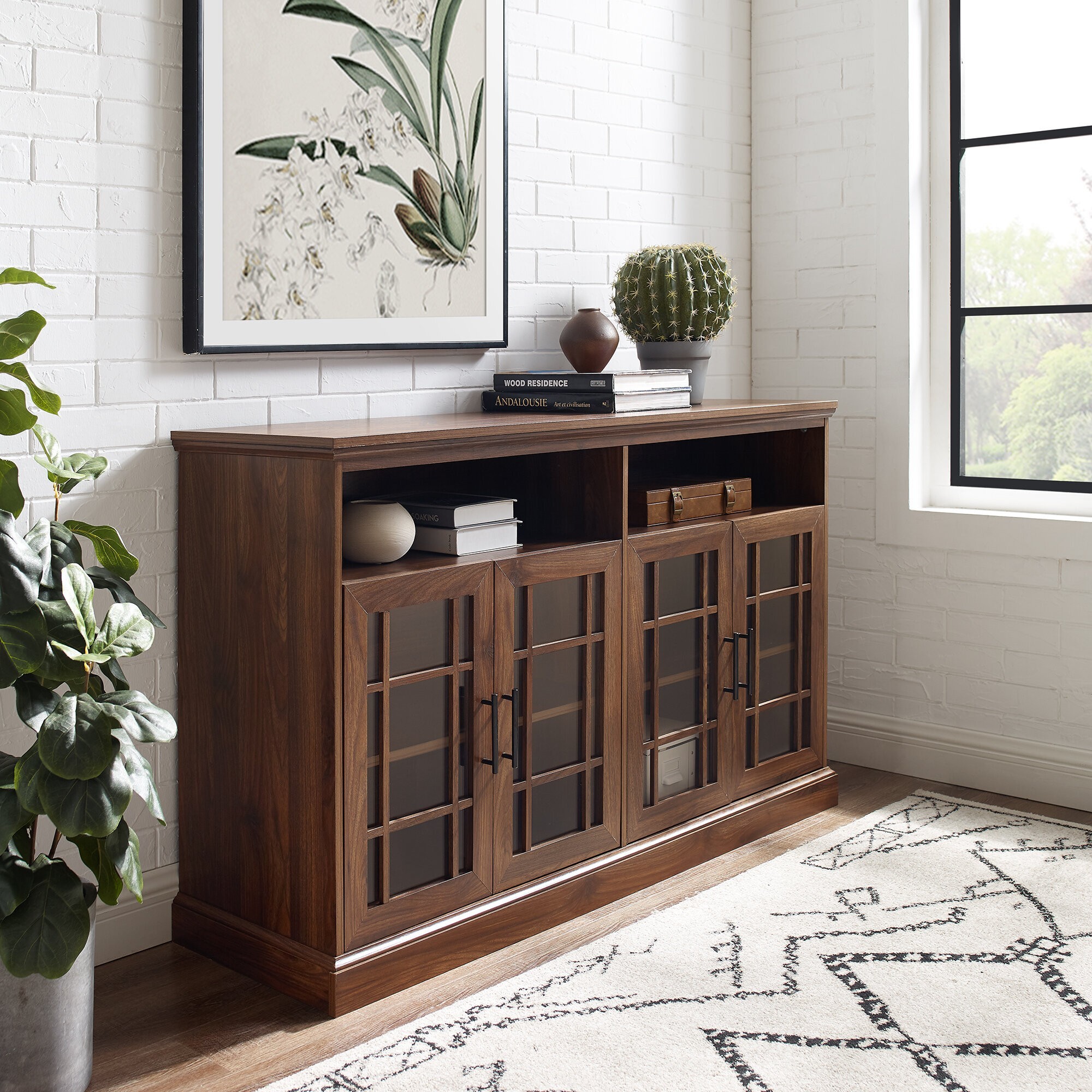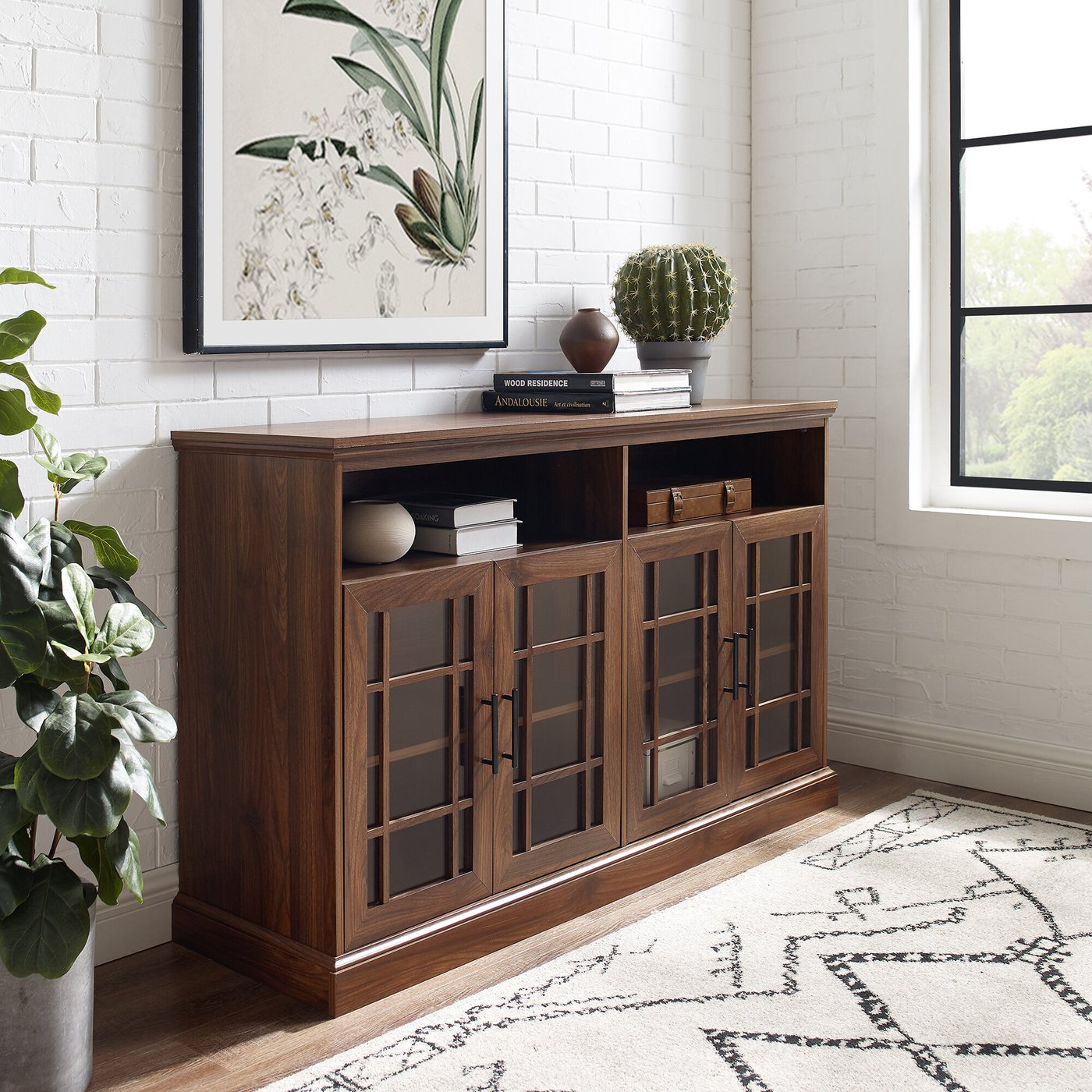 4.

Gerde TV Stand for TVs up to 65" with Fireplace

Create a cozy, inviting living space in your contemporary home with this combined TV stand and fireplace.

Choose the white version of this outstanding 59.5'' x 34'' x 15.5'' TV stand for a shabby chic living room or the antique gray for an executive feel to your room.

Crafted from manufactured wood, the unit features two cabinets with chic mirrored doors that enclose an adjustable shelf system that allows you to store items of any size.

The biggest benefit of this unit is the fireplace. In colder months, you can reduce your heating bills by switching on the fireplace which puts out 5200 BTUs to heat an area of 400 sq. ft.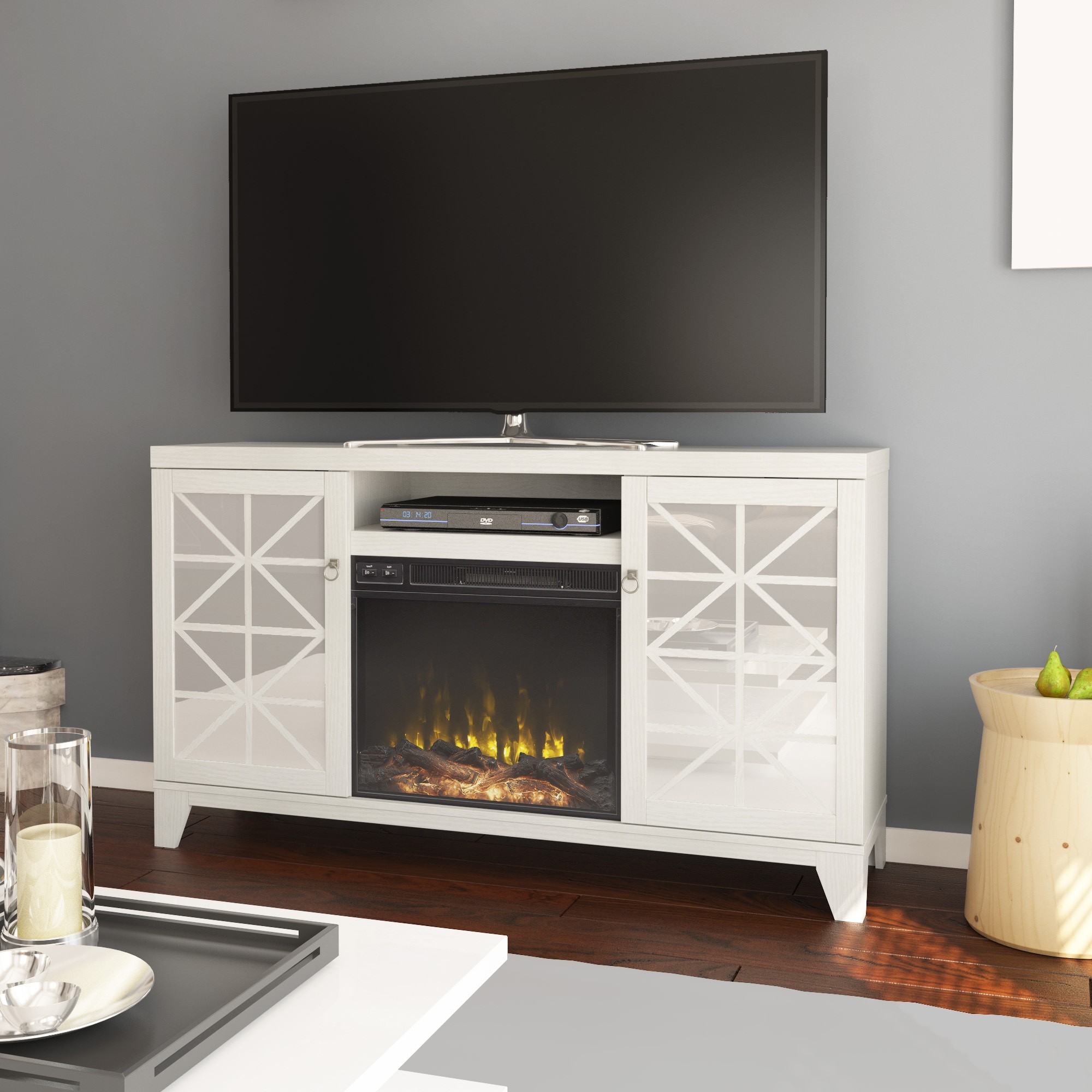 5.

Quillen TV Stand for TVs up to 65"

Refresh your coastal-style home with this rustic TV stand that not only accommodates your TV but also provides plenty of space to store keepsakes, photos and accent pieces.

The unique wood grain is reminiscent of textured wood from ships long lost at sea and the hardware adds to the nautical theme. The double doors on the left side of the TV stand make it possible to store your favorite DVDs, while the adjustable shelving system on the right-hand side offers a flexible storage and display solution for electronics.

The unit is finished on all sides in distressed natural wood grain allowing you to place the piece in any space in your home.
6.

Acy TV Stand for TVs up to 65"

A contemporary model suitable for any office space or modern living room, this 65 inch TV stand includes a mount that enables you to raise your TV off the glass surface of the

60'' x 49.2'' x 17.3'' unit, to store your consoles and cable boxes on the surface with room to spare. You can also angle the TV up to 30-degrees in each direction using the swivel mechanism.

Watch the big game comfortably as this minimalist model does everything it can to show off your TV and surround sound equipment. Your cable management is super easy as this TV stand with a mount features a channel to collect and organize your wires and cables for a safe, clutter-free living space.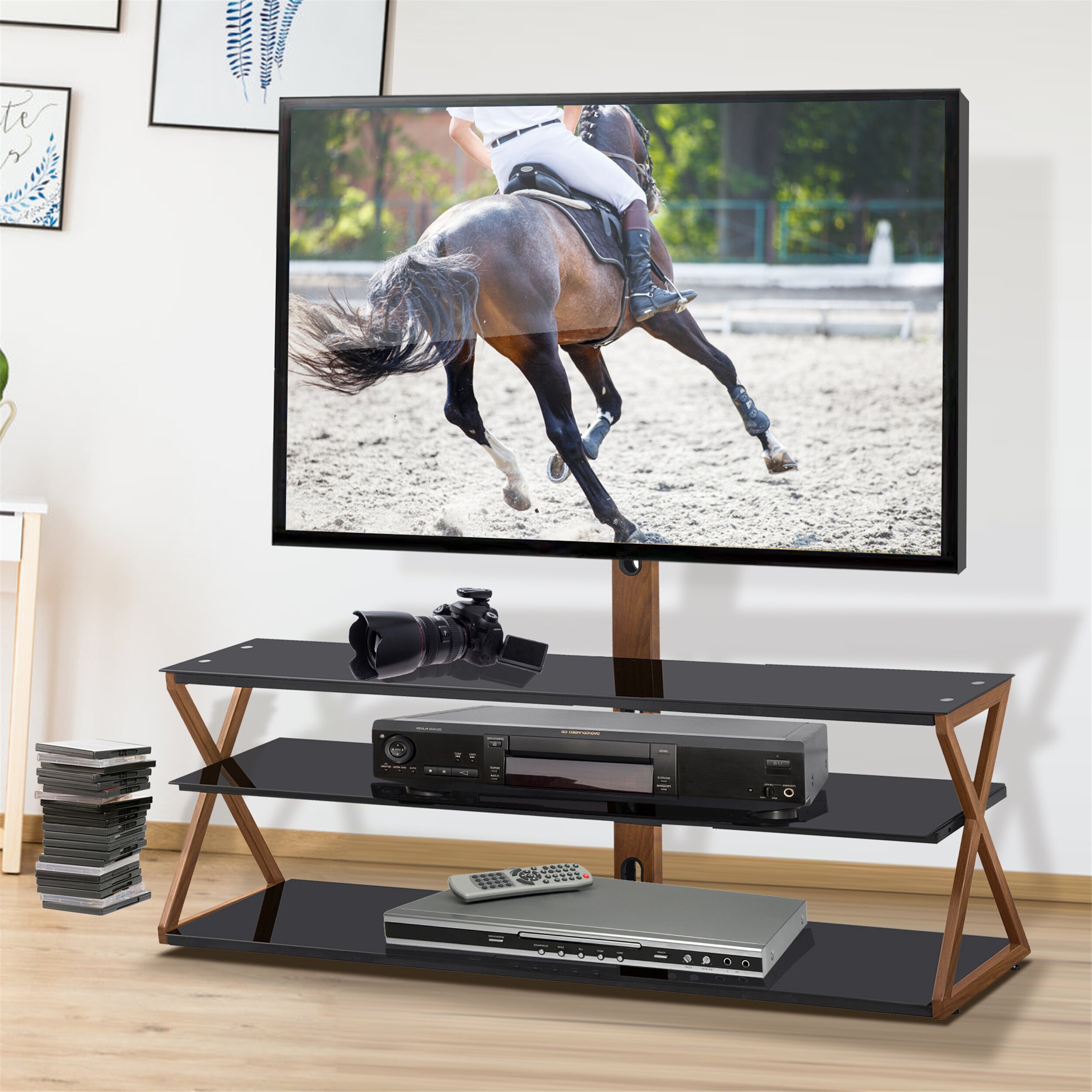 7.

Channelle TV Stand for TVs up to 65"

This geometric tv stand is perfect for a contemporary home. The entire stand measures 60.5'' x 16.5'' x 9.8'' and while it may have a compact footprint it still has an excellent storage capacity.

The white center console tilts open on bottom hinges revealing an expansive space to store DVDs, books, or games.

The narrow, elongated unit makes it a great option for anyone who has plenty of wall space to spare. The additional shelving is narrow but can still easily accommodate a DVD player.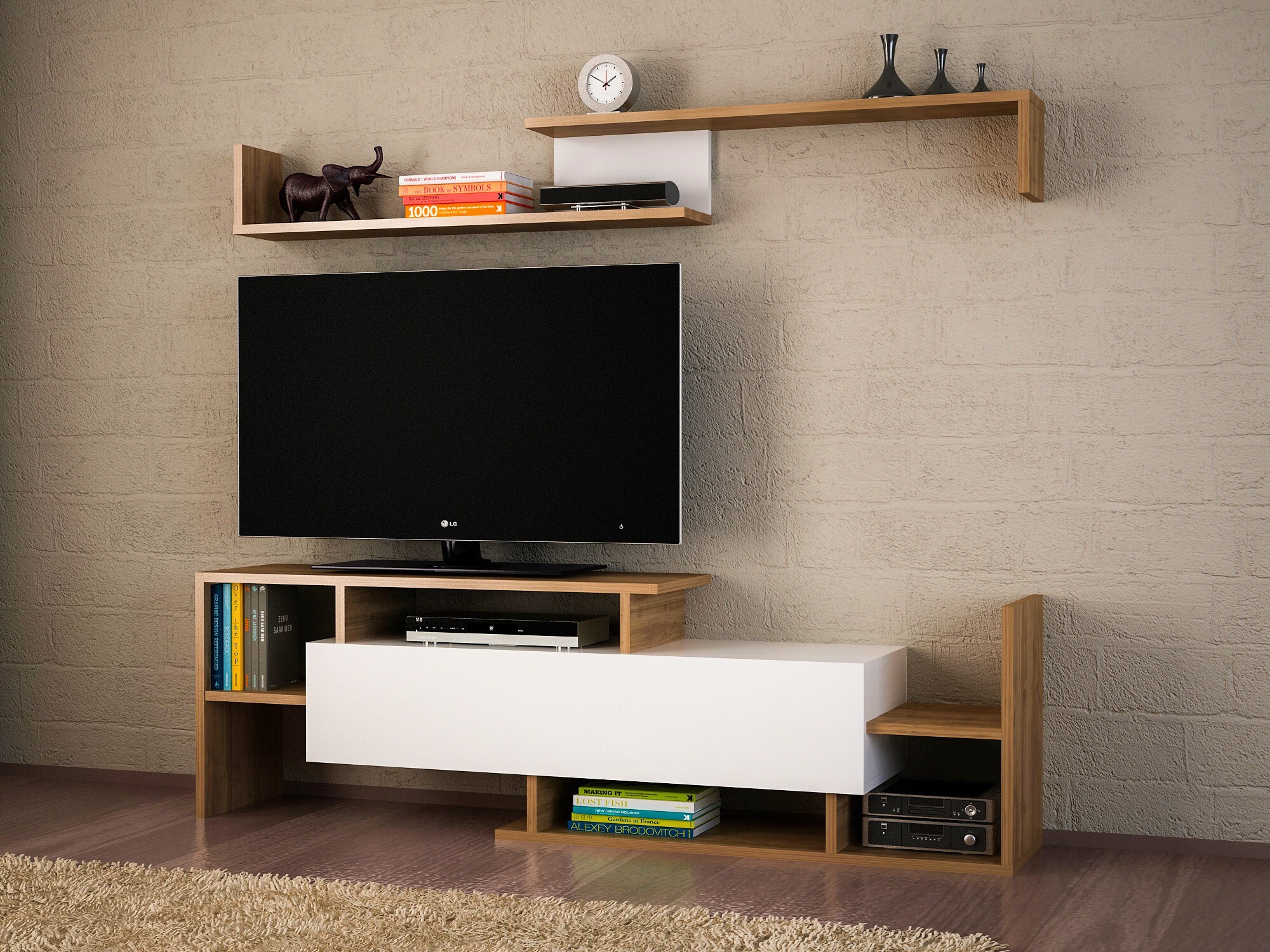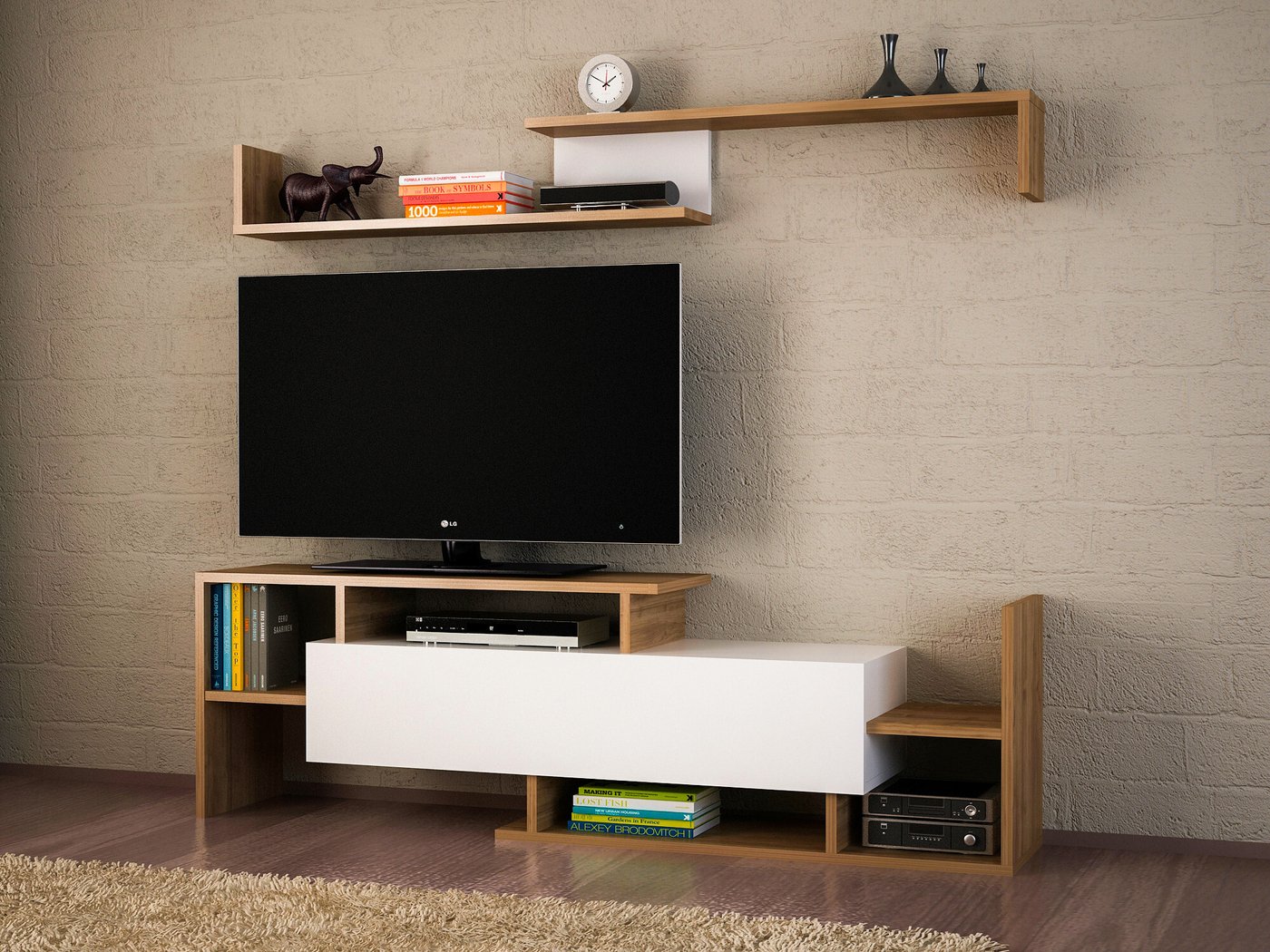 Wrap Up
Finding the right TV stand to tie your game room, family room, or living room together can be a difficult choice to make. There are lots of different features to consider including mounts, fireplaces, and cable management. The storage options are endless and all you need to do is let your imagination run wild.