Our Choice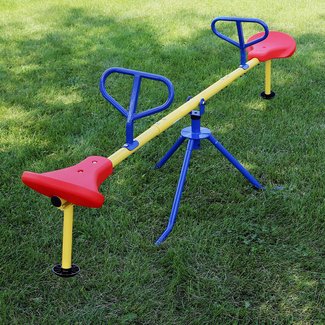 Swivel Teeter Totter
Bright yellow, cheerful blue and cherry red, make this teeter-totter ideal for suffusing your children's recreational moments with a splash of color.
Manufactured from weather and rust-resistant steel, this product also comes with rubber stopper legs for enhanced comfort as well as a unique swivel tripod design.
Its ability to combine durability, comfort and functionality means that it will enable you to bring the playground right into your garden.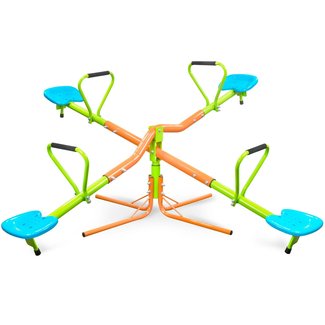 360° Quad Swivel Kids Seesaw
Multifaceted and robust, this seesaw will not only lift its passengers into the air but will also spin them around as well.
Especially designed to ensure the safety of little children, this product is STM, TUV/GS and CE Certified.
It has also been designed with double steel tubing with a powder coat finish which provides enhanced durability.
With its four-seater capacity and 100lbs weight limit per seat, this seesaw is the perfect choice for keeping children entertained all summer long.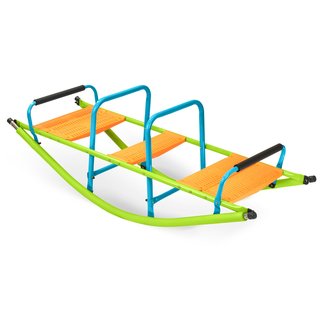 Pure Fun Rocker Kids Seesaw
Brought to you in light green, orange and turquoise, this seesaw will transform your garden into a brightly colored haven for little children.
The product which is capable of providing a comforting rocking motion, has been designed to be especially robust and features seats which can be mounted with ease.
The seesaw which comes with a weight limit of 75lbs for each seat has also been designed to be especially weather-resistant.
Take advantage of its weight capacity and bright colors to keep little toddlers entertained and occupied during parties and outdoor gatherings.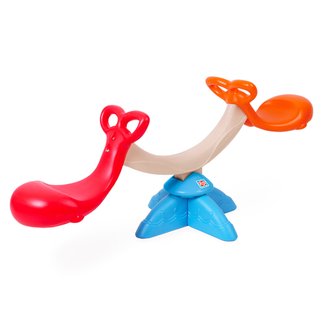 Happy Whale Seesaw
Resembling a life-sized toy in its design, this seesaw featuring bright red and orange whale-shaped seats on a curved support and blue pivot, will suffuse play times with an extra element of excitement.
In addition to its colorful allure, this product is also capable of complete rotation.
It also possesses a 50lbs capacity for each seat and is suitable for children between the ages of two to five years.
Its multifaceted, unique appeal makes it the ideal choice for elevating your child's recreational moments with their friends.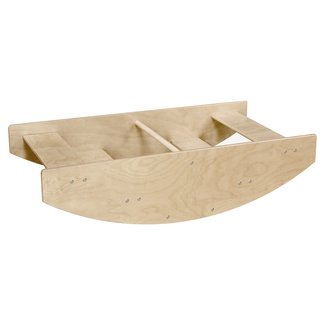 Rock-A-Boat Seesaw
Clean, geometric lines and a light wooden natural finish make this boat-shaped seesaw an ideal recreational item for children's indoor games.
The seesaw which has a 35lbs capacity for each seat can also be turned over to serve as a set of steps as well.
Place in a traditionally decorated play area with wooden chairs and rocking horses painted with pastel colors to create a dreamlike ambience.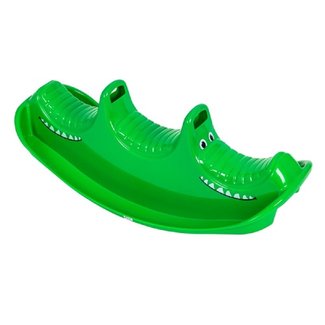 Crocodile Rocker Teeter Totter
Light and easy to move around, this crocodile-themed teeter totter is ideal for a nursery or play area inspired by tropical wildlife.
Manufactured from plastic, and suitable for indoor or outdoor use, this product is especially durable and stable.
This bright green teeter totter which has been designed for children between the ages of two and four years is also ideal for a single child or a maximum of three.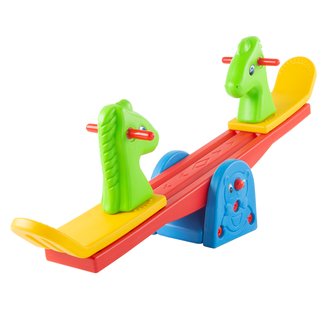 Seesaw
Impressively versatile, this seesaw, in green, yellow, red and blue is suitable for both indoor and outdoor use.
Manufactured from plastic and especially weather resistant, it is both light and compact and can be moved around conveniently.
Each seat also comes with raised ends and easy-grip handles for additional safety and also has a weight limit of 55lbs.
The recreational product may be used to enhance a nursery decorated with a focus on wildlife themes.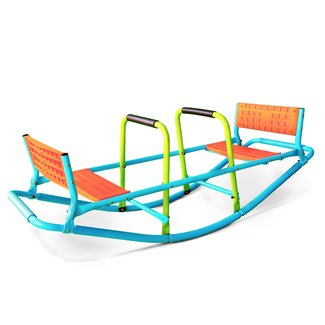 Dual Rocker Kids Seesaw
An eclectic combination of the teeter totter and the rocking chair, this seesaw is capable of providing hours of fun in the golden sunshine or in a colorfully decorated play area.
The product has been crafted using weather-resistant steel and also features wide seats with a weight capacity of 75 lbs each. It also comes with rubber-padded rockers, and sturdy handlebars to keep your children both safe and comfortable during play times.
Place outdoors in a designated spot in your garden and accessorize with swings and slides to provide a variety of play time options for your children and their friends.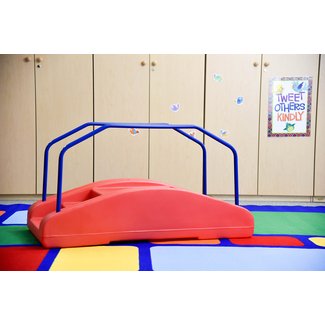 Rocker / Toddler Bridge
Brought to you in an alluring rich pink, this multifaceted item provides the perfect balance of the functional with the recreational.
In addition to being suitable for indoor and outdoor use, this rocker bridge is also capable of rotating and comes with a maximum weight capacity of 60lbs for each seat.
This brightly colored product is ideal for placing in a toddler's nursery and complementing their toy collection.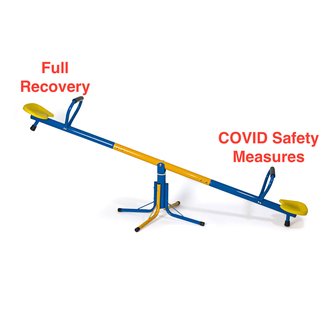 Swirling Fun SeeSaw
Manufactured from steel tubing for enhanced durability and featuring a wide legged base for added stability, this seesaw in blue and yellow also comes with handles for a firm, comfortable grip.
The product which is capable of rotating also comes with plastic contoured seats which each have a capacity of 70lbs and plastic stopper poles for additional safety.
With its impressive weight capacity and its bright colors, this seesaw is the perfect choice for keeping children over the age of three years, happy and entertained at gatherings and parties.