Our Choice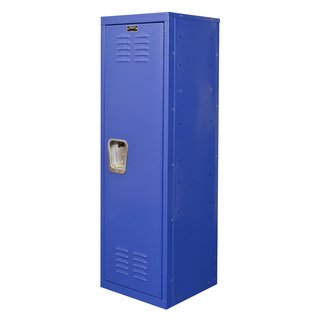 1 Tier 1 Wide School Locker
A fantastic option for any garage, playroom, or child's bedroom for storing toys, shoes, uniforms, sports equipment, uniforms, and more! This sturdy locker is wide enough to hold a variety of items without having to overstuff and damage your gear.
The continuous piano hinge prevents the door from becoming bent and warped, ensuring functionality lasting for years to come. With two compartments, the main locker, and an upper shelf, there is space for whatever your child needs to store.
1 Tier 3 Wide School Locker
These 3-wide school locker units are available in both gray and tan colors for a traditional look, and the modular design allows you to add more units as necessary to accommodate your growing storage needs.
The single-tier locker design offers privacy and security for your valuable items. A conveniently located hat shelf is also available. Steel recessed handles make for a safer and more easily accessible locker. The finger lift control is recessed into the door face of the locker and is compatible with a variety of locking mechanisms.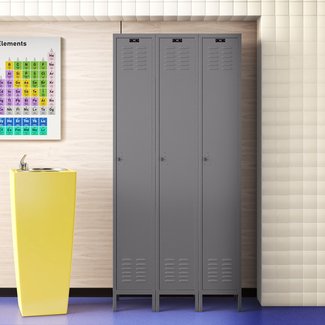 ValueMax 1 Tier 3 Wide School Locker
With tough 24-gauge steel for the body and 16-gauge steel for the doors, these lockers can last through years of constant use at a school, recreation center, or even a hotel or hospital staff changing room. The continuous piano hinge also helps the locker resist damage from slamming and battering.
The locker is available in 12" deep, 15" deep, and 18" deep varieties. Each unit has 3 lockers that measure in at 12" wide. Every locker contains 1 double hook, 2 single hooks, and a hat shelf for added convenience.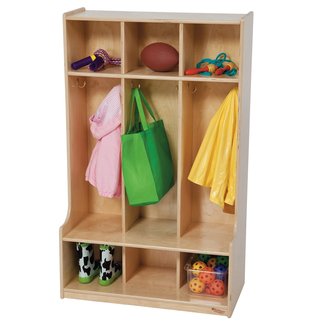 5 Section Coat Locker
This adorable coat locker is perfect for kindergarten and elementary school classrooms. Its cozy cubbies are perfect for helping young ones keep their hats, shoes, and coats organized. The hooks inside also work with backpacks and lunch boxes.
Each locker is available with up to 8 sections, so schools can combine multiple units to find the perfect number of spaces for each classroom. Even parents will find the locker to be a useful addition to their mudroom.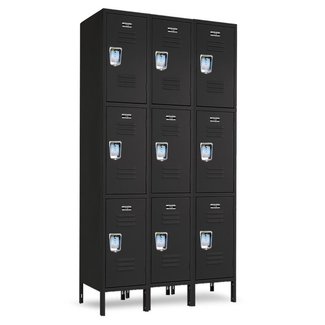 3 Tier 3 Wide School Locker
This locker's unique 3-wide, 3-tier design is ideal for small busy spaces. It works especially well for school pools, gym locker rooms, or other spaces that need to fit individual lockers in a tight space.
The nylon glides and rubber bumpers help reduce noise, which is helpful in a school setting. Both the doors and frames are 16-gauge steel, so they can handle heavy gym equipment, textbooks, and much more.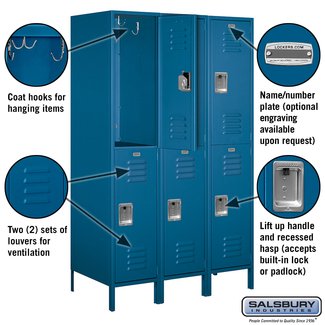 1 Tier 3 Wide School Locker
This single-tier coat locker includes a hanger rod, a hat shelf, and two hooks for easy clothing storage. It's excellent for students with coats and multiple bags. The louvers allow ventilation to reduce mildew and odors.
The locker is available in a pre-assembled option, making it an excellent choice for schools that need new lockers quickly, and its 16-gauge steel construction and recessed handles make it a safe option that will last for generations.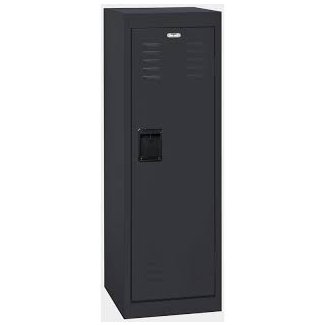 66"H 1 Tier 1 Wide School Locker
This 15" deep and 18" wide individual locker is generously sized. It has multiple hooks and a hat shelf to help store bags and jackets. It's perfect for school hallways or sports locker rooms, especially for athletes with lots of equipment.
It's available in eight shades so schools can coordinate to match their official colors. The powder-coated finish resists scratching and damage so that the locker can survive many years of student use.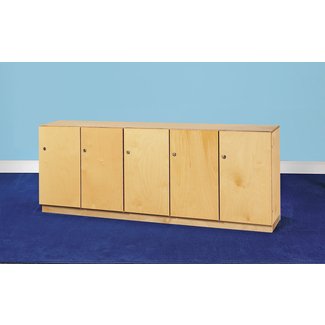 5 Section Coat Locker
The beautiful stained birch finish on this locker makes it a stunning addition to schools or libraries. Each of the 5 doors locks, allowing users to store things securely. It's a great starter locker set for older elementary school students.
Each locker unit can be stacked, providing a more space-efficient option for small classrooms. The included master key and lifetime limited warranty give schools and teachers peace of mind.