Our Choice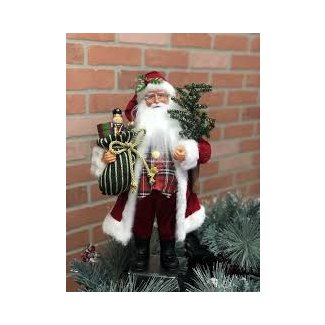 Tartan Plaid Santa
With hand-painted details, this whimsical figurine will add joy and light to your Christmas display.
This figurine depicts Santa with glasses and an open robe, showing off his red and green tartan waistcoat underneath. With poseable arms and delicate features, this Santa figurine is 15" tall and weighs 1.5 lbs. While it is not suited for outdoor displays, it makes for a merry accent piece for your front entrance.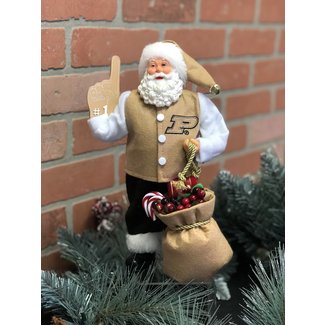 Santa Figurine
This Santa figurine will brighten up any college-sport fan's holiday. This statue depicts Santa in classic athletic gear, complete with a foam finger, in a variety of school jackets so that you can match Santa to your favorite varsity team.
At 12" high, this lightweight figurine is not made for outdoor use but can show off your team spirit in your front window display. Surprise your loved one with a Santa decked out in their college varsity jacket as a fun, novel gift this holiday season.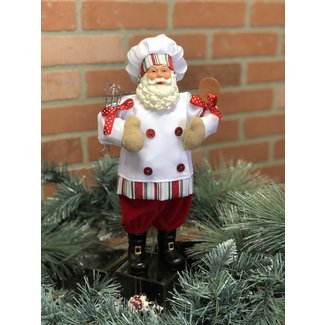 Baker Santa Figurine & Collectible
For all aspiring holiday chefs, this baker Santa is the perfect gift for anyone who loves to spend time in the kitchen.
Decked out in a white baker's hat, a white coat with large red buttons, and red pants, this Santa will be a mainstay in your holiday display. His arms are laden with a wooden spoon and whisk and are completely posable so you can create a fun holiday display. Place in your kitchen alongside your holiday treats or give to a friend for a superb host's gift.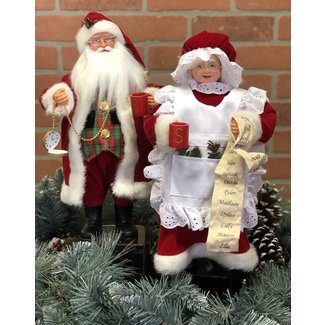 2 Piece Mr and Mrs Claus Set
This set includes both Mr. Claus and Mrs. Claus to greet your guests this holiday season.
The traditional looking pair are both dressed in red velvet with white trim. She holds a long "naughty and nice" list, and he has a golden pocket watch on a long chain in one hand. They both hold mugs with the letter "S" on it in white. This festive pair make an inviting addition to your indoor holiday décor.
Keep Christ in Christmas
This traditional Christmas figurine will brighten any display. Santa Claus wears his red velvet suit trimmed in white and his hat, with a sprig of holly pinned to it.
Over one shoulder, he has a bag of children's letters, and in his hand, a sign reading "Keep Christ in Christmas." His boots, hands, and face are made from durable resin, and his arms are bendable wire. Place on your mantlepiece or beside your Christmas tree to remind yourself of the spirit of the season.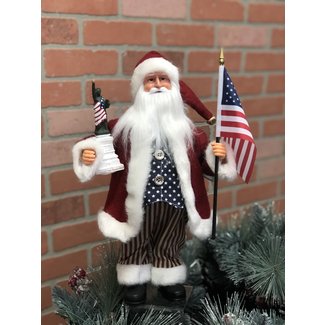 American Santa
This figurine is ready to celebrate both Christmas and the Fourth of July in his patriotic festive garb. Santa has his traditional red-and-white suit on, but underneath he has a blue waistcoat with white stars and white-and-red striped pants.
In one hand, he holds a large flag and, in the other, the Statue of Liberty, wrapped in red, white and blue. A great gift for a true patriot, this Santa figurine is ideal for displaying proudly in your front window.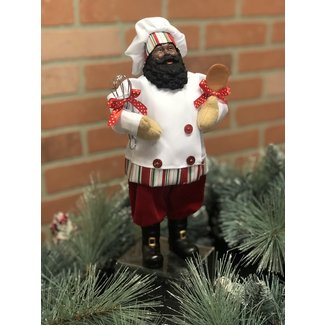 Baker Santa
This hand-painted figurine depicts Santa as a baker with a baker's coat instead of his traditional red velvet suit, holding two handcrafted utensils with red-and-white, polka-dotted ribbons on them.
The figure is crafted from resin with wired arms that are fully posable. Additionally, this Santa is ethnically diverse, with a dark complexion and a full black beard. This statue stands one foot high and weighs under a pound but should not be displayed outdoors.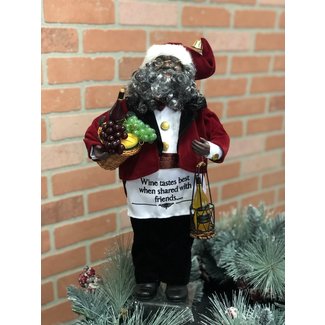 Wine Steward Santa
We know that Santa is an expert on toys, elves, and reindeer, but Santa also has a nose for wine. This figurine depicts Santa in a sophisticated red, white, and black tux and an apron.
In his arms, he carries a wine bottle in its holder and a basket filled with another wine bottle and hand-painted grapes. With excellent attention to detail and careful craftsmanship, this Santa will be the perfect gift for any wine lover on your list.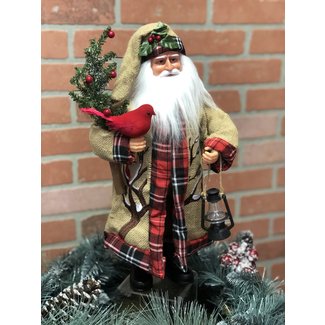 Cardinal in Tree Claus
Harkening back to Santa's historical origins, this old-fashioned Santa is a marvelous addition to any Christmas display.
Instead of a traditional red velvet suit, Santa wears a burlap jacket trimmed with green-and-red plaid. His jacket features an embroidered tree and bird. In his arms, Santa carries a cardinal, a brass lamp, and a tree decorated with red berries, with a sprig of holly pinned to the plaid hem of his hat.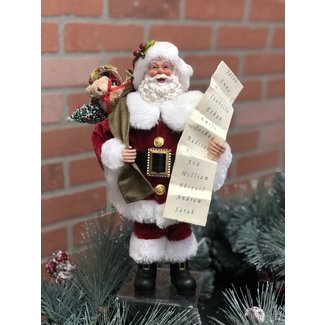 Santa with List Figurine
A classic, cheerful Santa, this figurine depicts Mr. Claus holding a bag full of toys over one shoulder and a long list of names in the other.
He is dressed in his beloved red-and-white suit and black boots. Out of the top of his bag peeks a brown teddy bear and a small fir tree, and the long list has real girls' and boys' names written on it. Display next to your Christmas tree for a whimsical addition to your holiday décor.