Our Choice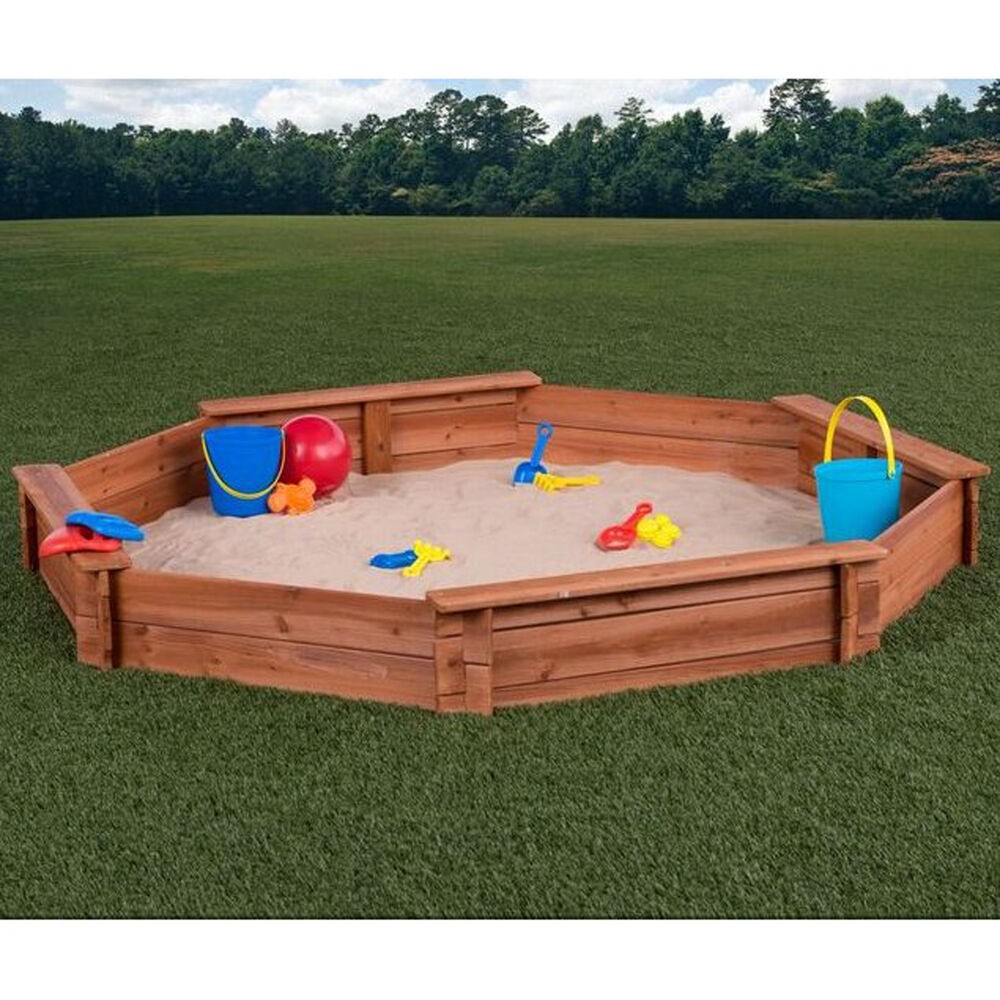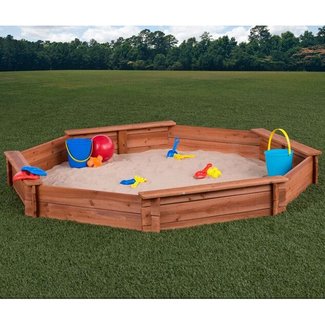 6.5' Octagon Sandbox with Cover
The first thing which is immediately noticeable about this sandbox is its alluring octagonal shape as well as its natural appeal.
The product which has been manufactured to ASTM Safety Standards, has also been crafted from solid wood and is also weather resistant.
It also comes with a 500lbs capacity and also features wide seat boards as well as a weed repellent sheet.
Its ample space, as well as its natural allure will ensure that this product will provide your children with hours of enjoyable, open air playtime.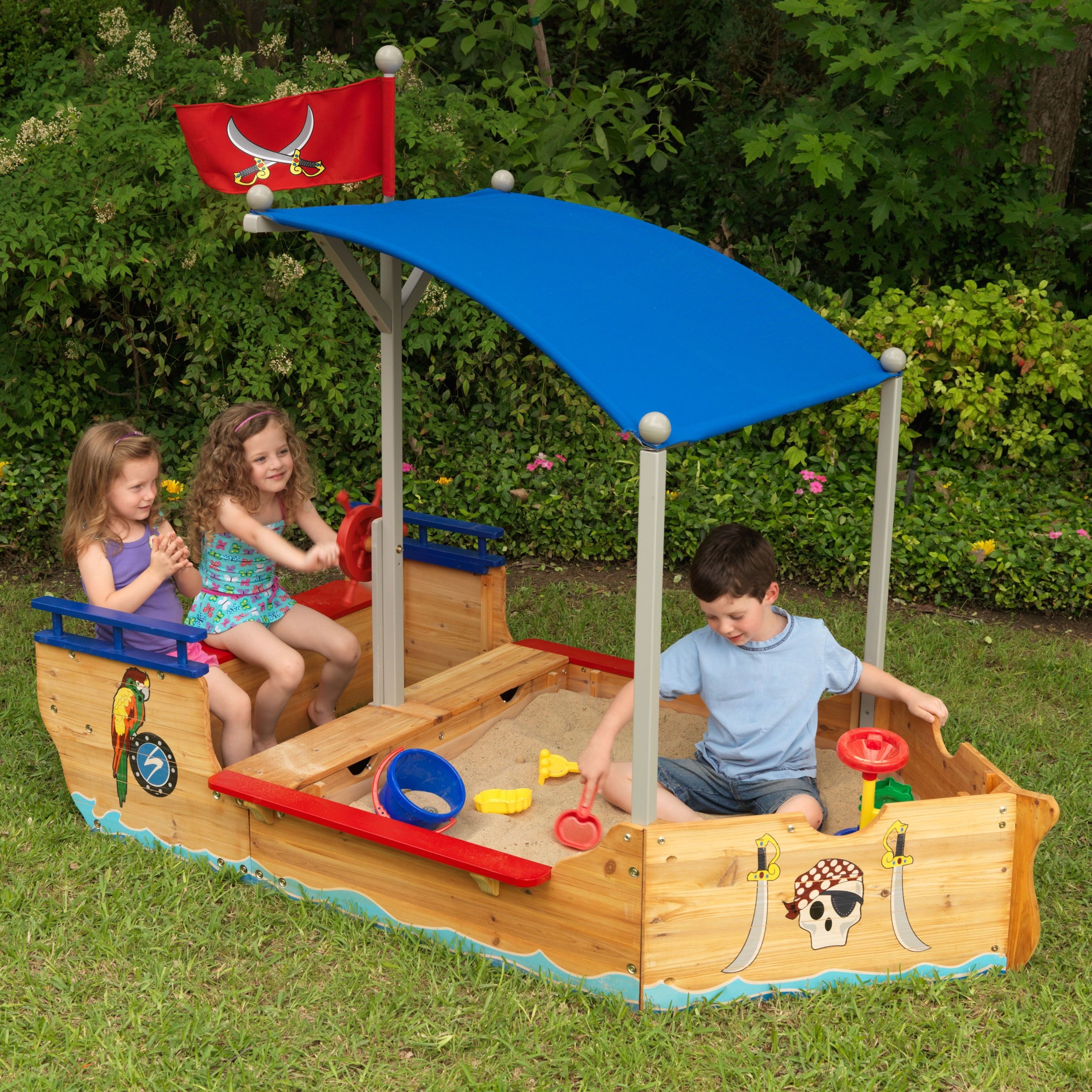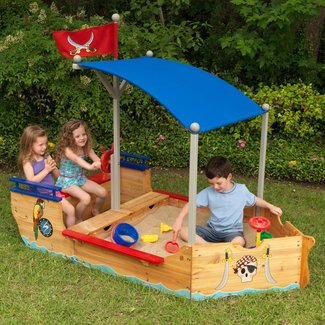 Pirate 6' W ft. Rectangular Sandbox Cover
A pirate-themed sandbox which will add an extra element of adventure to your children's recreational moments, this product will also add a bright touch of color to your garden.
Crafted from Sanmu wood and possessing a total sand capacity of 750lbs, it is also impressively weatherproof and also easy to clean.
Its detailed and eclectic design makes it an excellent choice of centerpiece for pirate-themed picnics and parties.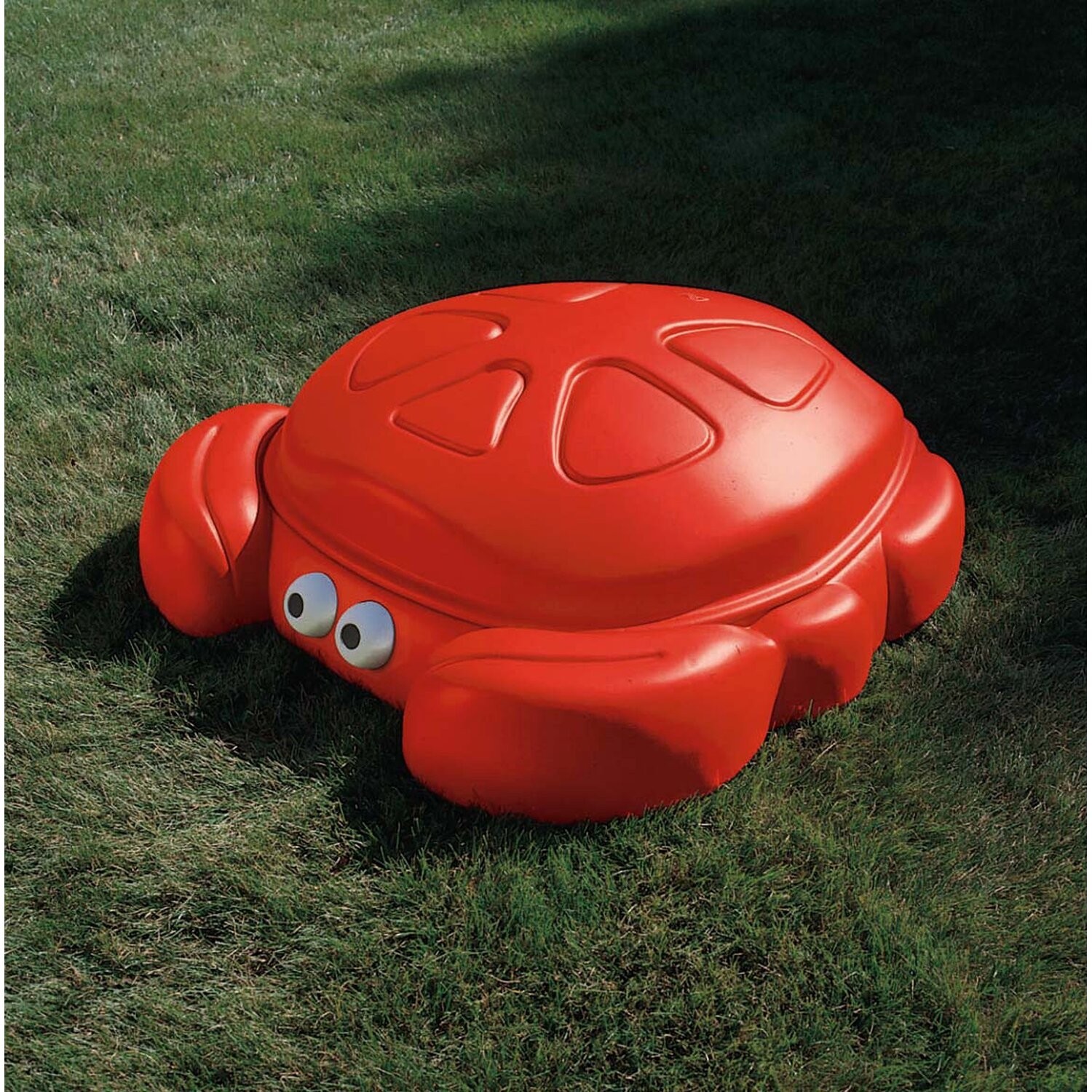 Crabbie 4' Rectangular Sandbox with Cover
Brought to you in an alluring bright red, this crab-shaped sandbox will enable you to bring the seaside right into your garden.
The recreational item which has been fitted with its own shell lid has also been designed to be weather resistant and possesses a capacity of 300lbs.
It is also suitable for both wet and dry recreational activities and also features claws for seats as well as a cover to preserve the sand from debris.
Decorate its designated corner with seashells, and toy buckets and spades to create a seaside ambience right within your garden.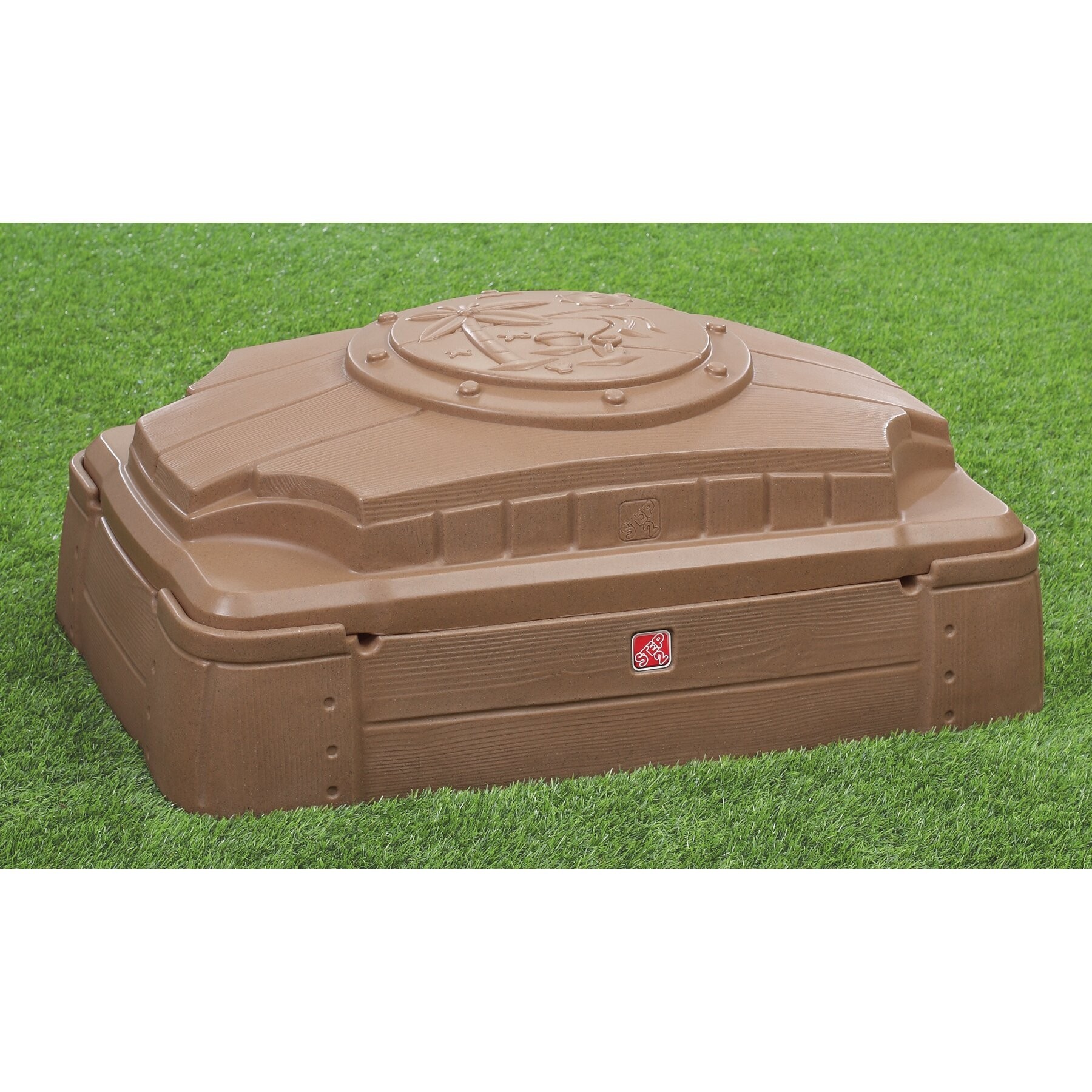 Play and Store 2' Rectangular Sandbox with Cover
An edgy, contemporary design and a neutral color make this rectangular sandbox ideal for a wide range of recreational themes.
The product which has a 200lbs capacity, comes with its own cover to protect its contents, its own seats, and its own sand as well.
Take advantage of its versatile appeal to plan different outdoor adventures right in your garden for little visitors.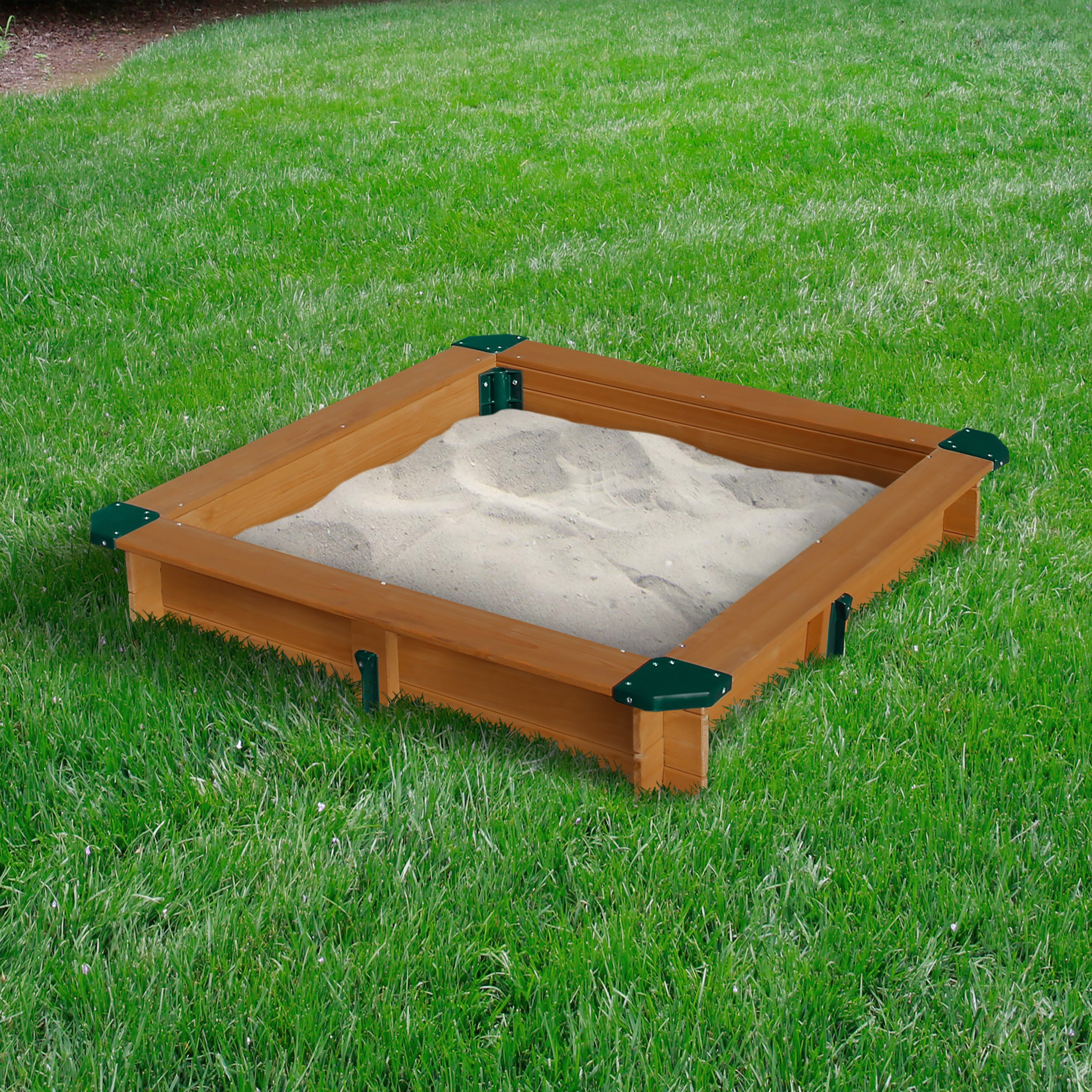 Interlocking 3.08 ft. Square Sandbox
A warm brown hue and a geometric interlocking form with black studded joints lend this sandbox an appeal reminiscent of classic recreational items.
Manufactured from solid wood, this product is also bottomless and comes with a recommended 475lbs capacity. It is also especially resistant to decay, insects and the weather.
Make use of its special throwback appeal to create a heartwarming story tale ambience in your garden complete with rocking horses and swings.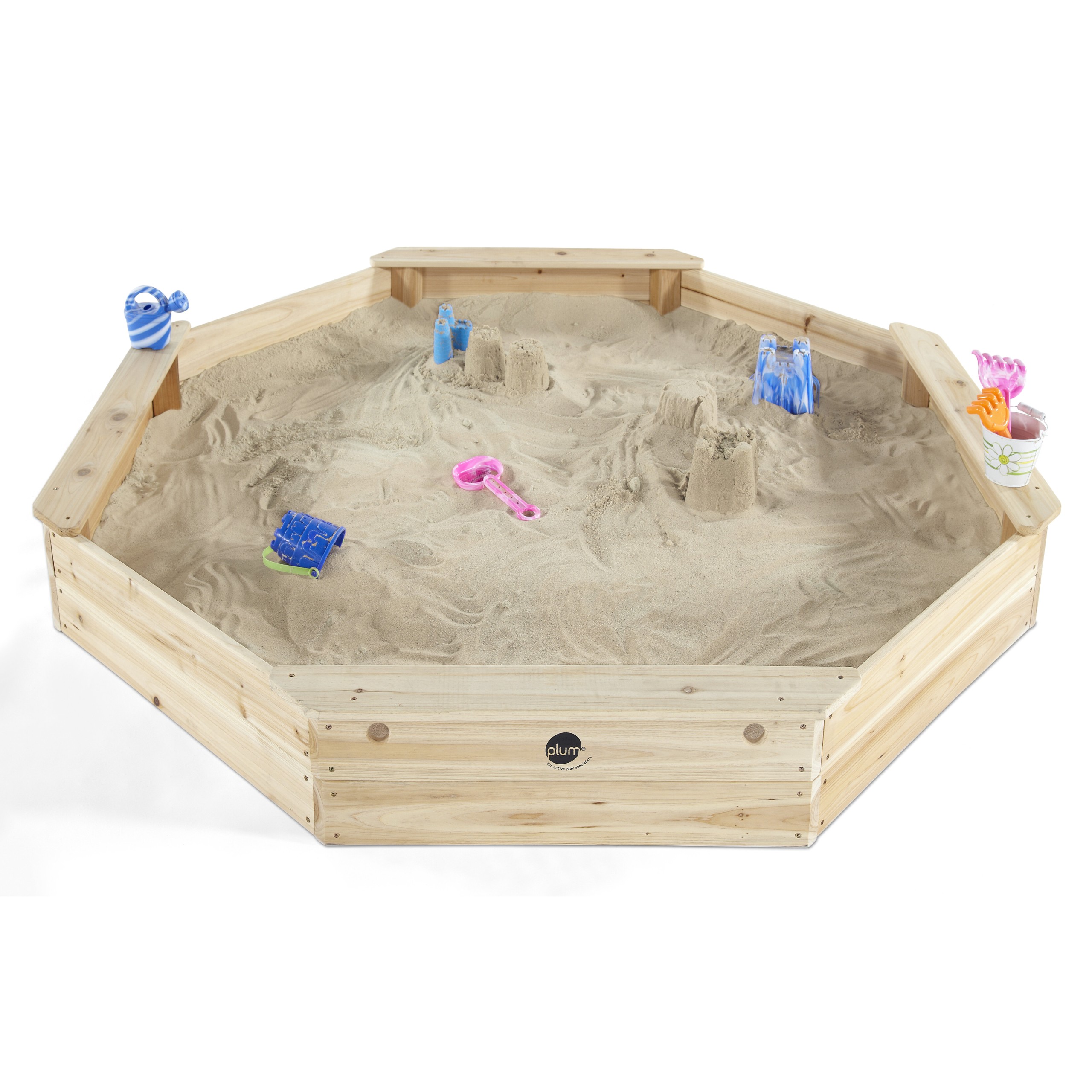 70" x 9" Solid Wood Hexagonal Sandbox with Cover
A hexagonal form and a light, natural wood finish mean this sandbox is the perfect choice for summer playtime outdoors.
The product which has been crafted from solid wood is ideal for children aged 18 months and older.
In addition to having a capacity of 700lbs, it also comes with sand and is especially weather resistant.
Enliven its neutral appeal with a splash of color using brightly hued toys, buckets and spades.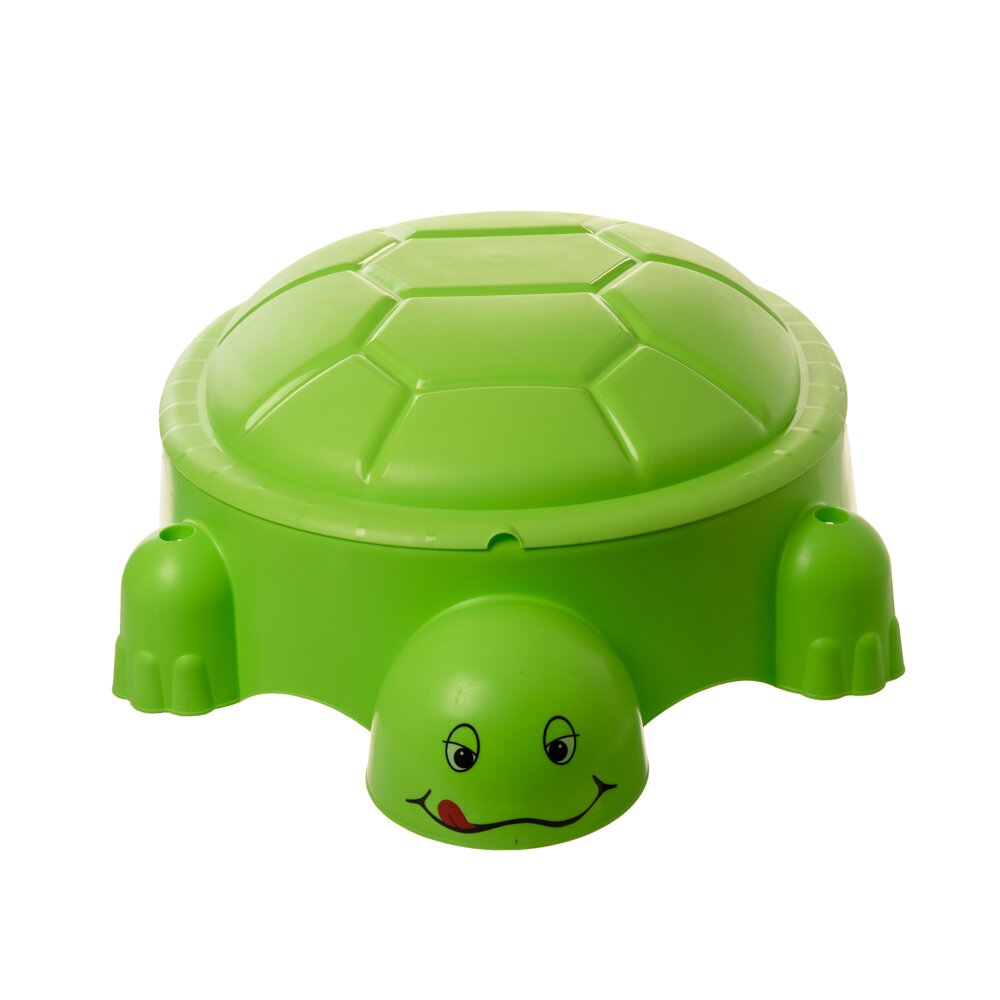 Turtle Sandpit 3.08 ft. Novelty Sandbox (Set of 2)
The main feature of this sandbox in an enchanting light green is its unique tortoise shape reminiscent of a favorite household pet.
The product which has been manufactured from plastic is suitable for use as both a sandpit and a shallow pool.
It is also ideal for children aged three and above and also comes with a lid to cover its contents.
Take advantage of its special appeal to create a coastal-themed play area with toy seals, seashells, and colorful spades and buckets.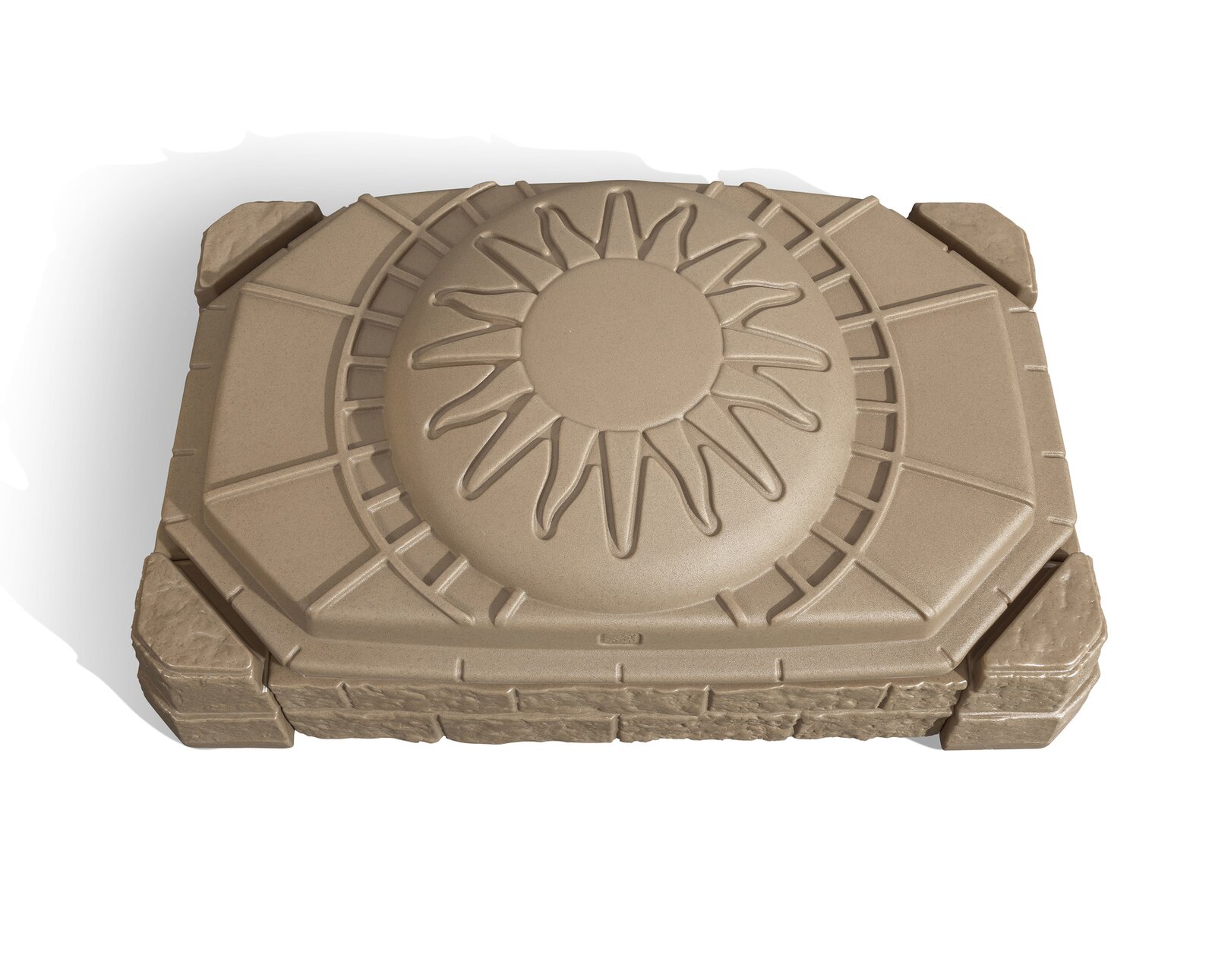 Naturally Playful 4.2 ft. Rectangular Sandbox with Cover
Manufactured from plastic, this sandbox possesses a capacity of 200lbs and is ideal for both indoor and outdoor use.
Specifically designed for children from the ages of three to six, this sand pit is especially weather resistant and comes with a warranty.
Make the most of its unique sunburst design to create an archaeological adventure during which little visitors will get to search for treats disguised as historical artifacts.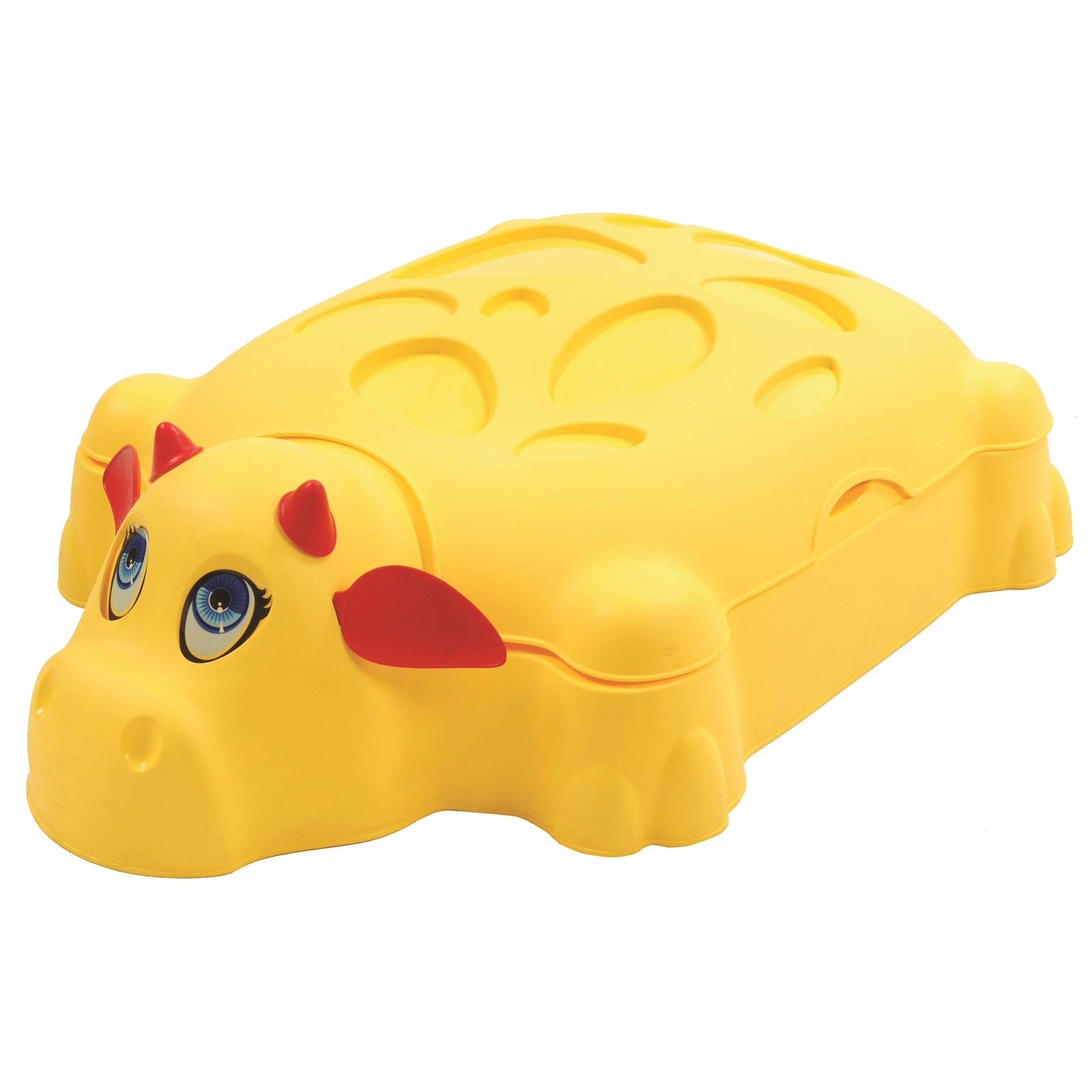 Cow Pool 2.75' Novelty Sandbox with Cover
Crafted from plastic, this sandbox in a light yellow and red, can be moved around conveniently in addition to being easy to clean.
The product which comes with its own sand, is also suitable for immediate use and does not require any assembly.
The cow-themed sandpit is the perfect choice for creating a farmyard-inspired play area featuring different toy farm animals and toy tractors.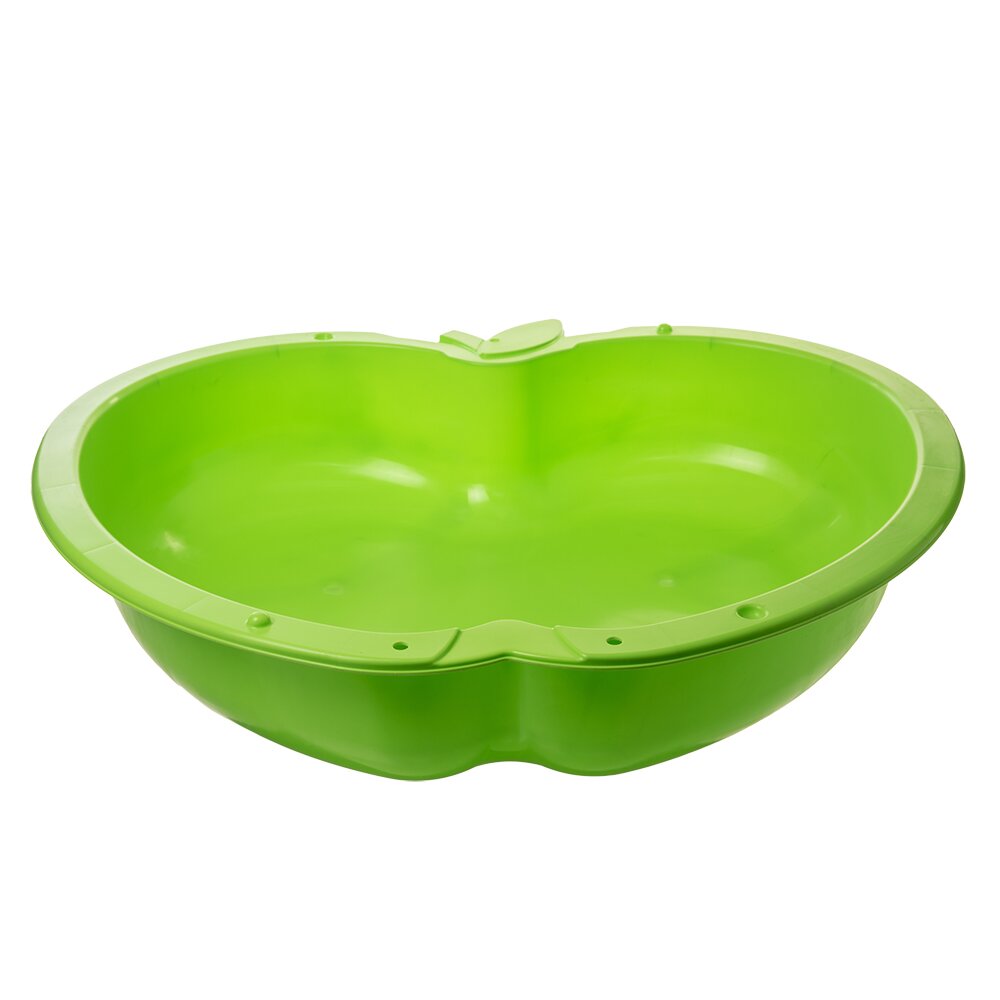 Apple Large Pool 3.3' Novelty Sandbox
Brought to you in a cheerful light green, this apple-shaped sandbox will add a summery touch to your children's play area.
The sand pit which is easy to clean, also comes with its own sand and the convenience of being easy to move around to your children's favorite outdoor spots.
Its fun shape makes it ideal for accessorizing with colorful toy fruits and flowers, and toy gardening tools, to create an orchard-themed play area.