Our Choice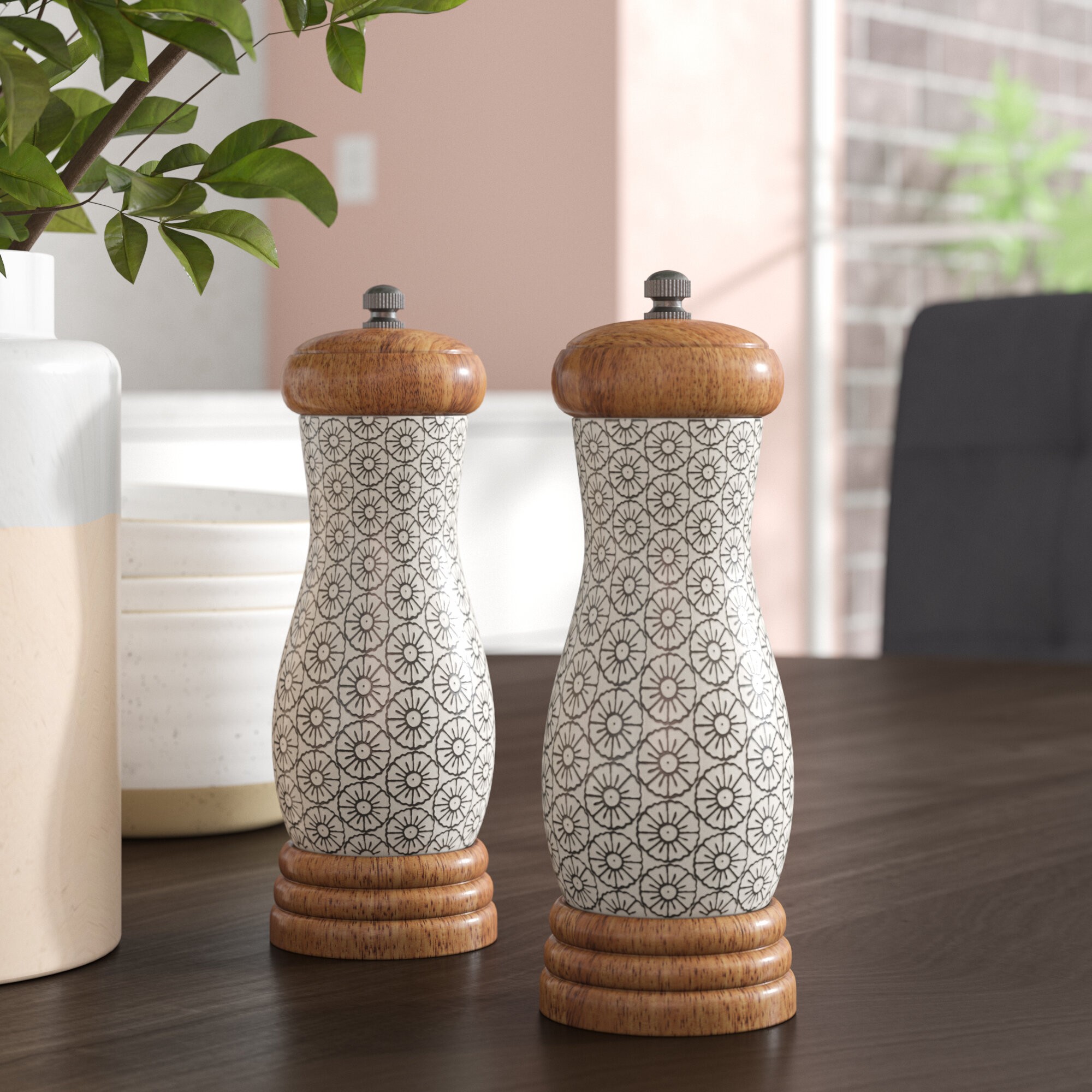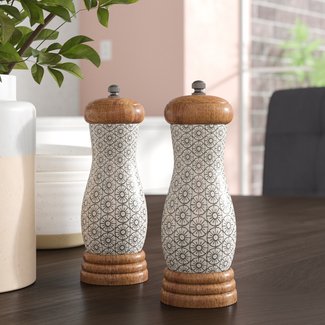 Bloomsbury Market Chatteris Ceramic Salt & Pepper Set
Delicate, symmetrical flowers and wooden accents decorate these charming, ceramic salt and pepper mills making them perfect for a country-style kitchen.
An interior stainless-steel grinder mechanism is sturdy and long-lasting. The tops of the matching 6.69'' tall set are adorned with an "S" and "P," to help you distinguish between them. For easy refilling, the hardware unscrews, and the top comes off.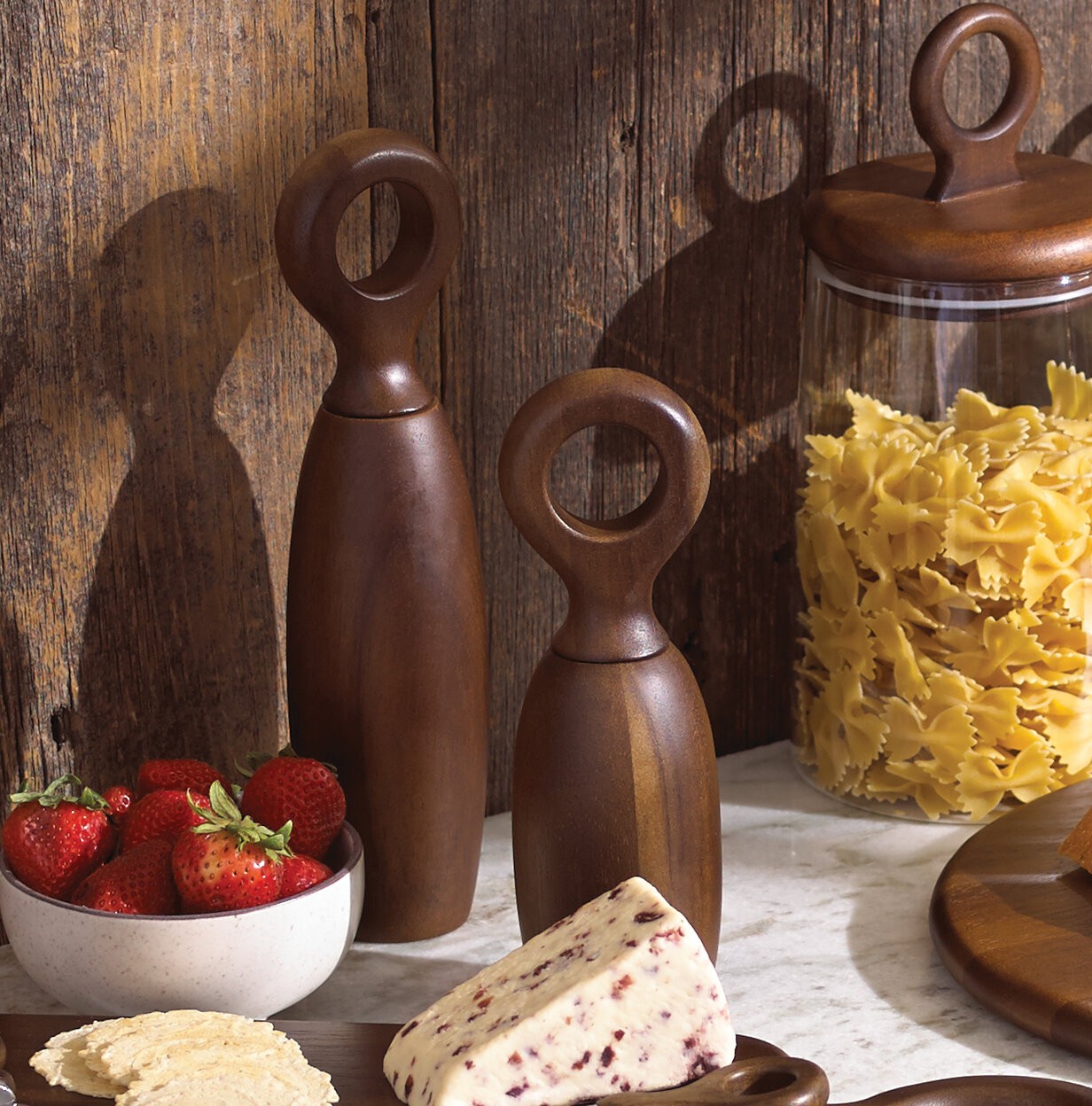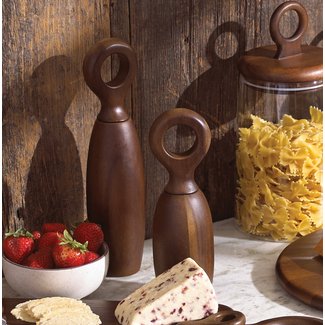 Dansk Niklas Pepper Mill
Inspired by the understated details of Danish design, this pepper mill is crafted out of stunning acacia wood for a casual or elegant setting. It has a circular handle on the top for easy grinding, and a natural finish that enhances the look of the wood grain.
To complete your hygge look, pair this 9.75'' x 2'' x 2'' pepper grinder with matching canisters and bread or cheese boards.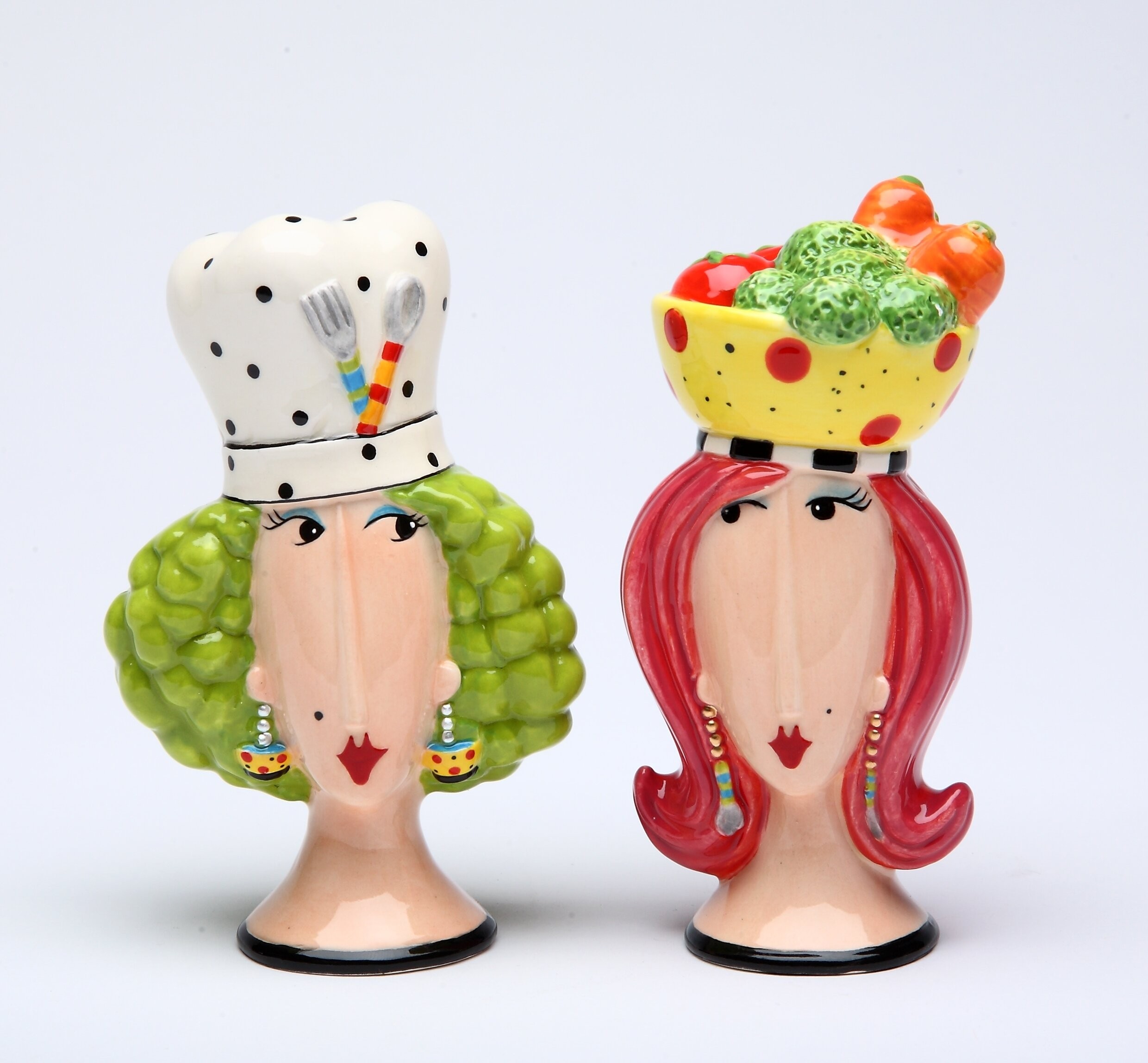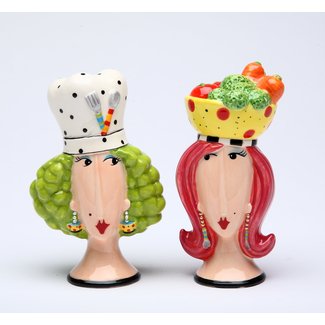 Cosmos Gifts Chef Lady Salt and Pepper Set
Playful and quirky, this pair of hand-painted salt and pepper shakers feature a green-haired woman with a chef's hat and a red-haired woman with a fruit bowl on her head. Place these 4'' x 2.5'' x 1.63'' shakers on display in your kitchen or dining room to season your conversations as well as your food.
Crafted from sturdy ceramic, these shakers will earn you years of laughs and compliments from guests. They also make a thoughtful culinary gift for friends.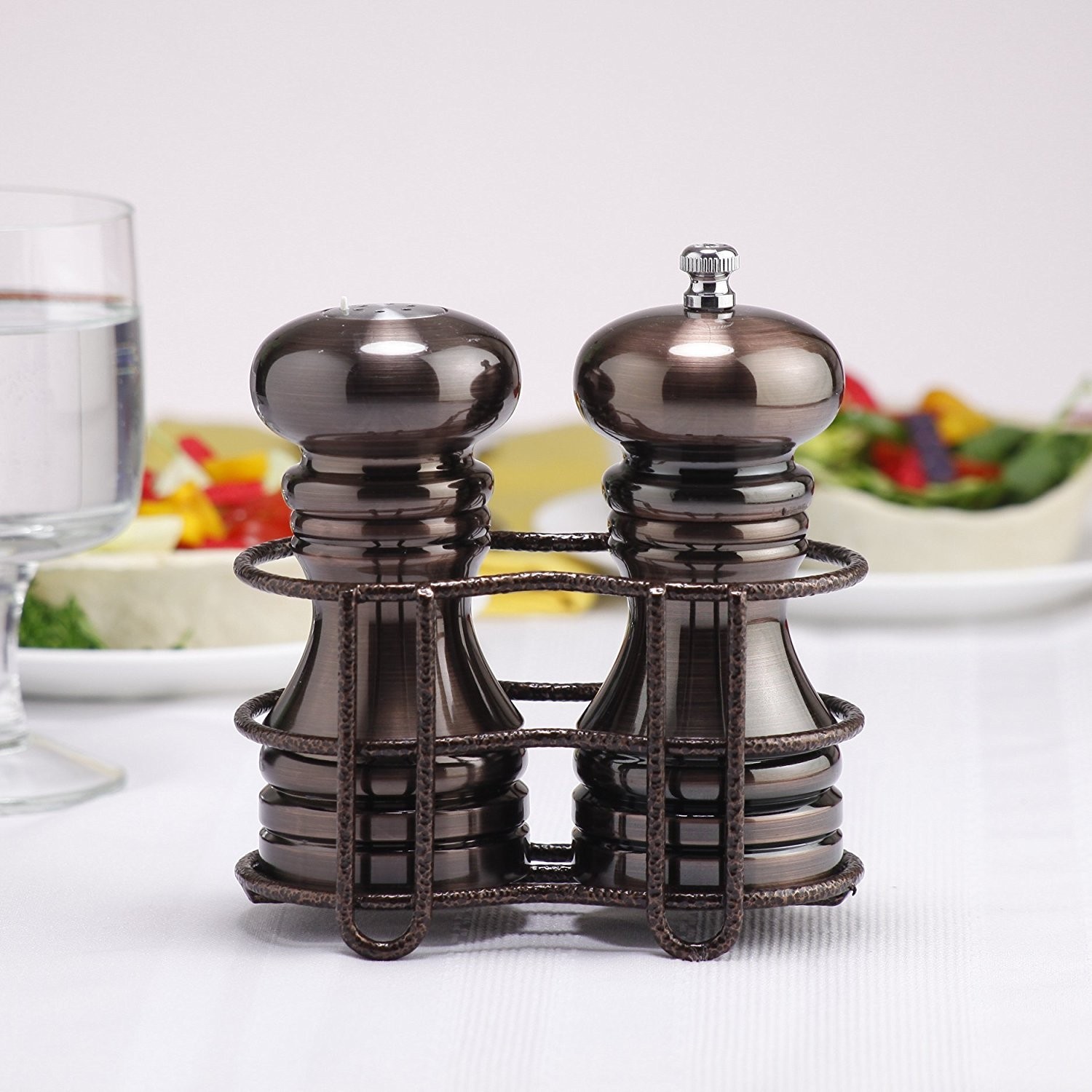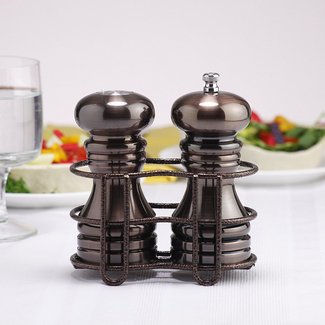 Chef Specialties Salt and Pepper Shaker Set
Elegant and sophisticated, this pair of salt and pepper grinders boast a deep burnished finish. The acrylic material makes them durable, functional pieces, while the rich finish and classical style make them beautiful accents for any home.
The accompanying metal rack helps to complete the old-world look. The pepper grinder features a ceramic mechanism which is adjustable through four different settings so you can choose how finely to grind your pepper.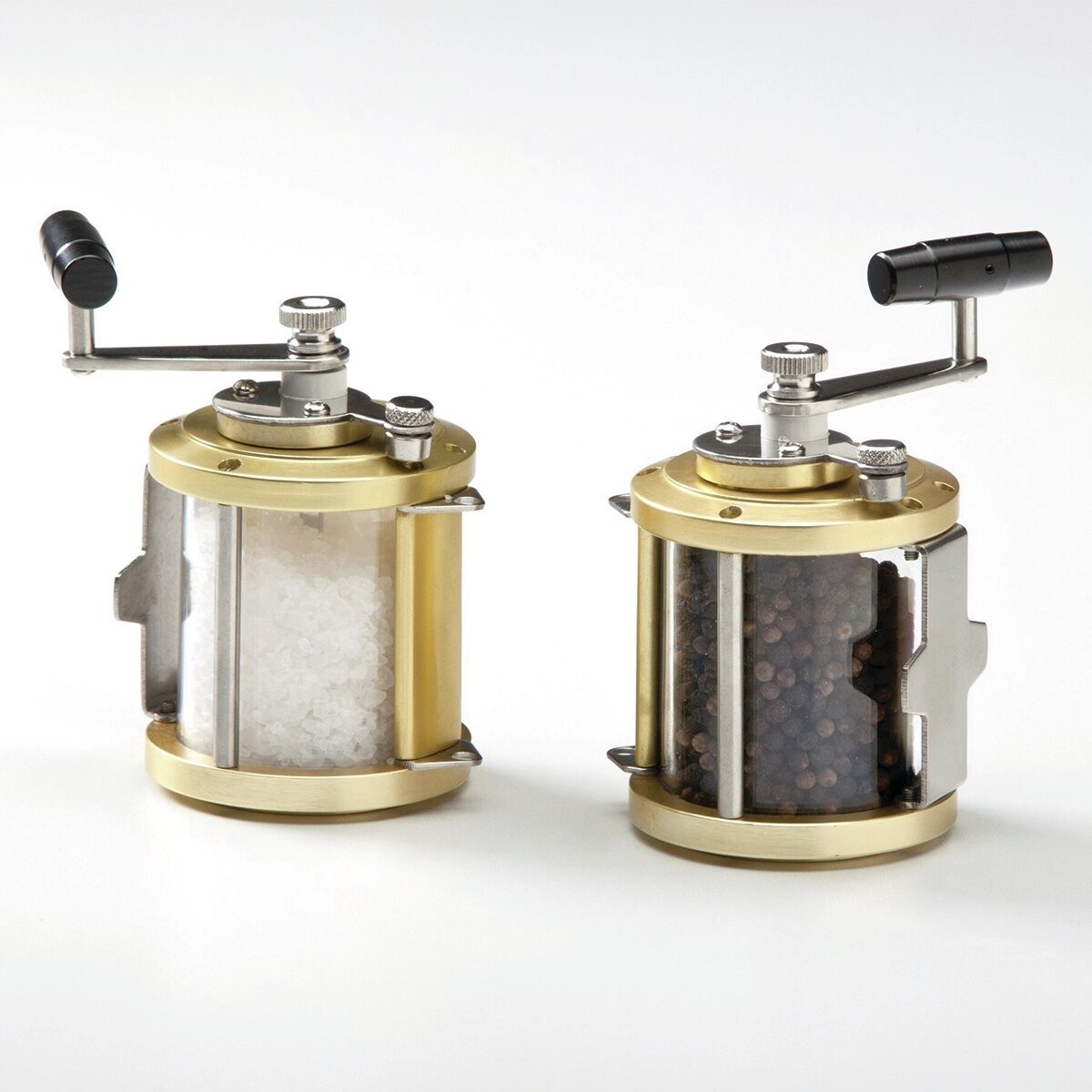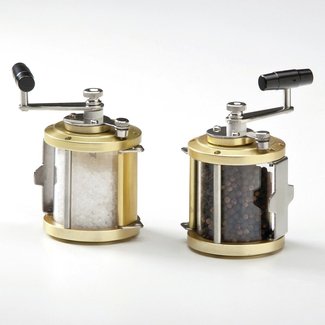 Galleyware Company Ocean Reel Salt and Pepper Grinder Set
Inspired by the details of maritime life, these salt and pepper grinders feature a reel-style hand-crank to help you complete your nautical décor ensemble.
The clear body allows you to see how much salt or pepper you have left. The gold-colored frame, silver crank, and black handle lend just the right amount of eye-catching contrast to your kitchen table.
Perfect for coastal-style kitchens or as a fun gift for enthusiastic anglers.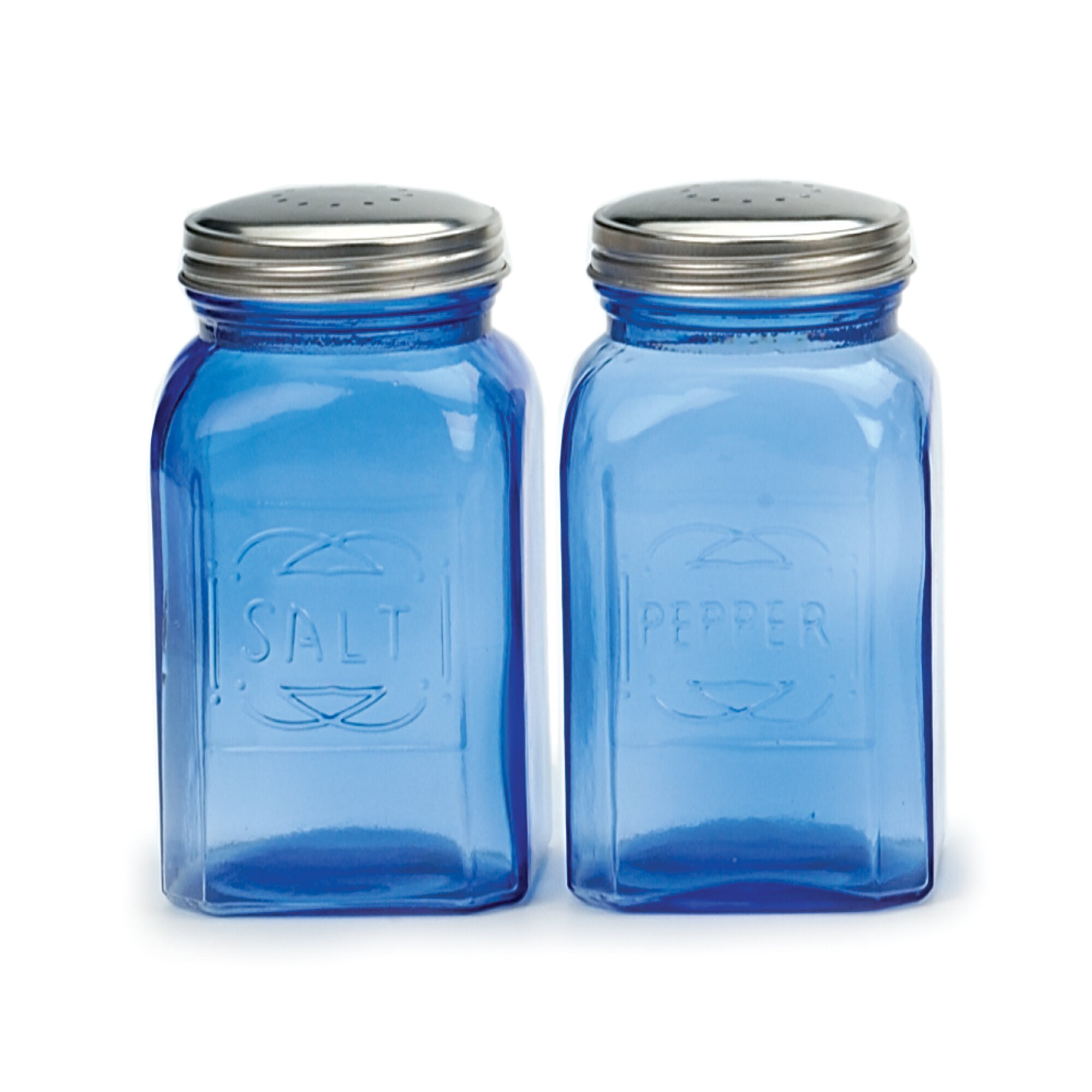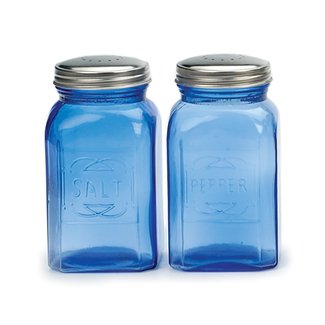 RSVP International Retro Salt and Pepper Shaker Set
These clear, classic glass salt and pepper shakers evoke the charm of a 1950s diner, adding a retro vibe to your kitchen.
Wide screw-top lids make this pair easy to refill and simple to use, and each 4.5'' x 2.25'' x 2.25'' shaker can hold 8 oz. of preground salt and pepper.
They are perfect for accenting a cottage-inspired or vintage farmhouse aesthetic with old-fashioned lettering on the individual shakers.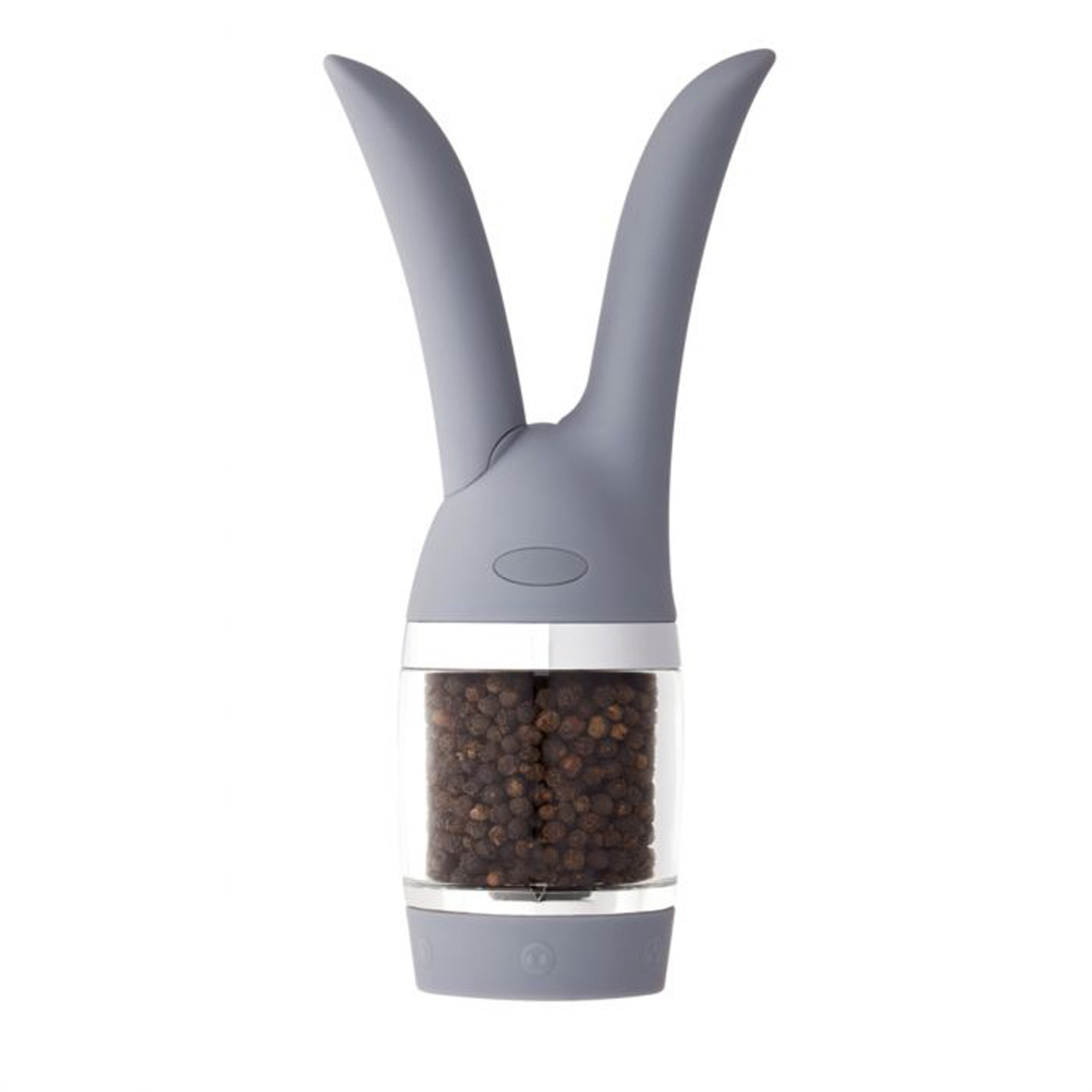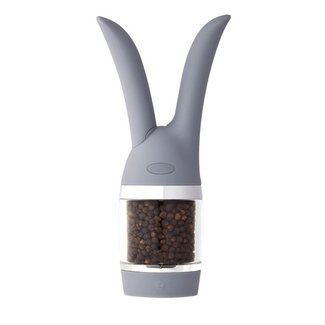 Kamenstein Grip Half Fill Pepper Grinder
Add character to your dining room table or countertop with this quirky, modern pepper grinder.
Ergonomic handles contour to your hand and provide a non-slip grip, while the base allows you to adjust through several different grinding settings, making it both a practical and fun addition to your kitchen space.
The central chamber opens easily for refilling, and the entire unit is crafted from high-quality BPA-free materials for optimal longevity.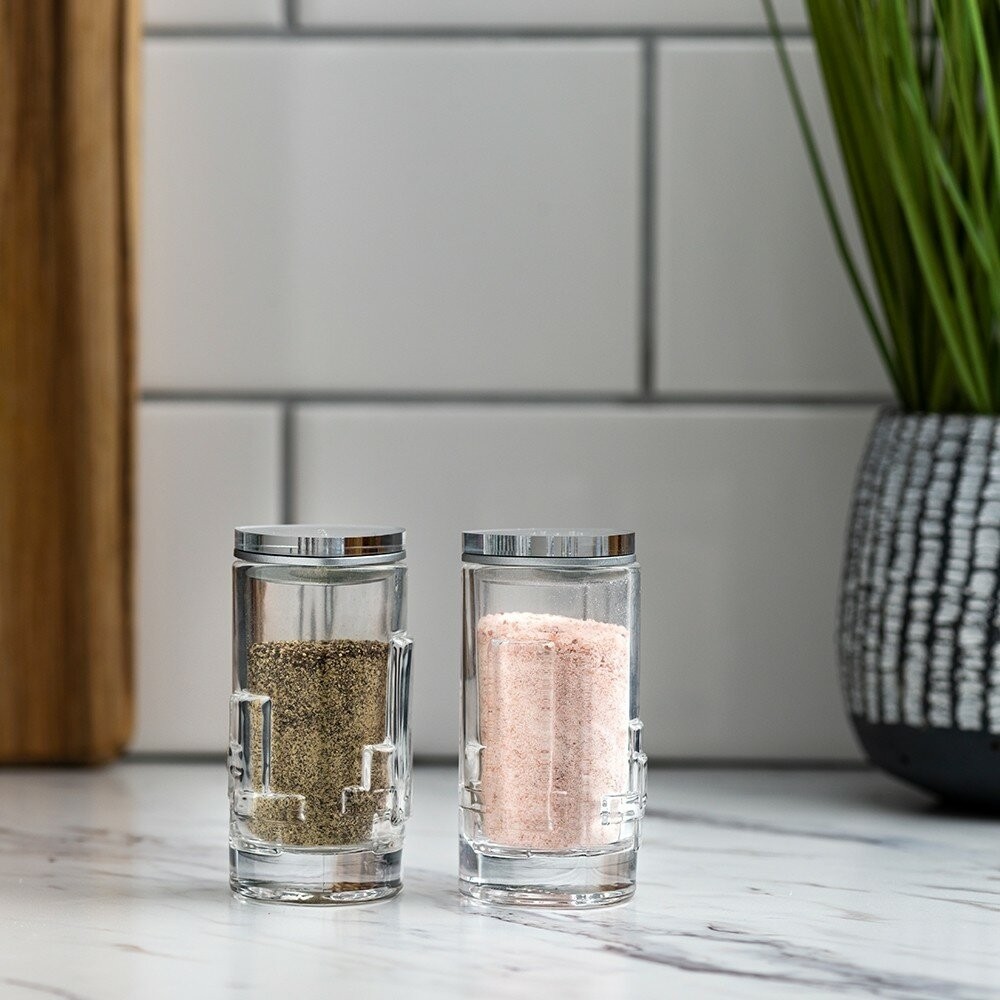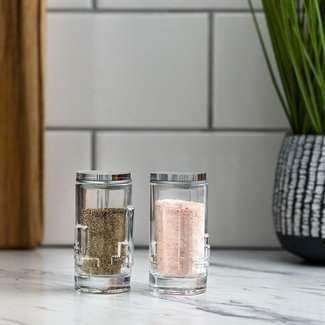 JoyJolt Revere Glass Salt and Pepper Shaker Set
Handmade by expert craftsman, this set of two glass shakers features a unique triangular design and geometric relief pattern, making them the perfect accent piece for your home or restaurant dining table.
Each shaker can hold up to 2 oz. of salt, pepper, or any of your favorite ground spices, and the tops feature narrow holes for controlled dispensing. The heavy base makes them less likely to topple when full, and the glass is dishwasher safe for easy cleaning.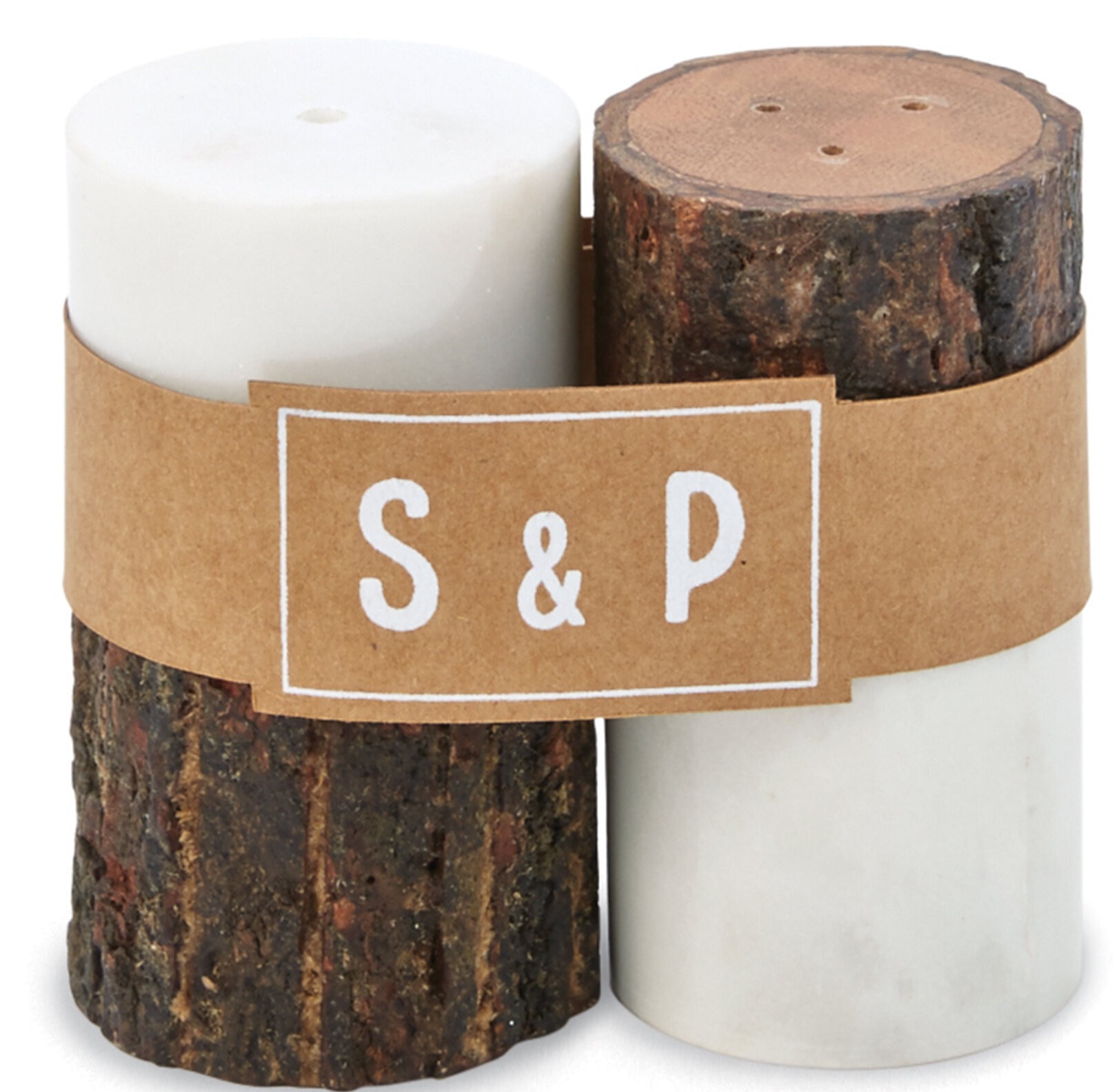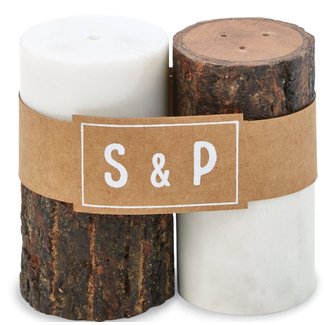 Mud Pie™️ Marble Bark S and P Salt and Pepper Shaker Set
Inspired by nature, these adorable salt and pepper shakers have a marble and wrapped bark design that combines color-blocking with arboreal charm. Their 1.27 lb. weight feels solid and substantial.
Rustic and unique, these are perfect for achieving a modern farmhouse look in your kitchen. They're also ideal for use in a camper or RV while enjoying long road trips.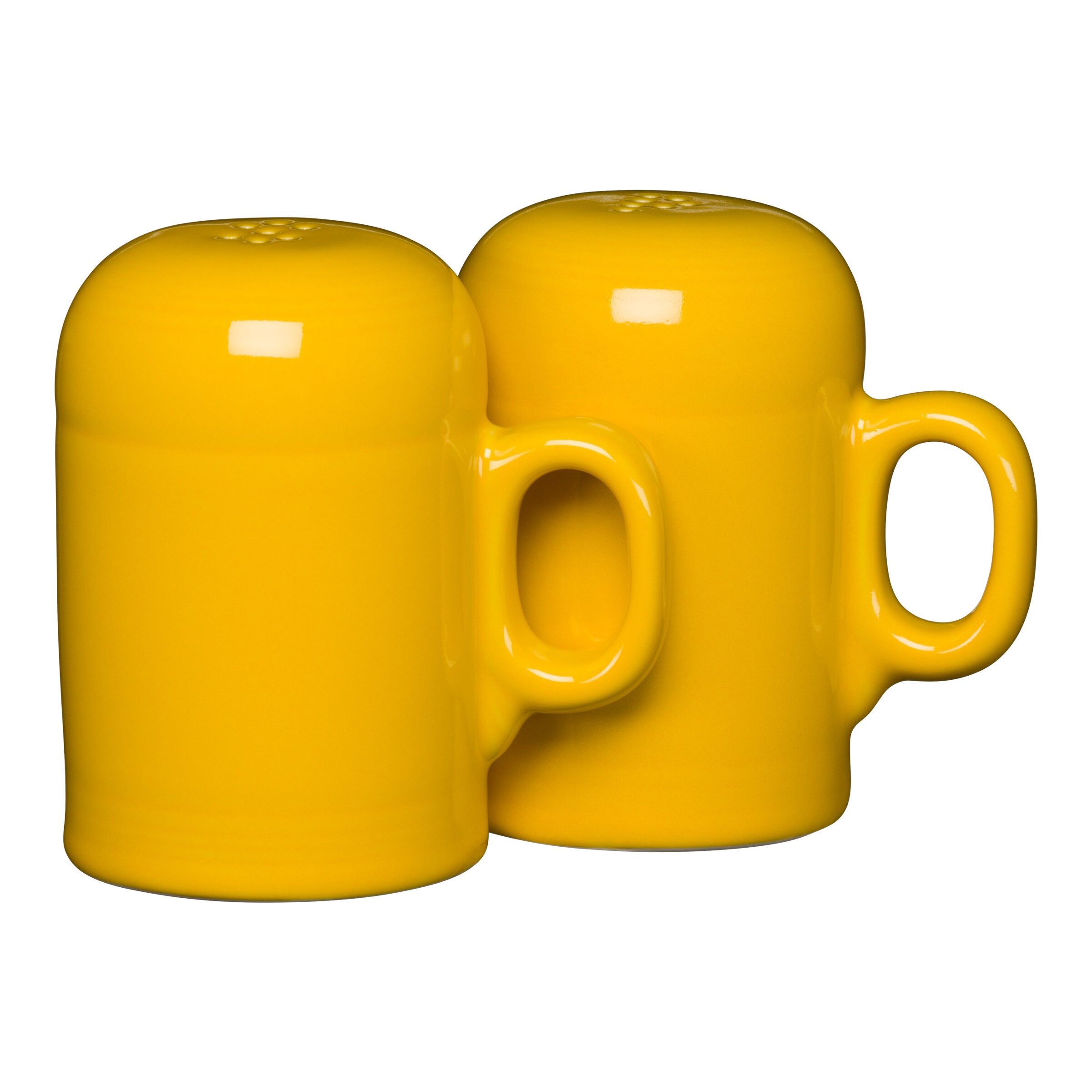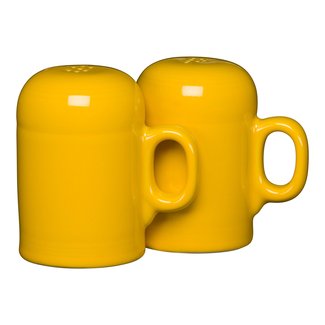 Fiesta Rangetop Salt and Pepper Shaker Set
These classic salt and pepper shakers are ideally suited for your country kitchen or eclectic Scandinavian home. Available in 15 different glossy colors, it's incredibly easy to match these budget-friendly ceramic shakers with your pre-existing décor scheme.
The set is dishwasher safe and easy to refill from the base; however, at 4.5'' x 4'' x 3'', you won't need to refill them often. Place them near the stove for a pop of color while cooking.