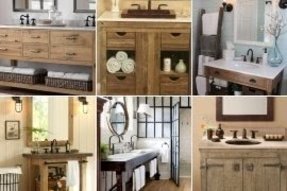 The beautifully finished rustic bath vanity is a combination of effective and robust wood composition and functionality. Drawers and shelves will fit as storage, and a solid marble top adds elegance.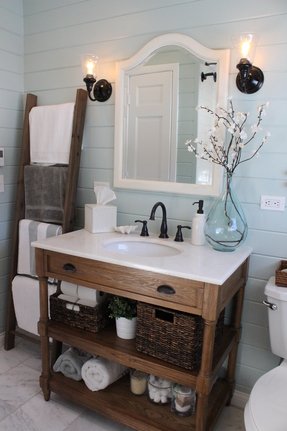 Splash your bathroom with a touch of rustic accents with this gorgeous bath vanity. It's made of wood, featuring 2 open shelves for storing your towels, 1 drawer with black pull handles, and 1 built-in oval sink with a black faucet.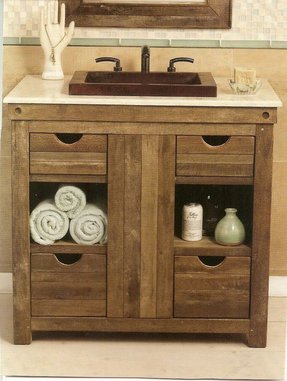 Crafted of reclaimed wood and maintained in a two-tone finish, this vintage vanity set is going to put rustic flavor straight into your bathroom. Includes 1 sink, 2 open compartments, and 4 drawers with cutout handles.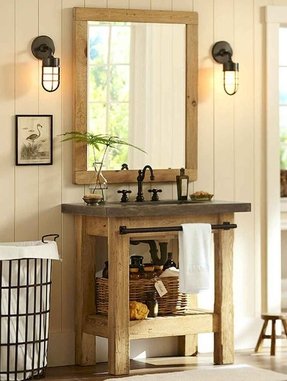 Joseph Concrete Single Sink Console
An industrial style in the bathroom. This sink console is a functional piece of furniture that is made of pine wood (frame) and concrete (top). It has also got a solid steel towel bar and an open bottom shelf.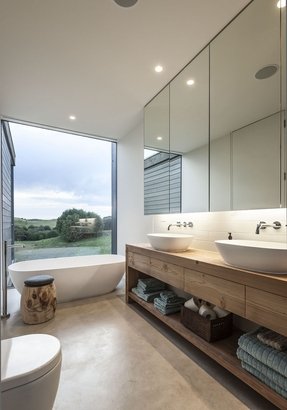 A perfect option for the master suite bathroom - this setting makes for the stunning example of modern and clean style that will still make your household just ooze comfort and practical use thanks to plenty of cupboards and drawers.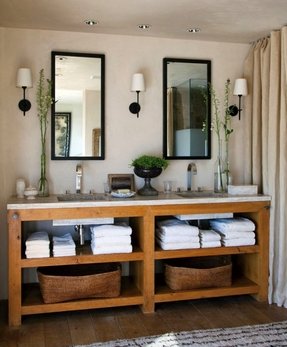 This rustic bath vanity will be a great vintage accent in any bathroom. It features 4 shelves, creating a considerable space for your linens and stuff. Off-white, marble countertop embodies elegance and style.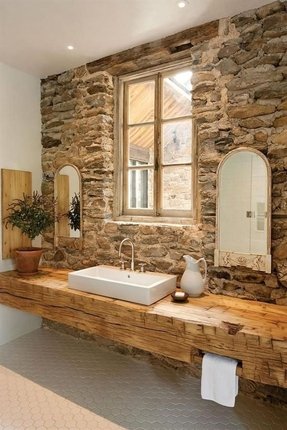 Most people have similar, boring bathrooms, and that's why designers beauties like this here make such big impression on guests. This here was made mostly from wood and has an irresistible rustic vibe. White towels make it similar to a SPA!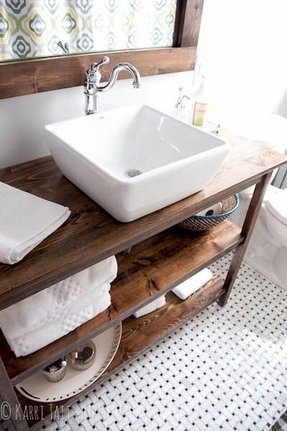 A rustic vessel sink and rustic bath vanity is a great option, if you want to create the clean and aesthetic look in your bathroom. Everyone will tell you how great it looks in your home.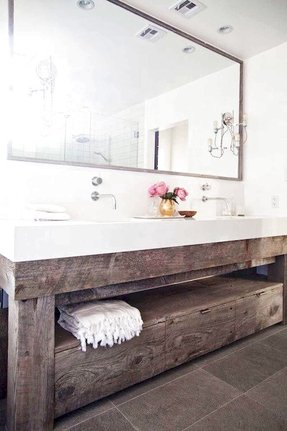 An interesting bathroom set combining rustic and modern styles. A vanity table of stark unfinished reclaimed wood has thick square legs and top aprons, a shelf, 3 cabinets with flip down doors. A tabletop is of contrasting thick white material.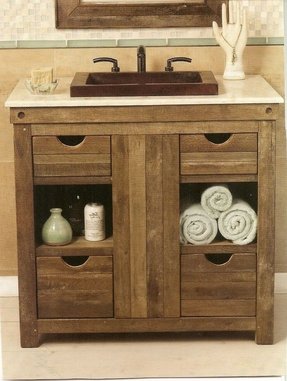 The captivating combination of country style and modern styling in this beautiful vanity for the bathroom is a perfect way to have an impressive decor. The Beautiful wood design is an ample storage space in cabinets and drawers.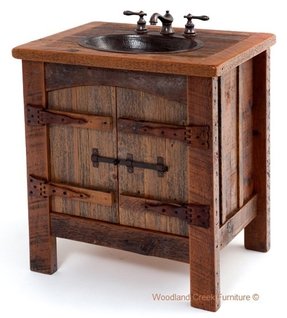 Why not go for a bit of rustic charm and appeal for your interior with this stunning bathroom vanity that sports the not evenly colored wood with a distressed feel to it and will ensure a significant boost of convenience for any space.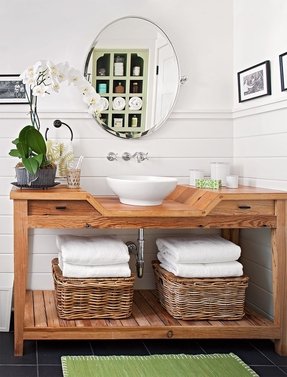 You won't believe this makeover! Click through for more of our favorites: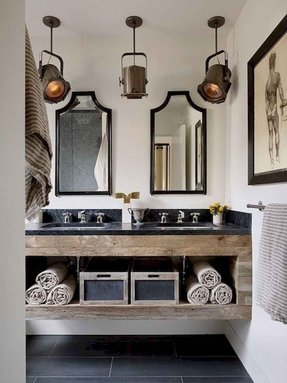 Creating a smooth, classic bathroom appeal, this vanity table combines a solid base, made from natural, bright wood and a granite countertop. Altogether, it brings in a refined character to the space.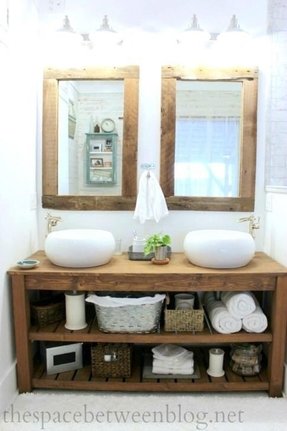 The combination of rustic styling in this two bathroom sink makes the decor not only comfortable but also presents itself in a phenomenal way. Beautiful wooden mirror frames and shelves under the sinks delight you with beautifully complemented with bright additives.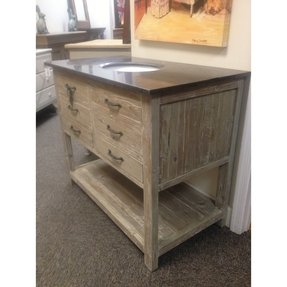 Rustic Bathroom Vanities Decoration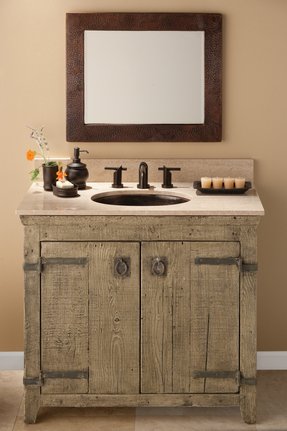 This rustic bath vanity is made of the beautifully textured wood, and is handcrafted by American artisans. For me, it's a masterpiece, and I want to have it in my bathroom. It has two doors with enough spaces for towels and bathroom accessories.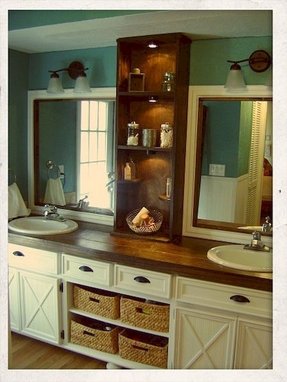 Category » Home DIY « @ Home DIY Remodeling. "I just fell in love with this!" - Alexandra Marie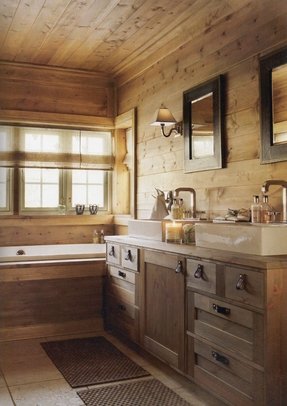 When I was a child I always wanted to have a wooden house on the village. Now I see that my dream came true in this beautiful picture. Wooden walls, wooden furniture, wooden decoration - what's a beautiful place!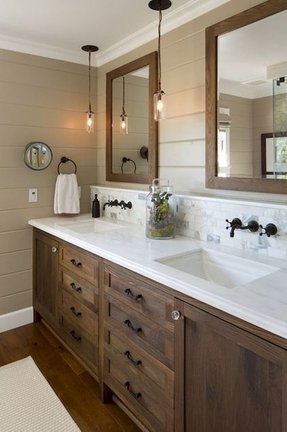 But with my BM Wickham Gray walls. Coastal Ranch - farmhouse - Bathroom - San Diego - Anne Sneed Architectural Interiors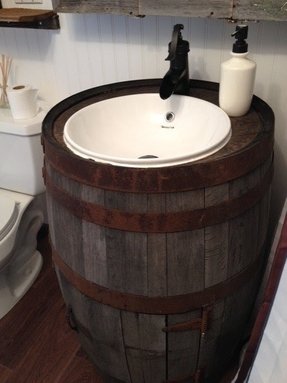 A rustic barrel vanity is just one of the surprises you'll find in this amazing bathroom makeover.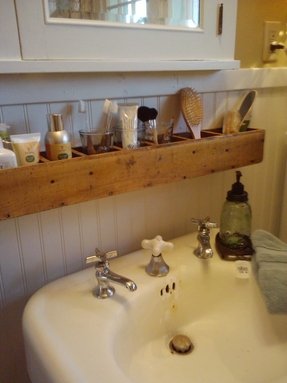 Tiny-Ass Apartment: Wet works: 10 storage solutions for sinks, showers, and tubs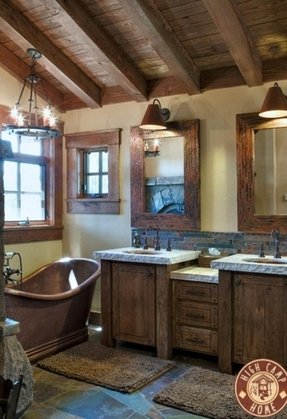 Simple and Rustic Bathroom Design for Modern Home : Classic Rustic Barn Bathroom With Double Wooden Vanity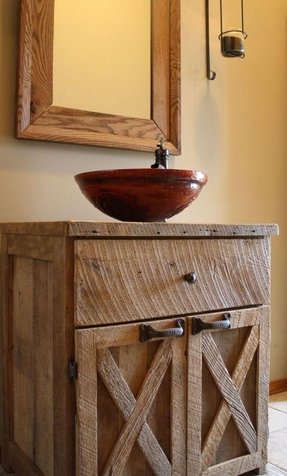 Your Custom Rustic Barn Wood Vanity Or
What will the bathroom be like in the Scandinavian style? Full of wood and natural components. Who would have expected such austere and unusual rustic bath vanity cabinet with cross-boards, rough wood - which supports a maroon-red sink.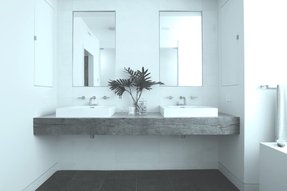 On the one hand, on the other minimalistic - this wall mounted vanity top constitutes a universal bathroom decor proposition, that shall work out well in both traditional and contemporary interiors.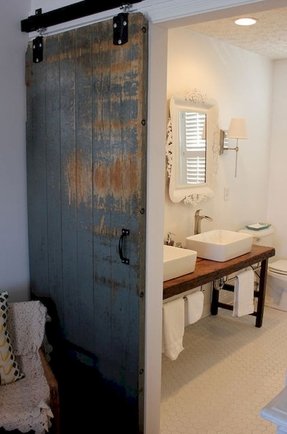 Can't get enough of hanging doors and this reclaimed barn door makes me drool! Master Bath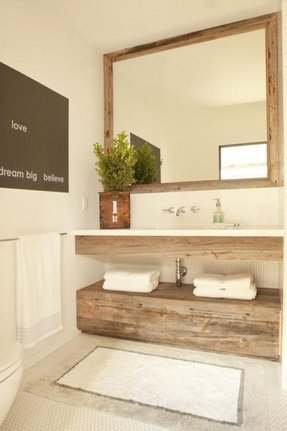 Powder sink on wood. Shows some exposed pipe. Would not do inset sink but a square sink sitting on top with waterfall faucet coming out of sink not wall.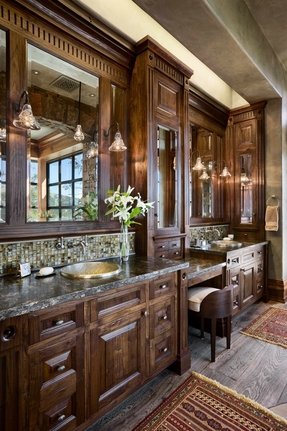 Rustic bath vanities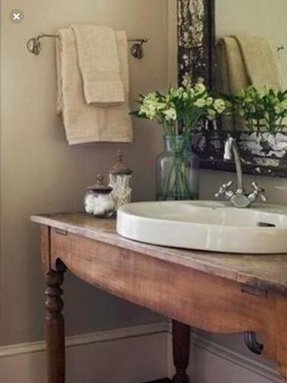 20 Sophisticated & Serene Bathrooms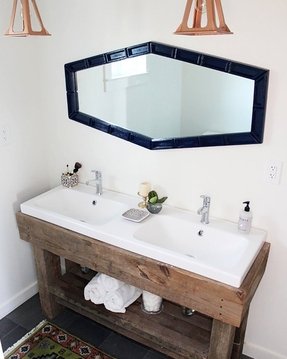 This gorgeous vanity sink will fit well into contemporary, loft or urban spaces. It combines smoothly rustic and modern design elements, mixing natural wood with sleeky white finish.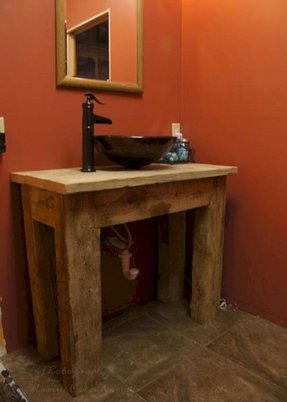 Our Rustic Bathroom Vanity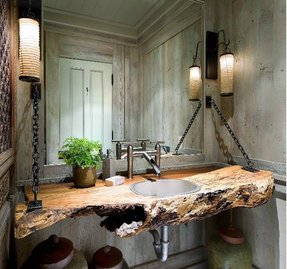 Nature is in full swing - an unlikely example of using wood as a countertop in a bathroom. The old, tarnished tree was formed into a rectangular rustic bath vanity top with a sink, suspended on heavy brass chains.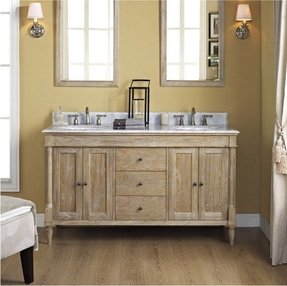 Beauty closed in the sips of wood - in a rustic,gentle style, invites you to bath in an ecological way. The marble gray table top combines a washbasin and a place for cosmetics. Clean lines of rustic bath vanity,brass knobs and interesting knob configuration.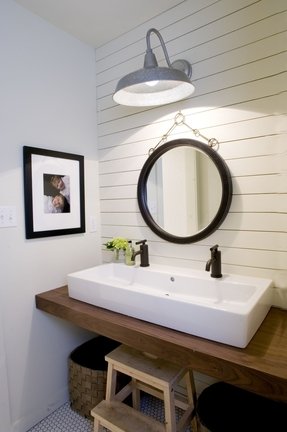 Splash your bathroom with a drop of rustic flavor by accommodating it with this gorgeous bath vanity with trough sink and dual faucets. It all sits on a thick wood top, offering a great alternative for smaller interiors.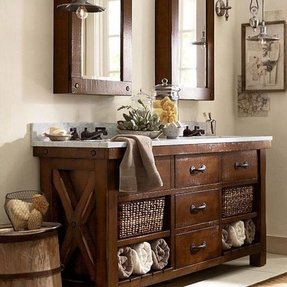 Perfect for enhancing bathrooms with rustic flavor, the bath vanity is functional, attractive and able to withstand years of usage. Its wood construction offers 5 drawers with metal pulls, 4 open compartments and X-shaped sides for extra appearance.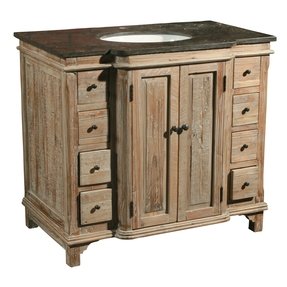 This bath vanity works great in this bathroom, I'm sure you'll all agree. The rustic style of both the bathroom and the vanity, underlined by cohesive towel racks and light decoration… just amazing!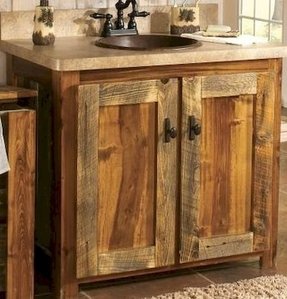 From the authentic Wyoming Collection, the bath vanity boasts of a weathered reclaimed wood base. Includes a laminate top and backsplash, along with two doors equipped with oval pulls with a hammered backplate.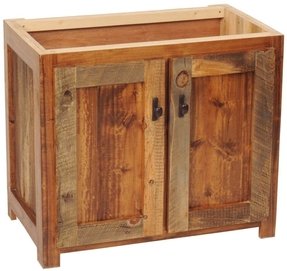 This rustic bathroom vanity shall enchant all fans of wooden constructions, known from the mountain lodges or country houses. Densely grained wood emphasizes the raw, natural character of the construction.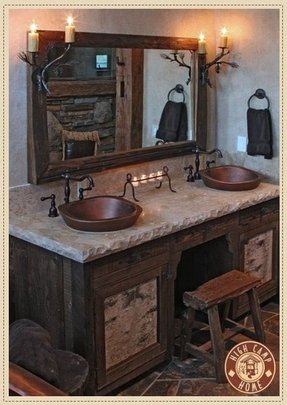 If you ever dreamed about a rustic bathroom, this vanity sink may inspire you. It features a distressed, wooden base with a characteristic small taboret, hidden under the surface and a stone countertop.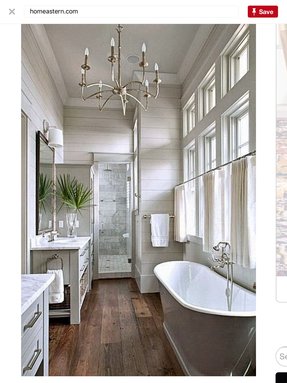 Beautiful bath : rustic wood floors, shiplap, chandelier, grey vanity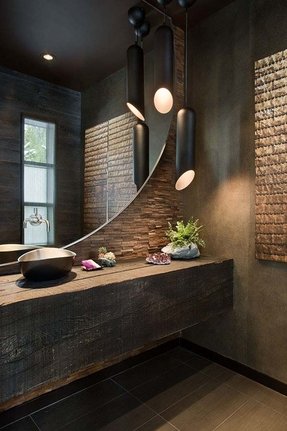 Beautiful Dream House in the Mountains Will Take Your Breath Away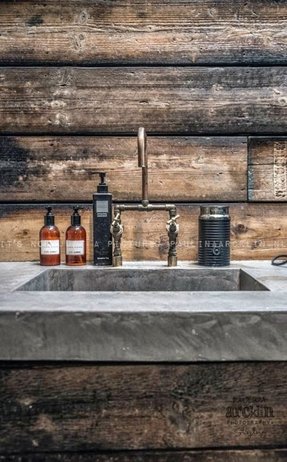 Vasque salle de bain à l'ancienne - © Paulina Arcklin | GOOD GENES store in Amsterdam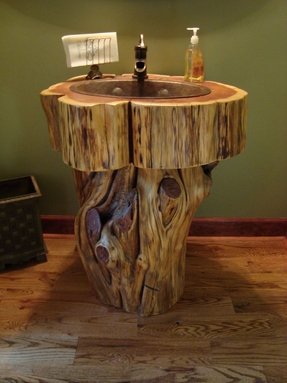 ARE YOU LOOKING FOR RUSTIC BATHROOM VANITIES?.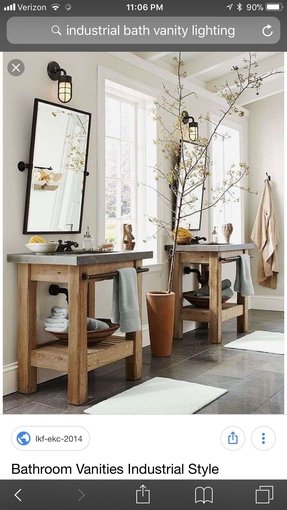 Joseph Concrete Single Sink Console
This sink console brings a touch of rustic, industrial style into the bathroom. The frame of this element is made of pine wood that features solidity. The lower shelf provides a storage space and the top is made of 2 inch thick concrete.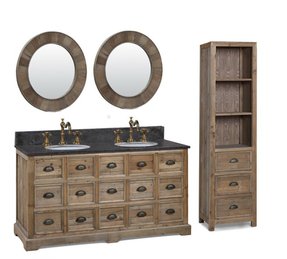 ... WK1560 60 inch Double Sink Rustic Bathroom Vanity Black Marble Top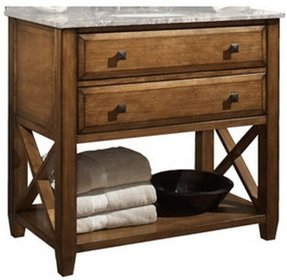 Casual Elements 36" Single Bathroom Vanity Set
Magnolia Farmhouse- amazing DIY renovation.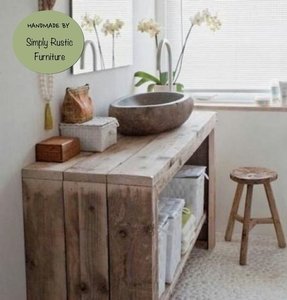 Du bois naturel dans la salle de bains - DIY-able?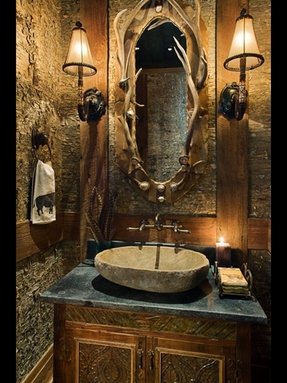 Rustic Bathroom that's totally at home in a log cabin.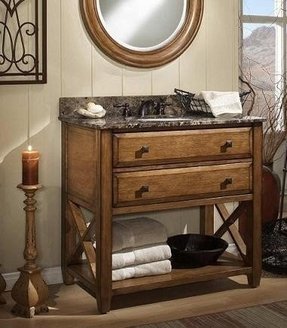 Rustic Bathroom Vanities For A Casual Country Style Bathroom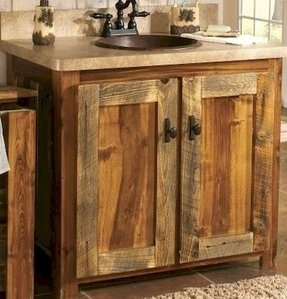 rustic vanity