Our Choice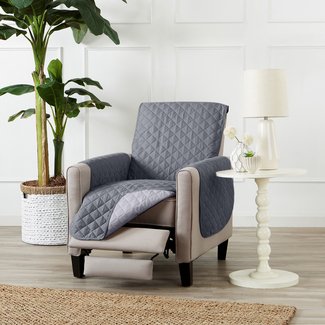 Reversible Quilted Box Cushion Recliner Slipcover
This comfortable chair cover is a perfect addition to any house with pets, kids or messy teenagers. It comes with an angular quilted design, a lofty poly fill, and a soft suede-like finish. The slipcover has a convenient strap that wraps around the back of the chair to keep it in place. The suede finish provides additional anti-slippage quality. To keep it clean, just pop it into a washing machine.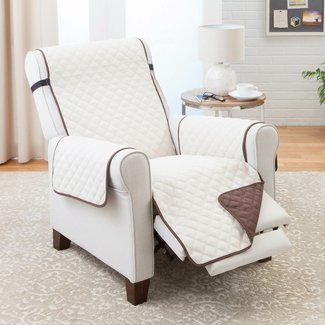 T-Cushion Recliner Sofa Slipcover
A large selection of traditional-looking reversible quilted covers. It's a must-have for anybody who likes to protect their furniture from permanent stains. The machine-washable/machine-dryable microsuede cover is available in 9 bright pastel colours with an option to flip it over for a darker shade/pattern. Grab your favourite book and recline away into a world of relaxation.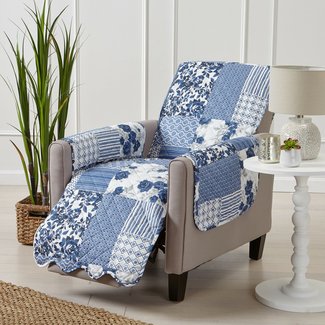 Patchwork Scalloped Printed Box Cushion Recliner Slipcover
This cover not only amazes with its asymmetrical geometric/floral pattern but it also acts as a shield to your favourite chair. Don't worry about drooling during your nap or spilling soda while watching a movie. You can wash the cover any time, it's compact enough to easily fit in your machine. The added perk is the intense decorative design of the slipcover, which also helps disguise stains while creating an artistic pop in your room.
Box Cushion Recliner Slipcover
Any conservative-looking chair will gain a tad of excitement if combined with this cover. It's crafted from durable and stain-resistant polyester in a wide array of muted colours with a white steady geometric pattern. You can choose from gentle hues of grey, beige, brown and blueish-teal. With its 79" generous length, it comfortably hangs behind the back of the chair, and it fully covers the front to protect the chair from shoe scuffing.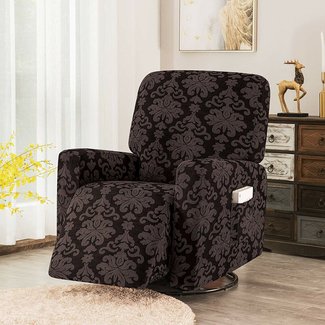 Damask Elegant Box Cushion Recliner Slipcover
If you're looking for a durable recliner/regular chair cover with a classy ornate appearance, look no further. It consists of 15% of spandex for a wrinkle-free and snug fit. Its rich-looking pattern will refresh your room visually, adding a fresh twist to your old or stained chair. You will be happy to discover a hidden bonus—a roomy pocket on the side of the chair that will fit your phone, a remote control, or a book.
Burnham Protector T-Cushion Recliner Slipcover
This dark chocolate/rich burgundy cover will create a sense of luxury in your room. It will go seamlessly with any gold or white decor elements surrounding it. Moderate in size, it will elegantly lay atop your chair without overwhelming it visually. The polyester blend of the fabric provides ultimate softness and comfort during your resting time. It comes with a hook & loop fastener mechanism to prevent it from slipping.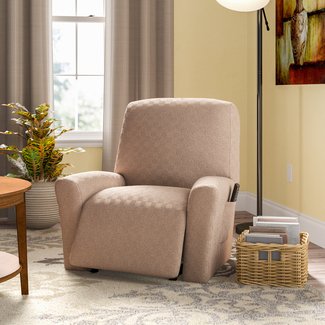 Box Cushion Recliner Slipcover
If you're tight on budget but would love a prominent change in your furniture' look, this slipcover is a great idea. It will be a cheaper investment than reupholstering, however, it will provide a professional reupholstering finish as the stretchy polyester/spandex fabric blend allows a perfect fit. You can easily put it on and remove it for periodic washing. To speed up your cleaning errand, it can even go into a dryer—just make sure to keep the heat low.
T-Cushion Recliner Slipcover
This energetic ornament cover will awaken any dull room decor in your home. It's designed for people who are not afraid of bold, high-contrast patterns. This cover will transform your current chair into a vibrant piece of art and it will pop best against bright walls and floors, as well as white decor elements. It's recommended for spacious rooms, where there is a limited amount of accent furniture.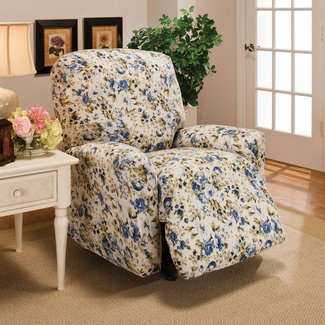 Box Cushion Recliner Slipcover
A slipcover for any perfectionist who's looking for the ideal fit. This unique cover comes in separate pieces for the frame, cushions, and arms. This allows the cover to embrace the chair flawlessly even when fully reclined. It attaches via elastic edges that provide extra anti-slippage quality. It's crafted out of soft polyester fabric and 5% spandex with a jersey knit for added durability and a cosy feel.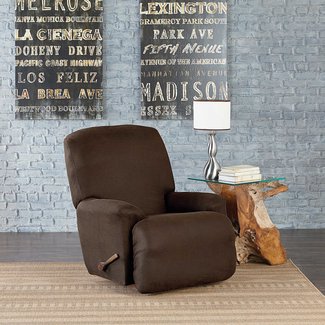 Vintage Leather Furniture Stretch Box Cushion Recliner Slipcover
If you love to surround yourself with a vintage vibe, this affordable leather alternative will surprise you with its fuzzy feel and realistic look. Even better–it's machine washable, so you can carelessly kick back and unwind without stressing about staining your furniture. The universal solid charcoal grey will go great with just about anything, so it's a safe pick for any room, even the ones that are already filled with some strong colours or patterns.