Our Choice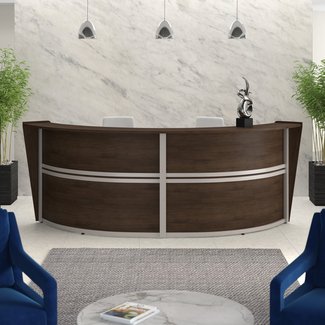 Juno U-Shape Reception Desk
Create an inviting space for people walking into your office with this professional-looking reception desk. It comes in a curved top counter design with ample space for handling all the reception duties such as signing in visitors and writing. The desk has enough space for a computer, telephone, papers, and everything receptionists use. It's made from laminated wood with a metal accented frame and a solid neutral finish. It's also easy to assemble.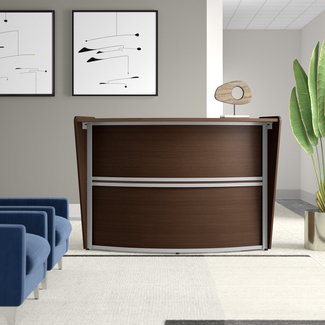 Juno Series Reception Desk
If you want your office or workplace to make a strong first impression on visitors and clients, this curved double-unit reception desk is a perfect option. It's an elegant and professionally designed work station made from a powder-coated steel frame with a sleek thermo-fused melamine finish. The front office desk is also quite functional with interior wire management cutouts to manage cables and avoid cord clutter. It also comes with a lifetime warranty.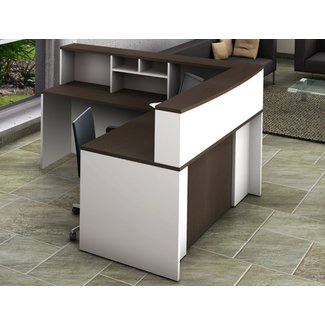 Dulcia Office L-Shape Reception Desk
Aesthetics meet function in this practical and multifunctional great looking contemporary reception desk. It features commercial-grade construction with melamine lamination and clean edges on the front, back, and bottom. The desk is designed for highly active office use. It's also easy to assemble using basic tools. Best of all, the desk is available in attractive colors to match the clean looks of your reception area and maintain the warm welcoming environment of your office.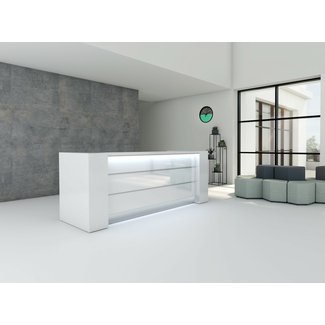 Salamone Rectangular Reception Desk
This great looking reception desk offers a perfect combination of aluminum, glass, and glossy laminate materials to give you an elegant and functional front office management desk. It's a perfect choice for all types of offices including medical, legal, and all types of customer service centers. It has a modular construction, an extendable countertop for people with disabilities, and a glossy white front to give your spaces a neat sterile look.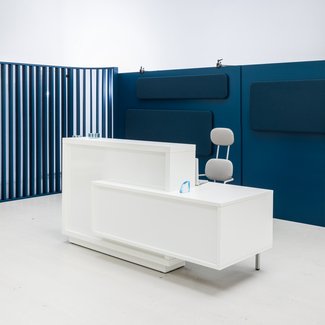 Said Rectangular Reception Desk
This white rectangular reception desk is designed with functionality and aesthetics in mind. It comes with functional features that allow you to serve your visitors or clients whether they are standing or sitting down in front of the desk. It also comes with a handy storage system to keep your documents within easy reach. The desk has a gloss surface that perfectly contrasts with its matt finish. It's a great option for salons, legal offices, medical clinics, and just about any other workplace.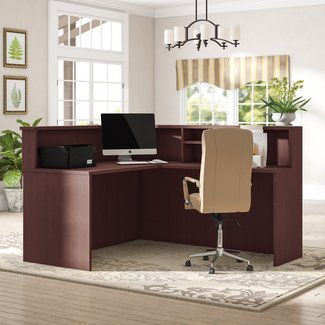 Cecilia Office L-Shape Reception Desk
Here is a perfect L-shaped reception desk designed for all types of professional offices. It comes with well-illustrated pieces to create a functional multi-purpose reception center. It's also a commercial-grade reception desk with quality melamine lamination and clean finish on the front and back edges. It's a fashionable front office desk available in colors that blend perfectly with your brand's style. The spacious L-shaped desk is easy to assemble using basic tools.
Said Rectangular Reception Desk
Designed to reflect the popular cubism style, this rectangular reception desk provides a perfect combination of functionality and office aesthetics. It comes with features that allow you to serve visitors and clients in either sitting or standing positions, which is quite convenient for disabled persons. The package includes a bookcase where you can store papers and other small items, hutch, and desk. It's made of strong and durable metal and can be assembled quite easily.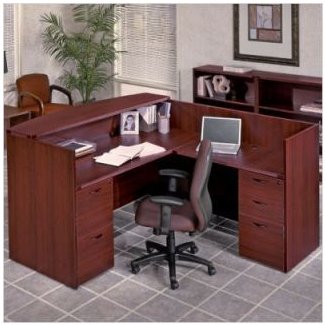 Nabil L-Shape Reception Desk
This is a L-shaped reception desk with all the features to enhance your front office performance while maintaining the style and elegance of your office. It comes with modular laminate case goods as well as a file pedestal and box, and other useful features. It has solid wood construction with 3mm laminate edges, Mahogany, cherry, or espresso wood grain laminates, and wood base material. This is a perfect reception desk for today's busy offices.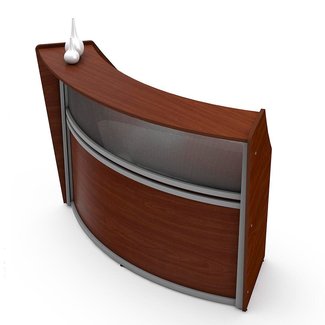 Lamotte Reception Desk
If you are looking for a perfect way to style up your small or large business premises, here's a practical reception desk to help you do exactly that. The desk has a clean curved design to give you a semi-circle style that's ideal for serving a large number of clients or visitors. It also gives you plenty of legroom, well-organized cable management, and a spacious reception environment. The desk has smooth laminate with polycarbonate surfaces.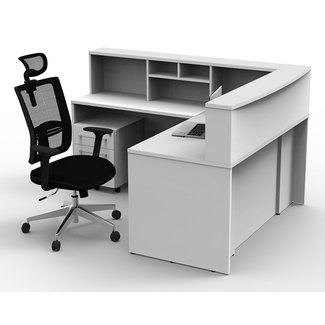 Gillard L-Shape Reception Desk
This L-shaped commercial-grade reception desk is designed to complement your office furniture while providing a perfect reception center at the same time. It comes with multiple features to create a practical, multi-function contemporary reception space for your office. It has a clean and smooth melamine lamination, completely finished front, bottom, and back edges, and fresh colors to match with your corporate or brand style. It's easy to assemble and even comes with seating included.