Privacy Screens
Privacy screens are designed to create a private enclosure on your backyard or porch. There's no better way to unwind after a long day than sitting in your backyard with your favorite drink. But even then, you still want to keep prying eyes away and privacy screens are perfectly suited for this. You can choose yours from a collection of high-quality screens available in different styles, colors, and shapes. These screens are also going to blend into your landscape, adding an extra touch of elegance to your outdoor living area. The screens are also made using durable materials to give you amazing value for money.
Our choice Best Privacy Screens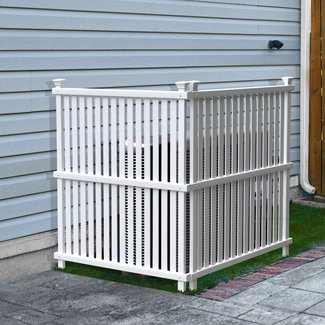 4 ft. H x 3 ft. W Wilmington Privacy Screen (Set of 2)
If you're looking for a practical yet stylish solution to enclose your AC units, trash cans, and other unattractive outdoor equipment, this privacy screen is a perfect choice.
Featuring an elegant-looking picket design with a versatile finish that effortlessly blends with different outdoor settings, these two privacy screens are durable, weather-resistant, doesn't require maintenance, and forms a right angle that perfectly hides unsightly objects in the garden. Simply insert the staked posts into the ground when installing.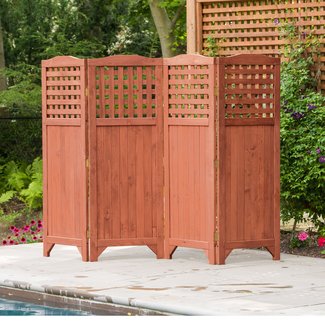 5 ft. H x 8 ft. W Privacy Screen
Traditional with a charming flair, this privacy screen features a classic and old-style design that suits a wide variety of outdoor settings.
Made of cedar wood with a UV- and weather-resistant construction, this screen can be used for blocking your neighbor's view, providing you with extra privacy in your garden, and can also serve as a screen to hide unattractive outdoor equipment such as garbage cans. It's customizable and can be painted to match your outdoor decors.
6 ft. H x 150 ft. W Multi-Color Privacy Screen
Keep your neighbors from snooping and invading your personal space with this simple yet highly functional privacy screen.
Available in dark green, beige, and black you can easily pick a color that best suits your outdoor space while providing the area with an inexpensive privacy boundary that can still let light through. You can now feel more comfortable in your yard with this 150 ft privacy screen. Apply multiple layers to achieve any level of desired privacy.
3.3 ft. H x 3.3 ft. W Scroggins Privacy Screen (Set of 5)
Create more privacy in your porch or garden in a natural way with these lifelike boxwood panels. Their thick and realistic design brings greenery to the area and doesn't require any maintenance at all, unlike real hedges. Their UV-proof and weather-resistant construction ensures durability throughout the different seasons while keeping your scenery looking fresh and visually pleasing.
These panels can be used as a backdrop or placed on home facades, interior walls, and fences for a naturalistic setting.
6 ft. H x 4 ft. W Laser Cut Metal Privacy Screen
This modern and chic privacy screen is the perfect addition for creating more privacy and keeping your neighbors from peeking. It acts as a decorative panel for framing large windows and fences, serves as a screen to hide outdoor equipment, and can be mounted on any surface.
The screen's floral design and black finish complements contemporary settings best, blocks unwanted sunlight, and adds a stylish touch to the setting or landscape.
4 ft. H x 2 ft. W Laser Cut Metal Privacy Screen
If you need more privacy but want to keep your home visually appealing, this laser-cut panel with attractive details is an ideal choice.
Featuring a contemporary design and sturdy frame, this privacy screen is both stylish and functional, keeping your personal space free from prying eyes while enhancing your outdoor decors at the same time. It's robust, weather-resistant, and offers durability throughout the seasons. Place on any plain surface or window to add visual interest to the setting.
6 ft. H x 4 ft. W Metal Privacy Screen
This charming privacy screen offers a perfect way to make an eye-catching statement in your yard or patio while providing the area with much-needed privacy. Its contemporary design made from galvanized steel offers stability during different seasons and features circular patterns that add an interesting and unique touch to the outdoor space.
Simply attach the panels to create a wider secluded area according to your preferences.
3.5 ft. H x 2 ft. W Outdoor Privacy Screen
This screen enclosure is a combination of function and elegance. Its simple yet refined design keeps unattractive outdoor equipment out of sight, can be set in several ways, and provides your outdoor space with more privacy.
Its resin construction remains sturdy even during inclement weather and features a powder-coated finish in white and taupe that looks good in all kinds of garden styles. This privacy screen doesn't require much maintenance and only needs to be wiped with a damp cloth.
4 ft. H x 4 ft. W Deluxe Premium No Dig Privacy Screen
Clean lines and simple details make this privacy screen a functional yet elegant addition to backyard spaces.
It perfectly conceals outdoor equipment such as AC units, trash bags, and other miscellaneous items and features a solid design that offers complete privacy. Its sleek white finish adds curb appeal to any exterior and is easy to clean. Simply spray with a garden hose to keep it clean and looking shiny throughout the years.
2 ft. H x 4 ft. W Boardwalk Decorative Privacy Screen
Elevate your outdoor or indoor decor with this decorative privacy screen. Its sleek and modern design is perfect for adding privacy and visual warmness to any setting.
This sophisticated screen is multi-purpose and can be used as an outdoor panel, mounted on the wall as decor, and many more. Available in black, clay, saddle, and white, you can easily pick a color that best fits the setting's color palette or paint it to complement your current decor.