Our Choice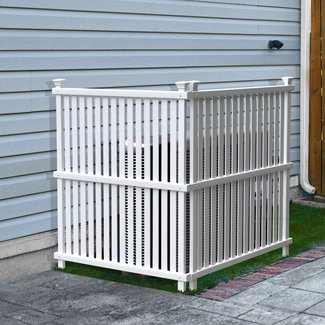 4 ft. H x 3 ft. W Wilmington Privacy Screen (Set of 2)
If you're looking for a practical yet stylish solution to enclose your AC units, trash cans, and other unattractive outdoor equipment, this privacy screen is a perfect choice.
Featuring an elegant-looking picket design with a versatile finish that effortlessly blends with different outdoor settings, these two privacy screens are durable, weather-resistant, doesn't require maintenance, and forms a right angle that perfectly hides unsightly objects in the garden. Simply insert the staked posts into the ground when installing.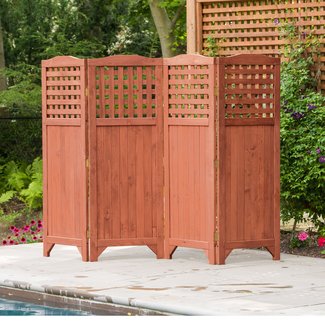 5 ft. H x 8 ft. W Privacy Screen
Traditional with a charming flair, this privacy screen features a classic and old-style design that suits a wide variety of outdoor settings.
Made of cedar wood with a UV- and weather-resistant construction, this screen can be used for blocking your neighbor's view, providing you with extra privacy in your garden, and can also serve as a screen to hide unattractive outdoor equipment such as garbage cans. It's customizable and can be painted to match your outdoor decors.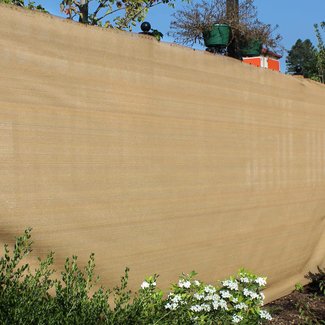 6 ft. H x 150 ft. W Multi-Color Privacy Screen
Keep your neighbors from snooping and invading your personal space with this simple yet highly functional privacy screen.
Available in dark green, beige, and black you can easily pick a color that best suits your outdoor space while providing the area with an inexpensive privacy boundary that can still let light through. You can now feel more comfortable in your yard with this 150 ft privacy screen. Apply multiple layers to achieve any level of desired privacy.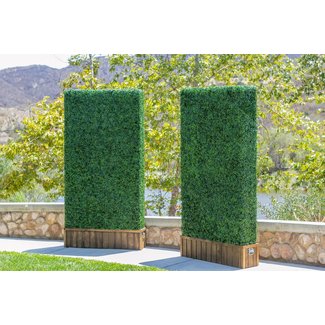 3.3 ft. H x 3.3 ft. W Scroggins Privacy Screen (Set of 5)
Create more privacy in your porch or garden in a natural way with these lifelike boxwood panels. Their thick and realistic design brings greenery to the area and doesn't require any maintenance at all, unlike real hedges. Their UV-proof and weather-resistant construction ensures durability throughout the different seasons while keeping your scenery looking fresh and visually pleasing.
These panels can be used as a backdrop or placed on home facades, interior walls, and fences for a naturalistic setting.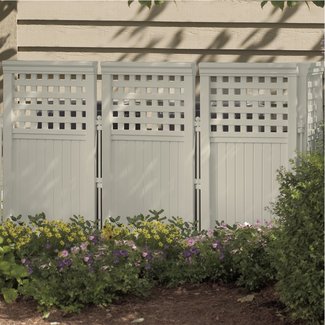 3.5 ft. H x 2 ft. W Outdoor Privacy Screen
This screen enclosure is a combination of function and elegance. Its simple yet refined design keeps unattractive outdoor equipment out of sight, can be set in several ways, and provides your outdoor space with more privacy.
Its resin construction remains sturdy even during inclement weather and features a powder-coated finish in white and taupe that looks good in all kinds of garden styles. This privacy screen doesn't require much maintenance and only needs to be wiped with a damp cloth.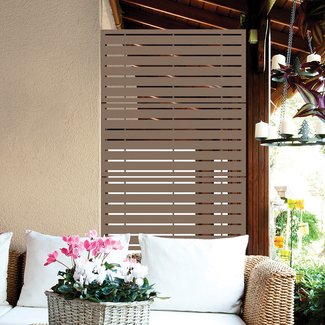 2 ft. H x 4 ft. W Boardwalk Decorative Privacy Screen
Elevate your outdoor or indoor decor with this decorative privacy screen. Its sleek and modern design is perfect for adding privacy and visual warmness to any setting.
This sophisticated screen is multi-purpose and can be used as an outdoor panel, mounted on the wall as decor, and many more. Available in black, clay, saddle, and white, you can easily pick a color that best fits the setting's color palette or paint it to complement your current decor.