Our Choice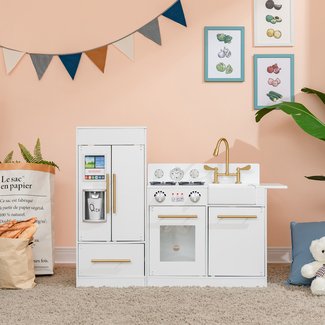 Urban Adventure Play Kitchen Set
Featuring an innovative design and excellent functionality, this beautiful play kitchen set will be the ultimate gift for your kids. The set is constructed from sturdy and high-quality wood for extra longevity. It bears a very close resemblance to mom's everyday kitchen and comes in a wide variety of color finishes too. Different size specifications are available to cater for people with different spaces. You also get incredible gold accents on the entire set for the best look.
Corner Kitchen Set
This high-end corner kitchen set is designed for the budding little chef in your home. It comes with highly interactive and realistic features that offer the ultimate kitchen experience for your young ones. The set has burners that light up (safely of course) and even a realistic ice maker. It is relatively large too, making it ideal for two kids to enjoy at the same time. The unit comes with a speckled granite-style countertop, doors, and drawers as well.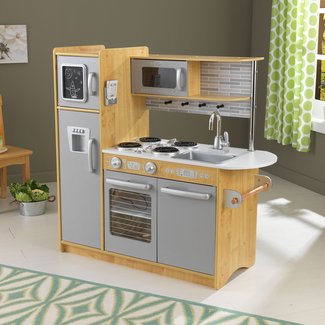 Uptown Kitchen Set
Here is a playful and realistic kitchen set that your kids will enjoy. First of all, it includes a realistic refrigerator, freezer, and microwave. You will also get additional realistic accessories including an oven and a dishwasher. Constructed from durable wood, the set features an incredible espresso finish with spectacular silver accents along the doors and the handles. The set would be ideal for large spaces.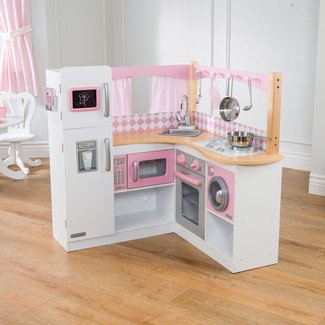 Grand Gourmet Corner Kitchen Set
With solid construction and excellent durability, this playful kitchen set will nurture the chef spirit in your young ones. The set features a modern white finish with hand-painted pink accents for the best look. There is also a chalkboard included where your kids can write up their recipes and list groceries. The unit features realistic kitchen appliances. All the materials used in its design are nontoxic and they are easy to clean and maintain too.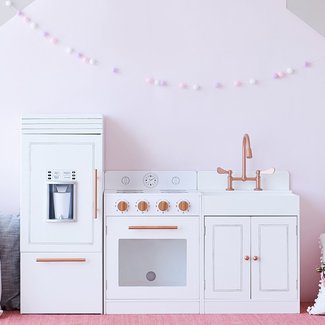 Little Chef Paris Play Kitchen Set
Although this set is relatively small, it still features an incredible white finish and beautiful metallic accents. The set has an innovative design. It looks extremely functional too and comes with realistic accessories for all your kids to play with. The only downside is that it's probably designed for one kid at a time due to its small size. Despite this, it is still a great toy for kids to have, especially due to its realistic feel and bold design.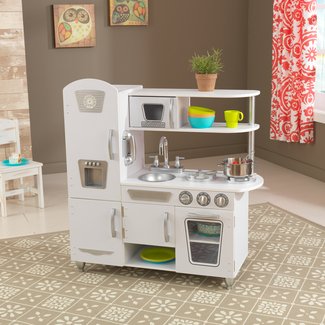 Vintage Kitchen Set
This quality kitchen set comes with a vintage look and hand-painted finishing. It also has a removable sink for easy cleaning and strong and durable design. The unit looks relatively large and would easily accommodate at least two kids. There are several shelves and cabinets included in there too and some realistic appliances as well. The visual appeal is just outstanding. The set is constructed using safe non-toxic materials to ensure the safety of your kids is not affected.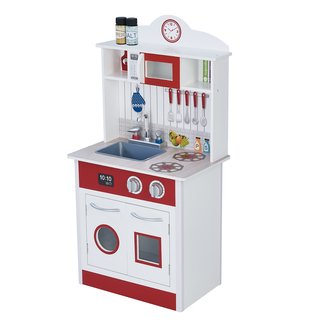 Little Chef Madrid Classic Play Kitchen Set
With a compact design and a modern styled appeal, this beautiful kitchen set is the best birthday gift for any kid out there. The unit takes very little floor space and features a colorful pastel finish that will liven up any room. There are several shelves too and a clock at the top that adds to the overall appeal. A set of hanging utensils is also included to add to the realistic experience.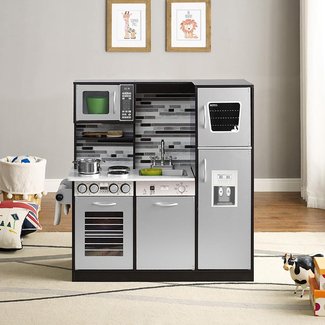 Eirwen Kids Gourmet Kitchen Set
This top of the line wooden kitchen set features a stylish and modern appeal. It is compact but it packs all the essential appliances needed to make the experience as realistic as possible. Although the unit is made from wood, the finishing on all the appliances is done to resemble a stainless-steel design, adding to its amazing beauty. The unit is, however, suited for girls but some boys may find it interesting as well.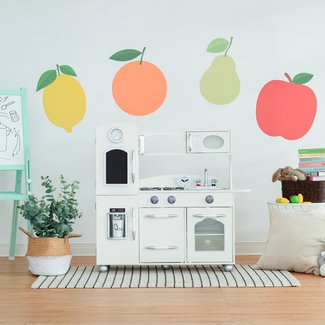 Wooden Play Kitchen Set
Fully designed with cabinets and a few extra doors, this children's kitchen set is the perfect combination of function and style. It features a modern white finish and an innovative design that takes as little floor space as possible. The unit also has a removable sink for easy cleaning and a set of other realistic appliances that would be present in any real kitchen. You also get a relatively large sink and some red touches on the finishing for a vibrant and playful look.
5 Piece Little Chef Wooden Play Kitchen Set
This super cute kitchen set comes with a minimalist vintage look. It is relatively taller than average sets but it's incredibly functional. The unit has a natural wood finish with knobs that turn for that realistic experience. There is one large cabinet at the bottom and an assortment of shelves at the top for all the utensils. The unit is suited for one kid at a time though but it should be fun and exciting for your young ones.