Planter Boxes
Planter boxes offer you a stylish and functional way to showcase your beautiful flowers and other plants. Built with the best materials and incredible craftsmanship, the planters are going to revamp your landscape with their elegance. Are you looking for small or large plant boxes? Is there any specific material you'd like to see? How about the style? Well, no need to worry, stylish varieties of plant boxes featuring different colors and styles will be enough to meet whatever preferences you have. Adding plants can breathe new life in any space or landscape. Simply let these plant boxes take care of this for you.
Our choice Best Planter Boxes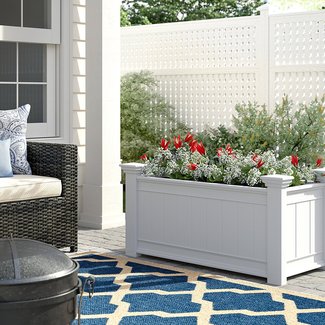 Ansonia Plastic Planter Box
Give your porch or patio an instant facelift with this delightful planter box. Made from weather-resistant vinyl, it never needs staining or painting, and the occasional rinse with a garden hose will keep it in tip-top shape. Featuring a traditional slatted look, it has a natural white hue that makes your greenery and flowers pop. It's also backed by a 20-year manufacturer's warranty against warping, yellow, rotting, and cracking. Some assembly is required, and once that's out of the way, you will have years of good use out of this wonderful planter box.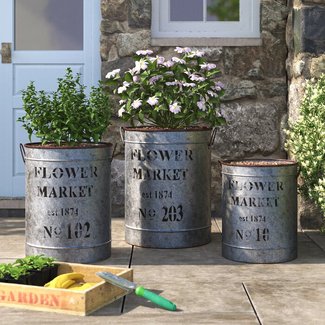 Dollie Flower Market 3-Piece Metal Planter Set
This three-piece metal pot planter set you will make your patio come alive. The alfresco ensemble is further enhanced by a lush flower arrangement, and the bonus is that you can take it indoors. This trio of buckets offers a design for the distinctive home and houses a carefully curated collection of plants. Made from metal and available in three different sizes, each piece features the words "flower market". So feel free to place them on your patio, add your favorite blooms and bushes and create your very own horticultural haven.
Apollo Garden Bed Fir Wood Planter Box
The simple yet effective planter box is ideal for growing your favorite plants, herbs, vegetables, and more in your very own backyard. This planter box will keep weeds at bay and prevents soil compaction providing good drainage and acting as a defense against pests. It is also ideally sized to fit into smaller spaces allowing you to house your little gardens on patios, decks, and balconies.
Pure Series Plastic Planter Box
If you're looking for a sleek and modern solution to growing your favorite plants and shrubs, then this is the answer. It is the perfect piece of outdoor decor featuring a subtle marble finish and tapered design. Molded from a patented plastic composite, they are also extremely durable and created to take on the elements. The flexible, impact-resistant, sturdy, and lightweight planter box is treated with UV inhibitors to deter fading. Feel free to use them on your lawns, patios, or decks for an instant boost to the outdoor decor.
Metallic Series Corten Steel Planter Box
This steel planter box is the ideal addition to any front entrance, patio, or deck. The rusted patina finish and modern modular design come together to create a planter that is the perfect patio accent and a focal point. They are crafted from thick gauge, fully seamed welded steel, and are proven to be resistant to the elements. The planters are ideal for residential and commercial applications and ultimately, deliver the perfect balance of design, durability, and convenience.
Rech Dual Purpose Cedar Planter Box Set (Set of 2)
This cedar planter box is versatile enough to allow you to create a garden on your patio or separate seeds in your soil beds. It comes in a clean-lined silhouette and natural finish that works well in just about any outdoor ensemble. The delicate-looking design is weather-resistant, so you don't have to worry about the rain or UV light. Since it's made from solid cedarwood, no two items will have the exact grain, making each piece absolutely unique.
Cumberland Fiberglass Planter Box
This fiberglass planter box is a sight for sore eyes. Containing a self- watering mechanism, planting your favorite flowers and shrubs becomes an almost automatic process while the drainage holes get rid of excess water. Constructed from a combination of natural clay, sand, fiberglass, and resin, this planter box is the perfect combination of style and functionality.
Dionisio Resin Wicker Planter Box with Trellis
This resin wicker planter box allows you to do more than just grow your favorite flowers and plants. The included trellis allows you to create an absolutely fabulous flower display. The ideal addition to a front patio or deck, the beautiful handwoven multitone brown wicker exterior, will lend an instant facelift to your outdoor space. It's also durable containing a powder-coated metal frame making it last for years to come. For easy leveling, the floor-friendly feet lend a helping hand, and this planter is great for flowers all year around.
Eastvale Stone Planter Box
Grow your favorite greenery on your front porch or give your backyard an artful update with this stone planter box. Simple, and understated yet stylish, it lends a contemporary appeal to the outdoors thanks to the clean-lined silhouette and solid finish. Crafted from weather-resistant fiber stone and designed to withstand all the elements, it's the perfect planter box for the outdoors. In order to keep it looking in tip-top shape, fiber stone maintenance oil is recommended. Once roots are present, it's also recommended that you keep it in place. This double-walled and handmade planter box contains no drainage holes so be careful not to over-water.
Cararo Self-Watering Plastic Pot Planter
The self-watering plastic pot planter contains wheels so you can effortlessly move it from your patio to your lawn whenever you like. Containing a 2.5 gallon water reservoir and gauge, this smart pot planter will let you know when it's time to refill, taking the guesswork out of plant care. Water is delivered directly to the roots of the plants using a unique funnel system, which keeps the topsoil dry. The pot planter is versatile enough to be used outdoors or indoors thanks to the dry surface areas which effectively reduce fungi and gnats.