Our Choice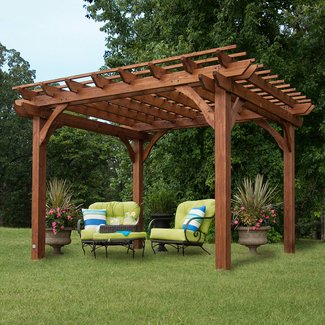 Cedar 12 Ft. W x 10 Ft. D Solid Wood Pergola
Give your outdoor living area a stylish update with this charming, solid Chinese cedar, free-standing bower. The rectangular frame is finished in a natural brown but can be painted with outdoor water-based paint to complement your exterior décor scheme.
Its sturdy 7 29/32'' H x 12' W x 10' D open-air frame is resistant to rot and durable enough to hang a swing or bulb-lighting to enjoy the weather in style.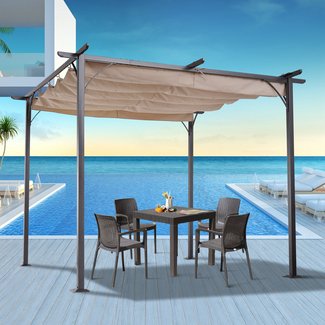 Blassingame 10 Ft. W x 10 Ft. D Steel Pergola
The compact footprint of 9' 9'' W x 9' 9'' D x 7' 6'' H of this delightful backyard covering is perfect for smaller houses or rental properties with limited space. It can easily be anchored to a wood deck or cement patio to become a more permanent fixture for your outdoor gatherings.
The roof is a retractable flat canopy made of 100% polyester in a beige color and the frame is heavy-duty powder-coated steel in black to complement your garden furniture and home color palette.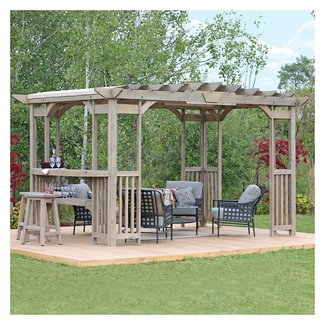 Madison 14 Ft. W x 10 Ft. D Solid Wood Pergola
Your imagination is the limit for this gorgeous, solid cedar wood pavilion with a built-in bar. Add outdoor seating at the bar for entertaining or outdoor curtains to turn it into a pool house. The snap-on cover is a wicking fabric that is weather-resistant but can be easily removed so you can enjoy the sunshine.
The 8 3/16'' H x 14' W x 10' D dimensions easily accommodate a 6-foot long table and 8 chairs. This structure is available in a gray finish and comes with all the anchoring hardware for easy installation.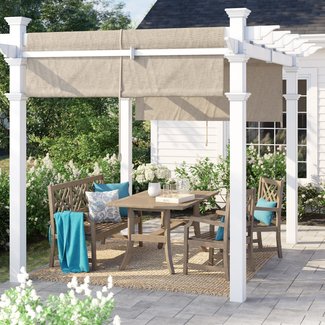 Ansonia 10' W x 10' D Vinyl Pergola with Canopy
Protect your outdoor pool furniture with this white vinyl pavilion with a beige canvas canopy. It is resistant to all forms of damage including weather, rot, rust, UV rays, mildew, warping, and fading. The square shape and flat roof are not only stylish but can also stand up to 155 mph winds.
Your friends and family will enjoy shading in the summer months thanks to the 9' H x 10' W x 10'' D frame which comes with a 20-year warranty so you know it is built to last.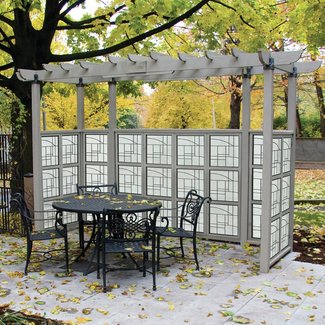 Seneca Privacy Arbor 6 Ft. W x 4 Ft. D Solid Wood Pergola
Create a private nook in your tree-covered yard with this small, 3-sided, gray alcove with faux glass privacy panels.
From spring to fall, this 8' H x 11' 1/2'' W x 4' D structure will give you an intimate space to enjoy early morning coffee or evening bonfires with friends.
The solid cedar wood frame is pre-stained with an eco-friendly finish and can be anchored onto concrete or wood or it can be left freestanding in your yard.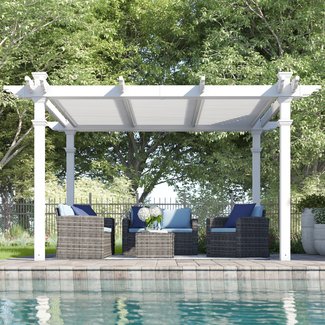 Wallsend 12' W x 12' D Vinyl Pergola
This gorgeous white 8' 7 7/8'' H x 1' W x 1' D vinyl structure lets you bring the comfort of your home outdoors. Mount curtain rods to the sides to add privacy while your favorite climbing flowers creep up to the slatted roof to create a sweet-smelling canopy.
Since vinyl is resistant to weather, warping, rot, mildew, UV rays, and fading, the only maintenance you have to worry about is hosing it off when it gets dirty.
10 Ft. W x 12 Ft. D Solid Wood Pergola
Enjoy a cold beverage on the hot summer day under this rectangular, freestanding pavilion. Whether it is by the pool, under the shade of your oak trees, or next to your firepit, this pergola makes a striking addition to your outdoor entertaining area.
The solid cedar wood frame comes unfinished so you can stain it to suit the style of your exterior. The 10' H x 10' W x 12' D structure is best mounted on concrete patios, wooden decks, or grass.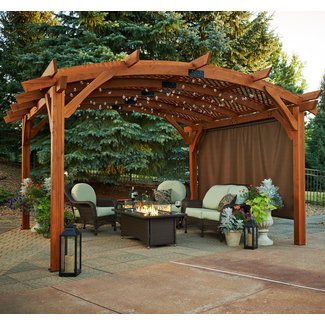 Sonoma 16 Ft. W x 16 Ft. D Solid Wood Pergola
The versatility of this rectangular, solid wood pavilion frame is unlimited. Add the lattice roof or privacy shutters to make the interior more intimate or leave it open-aired to enjoy nature in the hotter months.
Crafted from sustainable Douglas fir, the frame features an arched style roof that is pitched for added charm and style. The corner bracers ensure stability and durability. It is available in redwood and mocha finishes and is resistant against warping, cracking, rotting, and mildew, to keep your outdoor area well-styled.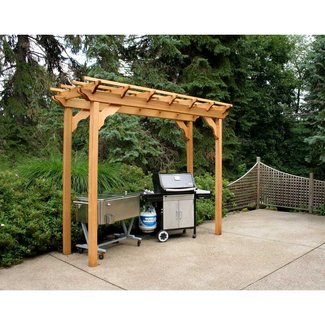 Cedar New Dawn 8 Ft. W x 3 Ft. D Solid Wood Pergola
Create a special space for your outdoor seating or grilling area with this compact
8' 3 19/32'' H x 8' W x 3' D rustic alcove.
The solid red cedar wood material is resistant to warping, cracking, rust, and other outdoor factors for a strong and durable pergola that you can rely on.
Available with cedar sealer already applied or no finish at all, so you can stain it to suit your style. It can withstand up to 75 mph winds so you never have to worry about thunderstorms ruining the look of your backyard.