Our Choice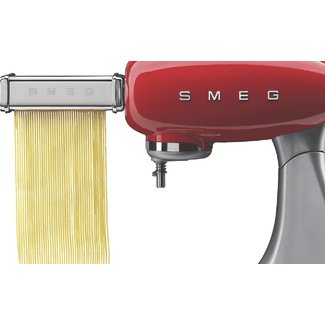 SMEG Pasta Roller and Cutter Set
This modern pasta roller and cutter set is the perfect kitchen addition if you're looking for a small multifunctional appliance. Suitable for contemporary kitchens, this pasta maker has a chrome steel body and features three pasta rollers and cutter sets.
The small brush allows you to easily clean the appliance after making your 2.0 mm spaghetti. Pair it up with a countertop blender or mixing bowls in the same color to create a cohesive look.
Weston Express Electric Pasta Maker
If your hands ever get tired of rolling pasta dough, this easy-to-use electric pasta maker will come in handy.
The nine adjustable thickness settings and fast/slow roller speed control offer various ways to customize your pasta-making experience. Made from heavy-duty metal with a wattage of 90 watts, this pasta machine can quickly make spaghetti, fettucini, and noodles. To maximize the use of this kitchen gadget, you can use it as a pizza dough roller as well.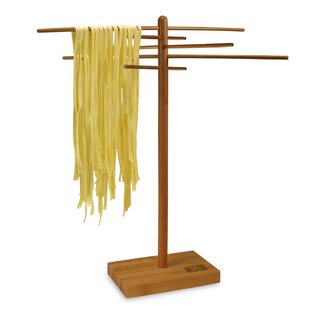 Weston Bamboo Pasta Drying Rack
With a slick and modern style, this 100% bamboo pasta drying rack is eco-friendly and can quickly dry pasta. Its symmetrical design with a smooth finish has ten hanging arms to provide enough space for holding your pasta without making it sticky.
This pasta drying rack is lightweight and remains stable when drying fresh pasta. It's easy to disassemble and fits perfectly in kitchen cabinets. Pair it up with a bamboo pasta prep set for a more environmentally-friendly kitchen.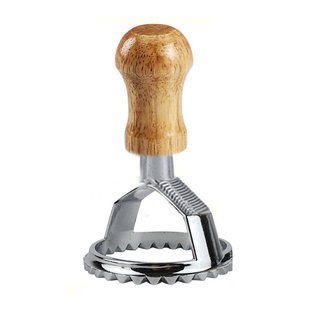 Cuisinox 2.75" Round Ravioli Cutter
The classic design of this round ravioli cutter makes it the perfect pasta accessory for traditional, vintage, and French-country style kitchens.
It is now easier to cut a precise ravioli shape from your fresh pasta dough using this pasta stamp with its sturdy frame and blades. Made from metal with a chrome/oak handle for easy grip, this cooking utensil is ideal for those who enjoy homemade pasta.
Eternal Ravioli Maker Set
This ravioli maker set is a great kitchen addition for family homemade creations. With a wide range of cooking options from ravioli, dumplings, to hand pies, you can create your homestyle recipes using this pasta maker set.
With its multipurpose and practical design, this stainless steel kitchen tool is easy to use, dishwasher friendly, and can be used with ingredients of your choice. Simply add your favorite fillings to the dough and fold over the ravioli maker to seal.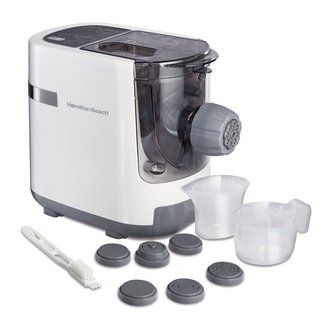 Hamilton Beach Electric Pasta Maker with 7 Attachments
Making pasta is now easier with this revolutionary electric pasta maker that comes with 7 discs for 7 types of pasta including spaghetti, fettuccine, and lasagna. It can make up to 1.5 pounds of pasta in only 15 minutes.
This pasta maker is easy to use and only requires you to add the ingredients as it will do the rest of the job. Its advanced design featuring an internal scale makes it a great choice for modern kitchens.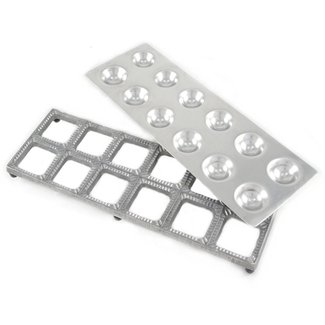 Kitchen Supply Wholesale Ravioli Maker Set
Combining an aluminum frame with rubber feet, this ravioli press is sturdy and provides an easy and quick way to make perfectly shaped ravioli. The metal plate stays in place on the counter when used and can make up to ten 1.75 inch square ravioli in one go.
This ravioli maker set is an ideal accessory to pair with a pasta rolling machine for a complete DIY pasta-making kitchen.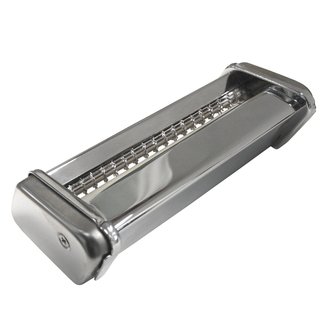 Weston Angel Hair Attachment
This angel hair attachment is a great addition for your pasta maker if you're looking to make angel hair pasta at home.
With a sturdy design that can cut sheet pasta into 0.04" round noodles in only a few minutes, making homemade pasta has become a lot more simple and user-friendly. Simply attach it to a 6" pasta maker to make fresh angel hair pasta in your kitchen.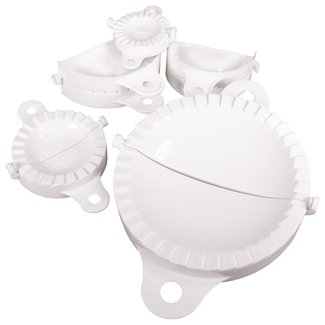 Weston Piece Ravioli Maker Set
If you're looking for a versatile kitchen tool to make different kinds of dishes, this 5-piece ravioli maker set is the perfect addition. Both easy to use and clean, this set gives you the option to choose from an assortment of sizes to make hand pies, ravioli, empanadas, and more. It can easily be thrown in the dishwasher after each use.
Its minimalistic white design goes well with various kitchen styles, such as traditional, shabby chic, and farmhouse kitchen styles.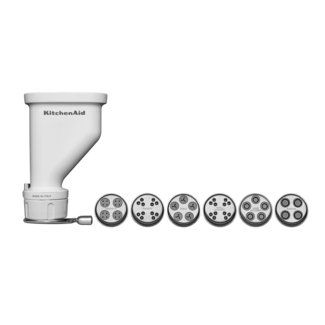 Kitchen Aid 6-Piece Pasta Maker Attachment Set for Stand Mixer
The multifunctional design of this pasta maker attachment set is ideal for making both large and small different types of pasta. Featuring six pasta maker attachments and an Italian recipe book, you'll never get tired of one pasta type. Its built-in wire allows you to customize your noodles' length to your liking.
This attachment is suitable for stand mixers, has a durable plastic housing, and auger, pasta ring, and pusher tool are safe to use in the dishwasher.