Our Choice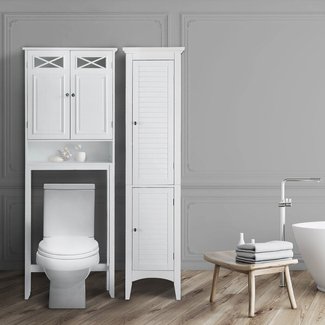 Roberts 25" W x 68" H x 8" D Free-Standing Over The Toilet Storage
With a sophisticated style and traditional design, this freestanding over-the-toilet storage unit is perfect for organizing your bathroom products and accessories in an aesthetically pleasing way. It features 2 doors with glass panels and 3 spacious shelves for small and large items.
Crafted from manufactured wood with a white finish, this piece ideally suits traditional, farmhouse, and french country bathrooms. Add a perfume bottle on the open shelf for a simple yet elegant look.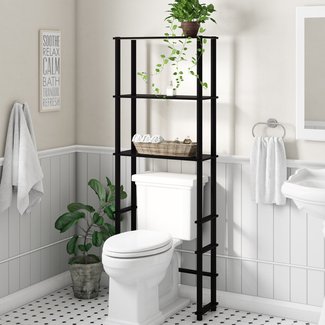 Anoka 23.62" W x 64.57" H x 9.05" D Over The Toilet Storage
Simple and versatile, this free-standing over-the-toilet storage suits a variety of bathroom styles, such as modern, transitional, as well as traditional. Available in espresso and gray, this piece effortlessly blends with other decors and color coordinations.
Featuring 2 ample shelves, this storage unit is a perfect fit for bathrooms to store and organize your clean clothes, toiletries, and decors such as vases. You can use this as a linen closet alternative to neatly store your towels.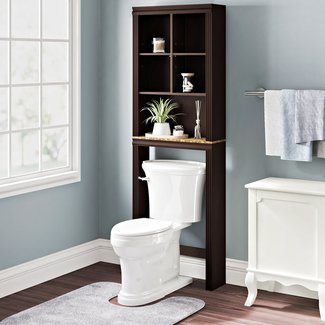 Milledgeville 23.307" W x 68.583" H x 7.402" D Over-The-Toilet Storage
The cinnamon cherry finish and the granite detail make this over-the-toilet storage unit a perfect addition to transform your bathroom from simple to stunning. It's convenient for adding extra space to small bathrooms or those that lack storage space.
This piece features 5 open shelves to organize your towels, toiletries, and other bathroom products elegantly. Turn your bathroom even more chic by scattering decors such as plants, a small mirror, and candles throughout the shelves.
Bernardston 34.46" W x 48" H x 9" D Solid Wood Over-the-Toilet Storage
If your bathroom's short on space and you're looking for a storage unit that's both stylish and functional, this over-the-toilet storage is a great option.
Made of sturdy solid wood and available in antique chestnut, espresso, graphite, and white, this bathroom shelf is extremely versatile and suits different bathroom styles such as modern and traditional. It includes 8 shelves and has a stable structure. Place your towels and larger products in the two wider upper shelves.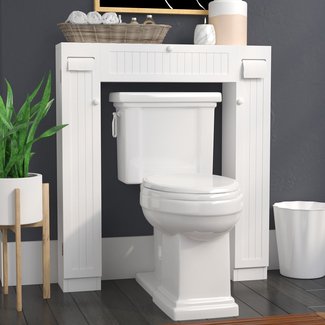 Eleanor 34.1" W x 38.3" H Over the Toilet Storage
This over-the-toilet storage perfectly fits in small bathrooms and powder rooms. This free-standing unit adds extra storage to tight spaces with its 9 adjustable shelves.
Conceal your toiletries and products with the side cabinet doors for a clutter-free and neat look. This bathroom storage unit features 3 doors, built-in holders to dispense toilet paper, and space to store your plunger and toilet bowl cleaner. Use the top to place potted plants, frames, and candles for an elegant display.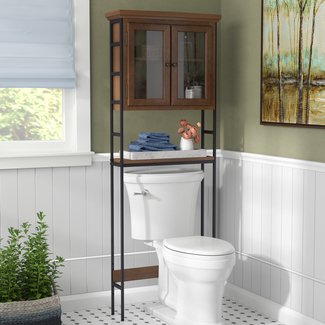 Foxborough 25.5" W x 67.5" H x 8" D Solid Wood Over the Toilet Storage
Modern details with a traditional design, this over-the-toilet storage with three shelves is ideal for a variety of bathroom styles. Aesthetically pleasing, it's black-finished metal frame and warm brown finish cabinet with clear glass doors can instantly enhance the bathroom's decor.
Store your toiletries in the upper cabinet and perfumes and decors in the lower shelf for a neat and elegant layout.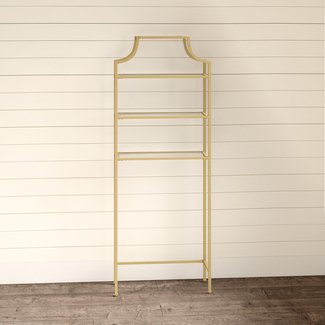 Buchanan 27.25" W x 73" H x 11" D Space Saver Oil-Rubbed Bronze Over-the-Toilet Storage
Take your bathroom's organization to the next level with this elegant and versatile over-the-toilet storage piece. It's modern and art deco inspired design featuring 3 sturdy glass shelves is perfect for storing your toiletries and essentials without taking up too much space or making the room look cluttered.
Made of durable metal, its sleek steel frame adds interest to the room and can neatly organize your items. Pair with a mirror in the same finish for a luxurious look.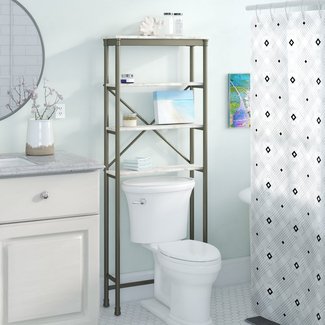 Nault 25" W x 64" H Over the Toilet Storage
Simple yet sophisticated, this over-the-toilet storage unit is the perfect addition if you want to organize and store your bathroom products and toiletries in style.
This piece is a combination of function and style, featuring a cross-bar that adds a unique touch to its design along with 3 shelves with an elegant-looking white and gray marble laminate finish. Pair the frame's powder-coated gray finish with a matching picture frame or vase for a classy combo.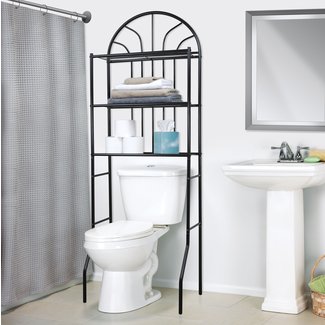 Molino Space Saver 24.4" W x 68" H Over The Toilet
Make the most out of your bathroom's space with this fancy over-the-toilet space saver storage. It features a towel rack and two open shelves for decorative items and toiletries.
Its slim and simple design with a black finish adds charm to the interior and suits contemporary and transitional bathrooms best, and blends well with other color palettes. Place your tissue box and toilet papers on the bottom shelf along with decors such as a potted plant and perfume bottle.
Robinette 24" W x 68" H x 9" D Over the Toilet Storage
Traditional with a contemporary touch, this over-the-toilet storage is the right choice if you need space to store your toiletries while adding elegance to your bathroom. Featuring 2 mirrored glass doors, 3 shelves, and an adjustable support board, this storage unit is perfect for neatly storing your towels and other bathroom essentials.
Made of manufactured wood, it has a versatile white and espresso finish that suits other colors well. Place a bouquet on the lower tier for a stylish arrangement.