Our Choice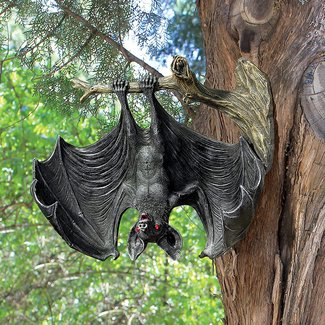 Demon of the Night Vampire Bat Statue
Take your Halloween decor to the next level with this spooky vampire bat with red frightening eyes. This intricately detailed bat is sure to terrify your neighborhood and guests.
Featuring a realistic hand-painted black body hanging upside down, your visitors may even mistake this wall-mounted bat for a real one. Its durable resin design can last for the next Halloweens to come. Simply hang on a wall, a fence, or a tree to create a scary ambiance.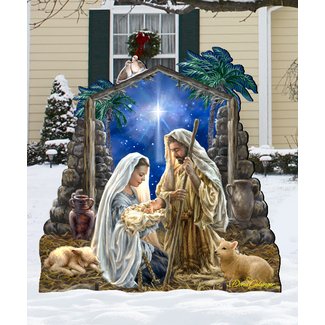 Glory to God Wooden Figurine
Colorful and well-painted, this outdoor display is the perfect addition during Christmas celebrations and festivities. With an overall dimension of 32'' H x 24" W x 0.37'' D, it's large enough to make an eye-catching statement and features intricate details that instantly elevates your front yard.
Made of high-quality and sturdy Baltic plywood, this figurine can withstand various weather conditions such as heavy rain, snow, and sunshine with its weather-, rust-, and UV-resistant features.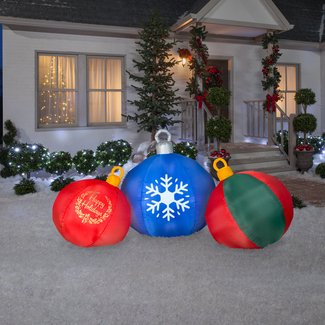 Round Ornament Scene Lighted Display
Let your entire neighborhood know that it's the time for joyful festivities with these large Christmas ornaments. They're brightly colored, can light up, and serve as a cheery centerpiece for your front yard.
They're easy to set up, only taking seconds to self-inflate, and can easily be deflated when it's time to store them away. Pair these ornaments with smaller holiday decors in the background for a visually appealing layout.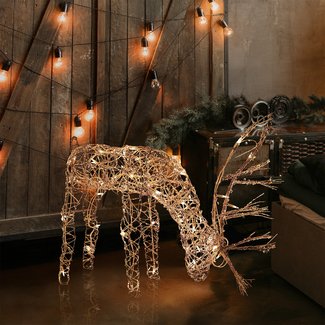 Outdoor/Indoor Christmas Grazing Reindeer Lighted Display
If you're looking for an elegant holiday decor to impress your family and friends during the festive season, this lighted reindeer is the right choice.
Nicely constructed with soft glow lights to illuminate the setting, it can be displayed indoors and outdoors and features a sturdy iron frame to keep it standing straight, and a rattan body that adds charms to the whole layout. Take your Christmas decors to the next level by adding fairy lights in the background.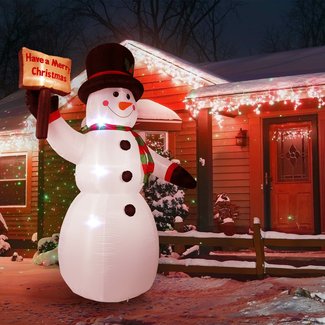 Christmas Inflatable Snowman
Upgrade your outdoor holiday decorations with this 8" inflatable snowman. Setting him up doesn't require much effort since he can inflate on his own when plugged in and can easily deflate when Christmas is over.
This snowman features lights that make this display even more charming in the evening, a weather-resistant construction that can withstand winter conditions, and stakes and ropes to keep him standing firm and upright. Make your home festive and welcoming by placing it beside your main door.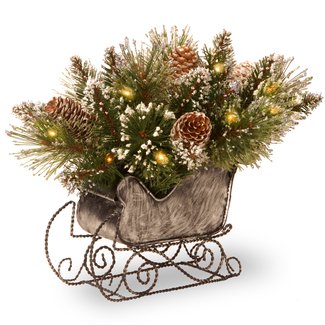 Pine Sleigh Lighted Display
Glittery and elegant, this holiday lighted display makes a great addition to any table, window sill, and outdoor surface all through the holidays.
With an overall dimension of 14" H x 10" W x 10" D, this festive piece doesn't take up much space and fits perfectly in smaller spaces. It features a timer that automatically switches the lights on and off and realistic branches covered with warm lights that brightens up the area.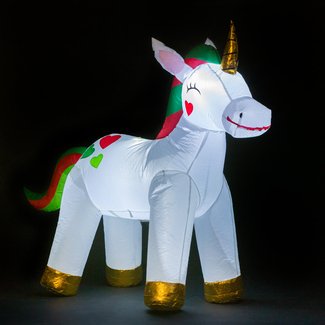 Unicorn Inflatable
This festive inflatable unicorn is perfect for adding a fun and joyous touch to your interior or exterior holiday decors. It can be placed indoors to welcome your guests or out on your front yard to delight your neighborhood and passerby.
It's easy to set up, stands 4" tall, illuminates when plugged in, and features ground stakes and ropes to keep the unicorn standing firm when inflated.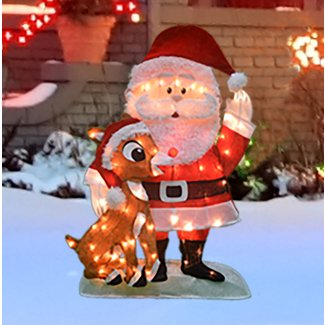 32" Lighted Waving Santa and Rudolph Christmas Lighted Display
Merry with an inviting charm, this waving Santa and Rudolph holiday decoration looks best when displayed in the front yard to greet your visitors during the cheerful seasons.
It features 65 warm white lights that are pre-lit, making your outdoor area bright and festive at night, and ground stakes and a stand to keep the freestanding display upright. Pair with a Clarice the reindeer lighted display to complete the Christmassy layout.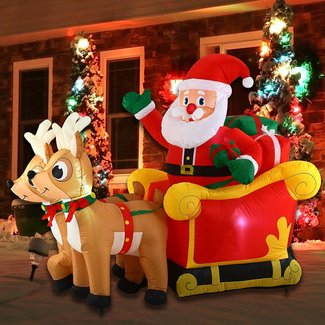 Christmas Santa Claus on Sleigh Inflatable
This Santa Claus on a sleigh display makes an attention-grabbing statement that is sure to thrill your neighborhood and guests.
With an overall dimension of 4' 7'' H x 7' 11'' W x 3' 7'' D, this mesmerizing display is large but easy to set up since it self-inflates once plugged in and can easily deflate for storage. It features built-in lights that can illuminate your yard at night, creating a fun and cheery setting for everyone to admire.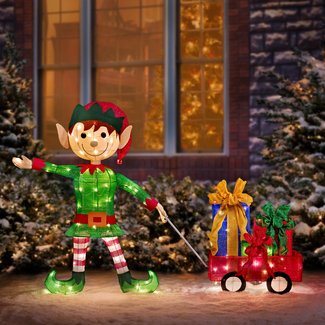 2 Piece Elf Pulling Wagon Lighted Display Set
Cute and delightful, this 2-piece elf display adds a welcoming touch to your outdoor area during the Christmas season.
Featuring a wire frame wrapped in tinsel fabric, this endearing display remains firm during the wintertime, has 100 warm white lights that brighten up the setting, and showcases an elf pulling a wagon full of presents, perfect for families with kids to get them excited for Christmas eve.