Our Choice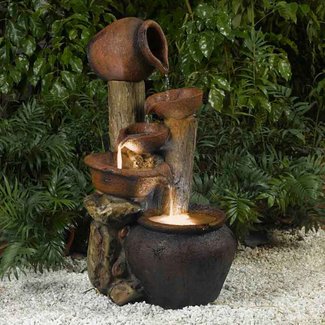 Resin/Fiberglass Pentole Pot Fountain with Light
Traditional with an antique charm, this delicately sculpted fountain with pots and basins is the perfect garden addition to make an eye-catching statement. It's compact in size and serves as a great element to fill in tight landscapes.
Featuring a light, adjustable flow rate, and a distressed brown coating, this fountain adds an old-world flair to the setting and looks best when surrounded by ample greenery and rocks or stone flooring. Relax and enjoy the soothing sound of running water.
Dunne Fiberglass Solar Fountain with Light
This pineapple fountain has a well-liked design known for its warm and welcoming flair.
Featuring a polyresin and fiberglass construction with two tiers, this fountain offers long-lasting durability to keep your outdoor space looking elegant for years to come. It's lightweight, can easily be moved around if you want to change your garden's layout, and comes with a solar panel, LED lighting, battery pack, submersible pump, and 2 cords. Place on a rocky surface with plants for a traditional charm.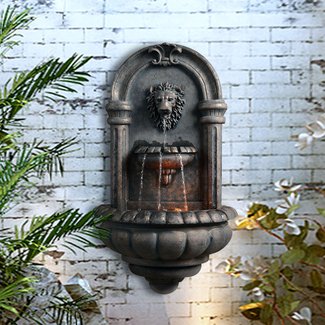 Jowett Resin Royal Lion Head Wallfall Fountain with Light
Add a classy and majestic accent to your interior or outdoor wall with this lion head fountain. Its unique design makes an exquisite statement and comes with a LED light that illuminates the bottom tier.
This fountain features an elegantly carved design in a gray antique finish, a weather-resistant resin construction, and 3 tiers showcasing the soothing cascade and sound of running water. Use a wall anchor to hang this 35-pound fountain on the wall.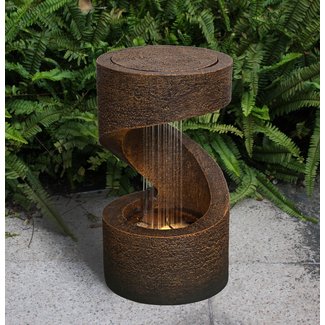 Resin Fountain with Light
Modern and elegant, this fountain can transform your home and garden into a serene and relaxing space. Its column design with an old-style bronze finish adds a unique touch to the setting and offers calming rain noise to keep you zen and peaceful.
The water falls from the top into the base, creating a charming scenery. It's easy to set up and has a sturdy and lightweight polyresin body. Simply add water and let it circulate to enjoy its beauty.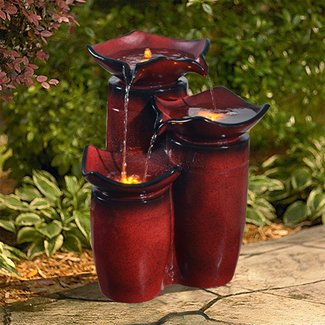 Grace Bay Resin Pot Fountain with Light
Only a small spot is needed to step up your outdoor or interior decor. This fountain with two tiered pots attached and a separate one has a bold red color with black borders and gentle water sounds that definitely grabs one's attention.
With a dimension of 20.08'' H x 15.75'' W x 14.96'' D, you can place this fountain just about anywhere as long as it's leveled on the ground and the pump output slightly lower.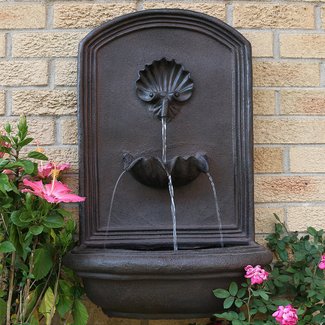 Dunnell Polystone Wall Fountain
Simple yet charming, this wall fountain can provide any garden with a traditional splendor. Available in beige, dark brown, light gray, and dark gray, you can easily complement its color with planters.
The fountain can either be hung on the wall or placed on the floor and features a sturdy and long-lasting construction with a submersible electrical pump and cord. Unwind and let go of unnecessary stress with this fountain's calming sounds of water.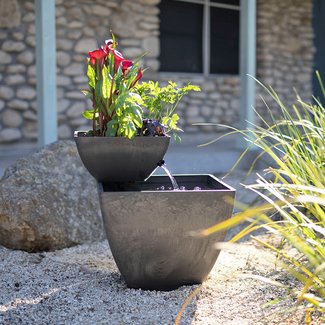 Choute Polystone Fountain
Turn your living space or garden into a calming and zen spot with this decorative fountain. It has a versatile design that offers many options to make your space look beautiful.
The top tier is designed as a planter to accommodate a wide range of low-maintenance houseplants and flowers while it can also serve as an aquaponic garden for small aquarium fish types. Enjoy the quiet trickles as it gracefully displays nature features.