Our Choice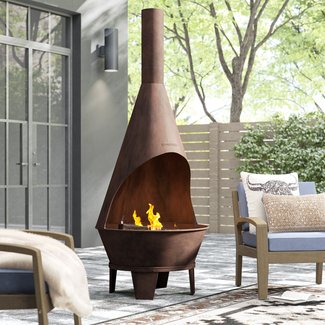 Arneson Steel Wood Burning Chiminea
Crafted from solid steel, this chimenea offers a weathered appearance for a natural, rustic touch.
Throw some logs on the fire and enjoy the relaxation that comes with being fireside and in the great outdoors without leaving the comfort of your porch.
With the addition of a heat-resistant barrier, this chimenea can be used almost anywhere, from stone patio to wooden deck, and an integrated log grate allows for easy cleaning.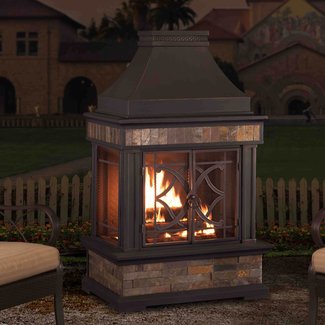 Sofie Steel Wood Burning Outdoor Fireplace
Whether you want to roast food over the fire or simply enjoy a luxurious evening in the warm glow of the flames, this wood-burning outdoor fireplace provides stunning good looks and is available in black, faux copper, and gold brush finishes.
Aesthetics meet stellar performance due to the stove's stone, slate, and mesh construction. The stainless steel burning area provides years of reliability. For added safety, the fireplace arrives with a spark screen, cover, and chimney to direct smoke away from guests.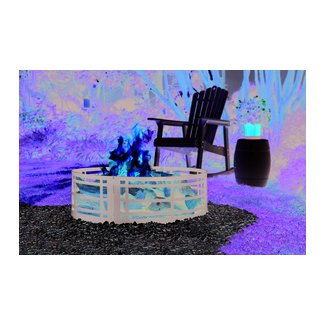 Steel Wood Burning Fire Ring
Multifunctional and modern, this square fire pit can be used on its own for a statement minimalist piece or as an insert for fire pits crafted from stone, slate, or brick.
Crafted from solid, heavy-duty steel, this firepit boasts generous dimensions of 10" H x 41.5" W x 41.5" D. With its easy assembly, you'll be enjoying your new backyard party spot in no time.
Janssen Outdoor Deep Steel Wood Burning Fire Pit
Set the mood and create an ambient space to relax with this deep steel fire pit. Featuring star accents for added style, this durable piece comes with enhanced safety options including heat resistant handles for easy portability, a mesh spark screen, 16" log poker, and a PVC storage cover for protection when not in use.
An intentionally distressed finish gives a natural, rustic feeling to your patio or backyard. Pair with your favorite beverage and starry nights.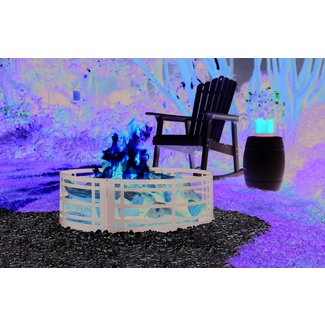 Transient Steel Wood Burning Fire Ring
With this fire ring, you'll feel like you have your own private campground in your backyard.
This minimalistic fire ring provides plenty of oxygen for a blazing fire due to its open-air, arts and craft construction, while the round design gives guests a view of the flames from all angles.
A 36" diameter and an overall height of 12", this spacious, easy-to-assemble fire ring will have you enjoying s'mores and roasted hot dogs in a snap.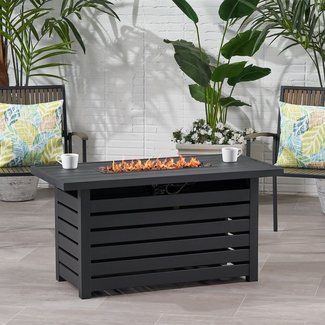 Bellagio Iron Propane Fire Pit
If you're searching for a modern fire pit to complete your contemporary patio, look no further.
Adjustable flame settings and a hidden fuel source make this modern propane-powered 24'' H x 47.25'' W x 23'' D fire pit a safe option. Perfect for use on wooden surfaces, it's functional and easy to reposition as needed.
A matte black finish and a sleek iron build bring a strong, stylish presence to your patio setup.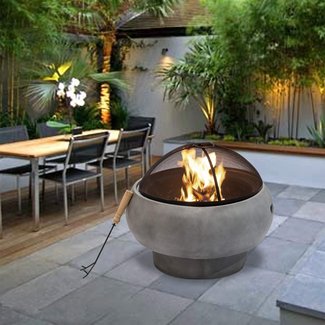 Colis Concrete Wood Burning Fire Pit
Crafted from durable concrete, this bowl-shaped fire pit provides warmth and a unique stylistic flair to your patio.
Despite its concrete build, it's light enough to fuss-free mobility but tough enough to withstand wind and rain. Drainage holes are placed throughout the fire pit so it doesn't hold rainwater.
An included spark screen and fire poker provide added safety, and it comes with a compatible grill so you can cook up your favorite campfire snacks with ease.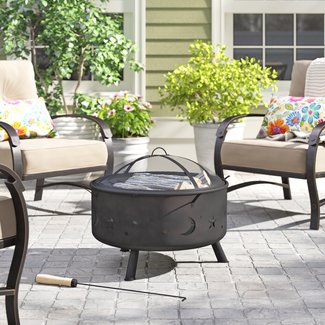 Sedgwick Steel Fire Pit
The cut-out silhouettes of stars and crescent moons--filled with metal mesh for safety-- line this weather-resistant, circular fire pit. A spark screen cover and a cooking grate help complete the setup and provide you with opportunities to cook over the open flame.
With three slanting legs, it sits off of the ground. If you want to use this fire pit on a wooden or stone patio, be sure to use a deck protector in order to preserve the longevity of your space.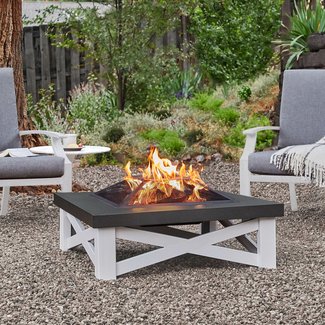 Austin Steel Wood Burning Fire Pit
This black-and-white fire pit brings a contemporary touch to your backyard party spot.
The 15.5'' H x 33.63'' W x 33.63'' D fire pit arrives with everything you need to enjoy and protect your fire pit: a fire poker, weather-resistant PVC cover, log grate, lid, heat-resistant burn pad, and spark screen.
In order to facilitate maximal longevity, this fire pit is crafted from solid steel and boasts a powder-coated finish which is resistant to fading and rust.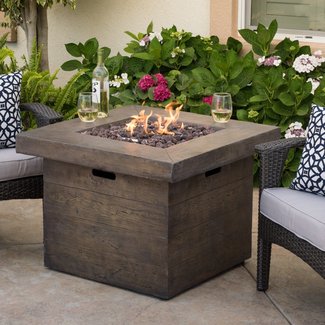 Tyne Polyresin Propane Fire Pit Table
With a propane-powered design and a delightfully rustic, heat-resistant polyresin exterior crafted to look like wood, this fire pit combines modern practicality with old-fashioned charm.
The propane tank is stored out of sight and beneath the fire pit. It arrives fully assembled so you can start enjoying s'mores as soon as possible. This square fire pit is 38" across and 31" deep, making it ideal for backyard family bonding.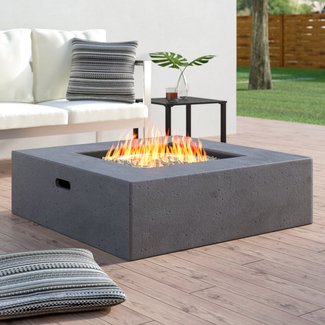 Olivet Propane Gas Fire Pit Table
Enjoy your contemporary outdoor space all year long with this bold square fire pit. Bask in the flickering flames without the need to add logs or shovel ashes.
The push-button starter ignites the propane fuel to emit up to 50,000 BTUs of ambient heat. The lava rock filler helps to maintain a consistent temperature and adds a stylish touch to the piece.
The unit comes with a storage cover to protect your fire pit when not in use and the convenient propane tank holder keeps your fule source discreetly hidden for a streamlined look.