Our Choice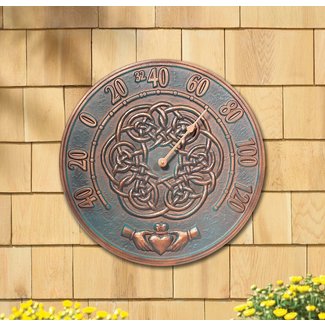 Irish Blessings Thermometer
If you are looking for a durably made and weather-resistant outdoor thermometer, this copper thermometer is an excellent choice. It is a hand-cast thermometer made of 100% recycled aluminum. It is available in beautiful French Bronze or Verdigris finishes. The hand-painted weather-resistant thermometer adds a nice touch to your outdoor patio area. It has a good size and the numbers are large enough to read. Best of all the thermometer is accurate and easy to calibrate.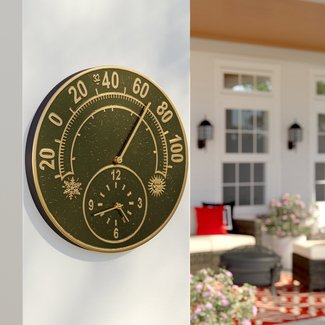 Haines Changing Seasons Thermometer Clock
Here is an excellent all-seasons thermometer clock that gives you accurate readings in winter, spring, summer, and fall. It helps you keep track of time and humidity levels every day. The two in one clock and thermometer is made of durable and weatherproof aluminum material with a beautiful French bronze finish. It is weather-resistant, rust-resistant, fade-resistant, and water resistant, which means it will last for years. It has a standard time format and comes with the battery included.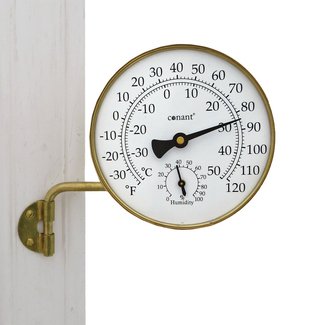 Vermont Weather Station
Create a functional weather station at your home and enhance your outdoor décor with this large and easy to read combination of a scale, thermometer, clock, and hygrometer. The thermometer reads the temperature in both Celsius and Fahrenheit. Some of the key features of the weather station include a solid brass dial face with large numbers, a long swivel arm, precise temperature measurements in both Fahrenheit and Celsius, and mounting brackets for easy installation.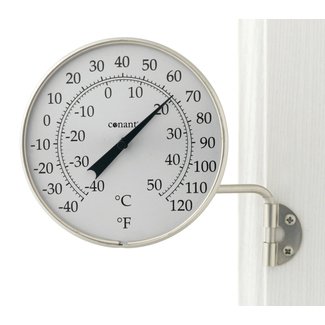 Dial Thermometer
If you are looking for an accurate beautifully designed outdoor thermometer, you won't go wrong with this product. It measures temperature in both Celsius and Fahrenheit in clear and readable classic numerals inside a visible convex glass crystal. Best of all, it comes with a convenient swivel arm for easy mounting on a post, window, or wall at a precise angle. The thermometer has a sleek polished aluminum and glass construction. It is waterproof and weather-resistant for outdoor use.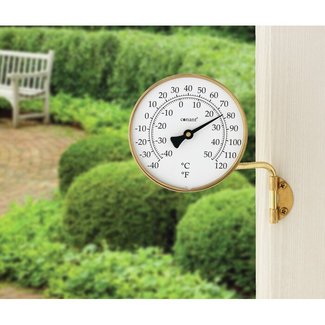 Vermont Dial Thermometer
You can count on this brass dial outdoor thermometer for accurate temperature measurements in both Fahrenheit and Celsius. It comes with a strong convex glass crystal that provides you with a clear and readable view of the numeric numerals. The thermometer also comes with a swivel arm mounting bracket and matching hardware for easy and adjustable installation on a post, wall, or window at the right angle. The thermometer is a perfect addition to your outdoor décor too.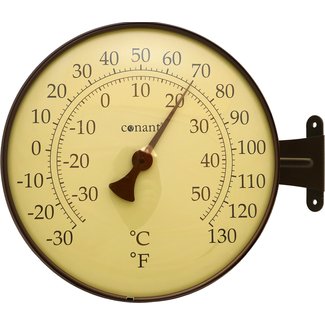 Convertible Classic Dial Thermometer
This classic dial thermometer comes in an elegant oval shape. It features large numerals for easy readability and a bronze patina finish, which is one of the most popular color trends. Its decorative finials further enhance its elegant design. The thermometer has a portable stand that allows you to place it on any surface indoors or outdoors. The crystals on the thermometer are made of glass while the dial face is constructed from weatherproof aluminum complete with silk-screened numerals featuring aluminum pointers.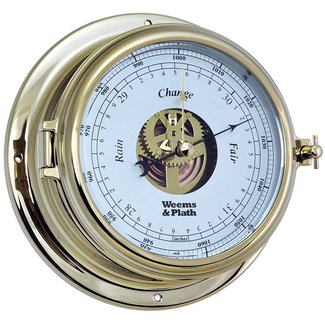 Endurance II 135 Open Dial Barometer
Here is an open dial barometer with a traditional maritime design. It comes in a stylish slim profile case and a large clearly visible dial. The barometer's case features a screw bezel that makes it easy to reach the interior components of the barometer for adjustment. The maritime instrument is made from strong durable forged brass that is perfectly polished. The barometer can work up to an elevation of 3,500 feet and only needs to be adjusted once.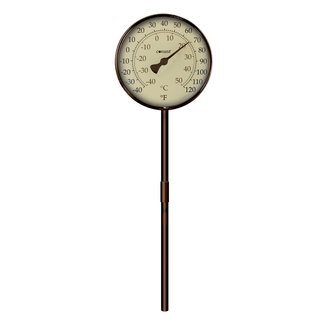 Convertible Classic Dial Thermometer
This classic convertible dial thermometer has an elegant oval shape that will add a touch of style to your outdoor décor. It is designed for outdoor use, thanks to its weatherproof materials and solid construction. The thermometer also features large easily readable numerals and a beautiful patina finish with decorative finials to enhance the overall look and style of its design. It gives you accurate temperature readings in all seasons. It also makes a perfect gift item for any occasion.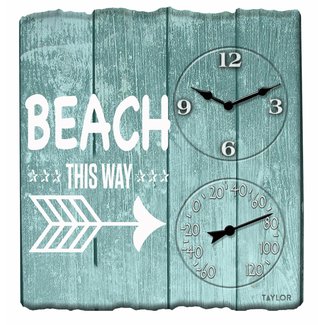 Beach This Way Clock with Thermometer
This is a poly resin combination of outdoor clock and thermometer that gives you accurate temperature and time readings. It is also a fun addition to your outdoor spaces including the pool, patio, garden, and other parts of your yard. The outdoor clock and thermometer has precision-made coils that give you accurate temperature readings from -60 degrees to 120 degrees Fahrenheit. The clock is perfect for both indoor and outdoor use.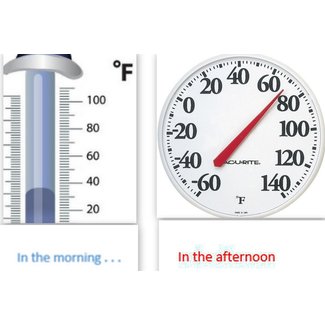 Basic Thermometer
This basic thermometer is a great option for those looking for a temperature measuring device that can be used both indoors and outdoors. It is a great addition to your patio, playground, yard, store, game room, and other places where a thermometer would help to keep updated on temperature changes. The thermometer has large easy to read numerals that are visible from a distance. It is available in a clean and elegant white color and is made from durable weather-resistant materials.