Our Choice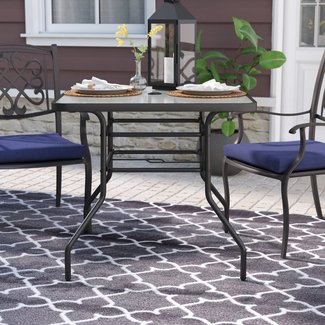 Taouk Bistro Table
Enjoy the great outdoors with this black steel square table. Sipping on cocktails or enjoying a family meal outdoors will never be the same thanks to this contemporary and neutral-coloured table that will complement your existing outdoor furniture. The glass tabletop comes with a hole and to fixed collars so you can use a canvas umbrella to shield yourself from the sun or rain. The table seats four people and is UV, water and rust-resistant, making it last for years to come.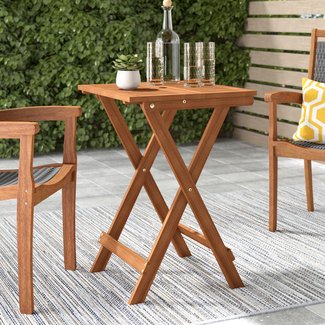 Arianna Folding Solid Wood Bistro Table
Create a relaxed environment with this solid wood bistro table. This elegant design reminiscent of tropical islands will bring an instant facelift to your porch, backyard or patio. Dress up this table with matching chairs or use it as a center piece to hold drinks and stacks while you're enjoying the outdoors. The table is foldable so you can easily bring it indoors during harsh weather conditions and it is equipped with a hole in the middle so you can mount an umbrella.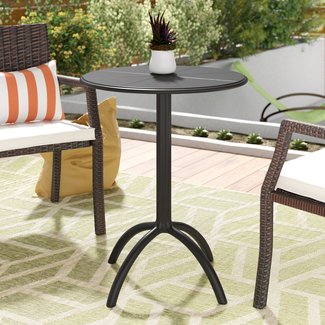 Seitz Bistro Table
Bring a little bit of opulence and pizzazz to your outdoor area with this smart dining table. This round top table is made of high-quality polypropylene which is reliable in outdoor environments. Therefore it is ideal to set beside your pool and heavy use areas. The commercial-grade resin is resistant to chlorine, saltwater and suntan oils. The construction can also withstand outdoor temperatures and conditions while it is easy to wipe clean.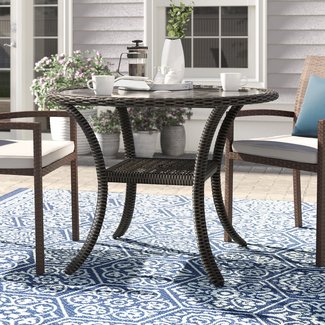 Bennington Bistro Table
This round bistro table oozes with contemporary charm. This piece is wrapped in neutral resin wicker with woven details and contains a powder-coated frame for a tasteful touch of texture. The circular top is made from clear glass which makes for an easy to clean surface before setting down snacks and drinks. It also contains a hole so you can make use of an umbrella to shield you from the sun or rain. The table seats four and is a wonderful way to enjoy a family meal or simply get some fresh air.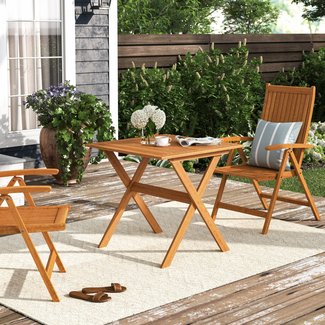 Cadsden Solid Wood Bistro Table
Do you have a small outdoor space, but still want to enjoy it? Well, then this rustic solid wood bistro table is just for you. Feel free to serve up casual drinks for four or enjoy your favorite beverage while taking in the fresh outdoor air. Made from solid eucalyptus wood, the neutral-coloured and weather-resistant table goes well with various aesthetics. Rain will run right through the slatted top, so it's safe to leave on your porch or patio. The table is also foldable so you can bring it inside during harsh weather conditions.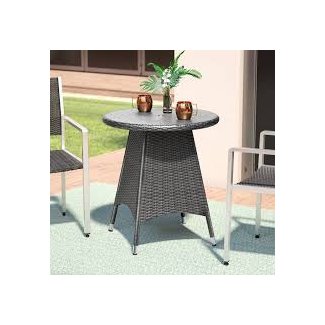 Brissette WickerRattan Bistro Table
Make the most of your outdoor space by adding this stunning and contemporary round table. Place an umbrella in the center of the table thanks to the pre-drilled hole and keep the table clean by wiping down with a damp cloth. Made from wrapped in resin wicker for a weather-resistant touch, this table is perfect for your patio or deck. Enjoy breakfast or a late-night dinner with a friend with this modern and delightful outdoor ensemble.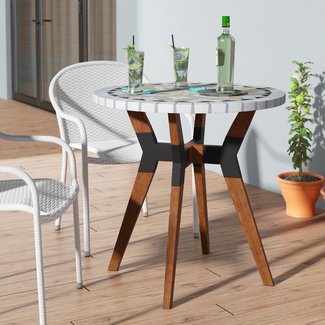 Moana Bistro Table
This bistro-style round table is the ultimate upgrade to your patio porch area. The base of this table is designed from plantation-grown Brazilian Eucalyptus while the top is constructed of marble in a mosaic pattern. It is the ideal furniture addition to a modern and contemporary home. Feel free to pair it with chairs of your choice and enjoy this weather and water-resistant table indoors or outdoors.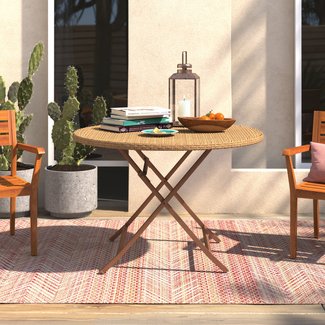 Crawfordsville Folding Bistro Table
If you're looking for a bistro-style table with a traditional textured look, look no further. This table is weather and UV resistant and crafted from a folding steel frame with four legs. It's the ideal size for hosting a dinner for four alfresco or serving up some drinks and snacks by the poolside. In order to clean all you do is wipe with a dry cloth and covered it up when storing it away. The light brown resin wicker top contains a convenient pre-drilled hole for mounting an umbrella.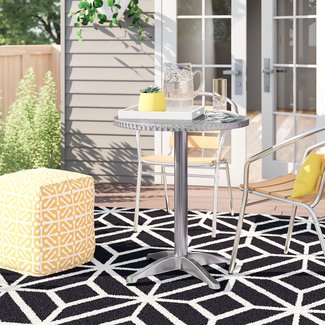 Joni Stainless Steel Bistro Table
This contemporary bistro table will give any porch or patio a contemporary facelift. Made from wood and aluminum, the understated piece features an X-shaped base with a cylindrical frame underneath a polished chrome round tabletop. The table is perfect for serving up snacks and drinks on a hot summer's day. It's weatherproof, so it makes a great outdoor patio or pool side table. The sleek design can also complement a modern kitchen or bar area.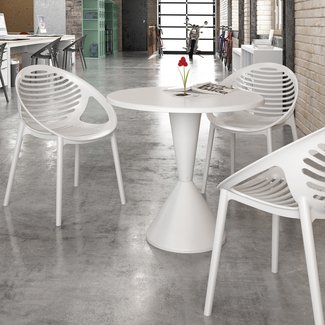 Expo Plastic/Resin Bistro Table
Perfect for additional seating during the holidays or backyard barbecues, this plastic bistro table is an asset to any outdoor area. The chic and contemporary design will draw attention to your porch, patio or backyard while the unique features are made from reliable white plastic for lasting quality. It makes an ideal table for a game room; kids play area or an indoor or outdoor living area. Ultimately it is a stylish addition to any room's decor.