Office Stools
Spending hours of your day seating and working can be tiresome if you don't have the right office stools. The comfort of your office chair or stool will significantly affect overall productivity. It's therefore important to pick something as comfortable as possible. Office stools are available in a great variety of designs, styles, and colors. Some may feature a small backrest while others may not. The stools are mostly made using metal and come with different types of upholstery. Fabric upholstery is very common but in case you want something classy and more durable, you can consider leather upholstered office stools.
Our choice Best office stools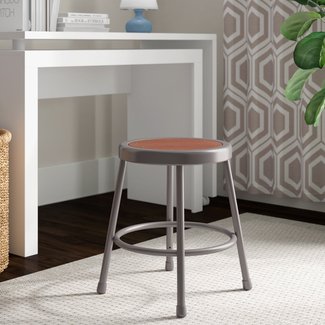 Stool with Footring
Perfect for your office bench or studio, this stool will keep you supported while also giving you enough space to move freely and accomplish your work. Weighing just 10 lbs. the stool is easy to move around any environment.
You will be impressed with the amount of support this stool provides thanks to its heavy-duty 18-gauge steel tubing. The seat material is crafted from a comfortable yet sturdy manufactured wood base.
Retro Height Adjustable Height Stool
Artists and craftsmen will appreciate the stylish retro design is this stool that is ideal for your office or studio but also makes for a fashionable accent piece in your living room or bar.
The stool features a pneumatic gas lift that allows you to adjust the height to suit your comfort level, and a 5-point base with large steel feet arranged for maximum stability. The seat also has a swivel feature that brings versatility to your workspace.
6400 Series Lab Stool with Footring
With a foam-padded vinyl seat, this lab stool gives you the freedom and comfort to work for hours. You'll have space to rest your feet as well due to the welded foot ring attached to all four legs for added stability and rigidity.
At just 11 lbs. this stool is a versatile option for easy moving around your home, while the steel construction ensures that it a durable product that will last for years.
Harriotte Height Adjustable Active Stool
Designed to relieve fatigue and make your work time more productive, this stool is a supportive and fashionable addition to your office or art space.
Manufactured from durable metal and low-maintenance polyurethane, it comes with a height-adjustable seat to provide the most optimal position to users of all sizes. This adjustable stool also features an arched backrest for ergonomic support at your waist, ensuring your posture doesn't suffer while you work.
Gutierres Height Adjustable Stool with Footring
For the ultimate in seating comfort, look no further than this modern upholstered stool, which looks great in any home office. Work has never been more comfortable, with the black fabric upholstery padding providing excellent cushioning as well as a firm seat to provide you with the support that you need.
The dual-wheel casters also make this an incredibly versatile option, allowing you to move the stool easily around your workspace across all types of flooring. The pneumatic seat height adjustment is easy to use, and the stool also supports up to 25o lbs.
Diahna Height Adjustable Lab Stool with Caster
Navigate through your workspace easily and efficiently with this sleek, minimal stool. This versatile stool is upholstered in easy to clean vinyl that makes for comfortable and convenient seating whether you are studying, working, or crafting.
The black nylon base supports the molded foam seat that contours to the shape of your body, providing the perfect amount of support as you sit.
The frame material is a metal-plastic hybrid providing versatility and rigidity.
The seat enables free-flowing movement with rolling casters and swivel features.
Padded Industrial Stool with Backrest
Incorporating an ergonomic backrest, this industrial-style stool ensures that your posture and comfort are both protected as you work. The vinyl seat padding also makes this one of the most comfortable stools on the market, making it the perfect addition to any art area, classroom, or office.
The sturdy frame consists of four 18-gauge steel tubing legs that are fastened securely to the 14" diameter seat pan. A footrest ring is also fastened to each of the four legs for maximum stability.
Tice Fabric Industrial Active Stool
Retro style meets modern design with this versatile stool. Perfect as additional seating in your living room or den, the stool can also act as both a pivot and static stool depending on your needs.
The seat design features a wide, curved base that allows you to effortlessly and comfortably shift your weight and adjust your seating position. The seat is made of soft fabric available in five colors.
Jefferson Creek Dot Height Adjustable Active Stool
Made of an incredibly lightweight polypropylene material that makes for a versatile yet sturdy stool base, this seating option is a fantastic choice for those looking for great seating on a budget.
The seat can manage up to 275 lbs. and the height is fully adjustable as well. This stool will be a comfortable and secure fit for anyone and effortlessly fits right in your office, art studio, or other workspaces.
Shari Height Adjustable Medical Ergonomic Stool
Versatile enough to be used in your workspace and comfortable enough to be used as seating in front of your vanity, this stool perfectly balances free-flowing movement and relaxation.
The functional stool is sturdy with a metal base coated in a bright chrome finish than coordinates well with industrial and urban style homes.
The seat upholstery is made from faux leather, providing a soft, cushioned seating experience that is easy to maintain. Caster wheels also provide you with smooth mobility for navigating around the room.