Our Choice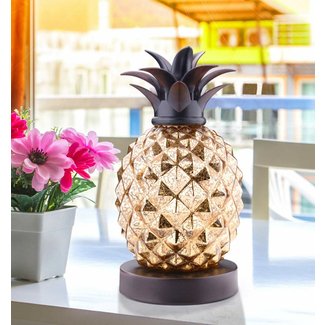 Dewitt 9.64" Novelty Light
It's always pineapple season when you introduce this novelty light to your space and enjoy summery feelings consequent of the soft golden glow from the incandescent 25-watt bulb. The entire light is just under 10".
The beveled surface adds glamour and creates an intriguing geometric pattern. The fruit is gold glass while the base and leaves provide contrast in dark metal. Place it on a kitchen island, desktop, vanity table, or in a guest bedroom to add a conversational accent and a relaxing glow.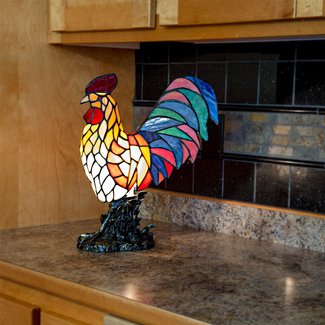 Adlam Rooster 15" Lighted Art Glass Novelty Light
For a stunning combination of traditional stained glass and modern function, look no further than this rooster novelty light. It is handcrafted with glass and soldering into a beautiful sculptural rooster.
This 15" tall light will brighten any space but is especially at home good gracing the counters of a farmhouse-style kitchen or the mantle of a traditional or eclectic home.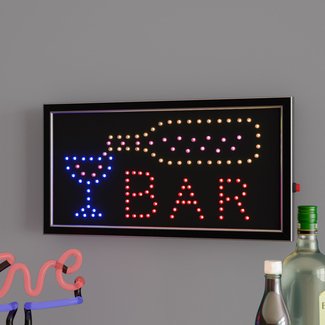 Bar LED Marquee Sign
Add a spunky touch to your home bar or man cave with this LED bar marquee. This sign makes an instant statement and can help you entertain in style.
The vintage-inspired design in bold colors and fun animation is hard to miss and will go wonderfully in the basement rec room, or den home bar, but can also find a fitting home in a bold kitchen.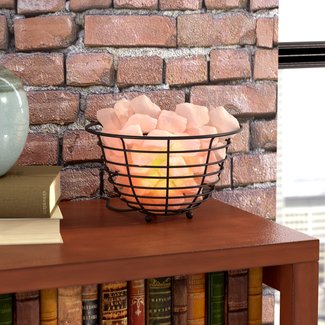 Nawrocki 11 Ibs Salt Lamp
Sooth and warm the space with the soft glow emanating from this salt lamp. Rustic rocks of pure Himalayan salt are piled in a black wire basket for a carefree effect.
This light instantly elevates any room to a worldly and calming space but looks particularly at home in an eclectic family room. Powered with a cord, this lamp also emits soothing heat.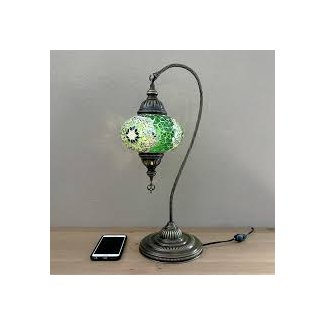 Ellzey Swan Neck 24" Lighted Art Glass Novelty Light
This ornate structural art also functions as a desk light that emits a relaxing colored glow. The round, nearly spherical glass shade has a mosaic effect reminiscent of its Turkish origins.
The polished brass stand and stem feature a gentle swan neck curvature that is 24" tall. It comes in a variety of colors and is powered by a cord with a convenient switch.
Man Cave LED Sign
Show your guests the way to the man cave with this LED lighted directing sign. The bold, vintage font in distressed white with red accents makes this an artistic choice for your home.
Five spherical LED bulbs grace the side of this 30" tall sign. It mounts to the wall for the optimal charm and is easy to hang at only 3.25 lbs.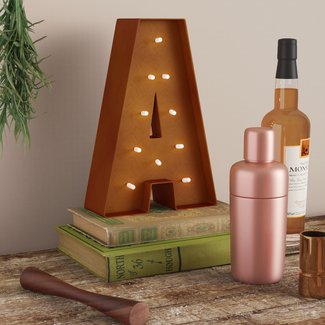 Altum Rustic Vintage Letter LED Marquee Sign
These lighted letter marquees are simple ways to personalize space while adding a warm glow to the room. The rust color and retro font of the letters are easy to pair with existing décor, especially in a rustic, farmhouse, or vintage style home.
The steel frame letters are 11.25" tall and 7.5" wide, making them easy additions to a space of any size.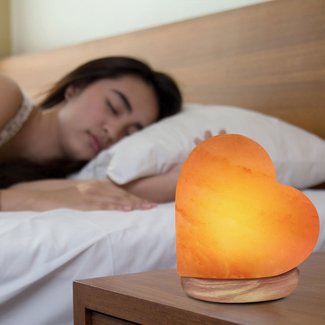 Mcfall 4 lbs Salt Lamp
The warm, calming glow that emanates from this heart-shaped, Himalayan salt lamp makes any space feel instantly more inviting. A USB cable plug-in powers the light, which is dimmable so it can be used as a nightlight.
The salt crystal fixture comes in a cozy pink shade with natural variation due to its origins. It is just under 5" tall for a compact light to sit on a side table, nightstand, desktop or shelf.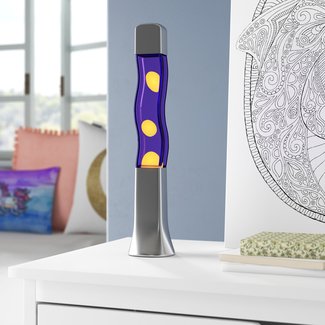 Bray S-Shape 16" Motion Lamp
This mesmerizing motion light will keep the kids quietly entertained and provide a calming motion for any space in a modern home or dorm room. The vibrant colors and wavy "s" shape of the light keep this a fun and modern piece.
The lamp is 16" tall and features a classic silver-color base and cap. The lava lamp has bright yellow wax that floats around in purple liquid, and it emits ambient light.
Silver Base Motion 13" Motion Lamp
This rocket ship-shaped table light will add a pop of color with the bright red and yellow scheme. This makes a great addition to children's rooms and is fun and calming to watch the liquid move withing the lamp.
The silver-color base and cap on this lava lamp add a classic finishing touch. This product is 13" tall, perfect for brightening the space on a bedside table or desk.