Our Choice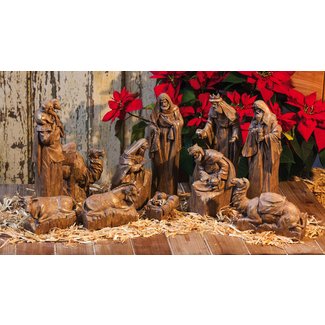 11 Piece Nativity Set
Nativity sets are a perfect idea to enhance the festive mood during the holiday season. This set includes 11 pieces of expertly crafted outdoor decorations for your garden or yard. The nativity set is made of poly stone material, which is a compound made from a combination of polyurethane resin and powdered stone additives to give it a similar weight and look as porcelain. This set features three kings and one shepherd. The statues can also be separated.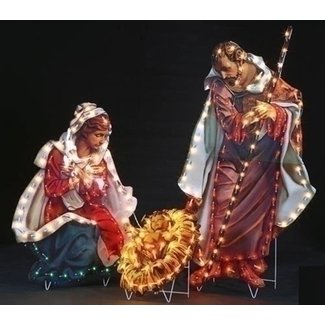 3 Piece Holy Family Yard Art
Nothing reflects the festive Christmas spirit more than this 3-piece nativity set. It has a flat design and is designed for outdoor use. It is a relatively large set with a width of 30 inches and a height of 48 inches. The yard art is made in China using a combination of PVC and metal materials, which can withstand the outdoor environment for a long time. It will definitely look great in your garden or yard.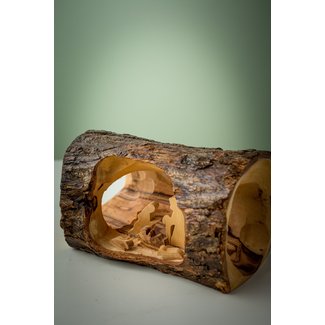 Olive Wood Small Log Nativity
This is a unique nativity set made out of a hollowed olive wood from Bethlehem in Israel. The nativity set is crafted by expert woodcarvers with special attention to every detail needed to create a one-of-a-kind nativity ornaments and figurines. This unique small set of Christmas tree figurines is designed for indoor use. It is a detailed item featuring beautiful artwork that will be a key conversation starter in your home during the festive season.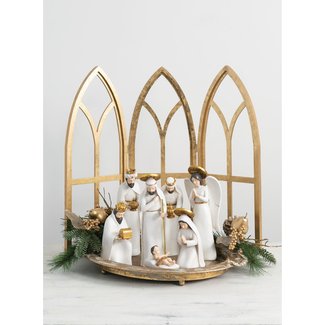 7 Piece Nativity Set
Create beautiful and festive surroundings during Christmas with this 7-piece nativity set. The set tells the story of the birth of Jesus using beautiful figurines and other decorative items. It is designed for indoor use only. The nativity collection does not include a background but is a beautiful set with the perfect size for both small and large spaces. Get one today to showcase your traditional Christmas celebration of faith and love.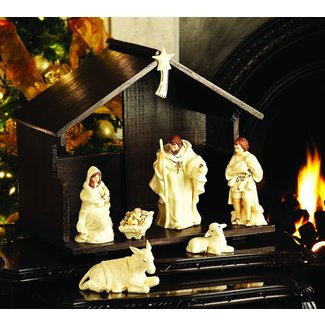 8 Piece Nativity Set
This is a handcrafted nativity set made of ivory porcelain material to create delicate luminous figurines. The 8-piece nativity set is designed for the elegant 21st century home. It comes in a classic and contemporary design to suit every type of home décor. The set includes one stable, figurines of Mary, Joseph, and baby Jesus in a crib as well as a star, donkey, one sheep, and a shepherd. It is a beautiful handcrafted and hand-painted nativity set.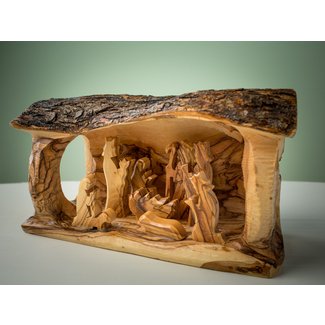 Grotto Carved in Branch
Here is an intricately carved nativity set expertly crafted to reflect the Christmas spirit in a unique style. The nativity set is crafted from tree branches dried for more than a year to ensure that the final product will maintain its great looks for years. The nativity figurines are also carefully collected and carved to showcase each piece's beautiful grains. It is a beautifully done and presented nativity set for indoor use only.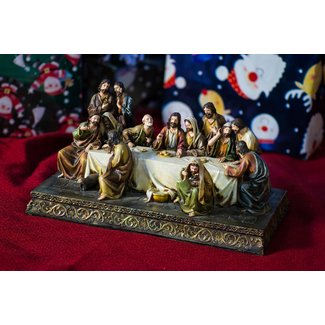 Last Supper Figurine Set
This is another beautiful nativity set that tells the story of Jesus and the disciples' last supper. It is a great choice for the Easter holiday, which commemorates Christ's crucifixion and resurrection. It is a perfect gift item that inspires one's love for the Christian religion. If you are looking for the perfect style to recreate the Last Supper in your indoor space, then this nativity set of hand-carved figurines is just right for you.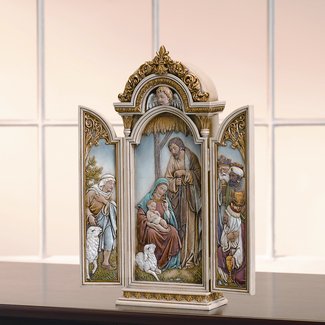 12.75" Nativity Triptych
If you are looking for a uniquely designed nativity triptych, here is a perfect option for you. This is a large nativity triptych measuring 12.75 inches. It is made from a combination of stone and resin materials. It is a Roman exclusive triptych designed with beautiful artwork and exquisite detail. This nativity set is not lighted but has a lovely and gorgeous look that will enhance the style and mood of your indoor spaces.