Our Choice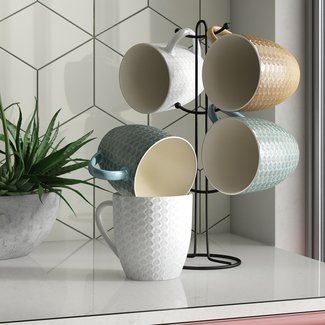 Harwell Honey Bee Coffee Mug (Set of 6)
This set of six mugs can make any kitchen feel homey. The sleek, rounded design and textured honeycomb surface create a gentle twist on the average mug.
In three neutral tones, these dishwasher and microwave-safe coffee cups can add cheer to your morning while blending into your neutral, natural, modern, or minimal kitchen. They are interesting enough to be displayed on the counter and simple enough to be stored in a cabinet.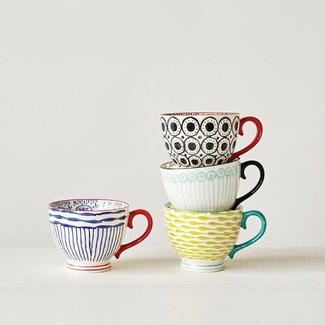 Edelen 4 Piece Teacup Set
Bring an afternoon tea back into style or liven up your morning coffee with this set of four colorful teacups. Each microwave and dishwasher safe cup is decorated with a different pattern in vivid colors with a central scheme.
These stoneware cups can each hold 10 fluid ounces and add a decorative and elegant touch to a traditional or neutral kitchen.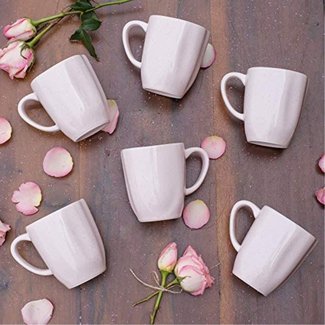 Frankfield Coffee Mug (Set of 6)
The jumble in the cabinets can be easily streamlined with a set of six matching mugs in a calming hue. Safely stack the mugs for simple storage and don't hesitate to use a microwave and dishwasher for easy preparation and cleanup.
The classic design can hold 14.2 ounces of your favorite beverage and features a large handle for ease of use.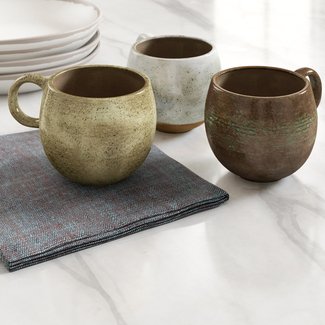 Kimberly Rounded 3 Piece Coffee Mug Set
An artistic take on the classic coffee mug will add character to your kitchen and showcase your style. These rounded mugs in neutral colors come in sets of three for a greater effect.
The stoneware mugs are microwave and dishwasher safe and can hold up to 16 ounces. The handle is petite and round to complement the rotund body of the mug.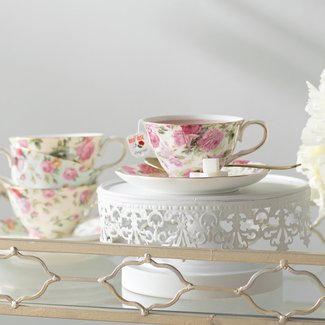 Ilian 8 oz. Porcelain Rose Chintz 4 Piece Tea Cup and Saucer Assorted Set
An English cottage style home is not complete without a proper set of teacups and saucers. This light pink rose chintz set will add a whimsical charm to your kitchen or dining area.
These eight-ounce porcelain dishes come in sets of four with slight color variations. Each has dainty gold-painted edges and is dishwasher safe for added ease of cleaning.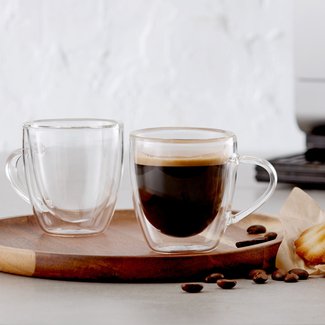 Solem Double Wall Espresso Cup (Set of 4)
Modernize your morning drink routine with these glass mugs. The borosilicate mugs have a double layer to keep your coffee or tea hot while remaining cool to the touch on the exterior.
Though they look dainty, these mugs are built to hold up; they can withstand thermal shock and are break-resistant as well as dishwasher, microwave, and freezer safe as well as lead-free.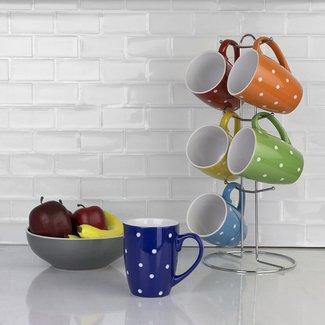 Shawny 6 Piece Polka Dots Mug Set with Stand
A tired kitchen can be easily refreshed with a set of six mugs in six different colors. The polka dot mugs can be easily displayed on your countertops with the included chrome-plated steel stand.
The 12-ounce mugs feature a classic shape with matching white interiors. The stoneware is dishwasher safe and chip resistant to making keeping this dishware in tip-top shape a breeze.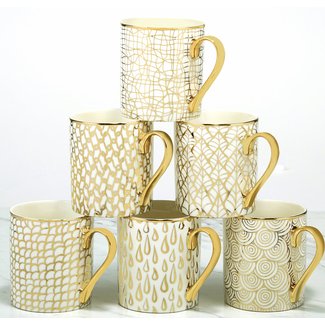 Meader 6 Piece Coffee Mug Set
Add some glamour into your morning routine with this set of six mugs with artistic gold designs. The straight-walled design adds a modern touch to the traditional coffee cup and can hold 14 ounces.
The delicate gold plaiting on these porcelain mugs makes it a fitting addition to a modern or eclectic kitchen. These mugs are lead-free and must be hand washed to preserve the artistic designs.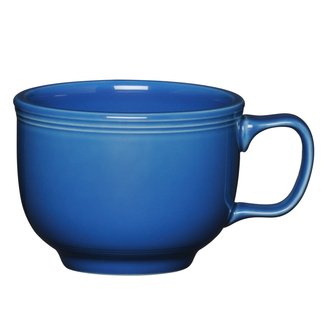 Fiesta Coffee Mug
If you need a new go-to morning mug, this 18-ounce stoneware mug might be the solution. It's available in a myriad of colors so you can find the right mug for your style.
This mug is dishwasher, microwave, and oven safe as well as chip-resistant, making it suitable for hectic mornings. The beveled body and angular handle set this piece aside from most mugs and make it perfect for serving soup.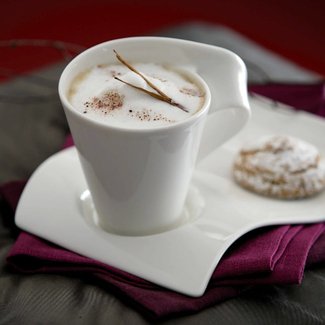 New Wave Caffe Coffee Set (Set of 2)
Setting a modern, whimsical tone is easy with this set of two mugs and saucers. The style beautifully combines angular pieces with waves and rounded edges to create a seamless design that matches the cup to the handle.
The white porcelain construction is dishwasher and microwave safe, and the wavy, rectangular saucer has an indent to help keep the mug secure.