Our Choice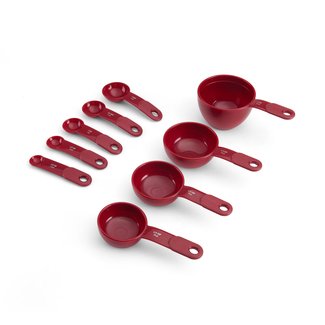 KitchenAid 9-Pieces Plastic Measuring Cup and Spoon Set
Skip the guesswork in cooking and baking and help your recipes go right with a complete set of measuring cups and spoons. This nine-piece set can help you get the right measurement for any cooking project.
With a stackable feature and bright red color, these utensils are easy to find when you need them and store when you don't. Dishwasher-safe plastic construction keeps them break-resistant and low maintenance.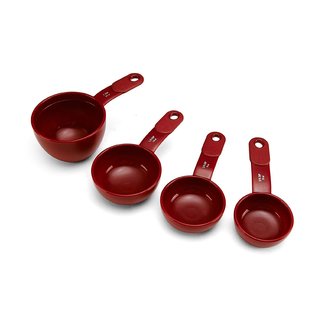 KitchenAid 4-Pieces Plastic Measuring Cup Set
Complete your cooking gear with this set of four plastic measuring cups. The set comes in three colors so you can find the right shade to fit your aesthetic.
This stackable set also offers hanging storage solutions so you can always have these helpful pieces on hand. The durable and dishwasher-safe plastic construction ensures you'll have cooking help for the long haul.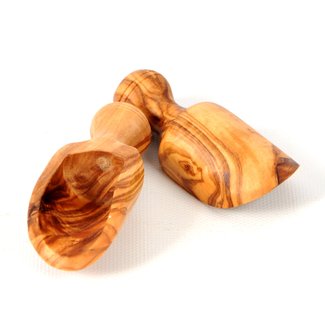 Beldi Nest 2-Pieces Measuring Scoop Set (Set of 2)
The right instruments can amplify the artistry inherent in cooking while simplifying the experience. This set of two measuring scoops are beautifully crafted from olive wood to create pieces you'll want to display even when they're not in use.
Handwash and regularly rub these scoops with oil to bring out the gorgeous wood grain. Upgrade scooping bath salts or meal seasonings with this eye-catching pair.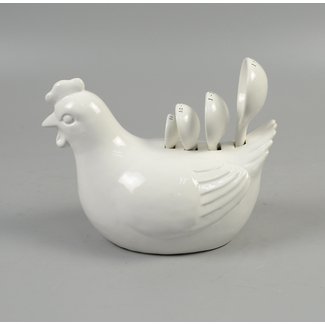 Drew DeRose Designs Rooster 5-Pieces Measuring Spoon Set
Every cook needs measuring spoons, just like every farmhouse or vintage-style kitchen needs a chicken to roost on the counter. Kill two birds with one stone with this subtle white ceramic set of four measuring spoons and a hen-shaped holder.
Measurements will be close at hand with this new kitchen mate settled on the counter. When not in use, this charming set adds character to your country home.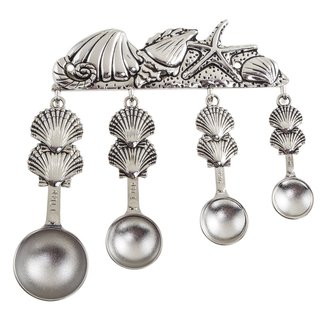 Thirstystone 5-Pieces Measuring Spoon Set
A coastal cottage will benefit from this set of four hanging measuring spoons. The stackable set comes with a shell and starfish-shaped hanger, and each spoon features a two-shell handle.
The pewter set is finished in a classic silver color so you can display them on the wall of a cool-schemed kitchen or dining area. Handwash these pieces to keep them shining worthy additions to your utensil collection.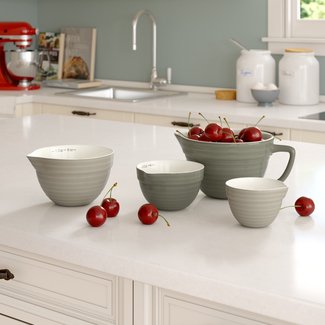 Mint Pantry Berzai 4-Pieces Measuring Cup Set
Introducing this set of measuring cups will bring you one step closer to a cooking show-esque baking experience. The set of four ceramic measuring cups are a soothing gray color with ribbed edges for added interest.
The stackable design makes the set easy to store, and the pinched lip of each cup makes them easy to pour. Dishwasher-safe material seals this as the ultimately convenient set.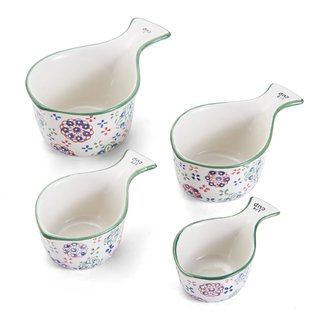 Pfaltzgraff 4-Pieces Measuring Cup Set
With vintage-inspired hand-painted floral designs and sage green rims, this set of four measuring cups can be kitchen décor of their own right but are also easy to store when not in use.
Stackability and dishwasher-safe construction make them practical, functional pieces to add to your home. These ceramic measuring cups feature interesting handles that make them easy to manage during each step of a cooking project.
KitchenArt Pro Essentials Gift 3-Pieces Measuring Cup and Spoon Set
The thoughtful design of this three-piece measuring set will save you from extra cleanup and measuring malfunctions. This product is made from high-quality plastic with a sophisticated champaign finish that looks as good as it functions.
This set features an adjustable teaspoon, tablespoon, and cup measuring piece so you can get the right measurements with minimal hassle. This space-saving gadget makes a great housewarming gift.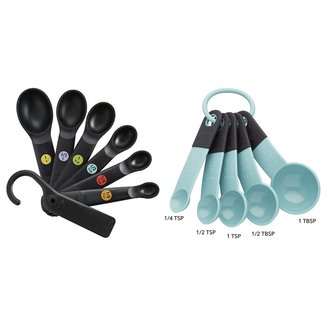 OXO Grips 7-Pieces Plastic Measuring Spoon Set
Get your measurements right from the get-go with this no-nonsense measuring spoon set. The seven-piece set features plastic construction and snappable capabilities to make it easy to keep all your measuring spoons together for easy access.
The non-slip handles and hanging feature cement this piece as superiorly practical, while the black color keeps the aesthetic simple and easy to match.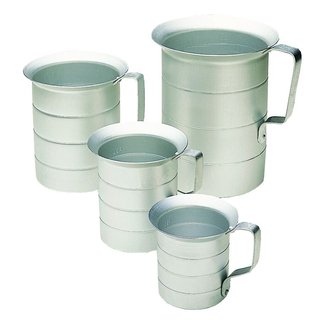 Update International Measuring Cup
Fitting for industrial to farmhouse-style kitchens, this aluminum measuring cup set is perfect for all your dry-measuring needs. With beveled rims and handles, these measuring cups are easy to pour.
Each of the four measuring cups features the heavy-duty aluminum construction and comes with a handle, making them hangable but not stackable. The silver-color finish suits most kitchen color schemes and matches many appliances. They make a unique and practical wedding gift.