Mantel & Tabletop Clocks
Mantel & tabletop clocks are available in diverse styles and designs to choose from including traditional clock styles such as Arched Top and Napoleon designs to modern and contemporary styles. The clocks have become quite popular today due to their practical function of telling time and adding a perfect finishing touch to your interior style. There are many mantel & tabletop clocks to choose from depending on the overall interior design and style of your living room. Whether you are looking for a modern digital or retro-styled clock, you'll definitely find one in the mantel and tabletop clocks category.
Our choice Best Mantel & Tabletop Clocks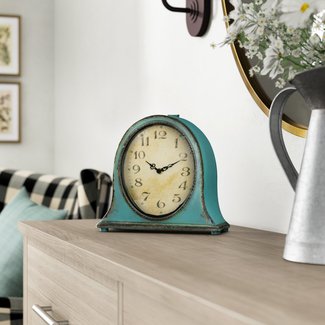 Traditional Metal Mantel Clock
Vintage with distressed details, this mantel clock is the perfect addition if you want to add an old-fashioned touch to your home. Its aqua finish adds a pop of color to your decor and instantly brightens up the surface.
Featuring a flat back and an overall dimension of 8.5'' H x 9.5'' W x 3.75'' D, this metal timepiece suits desks, etagere displays, fireplace mantels, and console tables best. Pair with small plants for a charming layout.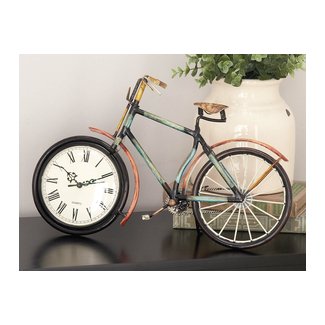 Bicycle Tabletop Clock
Traditional and elegant, this bicycle clock uses a combination of distressed accents and country white painted finish to create a piece that is perfect for farmhouse, rustic, traditional, and country-style homes.
The bicycle features a kickstand on the back wheel for stability when displayed on any surface and a front wheel with a vintage-style clock that complements the bicycle's rustic design. Hang flat on the wall with a pair of screws to enhance and add charm to a plain wall.
Table Clock
This tabletop clock adds a traditional and modern farmhouse touch to any interior and suits a variety of home styles such as retro, rustic, and french farmhouse. Its attention-grabbing and quaint design features a semicircle silhouette with four vintage cabriole legs.
The chipped gray finish and white clock face displaying Roman numerals provide the tabletop with a classic and timeless look. This clock looks best when paired with other antique furniture and decors such as a distressed drawer or vase.
Pettine Wood and Metal Mantel Clock
Solid and well built, this mantle clock is a great option if you're looking for a functional and elegant addition to your tabletop. It's heavy, sturdy, and has a vintage design that really makes a statement, whether it's placed on a shelf, mantel, or dresser.
This wood and metal clock features worn-out details and a dome-shaped plastic cover, making it look like a real antique piece. Coordinate with decors in dark hues for a mysterious and classy atmosphere.
Metal Anchor Tabletop Clock
With an antique-inspired style and a nautical design, this anchor tabletop clock makes a unique addition to coastal and beach-themed home styles.
Made of metal with a distressed blue finish, this clock provides a different material to beach homes with too many wood pieces around. Choose a wall art or other decors in different shades of blue to complement its blue finish with white details for a room full of interest and coastal vibes.
AcuRite Intellitime Tabletop Clock
If you're looking for a practical and easy to read tabletop clock, this clock is the right choice. It has all the important features you would need such as an illuminated color display with indoor temperature and humidity, clock, date, day of the week, moon phase, and alarm.
It updates itself on its own for daylight saving time and comes prearranged with the accurate time and date. Charge smartphones with 1.5 amps through the USB port for extra functionality.
Metal Tabletop Clock
Spruce up any surface with this antique tabletop clock. With a dimension of 15.13'' H x 13.88'' W x 3'' D, this clock is large enough to make an eye-catching statement.
Featuring a classic black finish and rustic details, this vintage-inspired piece has a white face displaying roman numerals that are easy to read while providing the room with an elegant flair. Place on a tabletop with white and black books for a chic and fancy layout.
Country Farmhouse Dorris Clock
This dorris clock with a country farmhouse and antique charm is a classy and versatile tabletop piece clock. The Arabic numbers are easily readable and its carved bracket feet provide firmness on the surface.
Featuring a whitewash finish and a sleek rectangular design displaying elegant crown moldings and beveled framing, this clock can effortlessly blend with other decors and color palettes. Place next to a small houseplant and a stack of neutral-colored books for a relaxed and charming arrangement.
Rustic Analog Table Clock
The old-fashioned and rustic design of this tabletop clock makes it an attractive piece to suit a variety of modern farmhouse and vintage-inspired home styles. This clock serves as an easy way to check the time while also providing the empty surface with an antique touch.
Crafted from metal, this clock has a bronze surface that blends well with different decors, especially in white and gray. Pair with a houseplant in a transparent vase for a serene and sophisticated space.
Mirrored Table Clock
Chic and glamorous, this mirrored tabletop clock is the perfect addition for adding ritzy elegance to any plain or boring surface. Its appealing design is substantial in size and features a mirrored square frame dappled with crystal embellishments.
Complement its sophisticated look with a glossy tabletop along with a white vase and a rug to create a fancy and luxurious look.