Our Choice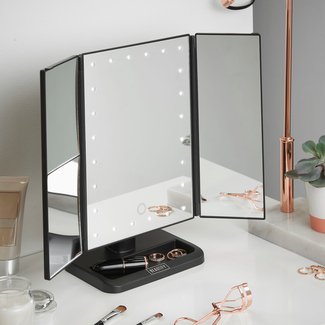 LED Lighted Vanity Trifold Makeup/Shaving Mirror
Add a modern touch to your vanity with this trifold makeup/shaving mirror. It's useful for getting ready on the fly, doing your skincare routine, or styling your hair.
The central mirror is framed by 24 dimmable LED lights along with a touchscreen dimmer for practicality. This portable vanity mirror can be tilted up and down, and be powered by either 4 AA batteries for or USB cable. Pair with a small houseplant for a chic and relaxed dressing table.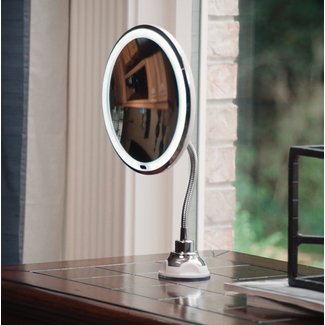 Nubrilliance My Flexible LED Lighted Mirror
Its simple yet fancy design makes this makeup mirror suitable for a variety of dressing table styles and larger mirrors. It features LED lights for easier grooming and makeup application, a 360° rotation, a 10x magnification power, a sturdy neck for stability, and a strong suction mount for different surfaces.
This flexible mirror is perfect to use up close and can be moved around since it uses AA batteries. Stick on a mirror for a closer view when getting ready.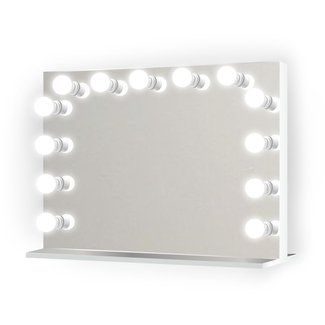 Laleia Lighted Makeup/Shaving Mirror
This lighted makeup and shaving mirror is the perfect addition if you want to make your bedroom glamorous and luxurious. The mirror has 13 LED bulbs surrounding it that provide a boost of brightness when applying your makeup. Its fancy design goes well with modern vanity tables, especially in white.
Pair with a white bouquet in a glass vase to create an elegant dressing table arrangement.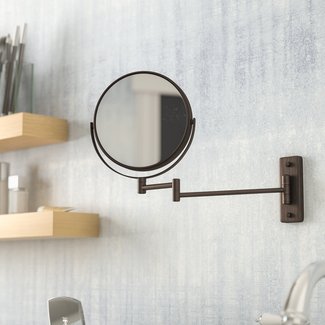 Unknown 8" Wall Mount Mirror
Sleek and modern, this wall-mounted mirror is a great bathroom accessory for checking your face or if you want to see the back of your head while getting ready. Its sophisticated design adds character to any bathroom and its oil rubbed bronze finish blends well with different decors.
This mirror features a 180° swivel, a 5x magnification on one side and a 1x magnification on the other, and can extend up to 13.5" from its wall mount.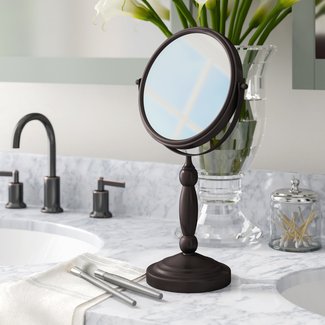 Two Sided 1X/10X Magnification Swivel Makeup Mirror
Its modern style with a vintage twist makes this makeup mirror a versatile option for a variety of bathroom and bedroom styles. You can easily place it on any surface with its non-slip base.
This vanity mirror offers functionality and practicality for applying makeup and shaving. It's two-sided with a 1x and 10x magnification and can swivel for easy viewing at any angle. Match the oil rubbed bronze finish with your bathroom hardware or fixtures for a classy look.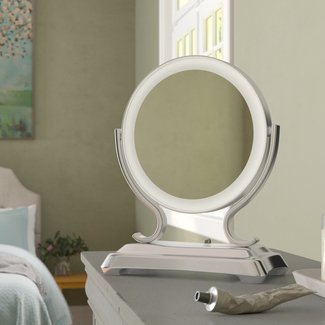 Vanleer Modern & Contemporary Beveled Lighted Magnifying Makeup/Shaving Mirror
This makeup and shaving mirror is a combination of luxury and innovative technology, ideal for those looking for a functional, sturdy, and modern mirror all in one. This mirror features a magnetized design with a fluorescent light that you can adjust according to your preferences.
It has a 5x magnification for close-up details and a 1x magnification for a full face view. The sleek curves and polished nickel finish of this mirror look best next to a colorful bouquet.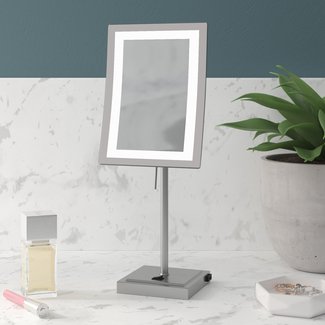 Magnified Lighted Tabletop Rectangular Mirror
Go out of the norms with this rectangular makeup and shaving mirror. Available in chrome and nickel, it can easily blend with neutral-toned decors and suits contemporary styles best. The entire mirror has a magnification rate of 5, offering a crisp and clean reflection for applying your makeup, styling your hair, and shaving.
The mirror's sleek finish and design look best in the bathroom or on a vanity table. Plug the mirror into an outlet for the light to work.
Flovilla Modern & Contemporary Tri-Fold Irregular Makeup Mirror
Take your vanity table's decor to the next with this modern and unique makeup mirror. Made of a firm MDF frame, this makeup mirror is freestanding, has a tri-fold design, and can be moved around since it doesn't require any drilling.
It's eco-friendly and has an elegantly arched design that fits both traditional and contemporary settings. Place decors such as houseplants and candles on the dressing table for a relaxed atmosphere.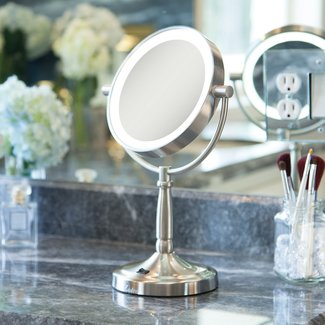 Mcelvain Cordless Dual-Sided LED Traditional Lighted Beveled Magnifying Makeup/Shaving Mirror
If you're looking for a simple and classic makeup and shaving mirror for your vanity table, this versatile lighted mirror is a great option. The mirror has a 10x magnification for a clear up-close view, a LED lighted ring, and can be plugged in and also work with batteries for better convenience.
It has a cordless feature that allows you to bring it anywhere without the need for an electrical outlet. Switch to 4 AA batteries when going on trips.
Lesley LED Adjustable Light Makeup Mirror
The compact and minimal design of this makeup and shaving mirror makes it a great piece for dressing tables of all kinds. It features LED lights that can be turned on and off whenever and wherever you want and has a cordless feature for easy portability when traveling.
The mirror is crystal clear, making it favorable for everyday use and can be adjusted in different angles. Simply hold the touch switch to adjust the light's brightness according to your likings.