Our Choice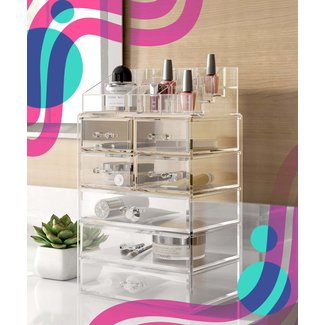 Cece Makeup Cosmetic Organizer
Place this freestanding clear plastic makeup organizer on top of your vanity or bathroom countertop. It has 7 drawers and an array of compartments on the upper level to safely store your makeup. The height of each drawer is 2" offering plenty of space to fit a variety of cosmetics. The clear acrylic material allows you to see your cosmetic collection, and the stackable design allows you to add or remove units making it ideal for personalization. Optional black mesh mats are included and can be placed on the bottom of each drawer for easy cleanup.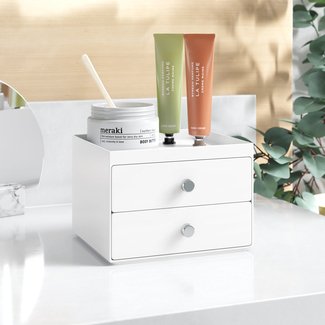 Clint Cosmetic Organizer
Tidy up space on the bathroom counter with this chic, modern white plastic organizer. Featuring three drawers and measuring in at 6.5," this cosmetic organizer is a compact piece that can fit a range of spaces. A framed picture can be placed on top of this fashionable cosmetic holder. Buying two or more of these is ideal for teens who share a bathroom.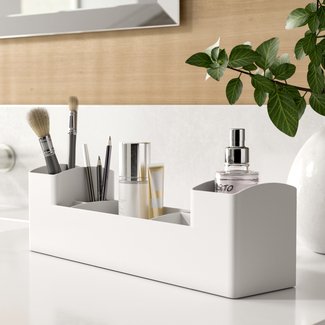 Clark Medicine Multi Level Cosmetic Organizer
This versatile organizer can easily help declutter makeup, keeping each piece upright for quick access. This white plastic storage space is made up of 8 different sized compartments to accommodate a wide selection of makeup products. Two of the compartments are raised to store frequently used items. At 3.5" x 12" x 3" this multipurpose organizer is a useful solution to fit first aid supplies in a medicine cabinet or for storing hair accessories or even cleaning products.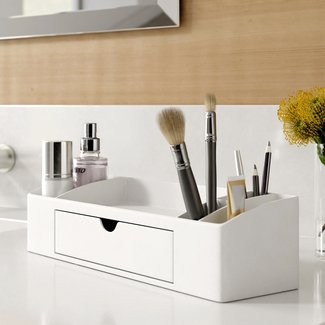 Clark Medicine Drawer Caddy Cosmetic Organizer
For a compact cosmetics storage option that keeps your essential products organized and within easy reach, choose this sleek and stylish plastic organizer. Five compartments and one drawer provide ample space for storing all your favorite makeup products, including brushes, lotions, and hair accessories. The heavy-duty white plastic is durable and easy to clean and offers a versatile option for storing items beyond your makeup, including office supplies or jewelry. The compact design makes it perfect for bathroom counters and medicine cabinets.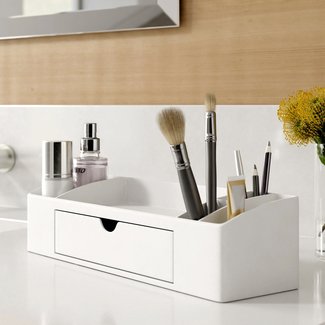 4 Piece Cosmetic Organizer Set
Whether you are getting ready for work or a night on the town, this durable clear plastic cosmetic organizer helps you to see the contents inside without needing to open every drawer. The modular design uses 4 separate pieces stacked on top of each other, which includes 16 pockets for nail polish, lipstick, or makeup brushes, and 11 drawers of various sizes making up the base. Each drawer comes with a mesh pad that is removable and washable to protect stored items from scratches and spills.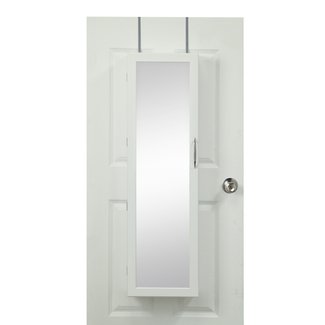 Alson Makeup Organizer Beauty Armoire with Led Lights and Stowaway Mirror
Make the most of your vertical space with this unique and practical mounted makeup organizer. A trendy white or heathered gray trimmed mirror hides the ample storage area. It can be anchored to a wall or mounted to any door in rooms with limited floor or counter space. Seven compartments for storage can hold up to 200 items hidden inside this stowaway mirror. There is an extra ledge under a small mirror that is surrounded by LED lights to provide extra lighting when applying makeup.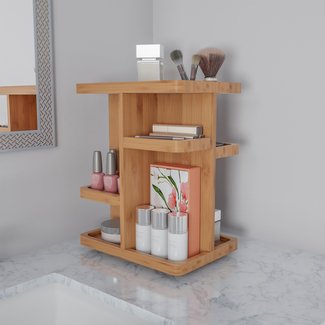 Rotating Rectangular Tabletop Makeup Organizer
Perfect for your home bathroom or for use in beauty salons or hairdressers, this rectangular wooden organizer spins 360 degrees for quick and easy access to all your cosmetic items. Crafted from manufactured wood in a natural finish, this freestanding organizer features 7 shelves and 3 slots conveniently hold a variety of cosmetics and accessories. This functional organizer spins smoothly and can easily be placed on a nightstand to hold lip balm, hand lotion, and other necessities close to your bedside.

Casey Cosmetic Organizer
Put an end to cluttered bathroom counters with this sturdy cosmetic organizer. It is made of 3 pieces stacked on top of each other, which can be configured vertically or placed side by side, making it a customizable option for any space. With 9 compartments and 5 drawers, this item can hold all your cosmetics and accessories. This non-toxic clear acrylic glass features black felt shelf liners. It is water-resistant, which makes for easy cleaning after a spill.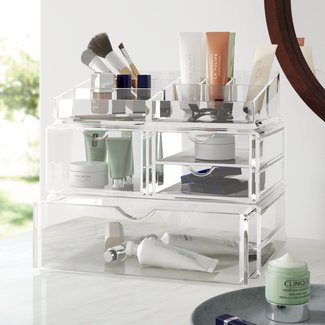 Cathy Cosmetic Organizer
Keep your collection neat and tidy with this compact storage solution. Four drawers and 5 compartments on top provide enough space for jewelry or cosmetics in this clear and durable plastic organizer. The large drawers pull out smoothly so you can retrieve products with ease. This one-piece organizer is 11.75" x 13.5" x 8.75" making it a great option to place under a bathroom sink to free up counter space, or to place on a vanity.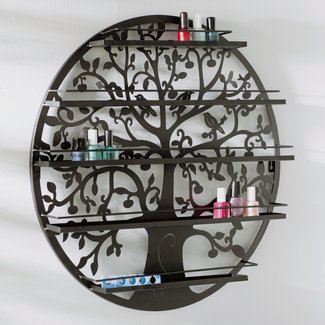 5 Tier Wall Mount Tree Nail Polish Cosmetic Organizer
Free up floor and counter space with this wall-mounted organizer ideal for displaying your nail polish or essential oils collection. The unique metal shelf features a charming silhouette of a large tree and birds and 5 shelves of varying lengths. Each shelf has 4.5" between it and the next, leaving plenty of space to identify bottles easily. This wall hanging organizer comes in a black or bronze finish to match any décor.