Our Choice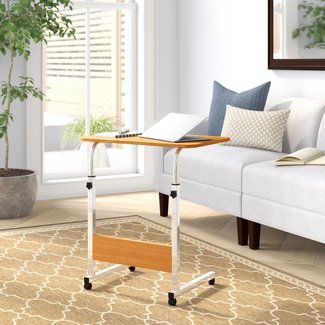 Kuntz Adjustable Laptop Cart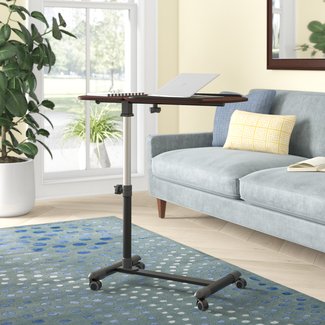 Calla Laptop Stand
Whether you are in need of a simple yet sophisticated laptop cart or a spacious tray to enjoy your dinner while watching TV, this product is a solid solution for your daily needs. The classic MDF tabletop with textured dark brown PVC veneer will allow it to blend in with your current decor, and the 4 casters ease the repositioning process. Let your productivity explode without limiting yourself to any particular room with this ergonomic wheel-powered desk.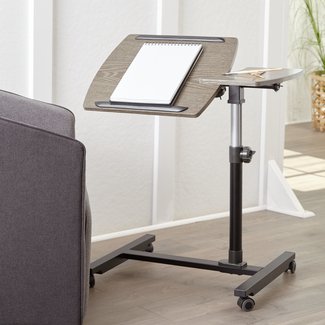 Macklin Ergonomic Adjustable Laptop Cart
Clear away your work stress with this pristine white, calm-inducing design. The white colour is proven to create a feeling of freshness and cleanliness which can, in turn, prepare a clean mental canvas for your creativity to happen. The classic absence of colour will look good virtually anywhere, especially in poorly-lit rooms that need some bright accents. The tilting tabletop further enhances it visually and it also helps avoid straining your back.
Adjustable Laptop Cart
If you're looking for a more high-end portable stand solution, this product offers more comprehensive set-up flexibility. The main desk panel can be switched from flat to tilted to allow more comfortable keyboard typing. Your laptop will not slide off The sturdy metal construction assures the positioning will stay intact as you work. It can easily accommodate 17" laptop. The hight is fully adjustable as well, and the cross design of the base prevents it from flipping over.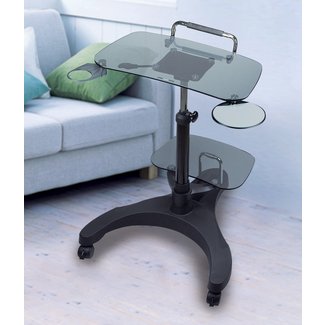 Adjustable Laptop/Computer Cart or Stand
This mobile workstation has a contemporary appearance featuring curved lines and dark glass elements. It will be ideal for anybody who needs more objects at their work station. It's designed with a retractable mouse platform and a cup holder to help prevent unwanted spills. The accessory shelf is great for printers, fax machines or storage. This sleek mobile laptop workstation will look great at home, office, hospitals, clinics, banks, schools and/or libraries.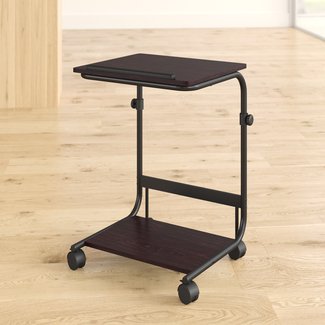 Natalie Adjustable Laptop Cart
If your main concern is durability, invest in this mini-desk created from tubular steel in a semi-gloss black finish, assembled with stainless steel hardware. The walnut-finish wooden tabletop creates an appealing rich look against the black frame. If you avoid cleaning it with harsh chemicals, it will serve you unchanged for many years. The bottom shelf can be used for a printer/fax machine or to elevate your feet to release tension in your back and neck.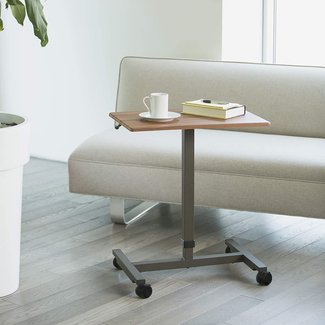 Airlift® Adjustable Laptop Cart
This minimalistic desk is designed with a unique airlift technology that repositions the platform in a matter of seconds. The pneumatic engineering technology allows an effortless adjustment—you can quickly go from the minimum height of 29.3 inches to a maximum height of 43.5 inches. This feature makes it an ideal pick for any home or doctor office with frequent daily user rotation.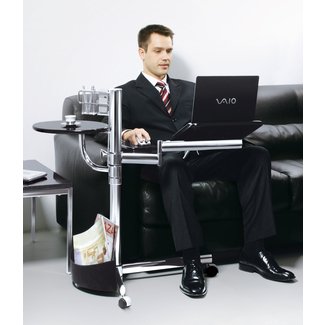 Mobile Adjustable Laptop Cart
This is a fancy mobile desk for all the multi-tasking and fast-paced business people whose creativity blossoms surrounded by innovation. It features multiple shelf units to keep all your work necessities organised. It will complement a luxurious and stylish home or office. The chrome steel finish of the frame combined with the glossy black tabletops will look great paired with leather furniture and minimalistic contemporary decor.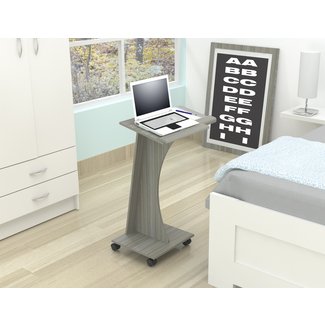 Inval Rolling Laptop Cart
If you're looking for a visually original choice, look no further. Its non-standard shape will create an accent in your living room, office or bedroom. The unusual cool smoke oak finish will look best against white, grey, beige and sand shades, but its natural hue will also blend in with stronger more saturated colours. Perfect for a graphic designer who appreciates unique style and composition.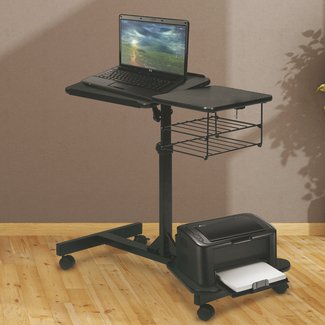 Balt Lapmaster AV Cart
This exclusive multi-function mobile desk is for anybody who likes to be organised and in control of their surroundings. It accommodates right- or left-handed users with the 80-degrees rotation working surface. The tiltable tabletop enables angle personalisation, while the extra wide platform, 2 inch casters, and spacious bottom shelf offer extra storage for your office supplies, beverages, documents, or even a picture of your beloved ones.