Our Choice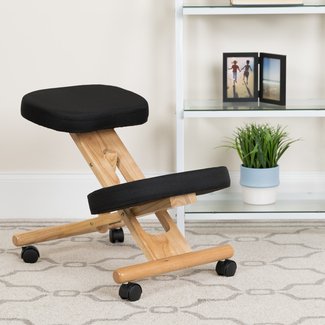 Wolfson Height Adjustable Kneeling Chair
Reduce the strain in your lower back with this gorgeous wood and fabric kneeling chair. Available in black, gray, or navy upholstery, the wooden frame is lightly stained to fit a bright and airy modern home office.
The seat height is adjustable from 24" to 20", and the chair base features dual caster wheels so you can move it around the room with ease.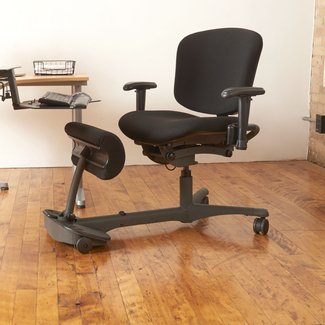 Tseng Mid-Back Kneeling Chair
If you spend long hours at the office, this chair is the perfect choice for you to protect your spine from strain. This ultra-comfortable kneeling chair has an endless variety of adjustment settings to give you the best position and posture support.
The adjustment settings range from a normal sitting position to a standing position to alleviate pressure on your back, while armrests prevent fatigue in the arms and shoulders.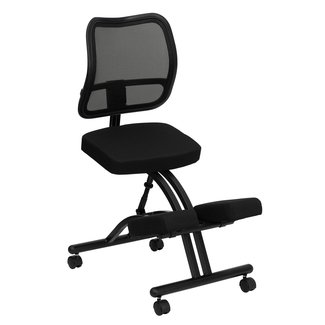 Woolbright Mobile Mid-Back Height Adjustable Kneeling Chair with Dual Wheel
This one-piece knee rest chair has a curved backrest and a cushioned seat for added support.
The sturdy metal frame gives the chair a professional appearance ideal for your office space; the open mesh back is breathable to keep you cool and comfortable throughout your workday. This 28 lb. lightweight chair frame features caster wheels that roll well over any low-level carpet as well as hardwood and tile floors for easy maneuverability.
Height Adjustable Kneeling Chair with Dual Wheel
Combining classic elegance with modern ergonomic design, this kneeling chair is an excellent fit for people of any height. As an office chair, it could help save your back after long office hours. It can also be used in place of a kitchen chair for people who suffer from chronic back pain.
The wooden frame comes in mahogany or espresso stain, and the padded memory foam is covered in black fabric. While the seat does not fold, the compact 17" high design makes it the right choice for small office spaces.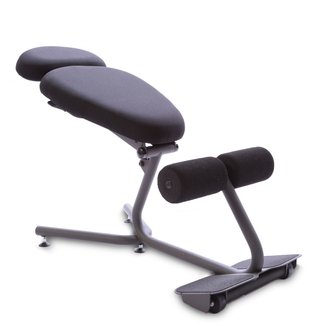 Tryon Kneeling Chair
Sleek and sporty, this is the ideal sit to stand chair for any modern office setting and lets you keep moving throughout the day. The gray foam provides maximum comfort for daily use, while the metal frame helps to provide stability and security.
The chair back has a width of 17," and you can adjust the position of the seat, kneepad, and headrest easily. Tall users can also enjoy the ergonomic benefits of this kneeling stool with the included seat extension.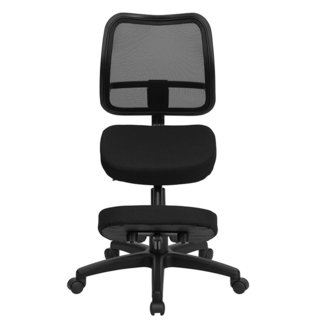 Mid-Back Height Adjustable Kneeling Chair with Dual Wheel
Give the gift of pain relief to an employee with back pain with this stylish and ergonomic kneeling chair. With the appearance of a standard office chair, it also features a one-piece knee rest to change your position and alleviate pressure on your lower back.
The height-adjustable features make it a great choice for people who are taller or shorter than average. A black plastic frame holds the polyester cushions in place, and mesh material covers the back of the chair to provide added air circulation for better comfort.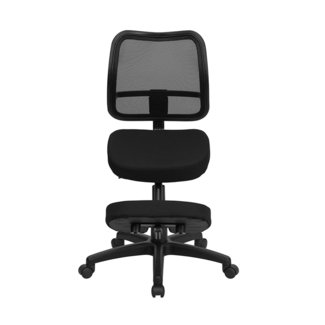 Mid-Back Height Adjustable Kneeling Chair with Dual Wheel
With the perfect blend of style, comfort, and functionality, this kneeling chair is the best choice for your home office. Thick padded cushions cover the back, seat, and knee rest and the chair uses a lever to adjust the height between 28" to 32".
The knee rest can be removed to create a standard desk chair that allows you to use this as conventional seating during a client meeting. Or keep the knee rest installed permanently to ensure your posture is always protected.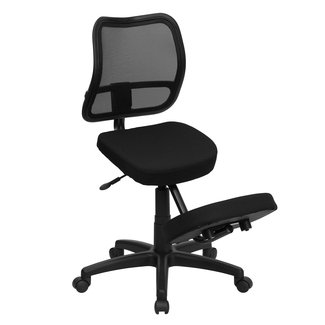 Woolard Mid-Back Height Adjustable Kneeling Chair
Reduce fatigue and back pain with this lightweight kneeling chair. The fully adjustable seating and back allow you to achieve the most comfortable seating position possible to boost your productivity.
The seat height ranges from 20.75" to 25" making it an excellent fit for any desk. The wheels roll smoothly over surfaces, while the swivel feature allows you to work in a corner desk comfortably.
Wasson Height Adjustable Kneeling Chair
Perfectly balancing your weight between your lower body and knees, this kneeling chair is the best solution to promote good spinal health during those long days at work.
Black twill upholstery on foam-padded cushions is soft and breathable, as well as being easy to spot clean. The pedestal style base can support up to 250 lbs., while the tough steel frame ensures that you will get years of ergonomic enjoyment from this chair.
Woodlake Kneeling Chair
A padded saddle-style seat offers a unique solution to lower back pain. This chair is designed to make it easy to stand up from a kneeling position with elongated angled knee rests. The seat is 16" wide and curved to contour to your body for a comfortable fit.
This chair will help to correct a slouched posture and take the strain off your back. The metal frame gives added durability to this chair, while the modern design and organic lines make this both a functional and stylish addition to your home office.