Our Choice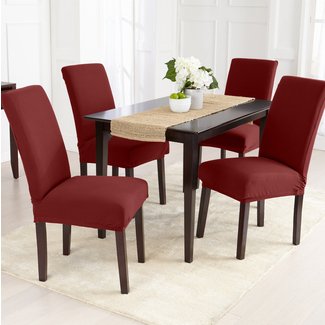 Jersey Knit Solid Dining Chair Slipcover (Set of 4)
This set of 4 chair slipcovers will protect your seating furniture from food and drink spills during dining retreats. The polyester/spandex blend is durable and tear-resistant, making the covers a perfect choice for a house busy with kids and/or pets. They are crafted with tight elastic bands that provide a snug fit and prevent slipping. You can carelessly indulge in your feast without worrying about damaging your chairs.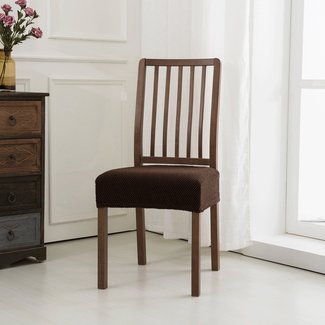 Jacquard Spandex Stretch Box Cushion Dining Chair Seat Slipcover (Set of 2)
These chair covers are extremely fade-resistant, which allows them to be washed repeatedly without a loss of pigmentation. They feature a classic subtle pattern that will add a spike of interest to your dining area. They will complement a simple and conservative room decor, and their basic colours will look great against a bright accent wall or a floral table decoration.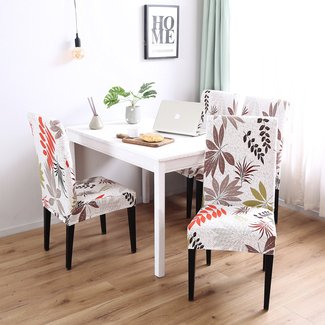 Elegant Box Cushion Dining Chair Slipcover (Set of 4)
If you're looking to energise your decor with engaging floral patterns, these chair covers are an ideal pick. They will instantly create an organic vibe in your kitchen or dining room. The delicate, yet distinctive designs amaze with airy colour palettes that will create a pop of excitement in your home. They are made out of a stretchy fabric which makes them suitable for most parson and leather chairs.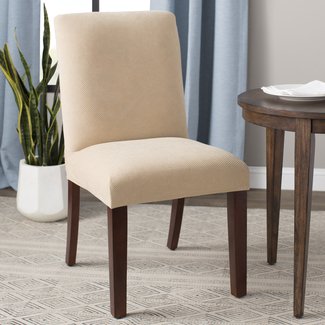 Stretch Pique Box Cushion Dining Chair Slipcover
If you're hunting for a soft and comfortable slipcover that has a superb chenille quality, you should consider this one. The waffle-texture not only feels good to touch but it's also visually interesting. It's crafted from a special memory stretch fabric to ensure a close-fitting upholstery effect. The all-around elastic bands prevent slipping which invites nonchalant daily dining activities.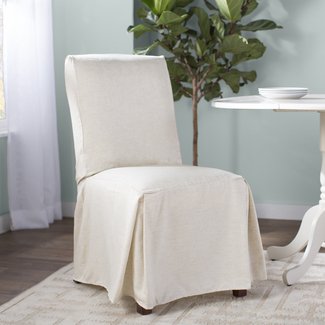 Box Cushion Dining Chair Slipcover
This slipcover is a unique combination of class and comfort. The soft and cosy woven fabric promotes dining-time relaxation, while the draping design with an adorning bow raises the standard of your room appearance. The essential chocolate brown, black, cream, and olive solid fabrics can blend in with all shades of wood tables and floors. They will look great in traditionally designed spacious dining areas.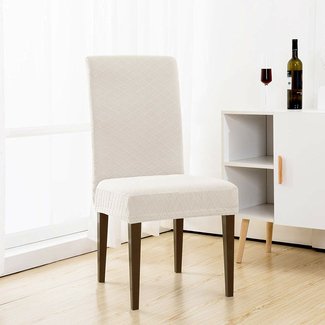 Jacquard Box Cushion Dining Chair Slipcover
Consider protecting your chair cushions with these high-quality chair slipcovers. They are made from a blend of cotton, polyester, and spandex which makes them ultra-strong and stretchy. The flexible fabric and universal size allow them to easily fit over 90% of chairs. Forget the daily anxiety that comes with feeding your kids, or refresh the look of your already damaged cushions with these highly resistant to stains, tear and wear slipcovers.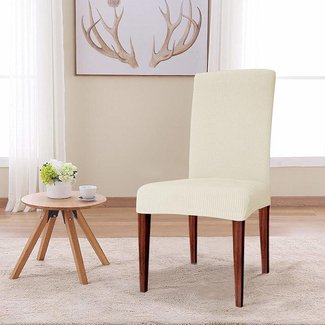 Knitting Jacquard Box Cushion Dining Chair Slipcover (Set of 4)
If you're looking for a superb shield to your dining chairs, this classic set of 4 slipcovers is an affordable choice. With 15% of spandex, the covers are extremely form-fitting, producing a professional finish, while also preventing slipping. The fabric is heavy-duty and fade-resistant so you don't have to worry about losing quality or colour during repetitive washes or exposure to the sun in a highly-lit dining room.
Box Cushion Dining Chair Slipcover
Elevate your dining area with these elegantly designed covers. They are an excellent choice for updating your chair look for a special occasion. The shiny sateen stripe motif and the decorative bow on the backrest will enrich your decor aesthetic instantly. They're designed to fully cover the chair with wide apron flaps extending to the floor. Enjoy your family party or a formal gathering in a high-class look, and in case of an accidental spilling, just pop them into a washing machine.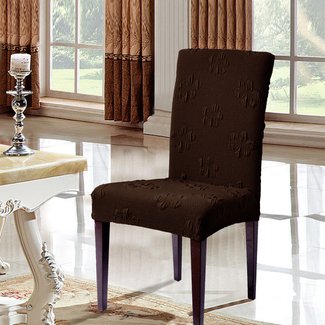 Box Cushion Dining Chair Slipcover (Set of 2)
If you're an enthusiast of organic products, this slipcover shall impress you with a high 85% cotton content. It's produced utilising an environmentally-friendly anti-mite process. To accentuate its natural attribute, it features a floral embossed pattern which stuns with unexpected texture and dimension. The deep brown and burgundy hues make it suitable for kitchen, bedroom, living room, office, hotel, wedding banquet, or any ceremony.
Box Cushion Dining Chair Slipcover
Refresh the look of your old or worn chair with this captivating flower-embellished cover crafted from a soft blend of polyester and cotton. The French Country style will create a sophisticated look and feel during special dining retreats, and it can also fit in a classy-looking home as a year-round decoration. The high-quality craftsmanship will impress your guests and ensure years of use. Pop that wine open without worrying about ruining your chair protected by this machine-washable stylish slipcover.