Our Choice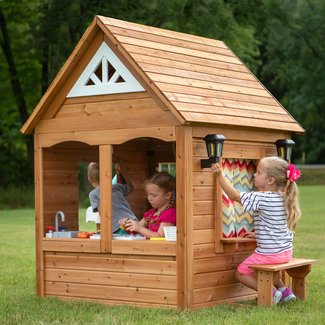 Aspen 7' x 4' Playhouse
Provide your kids with hours of outdoor fun with this brilliantly designed 100% cedar wood cabin/cottage playhouse. It includes a real cedar fence, bench, functioning dutch door with knob and latch, mailbox, 7 windows including a snack window, and pretend outdoor lamps. The kitchen inside is highly developed—it features a sink, stove, sliceable fruit, vegetable basket, dinner bell, and a toy knife and cutting board.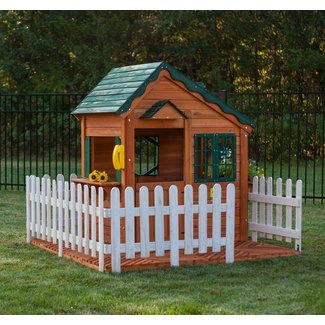 Mayfield Cottage 6' x 7' Playhouse (Wayfair Exclusive)
This spacious outdoor playhouse is ideal for multiple-sibling families—it can easily fit 4 kids. The solid wood construction assembled with heavy-duty hardware is sturdy and weather-resistant assuring years of creative outdoor fun. There is no foundation required as the house comes with a built-in floor which extends into a roomy porch. The all-around picket fence, telephone, and flower box create an ultimate home experience.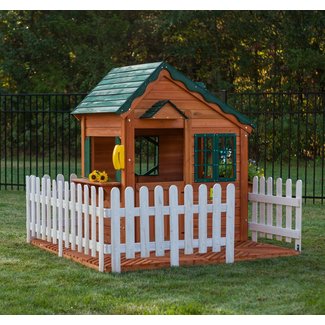 All Around Playtime Patio 4' x 4' Playhouse
End your kids' boredom or pull them away from electronics with this unique pavilion design play station with canopy. Whether your child likes to grill and serve food or play with sand and water, this product has you covered. Besides encouraging the development of cognitive and social skills for your kid, this playhouse will perfectly blend in with your backyard decor since it features muted colours of stone, green, brown and blue.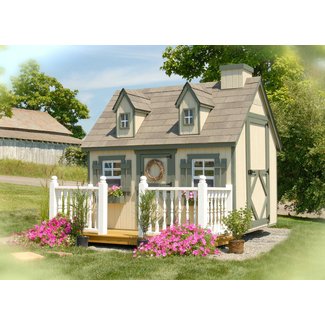 Cape Cod Playhouse
This is a dream-come-true playhouse that's suitable for kids up to 12 years old. It's designed with 2 functioning doors, 2 windows with safety glass and screen, 5 dormers, and a flower box. Its best feature is the optional loft perfect for a cozy hideaway and creating the most precious childhood memories. The unfinished house is an ideal pick for crafty parents/older siblings—you can paint the exterior and interior with a colour of your choice.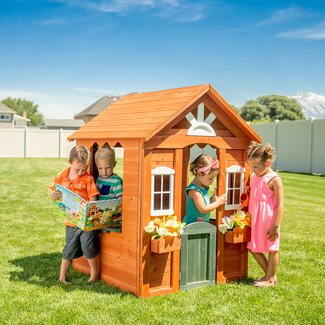 Bellevue 4' x 3' Playhouse
Engage your little ones in role-playing experiences with this solid wood outdoor/indoor playhouse. The working door and large window openings allow plenty of natural sunlight and airflow, while the 100% cedar wood provides natural resistance to rot and insects ensuring your child's comfort. It's ASTM-certified and compliant with the highest standards to ensure your child's safety as well. The 1-year warranty covers all parts including wood, hardware, and accessories.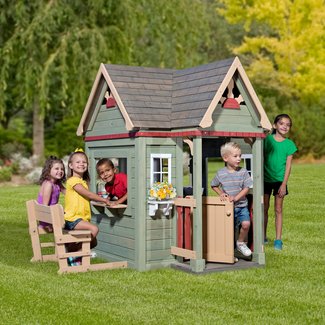 Victorian Inn 74" x 65" Playhouse
This amazing Victorian-style wooden playhouse offers hours of engagement for your kids and their friends. Its genuine look will blend in nicely in a natural setting and will also teach your kids to recognise beauty in traditional design. It's designed with a tight knot structure, therefore the lumber will be less likely to develop small cracks emanating from knots. The durable cedar wood is proven to be highly resistant to natural decay, ensuring immaculate condition throughout the years.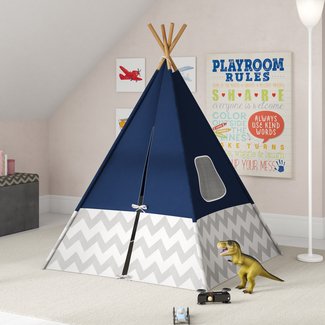 Pop-Up Play Teepee
Create a hideaway spot for your kids with this pop-up teepee featuring bamboo sticks and soft cotton canvas with a contemporary chevron design. The bold orange or navy top paired with the grey/white pattern on the bottom will accent your child's playroom in a chic style. It's extremely easy to maintain and store—spot clean it with a damp cloth and mild detergent, and fold it up to put it away.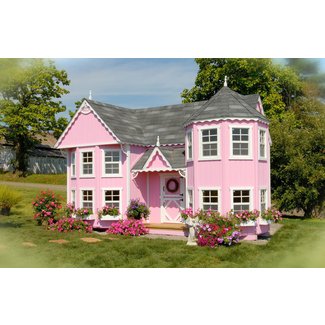 Sara's Victorian Mansion DIY Kit Playhouse
This exclusive mansion is a perfect gift for your little princess. The castle comes with a loft, large rooms and porch ideal for tea parties, nurturing baby dolls, or hosting a holiday get-together. The 17 working glass windows create a fancy look and provide lots of light and air circulation. The high-quality manufactured wood is weather and mildew resistant so you can be sure it will withstand the test of time, that's why it's backed with a 50-years anti-rot warranty.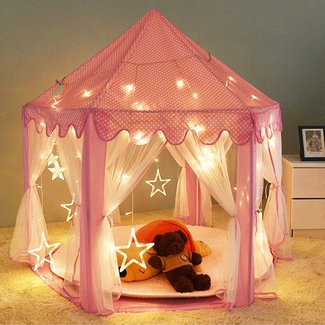 Kids Portable Princess Castle LED Play Tent with Carrying Bag
Create a sense of enchantment and magic with this indoor/outdoor gazebo-style tent. The built-in LED lights produce a charming fairytale atmosphere while the dense net screens keep away mosquitoes and other bugs so up to 3 kids can simultaneously enjoy the uninterrupted evening summer breeze during relaxation, story-telling or playing board games.
Play Teepee
Awaken the wild size in your kid by setting up this cute teepee tent in his or her room. Designed with thick white and grey stripes, it will complement a minimalistic contemporary decor. It will look particularly great surrounded by Scandinavian-style white furniture, vivid colour rugs, and wooden floors. The polyester fabric is easy to maintain and also resistant to tear and wear. It comes with a storage bag for extra protection during storing or moving.