Our Choice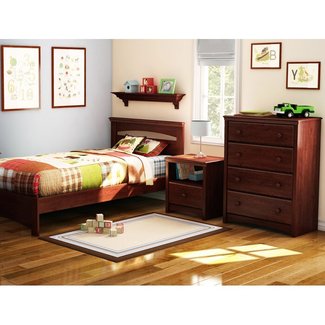 Sweet Morning Twin Panel Configurable Bedroom Set
Stylish and traditional, this 3-piece, royal cherry, configurable bedroom set rounds out a child's room with a twin bed, bedside table, and chest of drawers. The bedside table features one generous shelf and a large drawer, while the chest of drawers boasts four large drawers. Due to the bed's economical, platform construction, a box spring is unnecessary. Clean lines and a sturdy wood construction help this bedroom set grow with your child.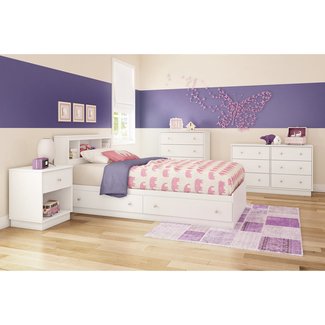 Cremont Twin Platform Configurable Bedroom Set
Multi-functional and practical for even small bedrooms, this modern, Scandinavian-inspired set includes a dresser, a captain's with drawers, and a bedside table. The platform bed eliminates the need for a box spring while also providing additional drawers for storage space. Cubbies at the head of the bed allow your child to keep books and toys organized. With six large drawers, the dresser helps keep your child's room free of clutter. This functional bedroom set is crafted from natural wood with rounded corners for safety and comes in either a white or espresso finish.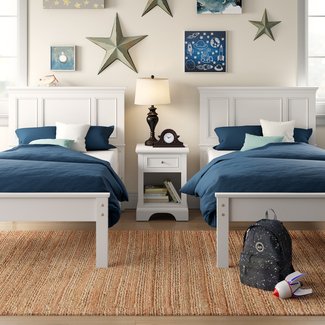 Barnard 3 Piece Bedroom Set
Perfect for siblings who share a room, this traditional, easy-to-assemble bedroom set provides you with two twin beds and one nightstand. Durable wood construction, carved headboard details, and a crisp white finish give this set a classic aesthetic. The small nightstand accommodates a lamp, books, and other bedtime essentials. Ideal for medium-to-large rooms, this bedroom sets helps you make the most of a shared space.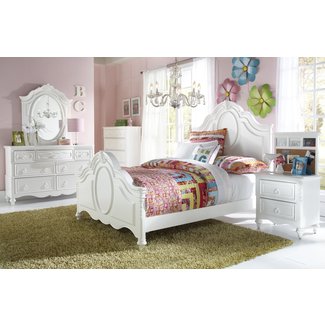 Cricklade Panel Configurable Bedroom Set
Built for a princess, this gorgeous, three-piece bedroom set boasts a bed frame, a large dresser, and a stunning little nightstand. With durable wood construction and clean, crisp white finish, this bedroom set is beautiful in any bedroom, large or small. A large, elegant headboard and footboard match the stylish panel detailing seven-drawer dresser and the nightstand. Two medium-sized drawers help keep the nightstand organized and functional. The bed stand is available in both twin and full sizes.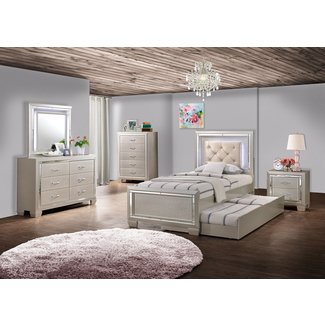 Torrez Panel Configurable Bedroom Set
Modern, elegant, and decidedly chic, this eight-piece, configurable wooden set is best-suited to a medium-to-large bedroom. A bed stand, headboard, footboard, trundle bed, dresser, mirror, chest of drawers, and nightstand complete this magnificent set. Champagne-colored and with mirror glass trim accents amp up the luxurious vibes. The bed comes in both twin-sized and full-sized options and includes a headboard with built-in, LED lights for evening reads. With a platform-style design, no box spring is necessary.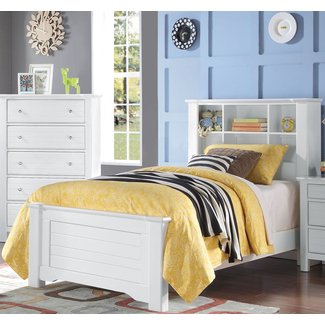 Saylor Bookcase Platform Configurable Bedroom Set
Ideal for your bookworm, this three-piece bedroom set boasts a small bookcase built into the headboard. Paired with a low-profile footboard, this bed is suitable for any room size, large or small, and is available in twin and full sizes. Crafted from solid pine wood and available in either a white or black finish, this classic bedroom set combines modern style with functionality. A six-drawer dresser and a nightstand offer ample storage.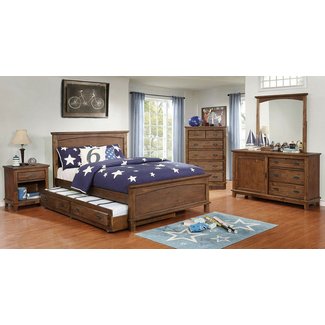 Ervine Platform Configurable Bedroom Set
With strong, traditional lines, sturdy pine construction, and a dark oak finish, this bedroom set is built to last and suitable for any size bedroom. A nightstand, headboard, footboard, bed frame, and trundle bed are all included in this set. Available for both full-sized and twin-sized beds, the platform-style bedframe features a built-in trundle bed. It also means that you don't need a box spring! Two headboard options are also available. Choose between a comfortable, padded headboard and a Shaker-inspired wooden headboard.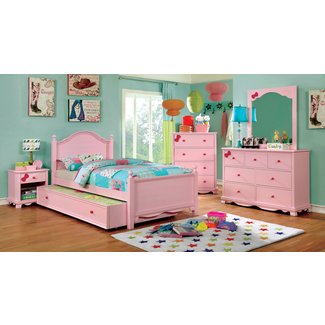 Eiler Panel Configurable Bedroom Set
Available in both doll pink and a crisp white, this bedroom set is destined to be an adorable classic. With a chest of drawers, a nightstand, a headboard, a footboard, a bed frame, and a trundle bed, this set is best-suited for medium-to-large bedrooms. Choose between a full-sized or a twin-sized bed frame. Elegant and charming, this set offers matching add-ons such as a matching dresser and a mirror.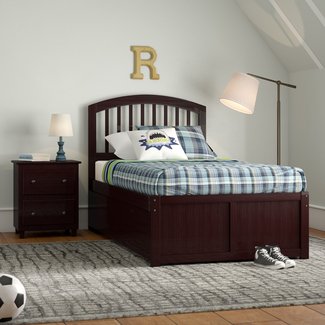 Darrel Panel 3 Pieces Bedroom Set
With simple, Shaker-inspired lines and durable, solid wood construction, this expresso-colored 3-piece bedroom set adds class to your elementary-school-age child or tween's room. The bed frame is available in both full and twin sizes, and a wheeled trundle bed accommodates sleepovers and siblings. Easy to set up and functional; this set includes a nightstand with two drawers to help your child organize books, clothes, toys, or electronic accessories like chargers.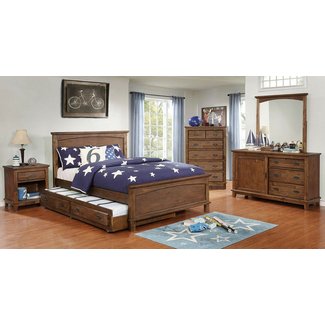 Claudia Twin Configurable Bedroom Set
Classic, all-American style defines this twin bedroom set. A bed frame, nightstand, and dresser with a sliding door are suitable for small, medium, large bedrooms. A trundle can be added to accommodate guests and is easily stowed out of sight when not in use. With a platform-style construction, you won't have to worry about buying a box spring. Choose between a padded headboard and a paneled, wooden headboard.