Our Choice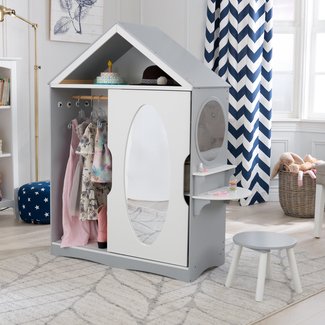 Dress Up Armoire
Looking for the perfect place to store all those superhero costumes for your kids? Well, this doll house-shaped armoire will do just that. Coming with an open shelving design and a large cabinet, the unit offers enough storage for all your kids' stuff. You also get one large mirror and one extra stool where your kid can sit while getting ready. Additional hanging hooks on the sides are included for hats, scarfs, and other clothing accessories.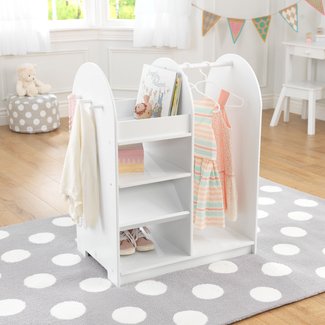 Fashion Pretend Play Armorie
Featuring an assortment of open shelves, drawers, and cabinetry, this practical unit is designed to deliver plenty of storage while taking very little floor space. Its plain neutral finish is accentuated with beautiful metal knobs and an incredibly vintage old iron finish for the best look. The unit is also constructed using durable materials, all of which are non-toxic. It's also made in the US and would be the best fit for people looking for a mix of functionality and stylish appeal.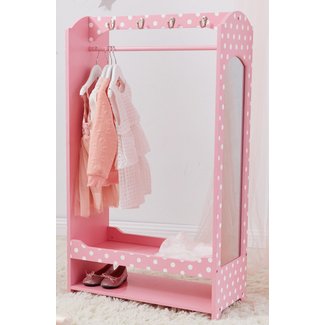 Fashion Polka Dot Prints Bella Toy Dress Up Unit Armoire
This unit is the ultimate design for kids. First, it comes with bright and vibrant color patterns and a large open design for ample storage. The unit has a hanging rack in the middle for clothes and an open cabinet at the bottom for shoes, toys, and other stuff. There is one large mirror on the sides for dressing up including seven additional hooks for coats and other accessories. The unit is made from sturdy wood with excellent durability.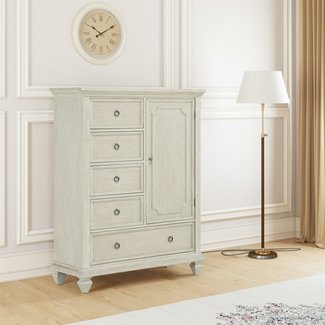 Crabtree Armoire
This unit features a warm rustic appeal with a touch of modern finishing and styling. Perfectly suited for your new nursery, it comes with a combination of drawers and closed cabinets. Its plain natural white finishing is accentuated with metal knobs and intricate patterns to add more magic to the finish. The beautiful tempered wooden feet are also a great plus. It's a sturdy design made from high-quality solid wood for long-lasting service.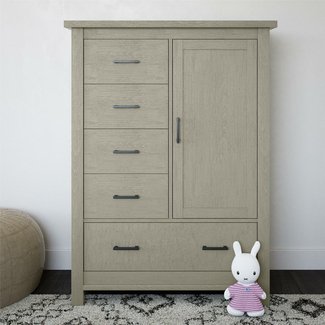 Canyon Armoire
This beautiful storage unit is designed to offer a warm and playful appeal. Its farmhouse inspired styling and a rustic touch makes it the perfect choice for people looking for the right mix of elegance and function. The storage features four smaller drawers, a large closed-door cabinet, and a large drawer at the bottom to take care of all your kids' storage needs. The unit is constructed from a mix of engineered and solid wood for extra strength and durability.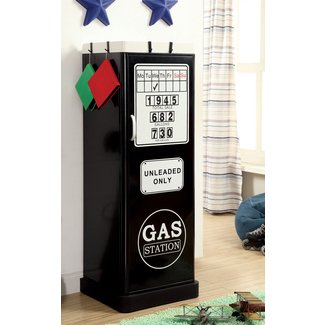 Trevion Armoire
This creatively designed storage unit is both functional and fun. First of all, it is designed to look like a gas filling station. The gasoline pump design is touched up with a plain black finish, featuring additional colorful decorations and decals. It's relatively tall too so there should be plenty of storage in there for your kid. The unit has hidden shelving inside and a few extra hangers for better organization.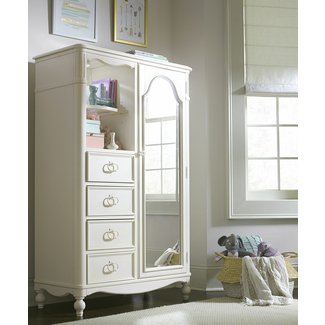 Harmony Mirrored Door Armoire
This storage unit is relatively large compared to many others out there. It's also a bit tall. The armoire features four smaller drawers and a large cabinet that runs from the bottom to the top. The cabinet door is fitted with a large dressing mirror too. On top of the four drawers, there are several open shelves for storage and supply. The unit is made from wood and comes with an incredible European traditional styling that will transform any children's room.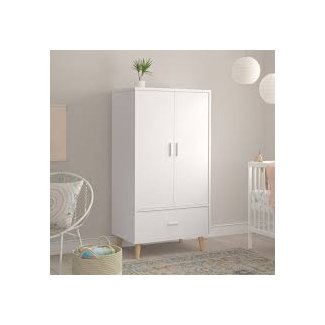 Wallingford Armoire
For those of you looking for that minimalist design, this is the product for you. The unit features two large doors that enclose spacious storage areas inside. The doors are finished with modern white shades and gold-finished hardware for the right accent. This breathtaking midcentury-inspired unit also features four dowel legs and extra-large drawers at the bottom for more storage. You can place a small plant pot or a décor accessory on top of this unit for an even better look.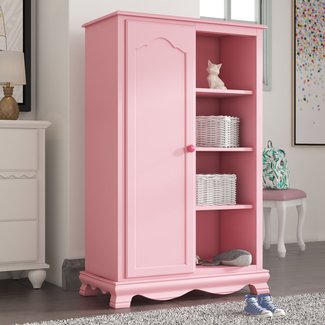 Eiler Contemporary Youth Armoire
This colorful armoire comes with a beautiful two-tone design that is perfectly suited for the color and vibrancy usually found in children's rooms. It comes with one large closed cabinet on one side and an open shelving design on the other. Its curvy finishing, coupled with its beautiful pink exterior, will liven up any space. The base is also elegant and features a wavy finishing. The unit is made from highly durable solid wood.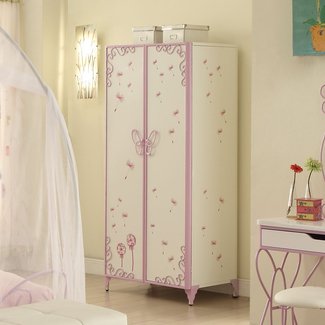 Saundra Armoire
This beautiful armoire comes with a unique traditional styling that will create a wonderland in your kids' room. Featuring a plain white finish, the unit is accentuated with a purple metal powder coating for the best look. It also has a sturdy metal design and additional metal legs for that extra durability and longevity. The armoire is relatively tall in height, giving you additional vertical storage for all your children's stuff. It's the perfect choice for a girl's room.