Our Choice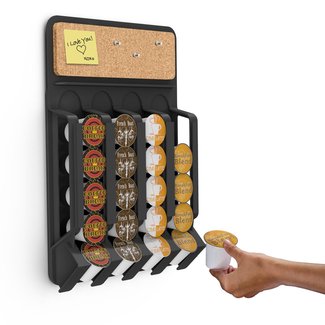 Mind Reader Fridge/Wall Mount Coffee Pod Dispenser
Keep your favorite instant coffee flavors organized with this unit that offer four rows for storing up to 20 pods.
Above the dispenser sits a corkboard--perfect for leaving reminders and notes. This coffee pod dispenser can be mounted to either a wall or a refrigerator and helps you save counter space in tight areas. The open design dispenser allows for easy identification.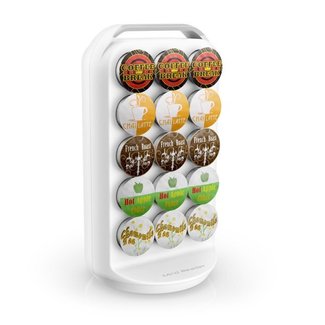 Mind Reader 30-Pod K-Cup Carousel
This coffee pod dispenser turns your coffee pod collection into a fun countertop carousel display. It's ideal for helping organize small kitchens, making it a perfect gift for busy students and new parents who need easy access to their morning caffeine fix.
Available in a white finish and made with durable, high-quality plastic that lasts long and is easy to clean. The patent-pending locking system keeps the K-cups securely positioned at 90° so you can easily choose your favorite label.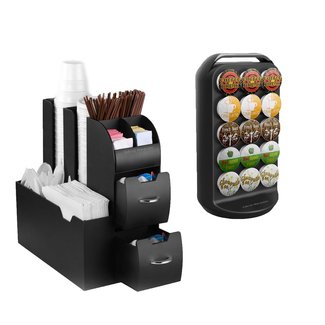 Mind Reader 30 K-Cup Carousel and Coffee Condiment Caddy Organizer
Take control of your morning routine with this functional and stylish set. Perfect for small office kitchens, dorm rooms, and coffee bars.
The coffee condiment organizing features space for napkins, disposable coffee cups, sugar, straws, and cutlery. Meanwhile, the carousel-style coffee pod dispenser allows you to display all the coffee varieties on offer.
The high-density plastic construction is durable and easy to clean while the black finish matches almost any kitchen color scheme.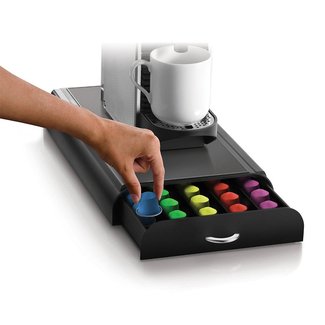 Mind Reader 50 Pod Drawer for Nespresso Capsules
Influenced by the clever simplicity of Scandinavian design, this coffee pod drawer fits easily beneath your coffee maker, providing storage for up to 50 individual pods.
A slim silver handle and clean sliding action make this Nespresso capsule drawer a must-have for any coffee lover's kitchen. The specialized heat-resistant top panel ensures that the structure remains sturdy, and the pods underneath are protected.
This drawer is specifically designed from Nespresso coffee capsules but can also accommodate Vertuo Nespresso capsules.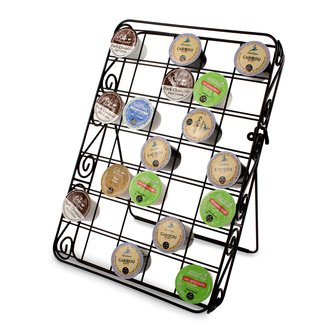 35-Pod Jessica Fleur De Lis Living Caddy
With an easel-style display and a sturdy steel design fashioned to look like wrought iron, this coffee pod caddy creates an artistic, French-inspired ambiance in your kitchen. It can hold up to 35 coffee pods.
Made for areas with at least 14" or more vertical clearance, it can also be safely mounted to a wall without the coffee pods falling out. Alternatively, fold the easel and place it in a drawer to store your pods horizontally.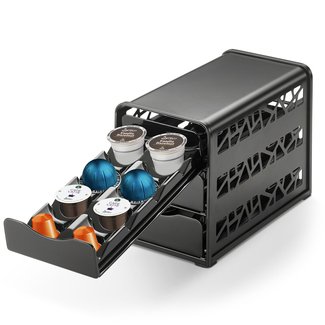 24-Pod Java Concepts Steel 3-Tier Universal Drawer for Keurig, Verismo and Nespresso
This convenient coffee pod storage unit can accommodate up to 24 pods and features three smooth-gliding drawers. The drawers pull out easily at a downward angle, making it simple to see your pod options for the morning.
Perfect for both inside cabinets and on countertops, the padded base prevents scratches and damage. This coffee pod storage unit acts as a great space-saver and is compatible with Verismo, Nespresso, and Keurig pods.
Whitecap Industries 6-Pod Capsule K-Cup Holder
Inspired by the simple, elegant curves of the mid-century modern style, this coffee pod holder is crafted from wood, boasts a teak finish, and holds six coffee pods. It's an excellent option for keeping track of your weekly coffee consumption.
Pair with other natural, mid-century modern, or Scandinavian-inspired home kitchen accents. Easy to clean and compact at just 9.5'' H x 6'' W x 3'' D, it is ideal for small kitchen spaces or studio apartments.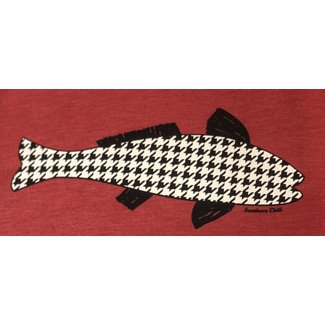 The Cutting Board Company 24-Pod K-Cup Holder
Built to house your K-cups to get you through your morning, this charming coffee pod holder proudly displays your mantra: But first… COFFEE! It is crafted from brown-stained wood for a classic, all-American look and is the perfect way to keep coffee accessible without having clutter on the counter.
Beautiful quality meets functionality with a 24-pod capacity; this coffee pod holder is perfect for couples and families as well as individuals.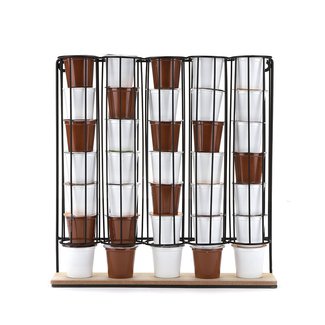 35-Pod Wall Mount Single Serve Coffee Storage
Simultaneously functional and eye-catching, this coffee pod dispenser boasts a clever, metal wire design that feeds coffee pods towards the wooden platform at its base. At dimensions of 12.75" H x 12.5" W x 2.5" D, it's easy to mount on your kitchen wall and is an excellent space-saver.
Lightweight metal construction provides durability without sacrificing practicality or easy installation, and the open design ensures you never run out of your favorite brew.