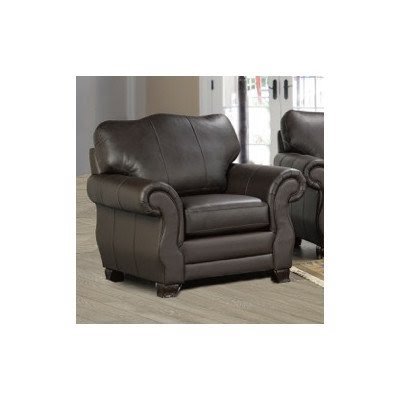 Huntington Italian Leather Arm Chair
Do you want to refresh your apartment? We've got something special, nicely finished and high quality- Italian leather arm chair. Everyone will be delighted of this style.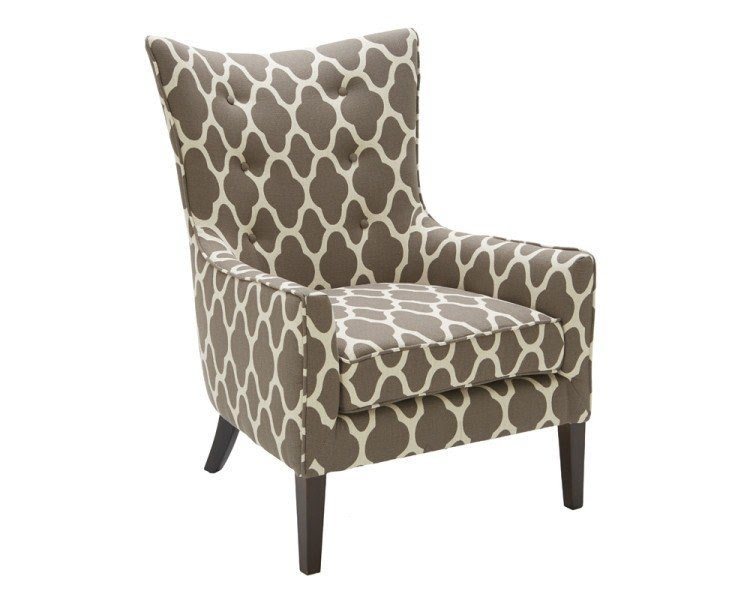 5West Auberge Arm Chair
Aesthetic traditional wooden chair with black angular tapered legs. It features a back with a bit raised top corners and button tufting. It has low full arms and a removable seat. Upholstery is of grey-white fabric with a geometric design.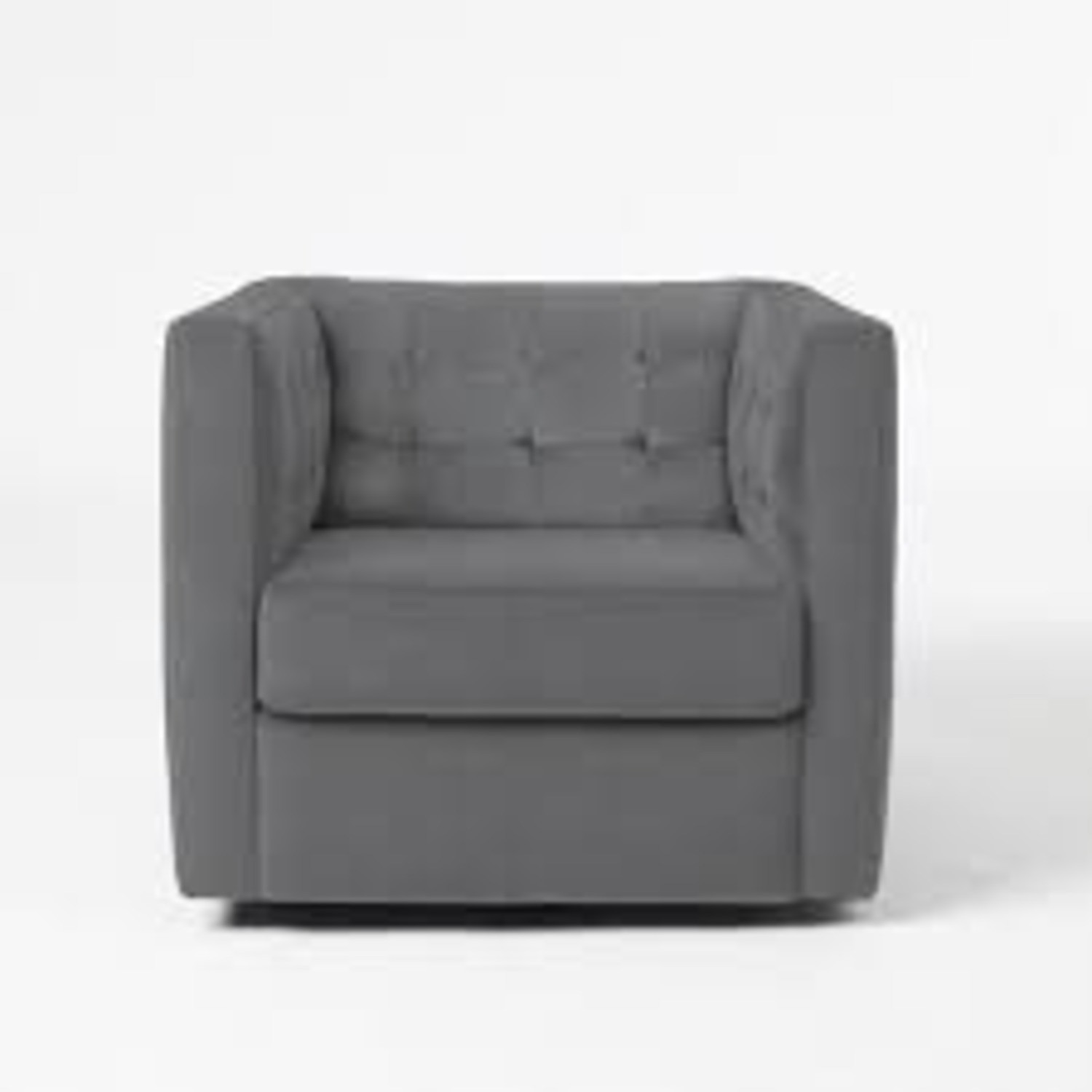 Rochester armchair
This armchair is suitable for living rooms or home libraries. Modern construction of this chair includes wooden frame and swivel seat. It increases comfort thanks to its deep seat cushions and tufted backrest.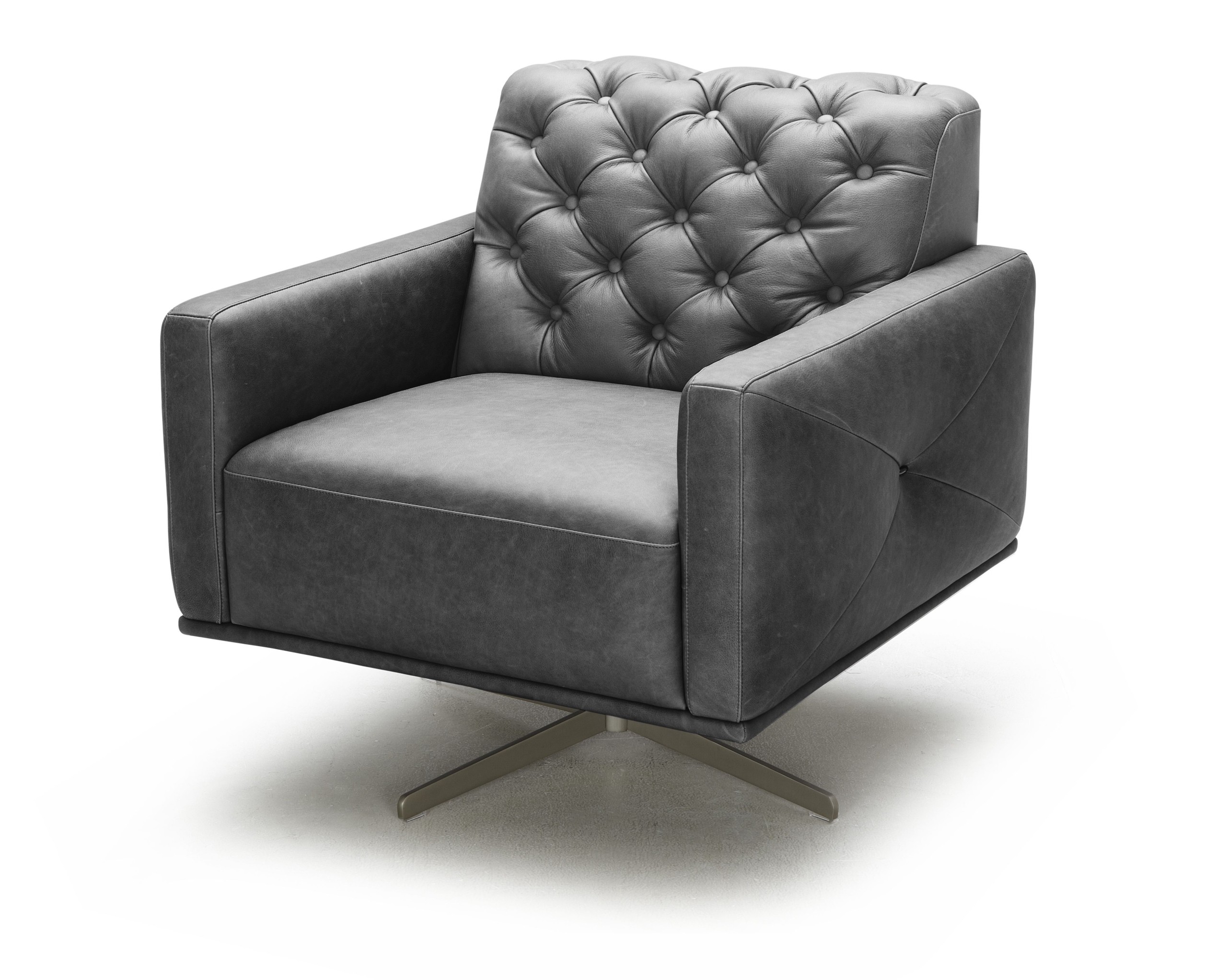 Othello Italian Leather Swivel Chair
This large, swivel, contemporary styled arm chair is a perfect place tor a moment of rest. It has a comfortable filling and is covered with grey leather with tufted finish and decorative buttons. Base is metal in silver.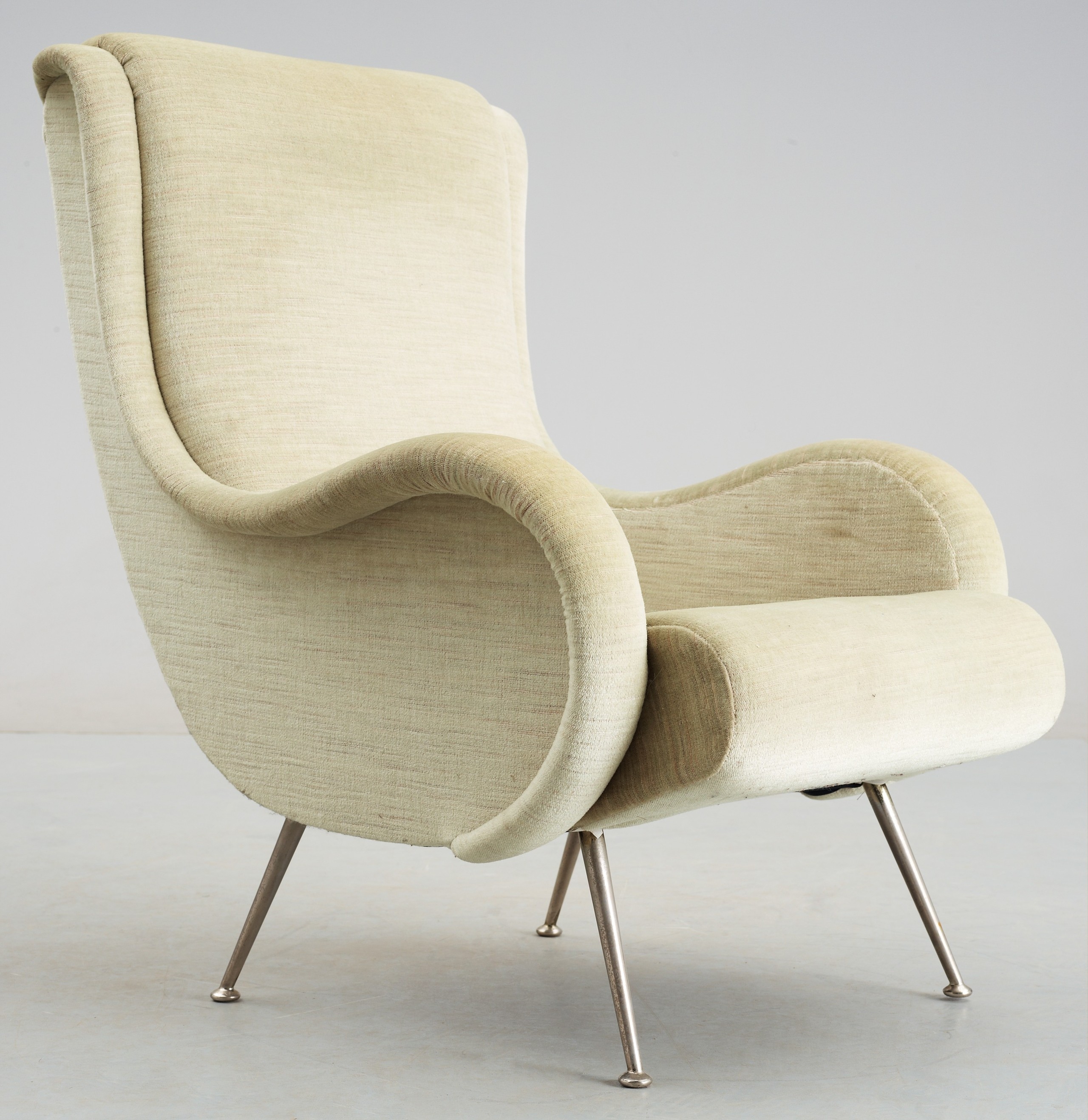 1950s italian armchair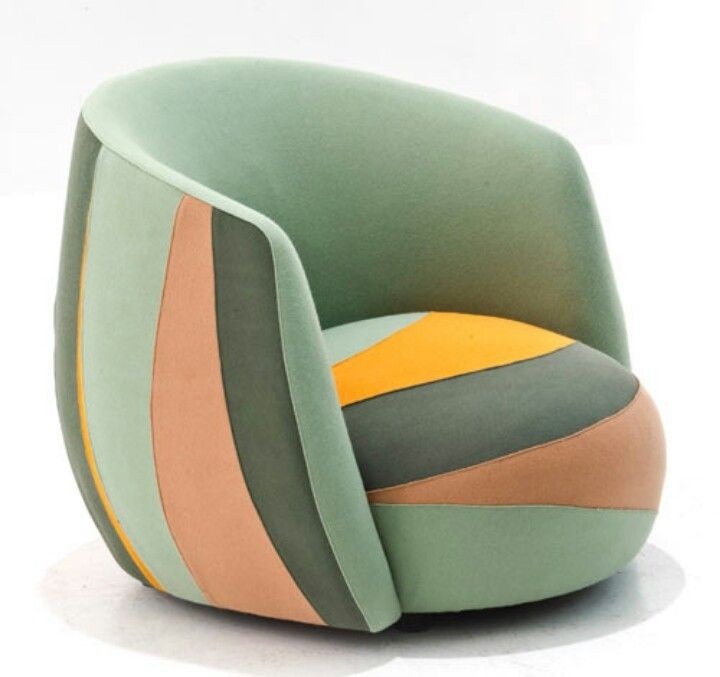 Original arm chair upholstered with nice touch fabric and decorated with striped pattern. Carefully profiled back provides support for the spine. Ideal as additional seating in all kinds of interiors as needed.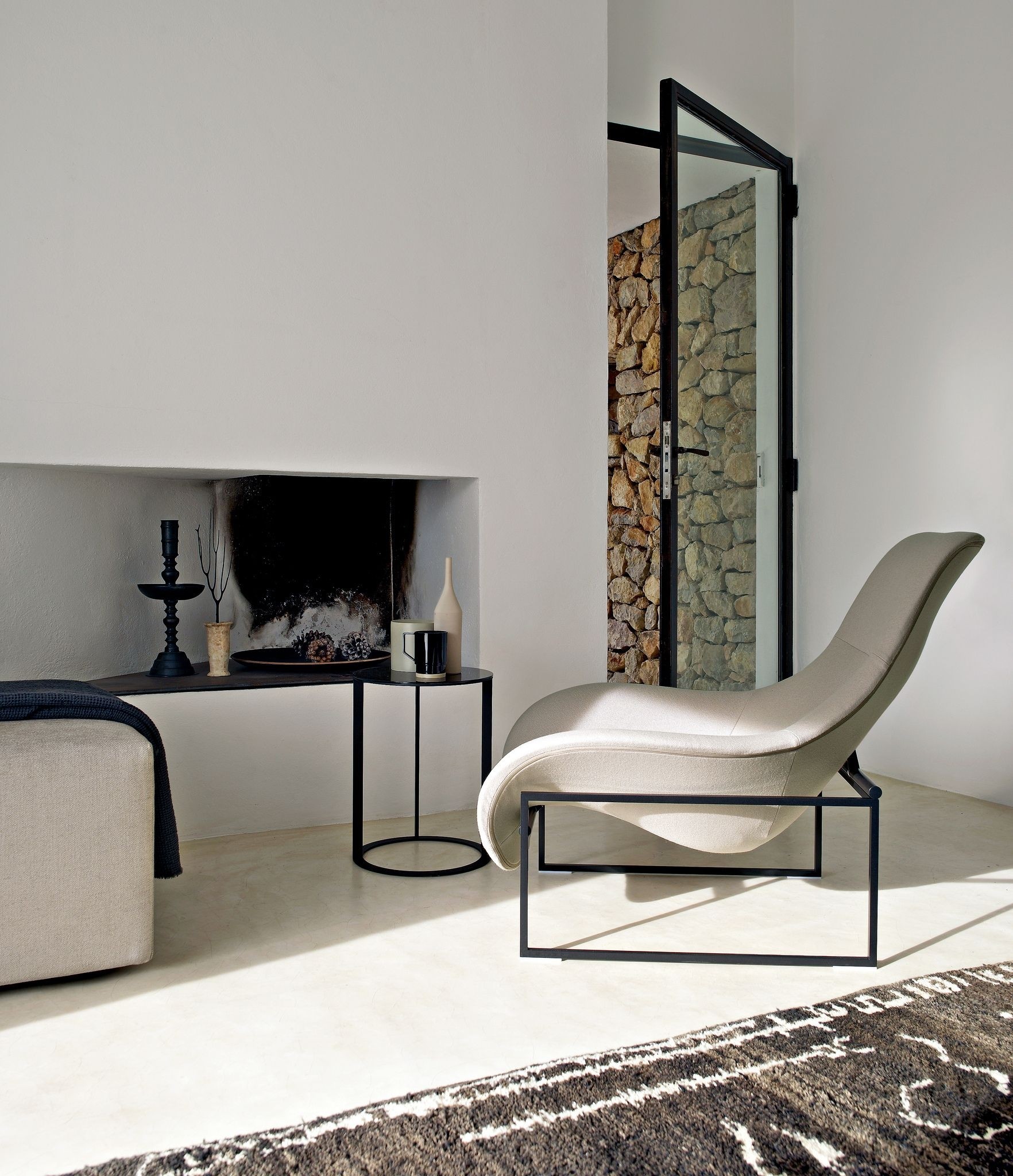 The beautiful Italian design of this impressive chair makes the interior a style and a unique soul. The whole, based on a modern form of the base, has a comfortable seat with leather upholstery.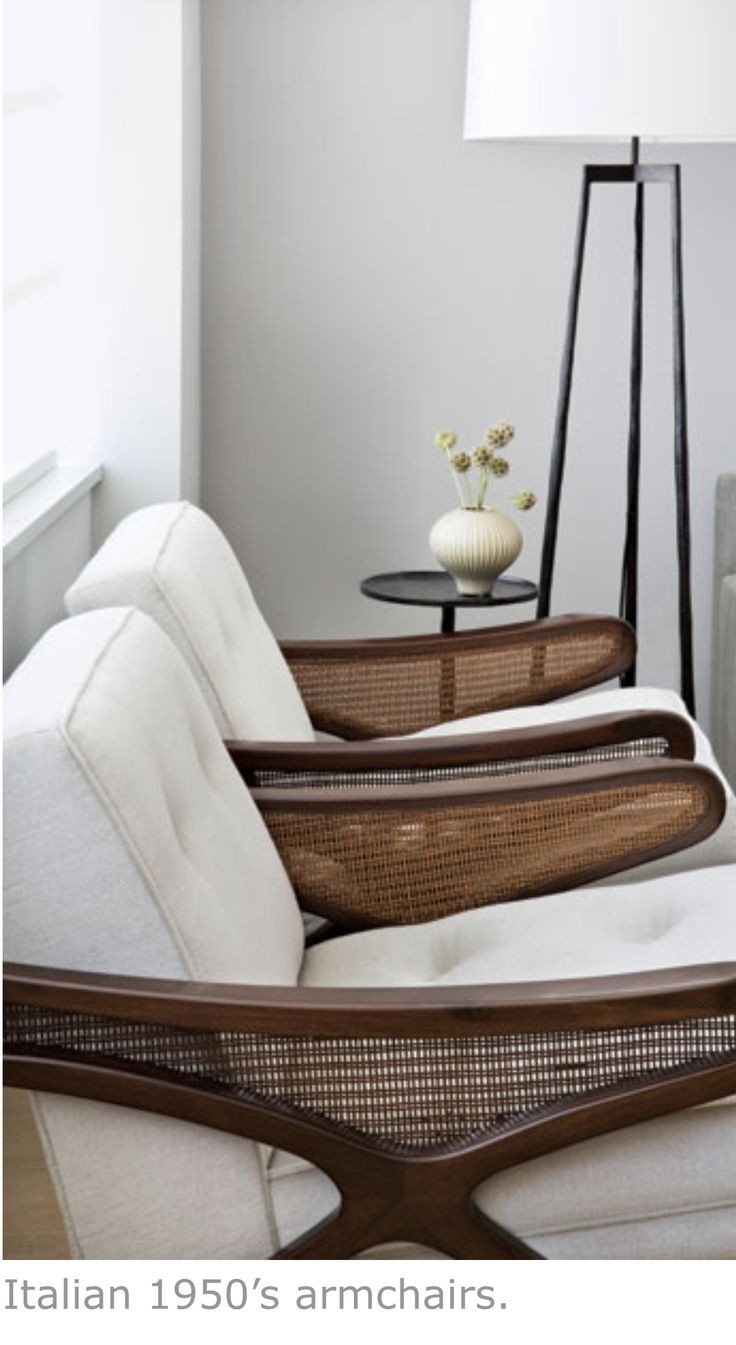 Pretty retro armchairs with wooden frames finished in mid-brown. They feature 2 X-shaped legs and meshy side panels of arms. Thick-padded seats and backrests are covered in durable off-white fabric with edging and modest button tufting.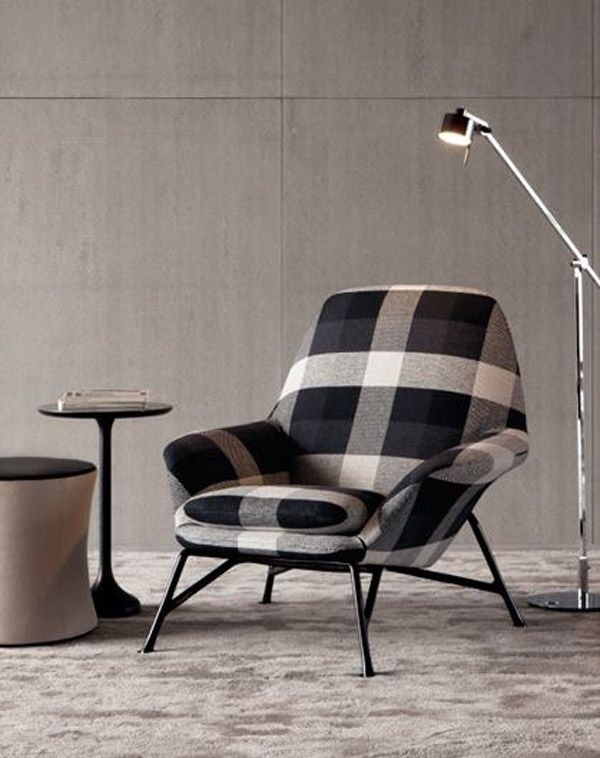 Italian style in a living room. This armchair offers a very comfortable seat cushion supported by arms and backrest. Its durable frame is finished in neutral black color. The whole sitting surface features a pattern with neutral colors.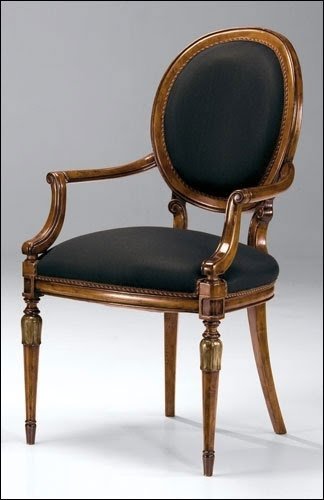 Louis XVI style carved beechwood armchair with hand-rubbed walnut finish, antiqued silverleaf accents and black muslin upholstery, Made in I...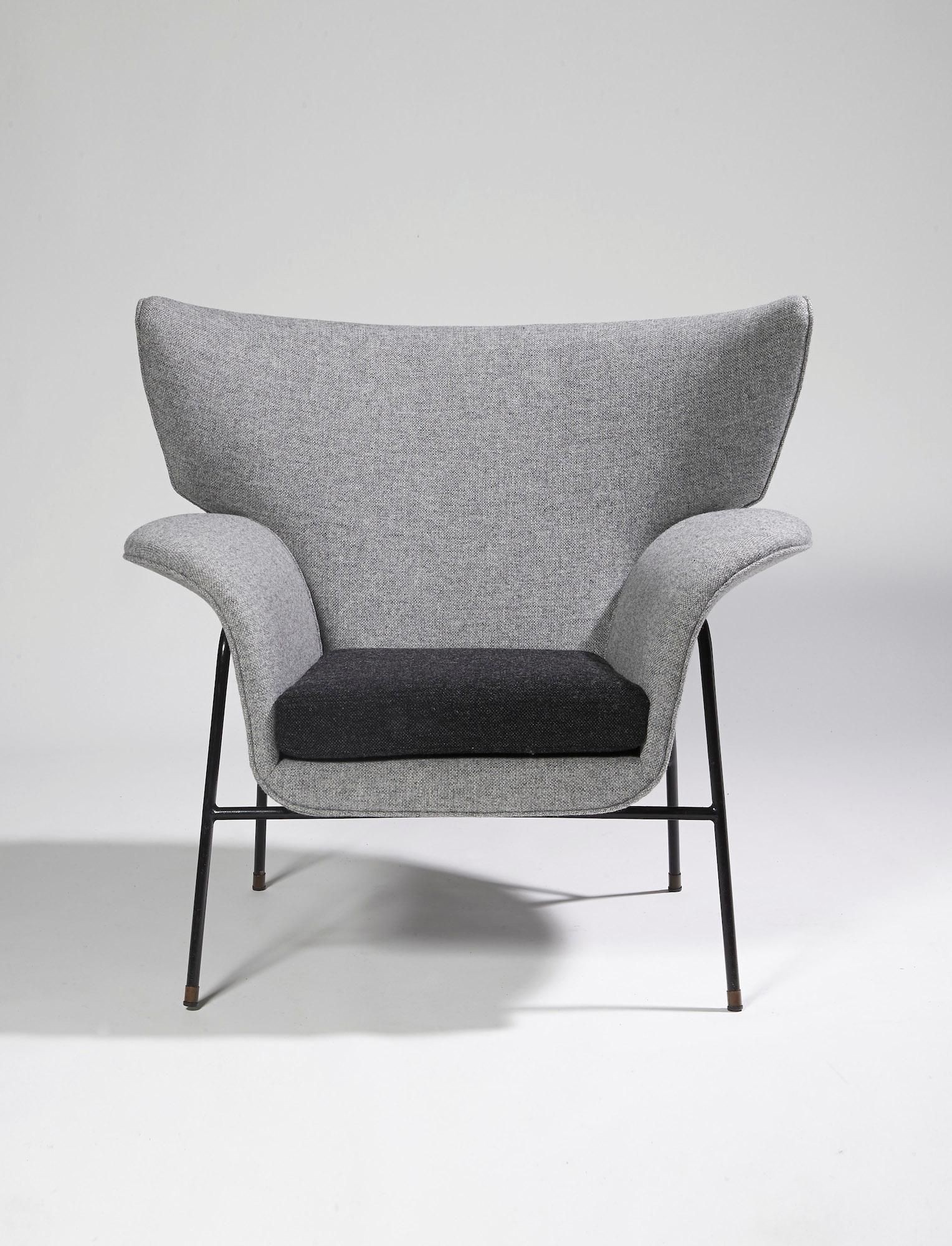 Boasting of its masculine silhouette and elegant craftsmanship, this arm chair is great for accentuating modern and contemporary decor. Designed by Italian artisans, the chair has a widened back, flared armrests, a removable seat cushion, and a tubular metal frame with non-marring feet.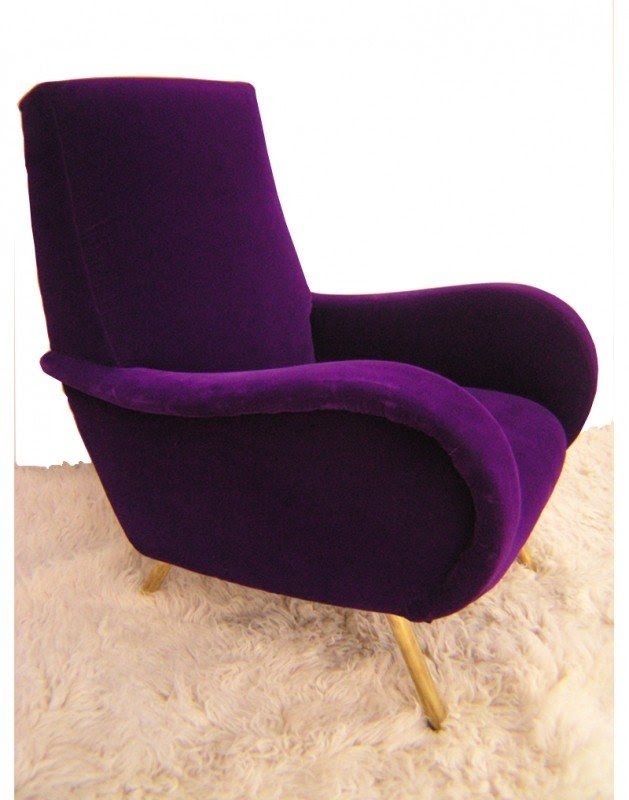 1950s Italian Armchair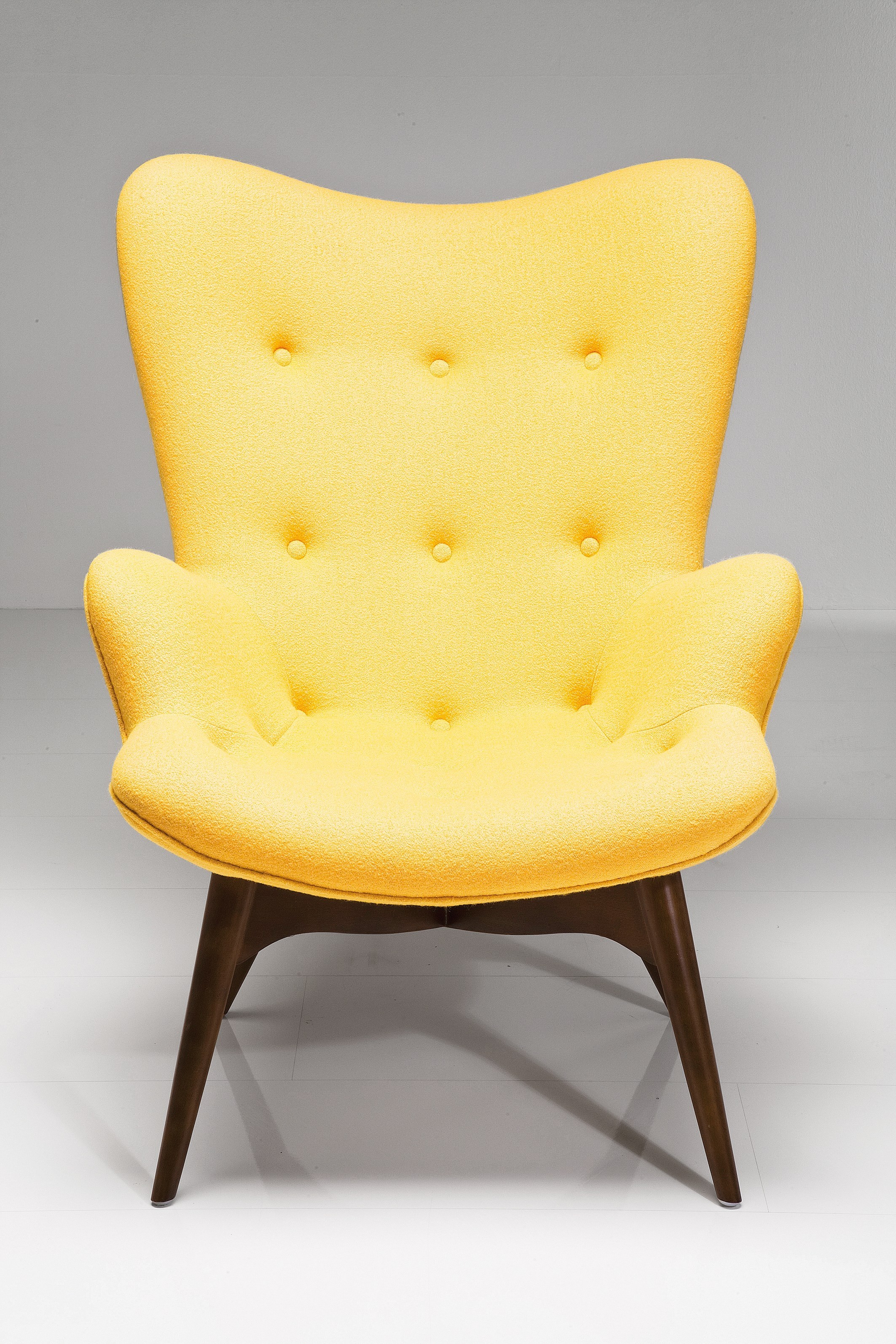 Phenomenal arm chair mounted on wooden frame and reinforced with crossed supports. Carefully profiled seat is upholstered with soft fabric and finished with decorative quilting. Great for watching TV, reading books and more.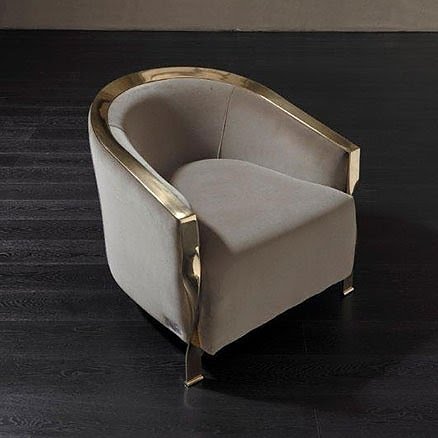 Beautiful and very stylish Italian armchair is a perfect combination of exceptional design and reliable details. The whole is maintained in attractive colors with gold details presented uniquely.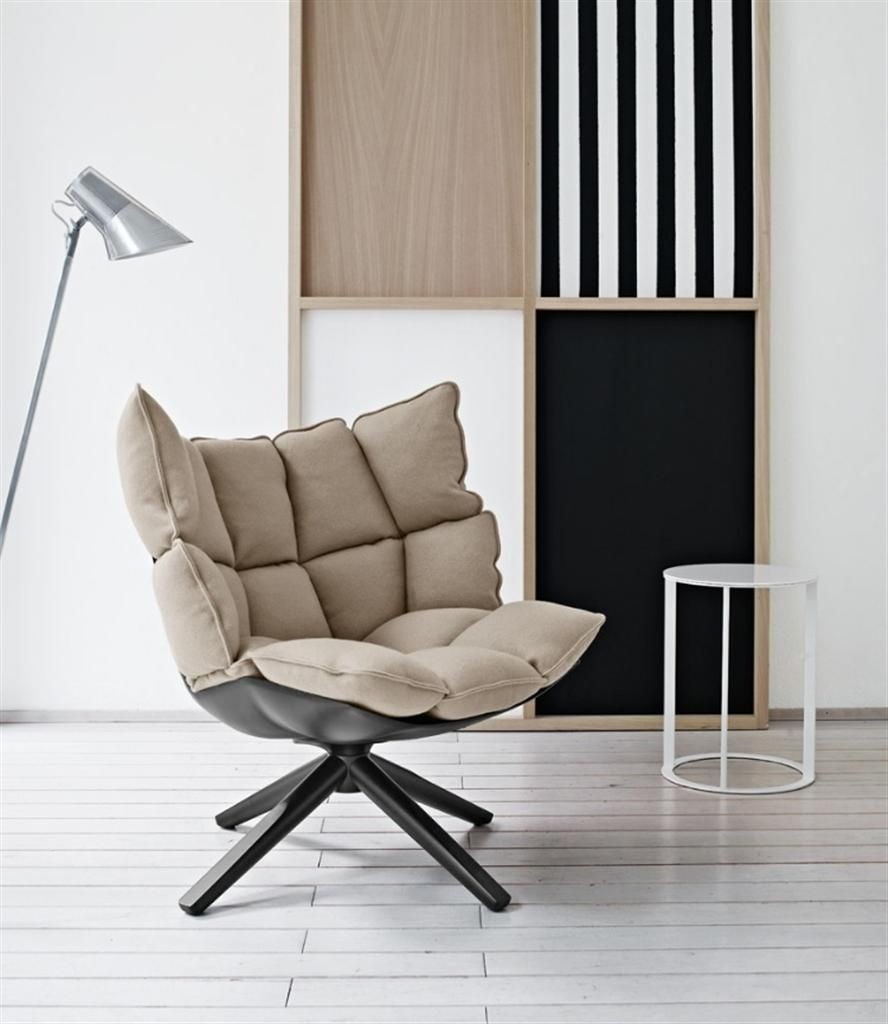 Spanish born and Milan, Italy based furniture designer Patricia Urquiola designed an amazing colorful armchair set called HUSK for Italian furniture manufacturer B Italia.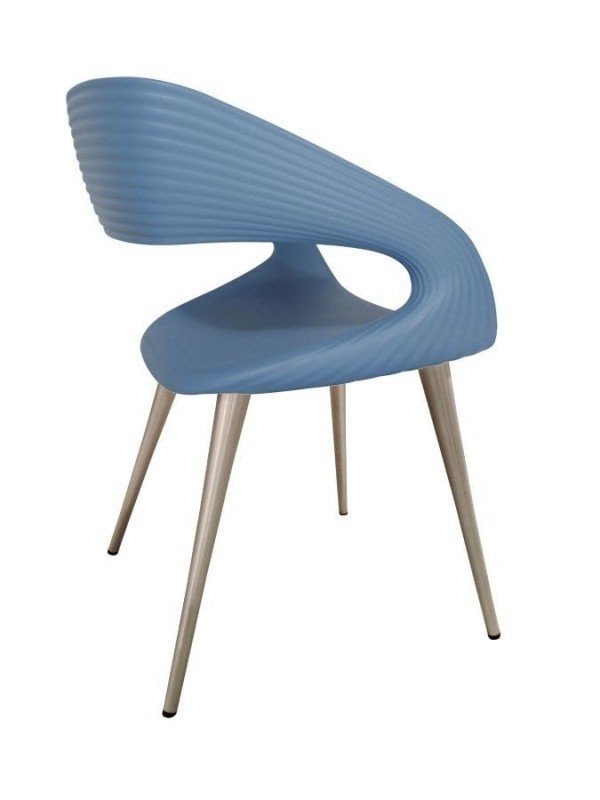 Shape Arm Chair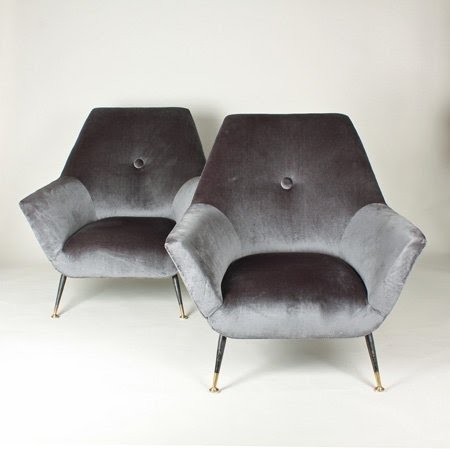 This designer set of armchairs comes from a London studio. Finished in grey plush, these unique chairs offer softness and exqusite comfort. Tufted back adds style and glamor.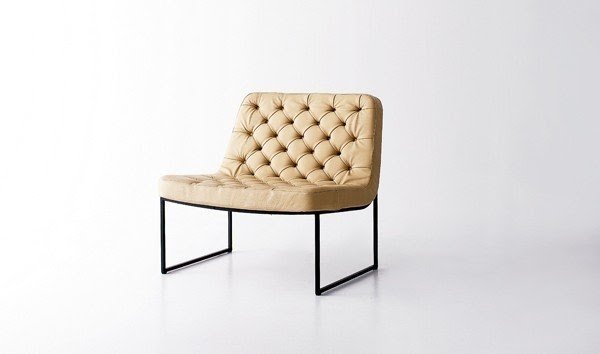 This charming Italian armchair is sure to make a lasting impression in any home. It features the Mid-century modern design, yellow upholstery and very comfortable seat. It will be excellent with the square side table.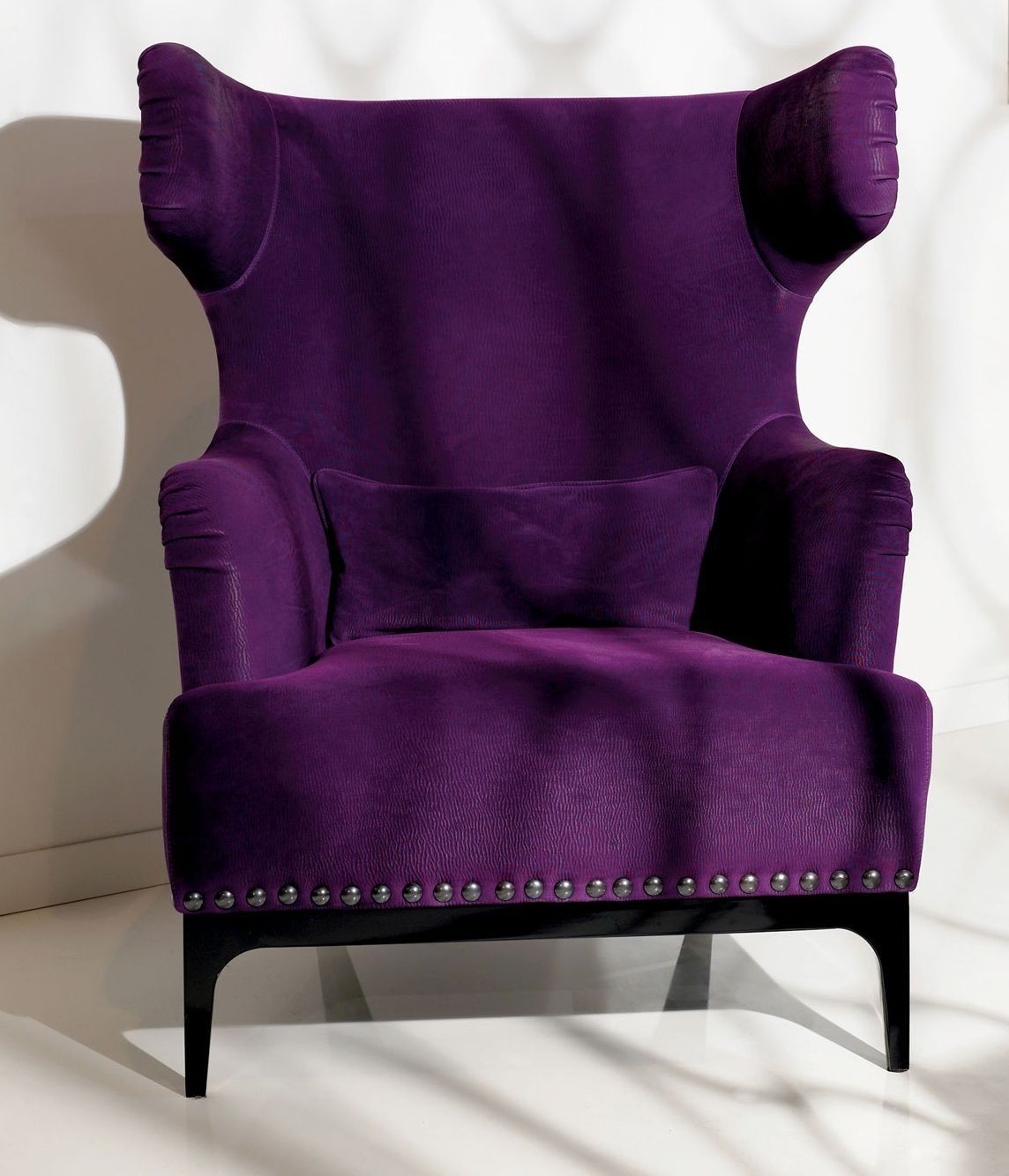 Phenomenal arm chair in contemporary style. It is upholstered with nice touch fabric and reinforced with nail heads. Carefully profiled back provides support for the spine. Modern design for each room.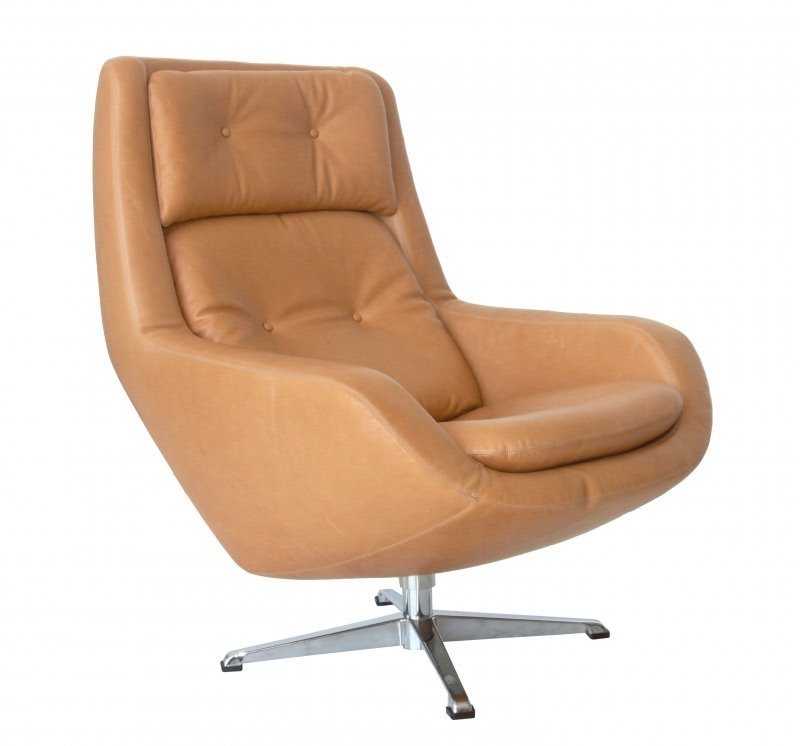 An elegant comfortable traditional swivel armchair having a metal base built of a 4-arm foot and a short column. Its unified shell features a deep cushioned seat, sloped arms, a tall split pillowed tufted back. Upholstery is of light brown leather.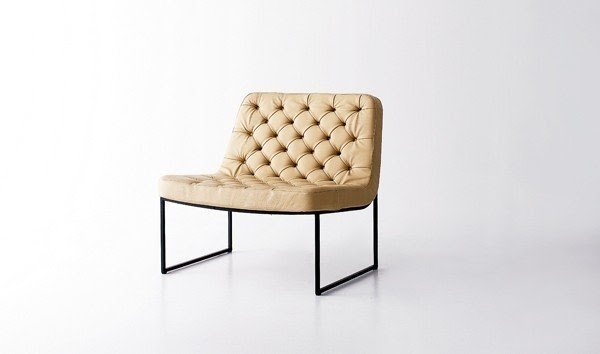 AC 20 - Italian designer armchairs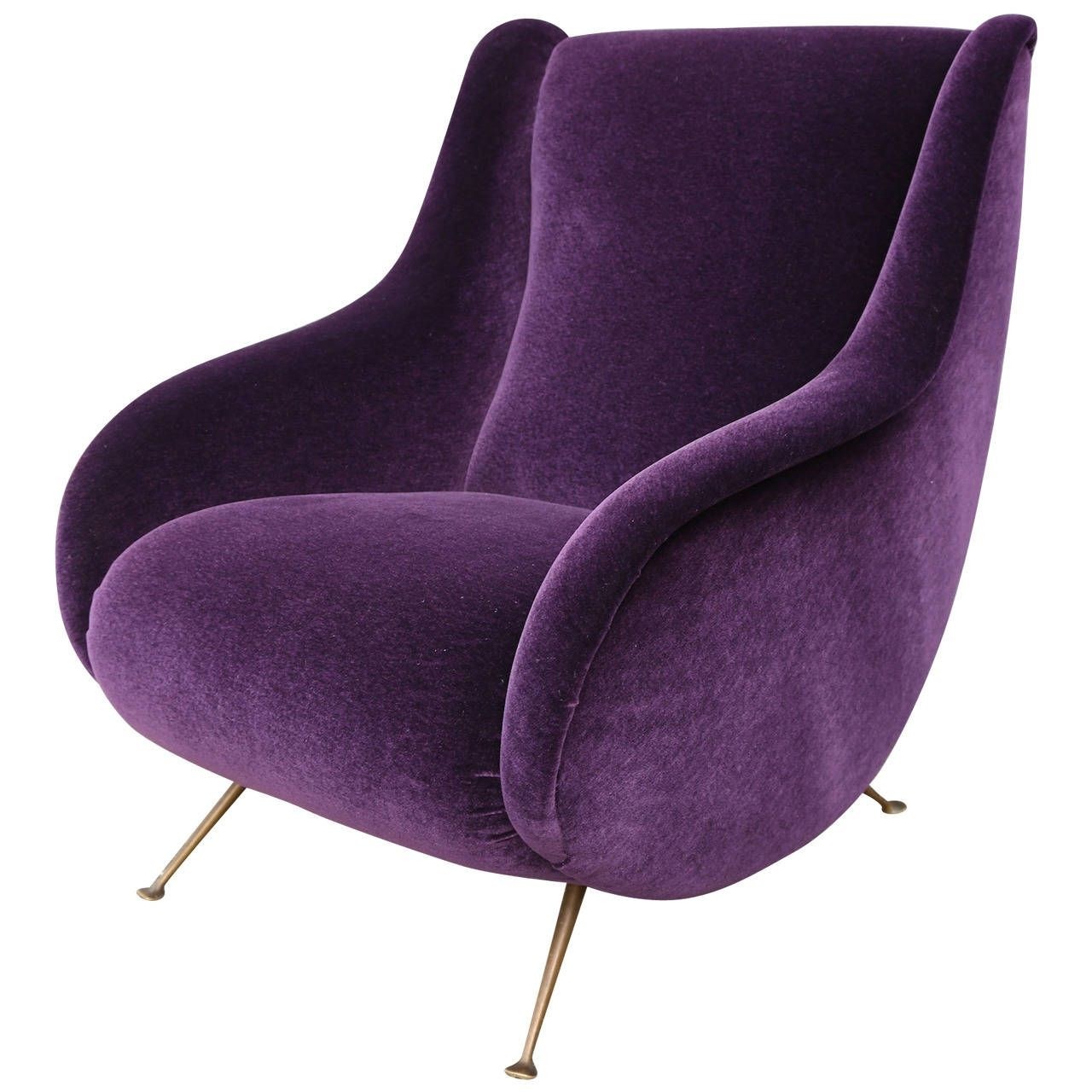 1960s Italian Armchair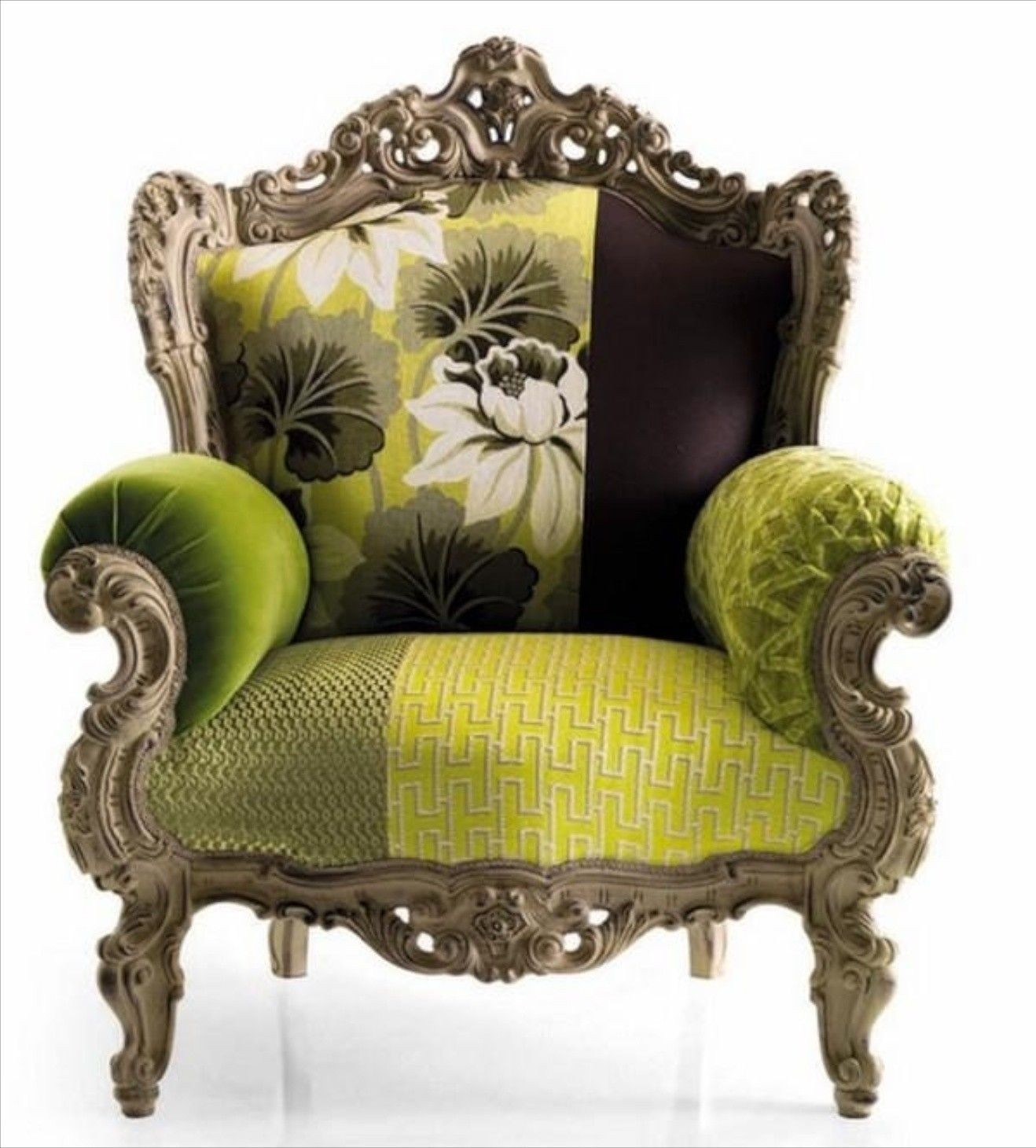 A luxurious and elegant armchair that features a solid wooden base with decorative carvings on its legs, arms and backrest. Cushioned sitting space increases the level of comfort. A multi-color floral design looks aesthetic.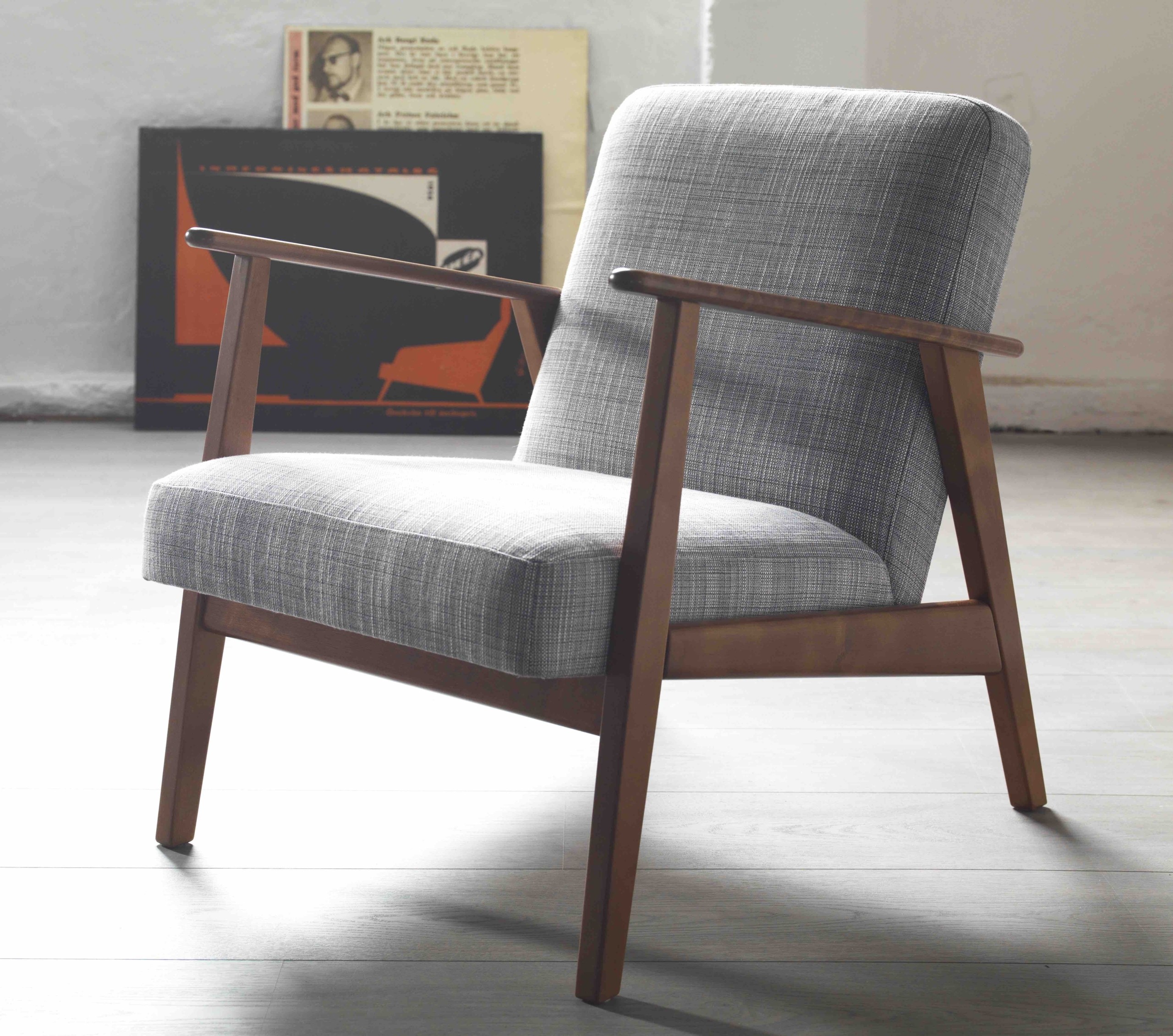 I have an original like this but it is actually Italian...Ikea Reissues Original Midcentury Furniture | Co.Design | business + design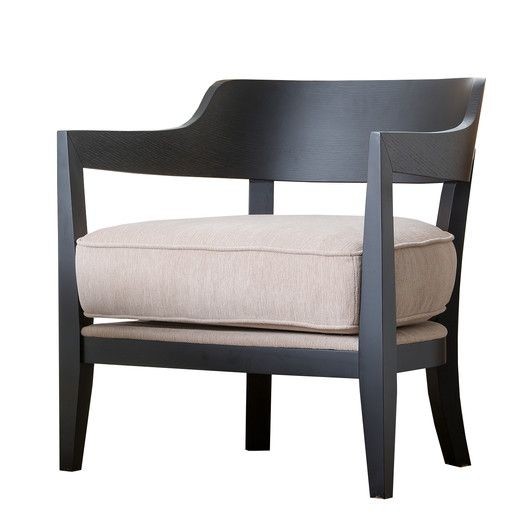 Thanks to low-lined, mould-breaking silhouette and contemporary mix of colors, this armchair looks the part in fashionable modern apartments. Ultra-thick seat cushion is dressed up in textured beige linen.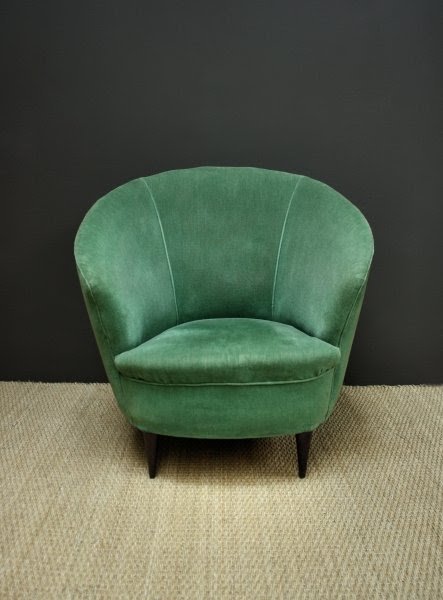 Phenomenally, the green and beautifully decorated armchair in Italian style is an enjoyable and exceptionally attractive accent of interior design. The velvet covered seat admires the details and looks great.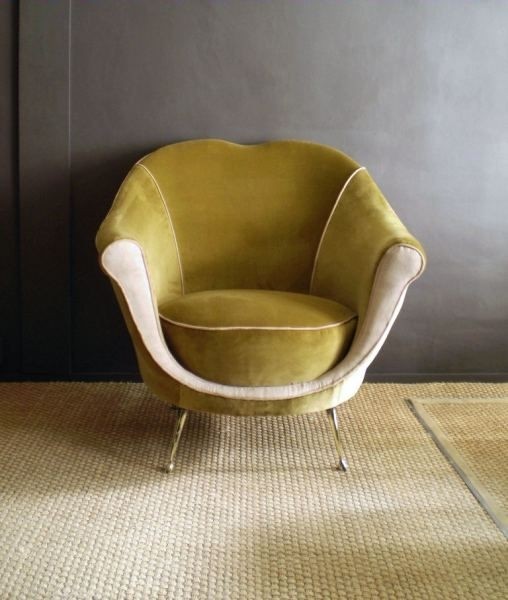 Designed by talented Italian artisans, this fine armchair boasts of its vintage appearance and comfort. It offers a sculptural rounded form, with a waved backs, a circular raised seat, brass metal legs and yellow velvet upholstery.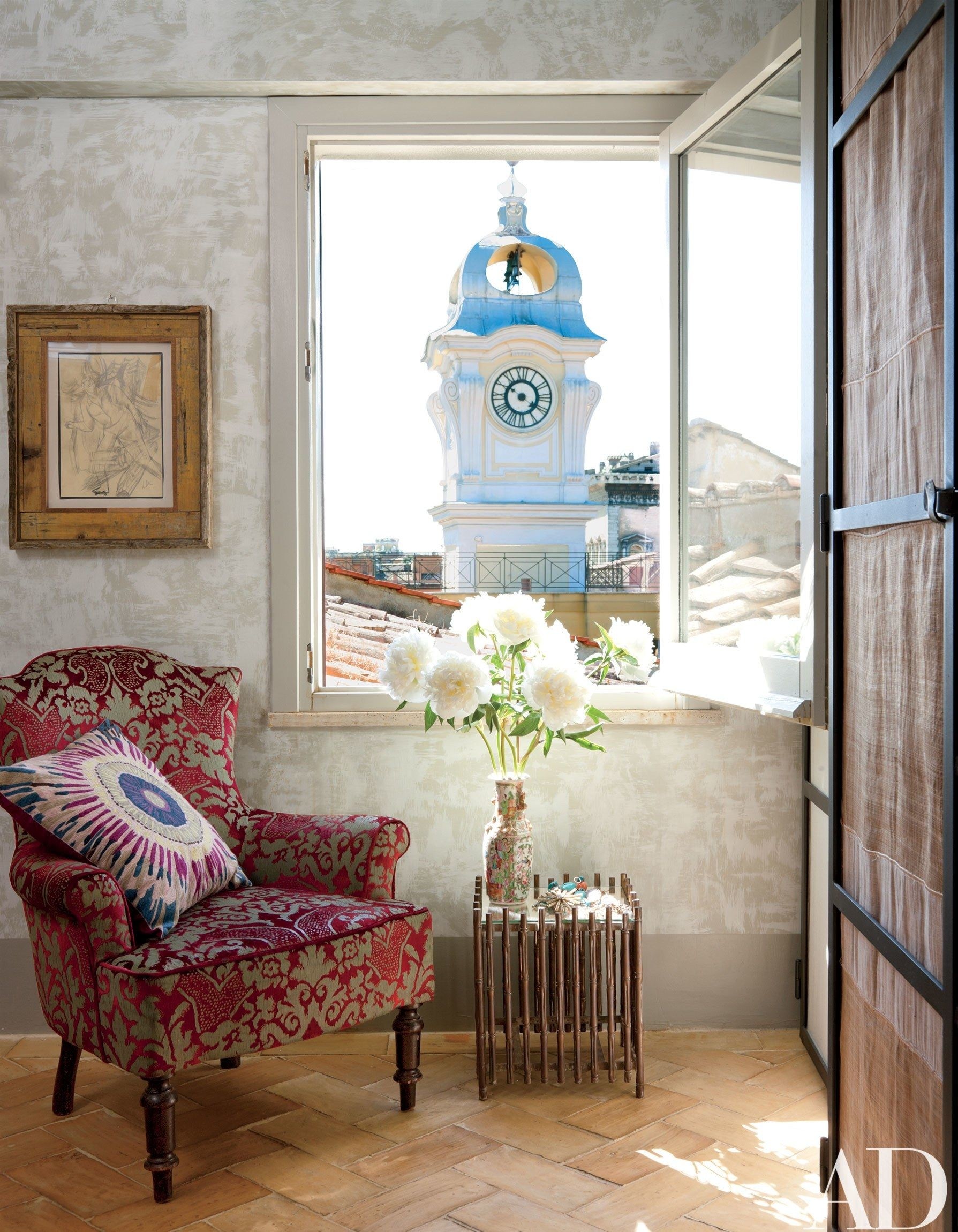 A bathroom window frames a bell tower; the drawing is by Sandro Chia, the chair is 19th century, and the table is by Gio Ponti. Livia Rebecchini's Apartment in Rome, Architectural Digest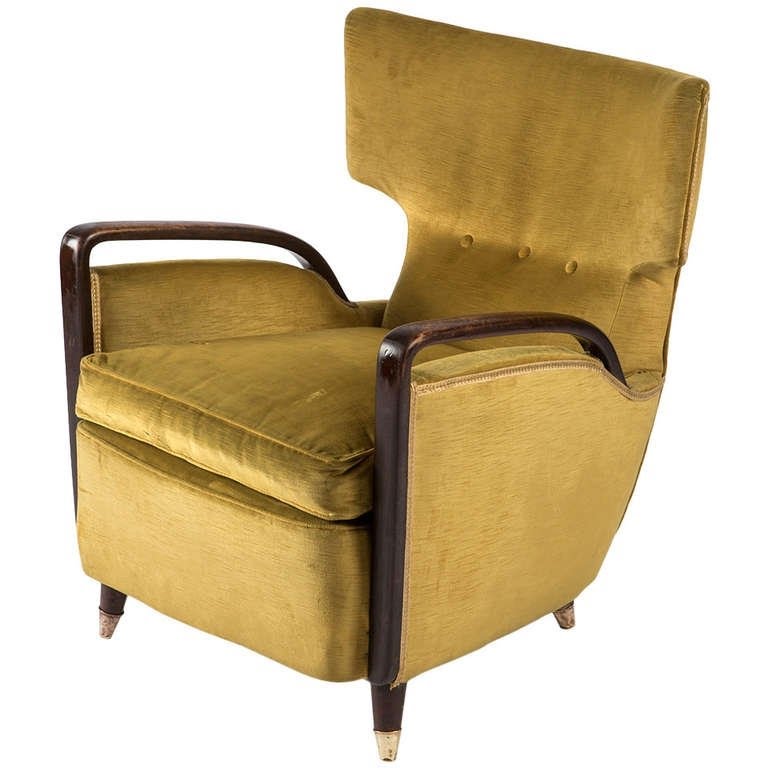 Italian Fifties Model "511" Armchair by Melchiorre Bega for Cassina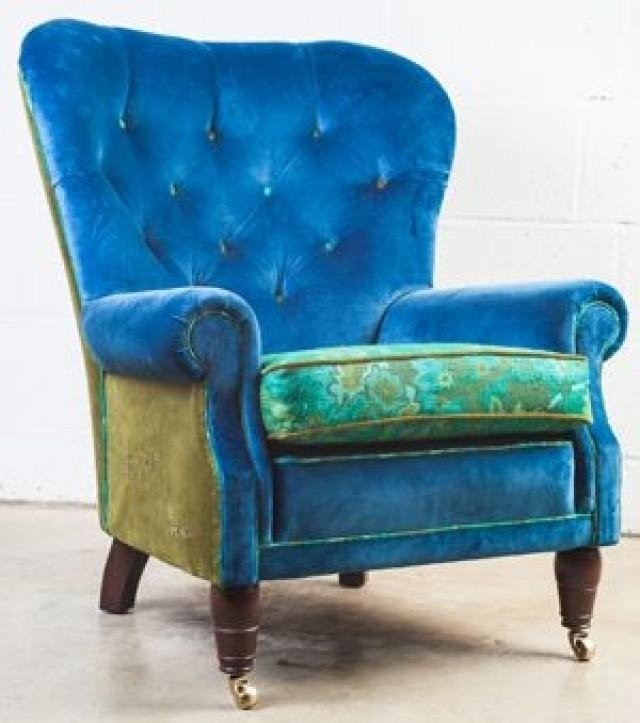 Stunning, oversized armchair with a tall back and a tufted design. The gorgeous, deep blue upholstery provides a colorful, vibrant look to the piece which is nicely complemented by the floral, turquoise seat.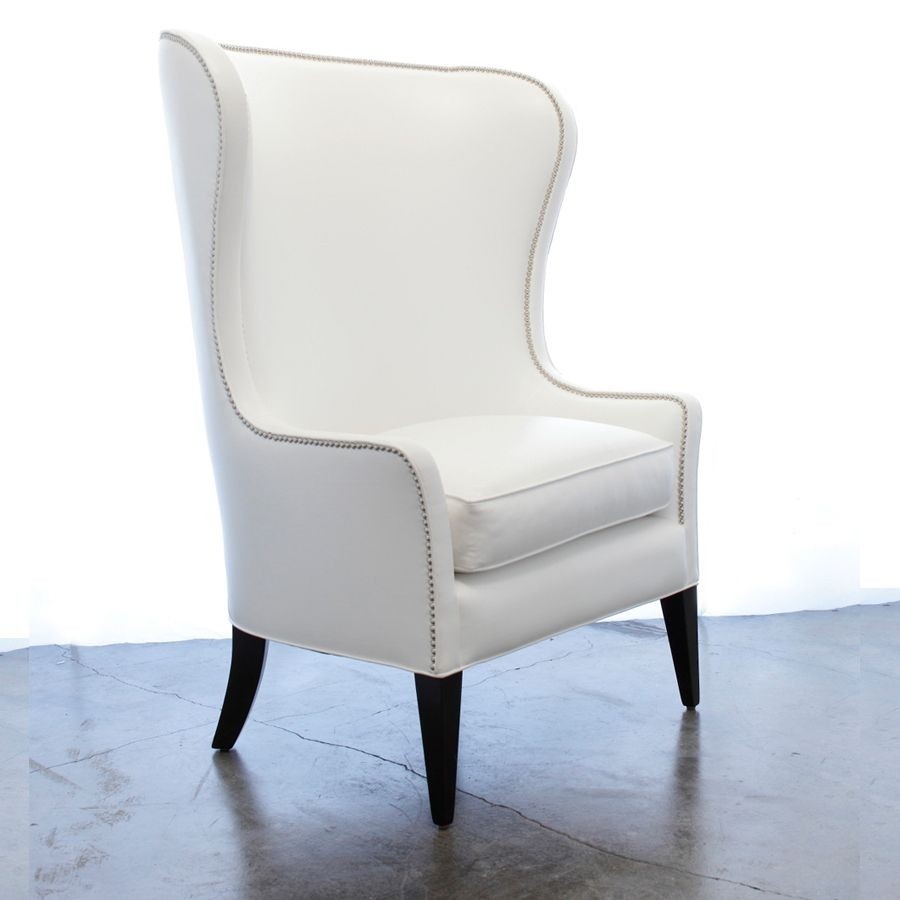 The stylish leather upholstered chair admires and allows to bring a touch of elegance to the decor. Italian styling and beautiful nailhead decorations fascinate. The whole is elegant and perfectly fits into the living room.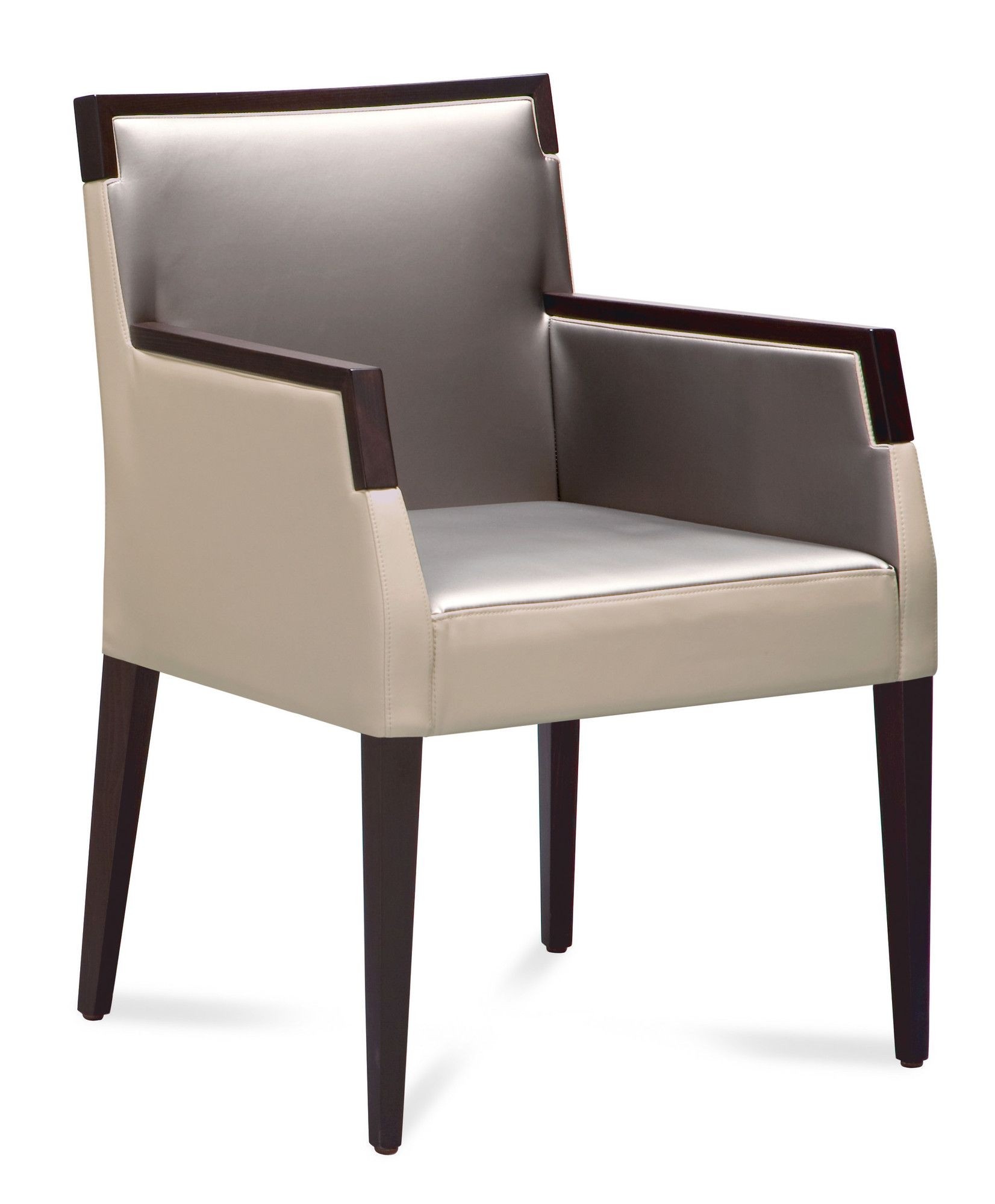 Ariel-Pi Armchair & Domitalia Ariel-Pi Armchairs | YLiving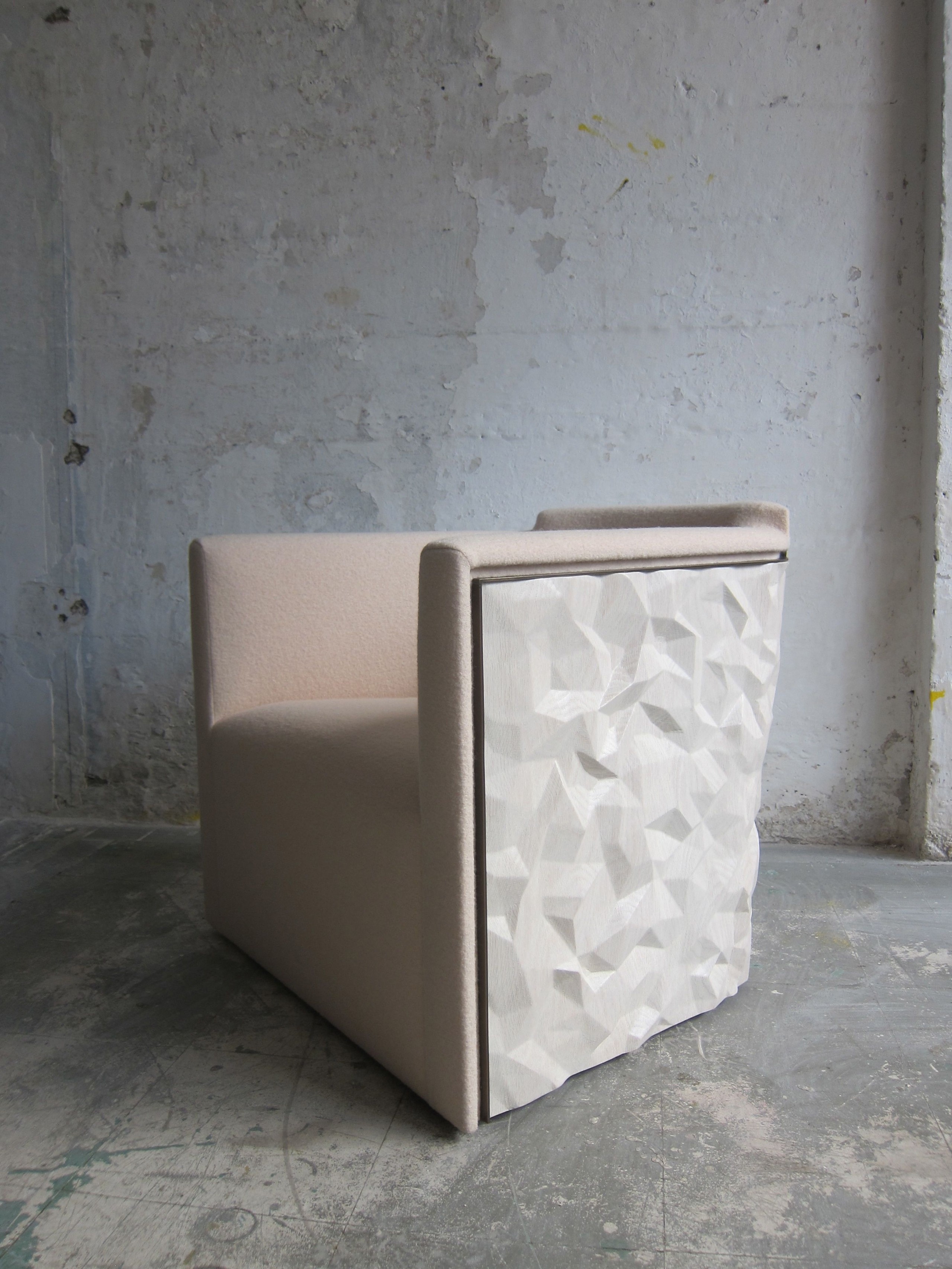 Take a seat on this unconventianal contemporary uphlostered chair. One part seems to be like a milk that has spilled and has been converted into solids - geometric forms. Based on oak structure, tub armchair has a light pink uphlostery.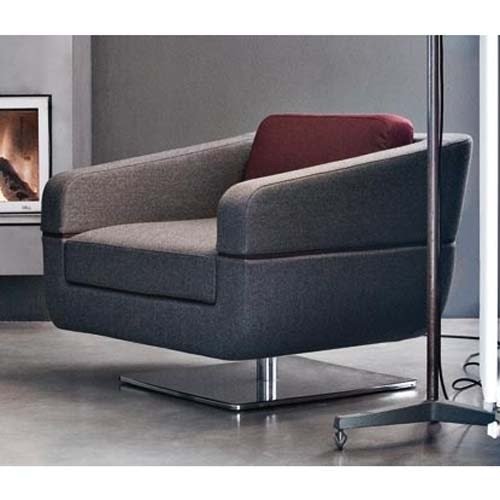 Very distinctive design, which also offers a comfortable insert between the backrest and the seat. Graphical combination of colors and beech wood, with poplar, is very typical for this swivel armchair. The contrast of red and gray is a very modern connection.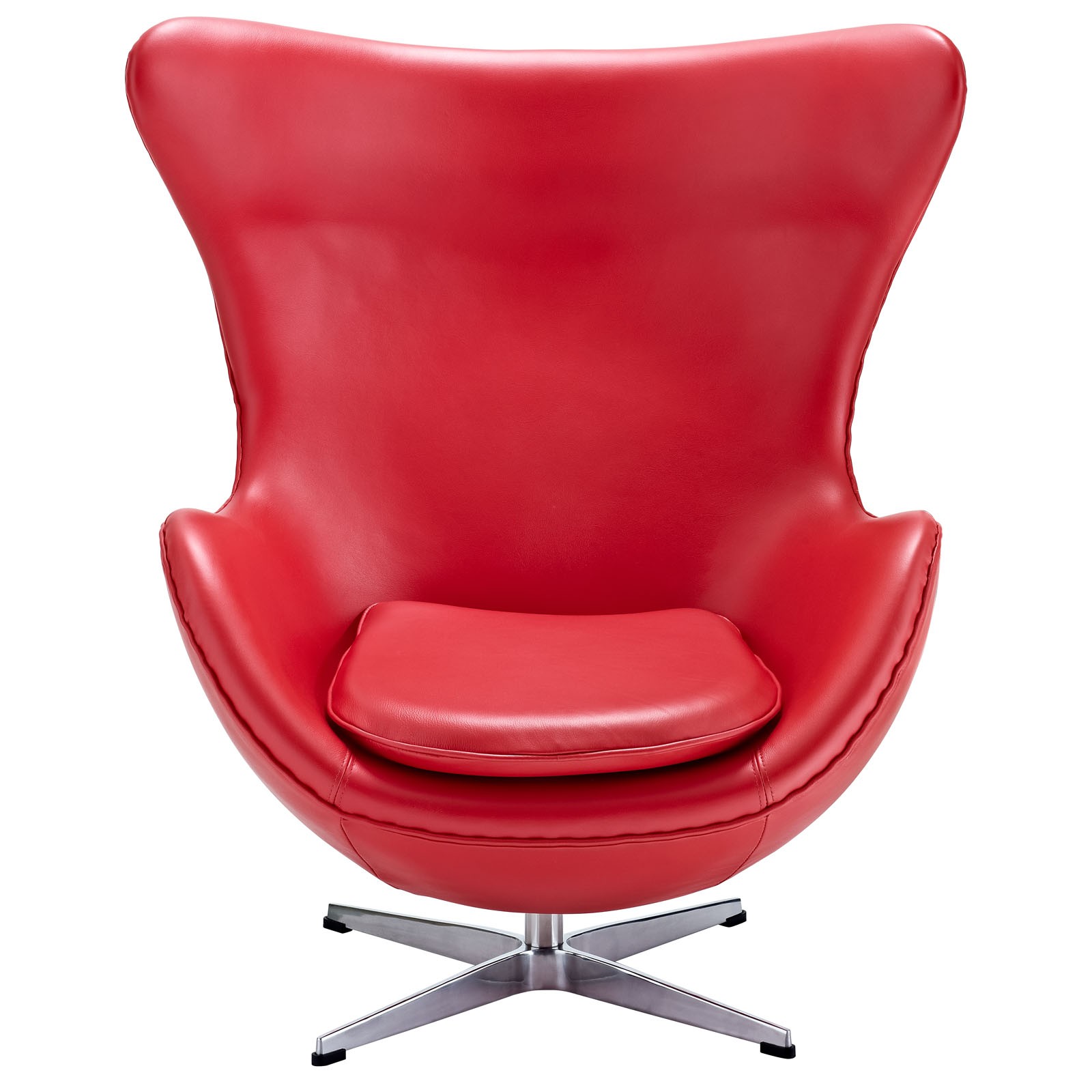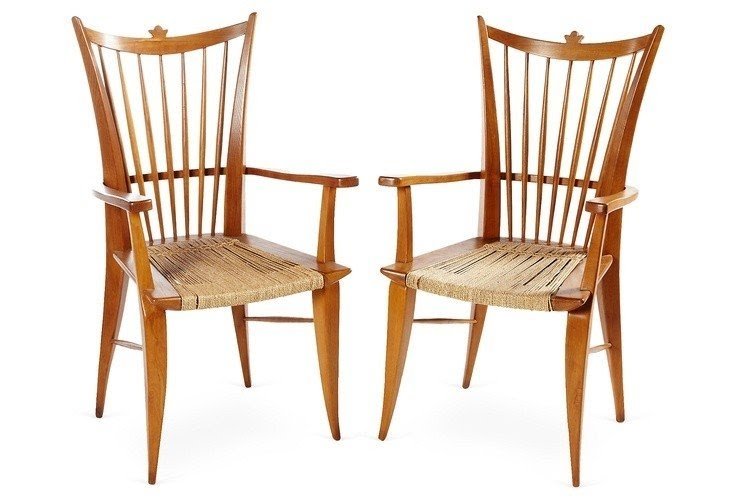 Spectacular Italian Armchairs, Van den Akker on OKL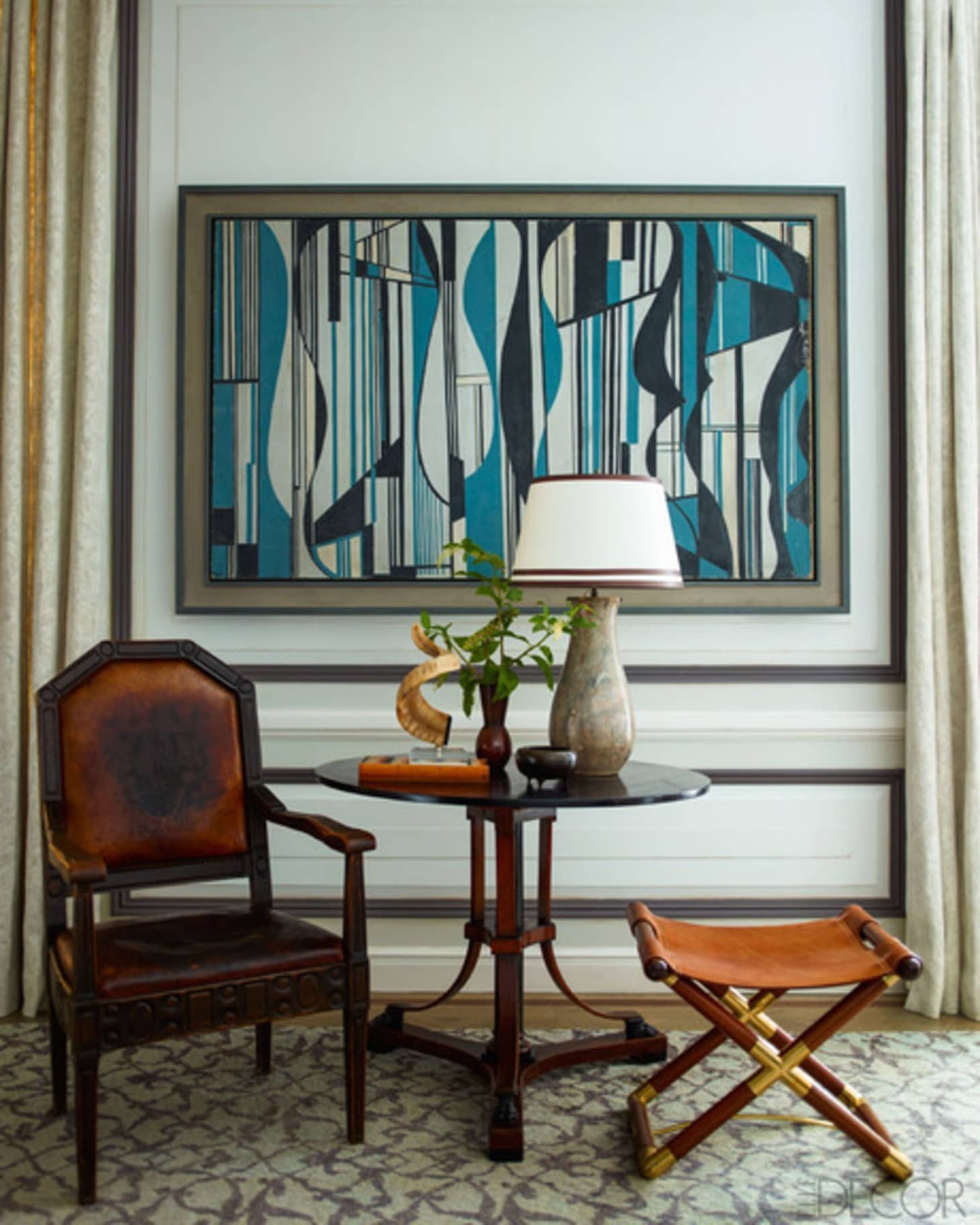 Steven Gambrel ~ A 1954 French painting conceals a television; the vintage Italian armchair retains its original leather upholstery, and the campaign stool came from a Fendi show-room.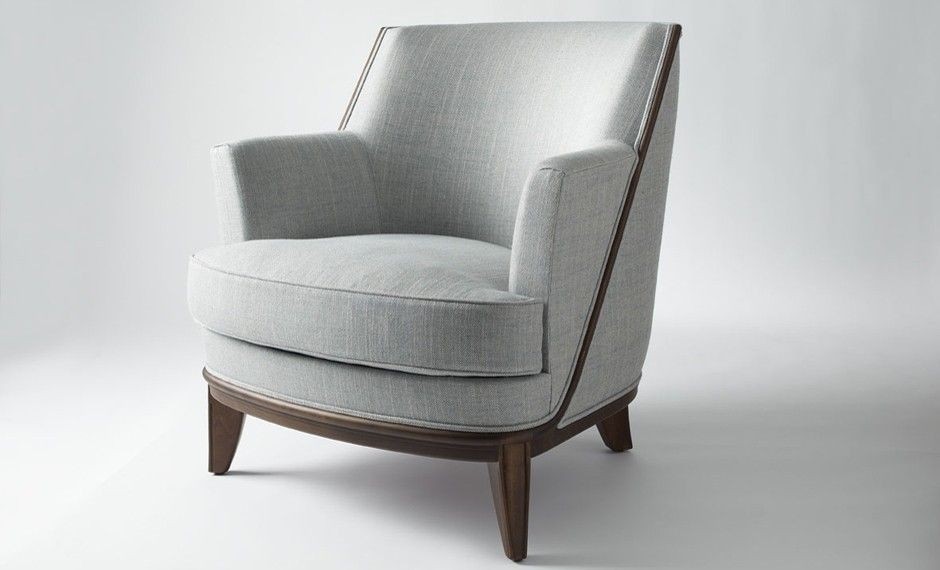 Accent chair as additional seating or place for relaxation in all kinds of interiors. It is mounted on wooden frame and upholstered with pleasant to the touch fabric. Perfect for watching TV, reading books and more.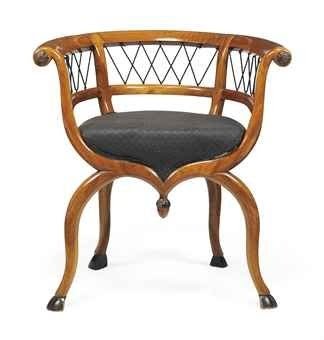 A NORTH ITALIAN POPLAR AND EBONISED ARMCHAIR FIRST HALF 19TH CENTURY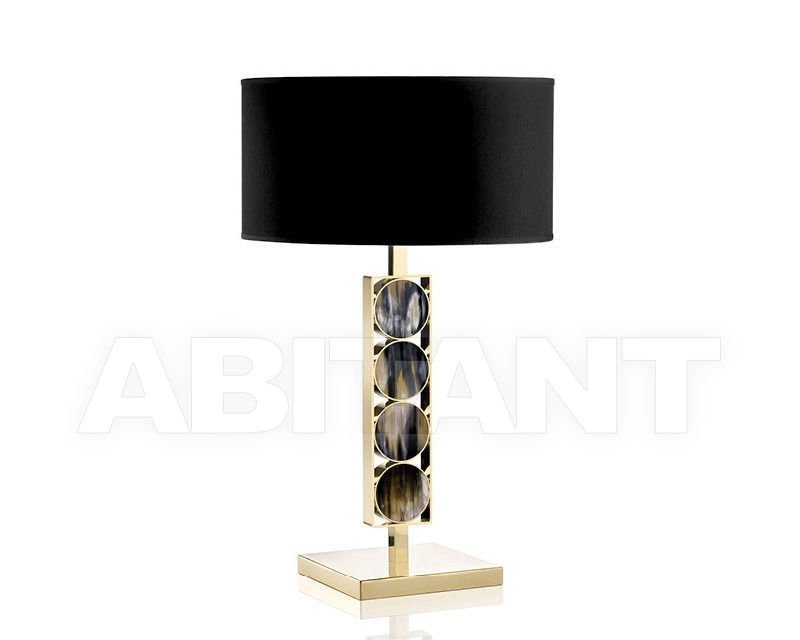 Italian Luxury Designer Polished Horn & Chromed Brass Table Lamp, so elegant, inspire your friends and followers interested in luxury interior design, with new trending accents from Hollywood courtesy of InStyle Decor Beverly Hills, Luxury Designer Furnit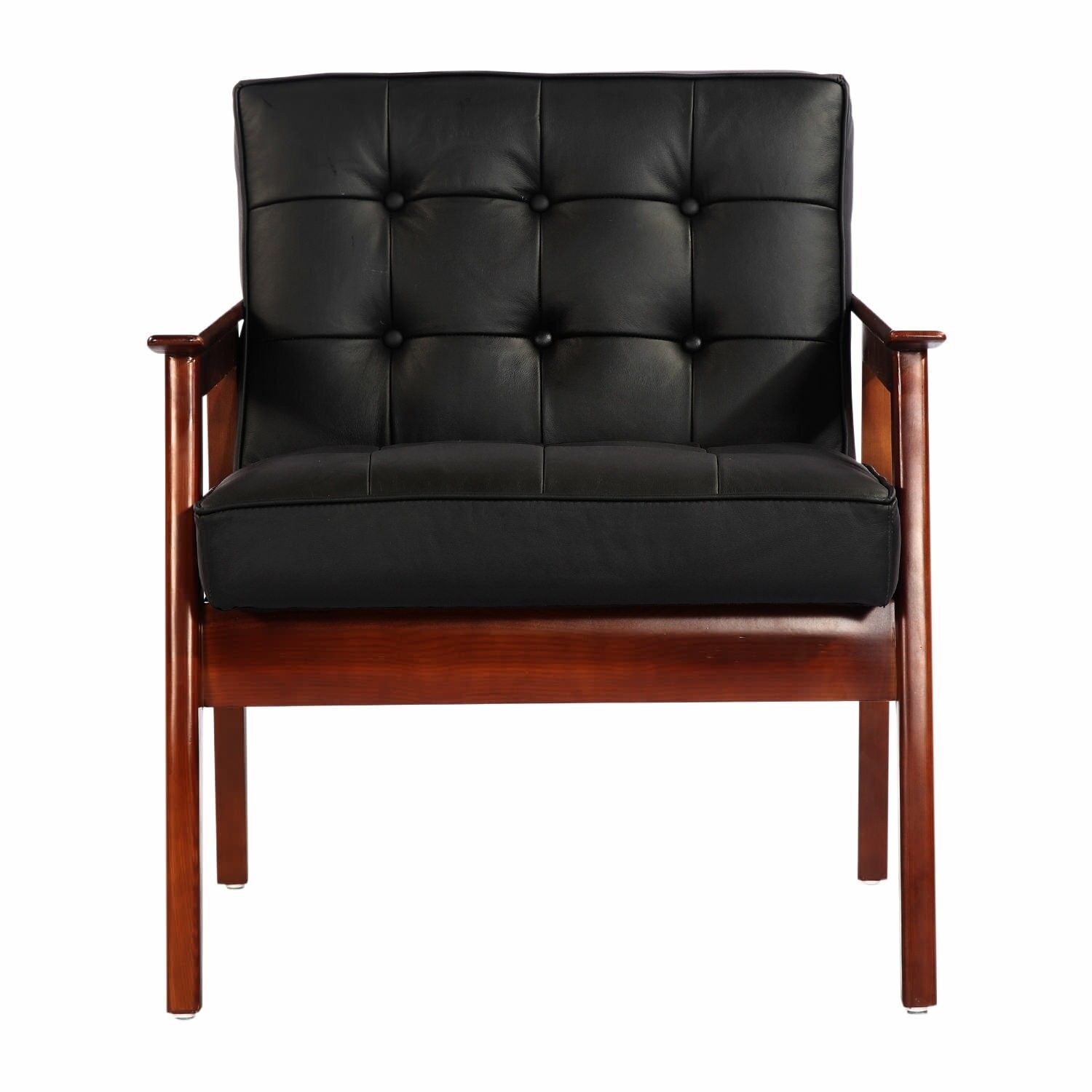 Home Arm Chairs Mies Mid-Century Modern Plank Armchair, Black Italian ...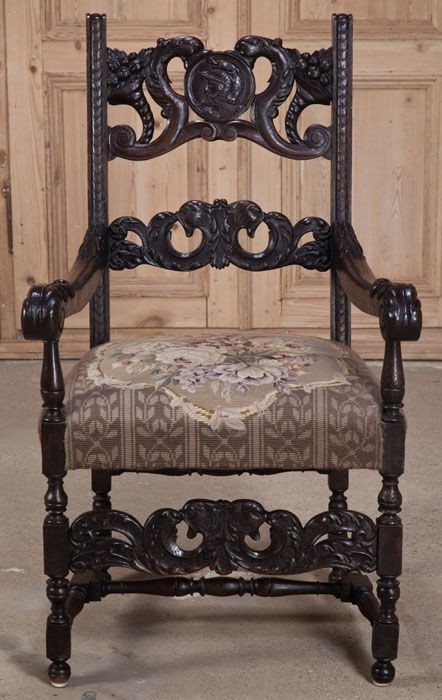 Antique Italian Renaissance Armchair | Antique Furniture | Inessa Stewart's Antiques #antique #furniture