Our Choice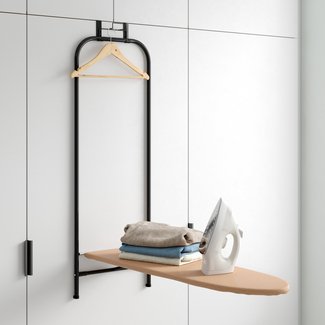 Donn Steel Top Over the Door Ironing Board
Make ironing less demanding with this over the door ironing board. Metal frame securely hooks on top of the door, providing the needed support during pressing. Iron rest offers a spot to place your iron when adjusting the cloth you're ironing and safely keep the iron safe from falling. It comes in two size fittings to cater for different door sizes. Press the board to open, then fold back up after use to keep it out of the way.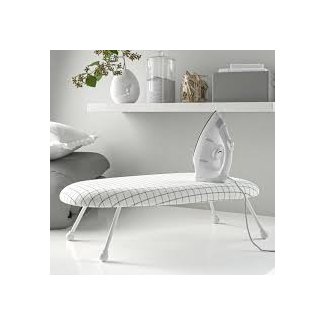 Boyle Storage Tabletop Ironing Board
Make your clothes look better and fresher from ironing on this freestanding tabletop iron board. Steel legs offer stability during use, whereas lockable legs prevent accidents from it folding unexpectedly. Anti-scratch and anti-skid bottom protect the countertop from having ugly scrapes and decrease the probability of the board slipping and falling on slippery surfaces. The cover is removable, making it simple to clean. Fold and store under the bed or in the closet when not in use to maintain neatness.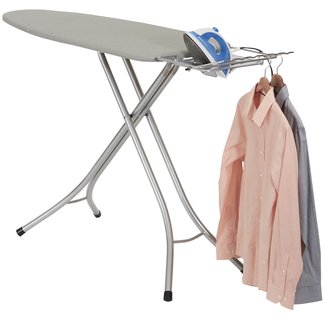 Wide Steel Top Freestanding Ironing Board
Crafted with sturdy steel material and an 8mm thick padding complete with gray fabric cover, this freestanding ironing board measures 18" W * 49" L to accommodate large garments. Has an adjustable height mechanism to suit differently sized people in your household. Four leg support system and leg caps lend stability and prevent shaking or tipping over when ironing. Conveniently hang freshly ironed clothes on the adjustable metal rack sitting beside the iron rest.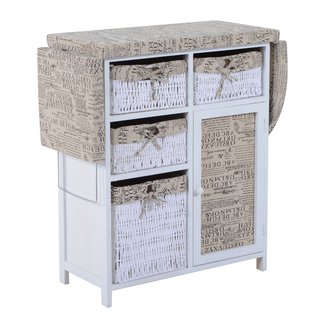 Collapsible Drop Leaf Freestanding Ironing Board
Iron with ease thanks to this highly-functional freestanding ironing board. It showcases a collapsible drop leaf mechanism to save space when not in use. Three small fabric-lined baskets, one large basket, and a closet lends extra storage space. Iron board cover and fabric lining in the baskets feature an appealing natural weave that elevates aesthetic appeal. Store ironing supplies and clothing in the baskets and closet to keep them near reach.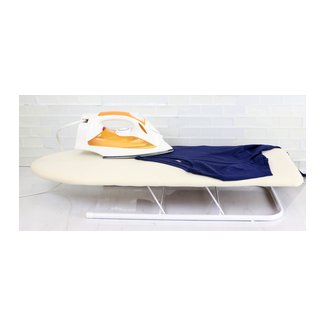 Tabletop Ironing Board
A huge advantage of this tabletop ironing board is it arrives at your doorstep fully assembled. The retractable metal rack offers a safe spot to rest the hot iron while it cools. Steel mesh permits the circulation of heat and steam during ironing. 3mm fiber pad ensures an extra smooth surface for stress-free ironing. Trellis pattern on the cover amps up visual appeal. This compact ironing board is perfect for dorm rooms or small apartments.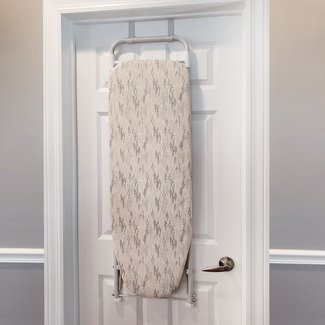 Forward Facing Over the Door Ironing Board
Iron without taking too much space with this over the door ironing board. Hooks ensures steady attachment to the doors for firmness during ironing. Ironing cover protects the underlying steel material from the heat and provides a smooth surface for straightening those wrinkles. When folded, the cover is displayed and not the backside, which would have been an eyesore. To permanently attach the board to the door, use the predrilled holes on the bracket.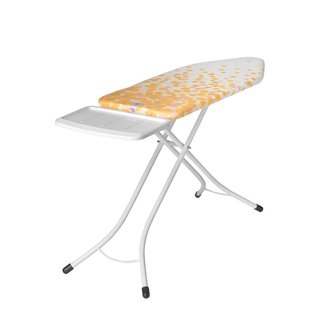 Celebration Cover Freestanding Ironing Board
Introduce convenience to your laundering process with this freestanding ironing board. Cord fastener and innovative stretch system on the cover keeps the ironing surface sleek and free of lumps. Has adjustable height to suit everyone's physical needs. Child lock hinders the ironing board from sudden collapse, which can be detrimental. Non-slip caps secures it against wobbling. After use, fold and store in the closet or incline it against the wall.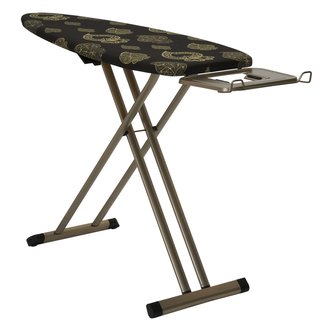 Freestanding Ironing Board
Featuring gold and black color, this freestanding ironing board will enhance efficiency in your home. Protective feet shield your floor coverings from getting scratches or skid marks. Contains a metal rack for conveniently resting the iron on during use. The front feet includes two wheels for easy moving around, whereas the steel material is durable to stand the test of time. Interchangeably use the metal rack as a hanging rack for vertically storing the board.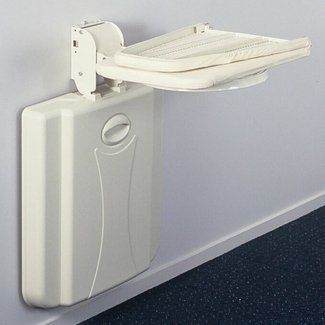 Lifestyle Wall Mounted Ironing Board
Sturdy and unique, this built-in ironing center cleverly incorporates function while saving space. Wall-mount design is space-savvy and neatly tucks into the wall when not in use for a crisp, tidy finish. Swivel feature allows for ironing from different angles. Comes with wall mounting hardware for hassle-free installation. Paint the white cover to match with your wall and make it even more inconspicuous.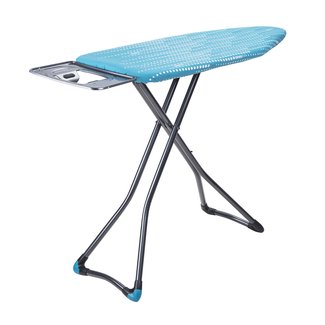 Steam Pro Drip Guard Freestanding Ironing Board
Manufactured from sturdy metal material with powder coated finish, this freestanding ironing board features a fully adjustable system to alleviate back pain caused by poor posture. The four-layer drip guard cover protects steam and heat from damaging the iron board. Loop leg design warrants stability and reliability during use. Regularly clean the ironing cover to prevent build up dirt and dust transferring to your clean clothes.